Watches & Wonders 2022 – a year of eclectic refinement and delights for the connoisseur (Part 3)


A view on Watches & Wonders 2022 novelties through the imaginary eye of an eclectic GPHG Academician (Chronograph, Diver´s, Artistic Crafts, "Petite Aiguille", Challenge)



The last part  of our series on the Watches & Wonders 2022 novelties:
from Chronograph to Challenge – and with our personal wrap-up (this article)





Chronograph
IWC Pilot's Watch Chronograph 41 Top Gun Ceratanium
We were already fans of the new 41mm version of the IWC Pilot's Watch Chronograph presented last year (Hands-On with the new IWC Pilot's Chronograph 41mm – the eclecticum), but this one, perhaps too stealthy for a packed show like Watches & Wonders, caught us off-guard: with its 'Ceratanium' case the watch had a mysterious dark blue-grey shimmer of this – essentially – oxidised titanium material.
The entire watch is quite monochrome down to the movement (well, it's behind a smoked sapphire caseback) making this one a piece that needs actively discovered, and we think it's worth it!

Louis Moinet Time To Race
Again Louis Moinet, but this time entirely different than expected: the chronograph with its characteristic dial-side column wheel mechanism did not come in an even more out-there version; quite the opposite: lots of refinement. It starts with a new, smaller (40.7mm, down from 46mm) case with its top being entirely made of a sapphire box to expose the chronograph gears.
The box sits flush on the caseband without a visible frame or bezel, a masterpiece in case construction. To make room for the chronograph the time display sits eccentrically a 6 o'clock, displaying a racing number which the owner can individually chose. Pusher, crown, and crown protector follow this refined and rounded concept – clearly, this is a work of dedication and love.
And for those who like the watch even more classical there is still the Memoris Spirit without the individual number.

Zenith Chronomaster Open & Chronomaster Sport (Boutique Edition)
A confession at the beginning: we both voiced a deep drawn 'oh no, not again' sigh when we heard that Zenith would revive the 'Open' version of the Chronomaster again, after they just recently stopped it.
But once we looked at the watch it was clear that a purist watchlover at heart took care of the details: a new, smaller 39.5mm case that was sculptured for maximum comfort and fit, the opened seconds dial showcasing the 5Hz escapement, now with inverse domed and laser-brushed surrounding bridges, and finally the transparent hesalith seconds subdial which reflects the shape of the movement bridges beneath. When asked why the subdial in the first place the answer was as clear as it was logical: since the updated El Primero Cal. 3604 now has a stop-seconds, it makes sense to read out the seconds as well.
Clearly, there is a lot more thought that went into this watch than we experienced with several other, more expensive pieces at this show.
Likewise, the new Chronomaster Sport, particularly the Boutique Edition with the seamlessly manufactured 3-coloured ceramic bezel brings vibrant vibes and spice.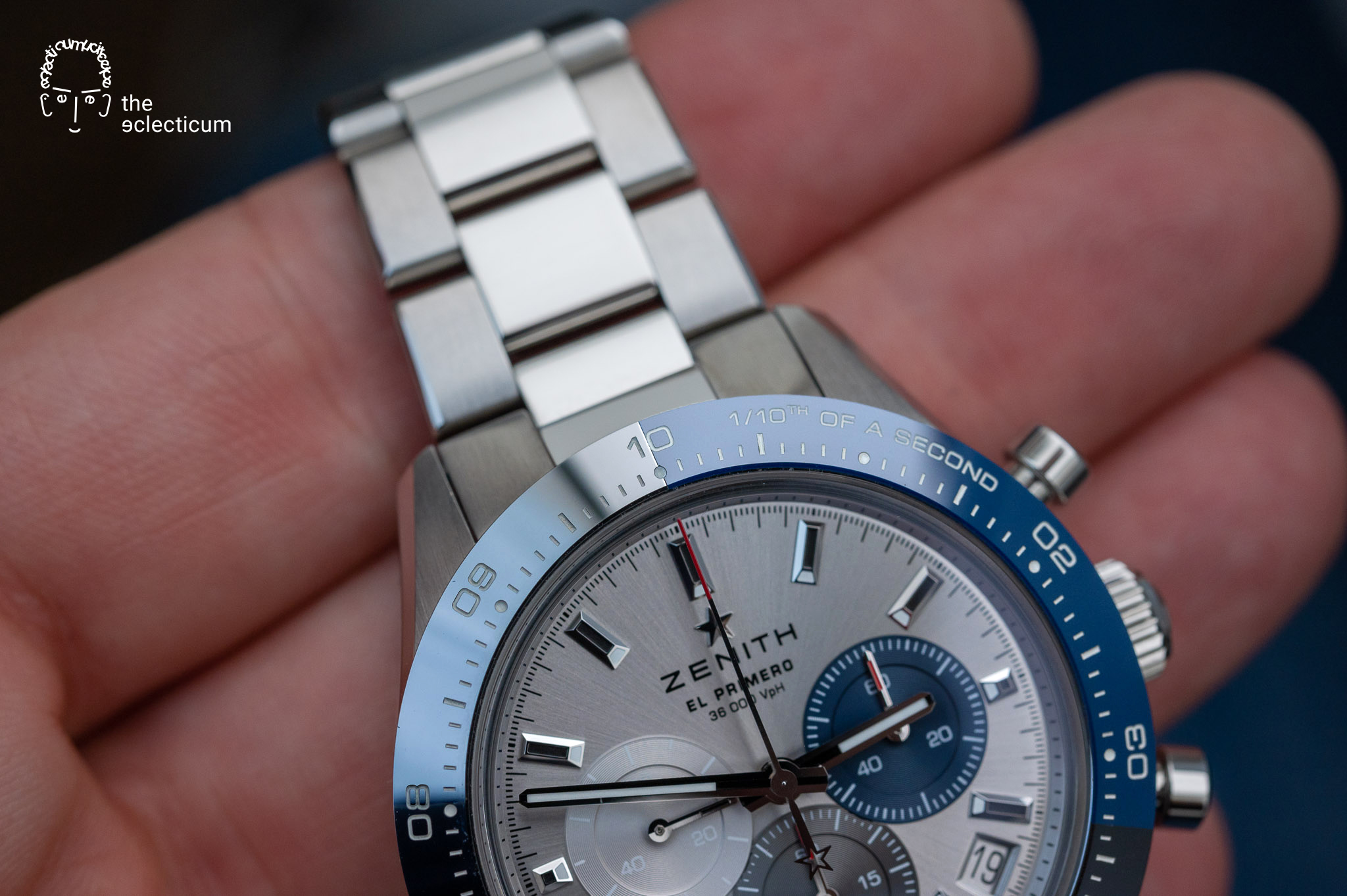 Diver's
Panerai Submersible QuarantaQuattro ESteel™ Blu Profondo
Diver's watches are a bit tricky for us to appreciate: the technical requirements pose strong limitations to creative freedom, and since both of us are not active divers our appreciation might be a bit lopsided. Of all the Panerai watches of this year the Submersible QuarantaQuattro ESteel™ Blu Profondo stood out for us: the use of recycled material for case ('eSteel') or straps (rubber and PET, respectively).
The unidirectional bezel comes in glossy polished ceramics, and the dial has a vertical fade from blue to black – hence 'blu profondo'. "QuarantaQuattro", i.e., 44, finally refers to the diameter and represents 'mid-size' in Panerai's parlance. For us, a most wearable Panerai which adds ecological substance to a watch intended to be worn in Earth's most precious, mysterious and at the same time highly endangered (by human activities) environments.


Artistic Crafts
Jaeger-LeCoultre Master Grande Tradition Calibre 948
This watch in a way appears as the natural twin to the Master Hybris Artistica Calibre 945: like the 945, the Master Grande Tradition Calibre 948 uses a flying tourbillon which rotates the dial, this time around a world time map to indicate the different time zones.
While not as complicated as its celestial twin, the focus here is even more on artisanal crafts: the world map is wonderfully crafted in champlevé enamel (using pockets) on a 3D openworked dome through which one can admire a guilloché and then translucent enamelled dial plate representing the oceans.
As we said: the focus here is on handicrafts!
Roger Dubuis Knights of the Round Table Monotourbillon Pink Gold
So far, the Knights of the Round Table was mainly Roger Dubuis' testament to fine artisanal crafts – in their typical bold style, now in its 8th edition since 2013.
This year, a new central flying tourbillon marks technical prowess, but this is not all: earlier this year already the 'knights' have been redesigned to give them more individuality and dynamics, with each individual figure representing a different personality, and it takes hours to complete one individual knight. The dial then is made of rounded blocks of coloured Murano glass with allow a glimpse on the hour and minute hands beneath – no, this watch is not focussed on time-telling …
The case received an upgrade which now allows the knights to be watched not only from top but also from the sides. While those knights represent a more 'baroque' element of the watch the remainder is distinctly modern, dynamic, and bold – that's a combination which is not for everyone, and which we think only RD can pull off as successfully thank this one.

"Petite Aiguille"
 Tudor Black Bay GMT
Two-tone watches either work or not, and quite honestly, we were sceptical when we saw this watch.
However, on the wrist our impression changed, and the combination of colours, shapes and textures actually enhances this watch.
'Toolwatch with spice' comes to mind, which on top is still kind of affordable for many …

Challenge
 Tudor Black Bay Pro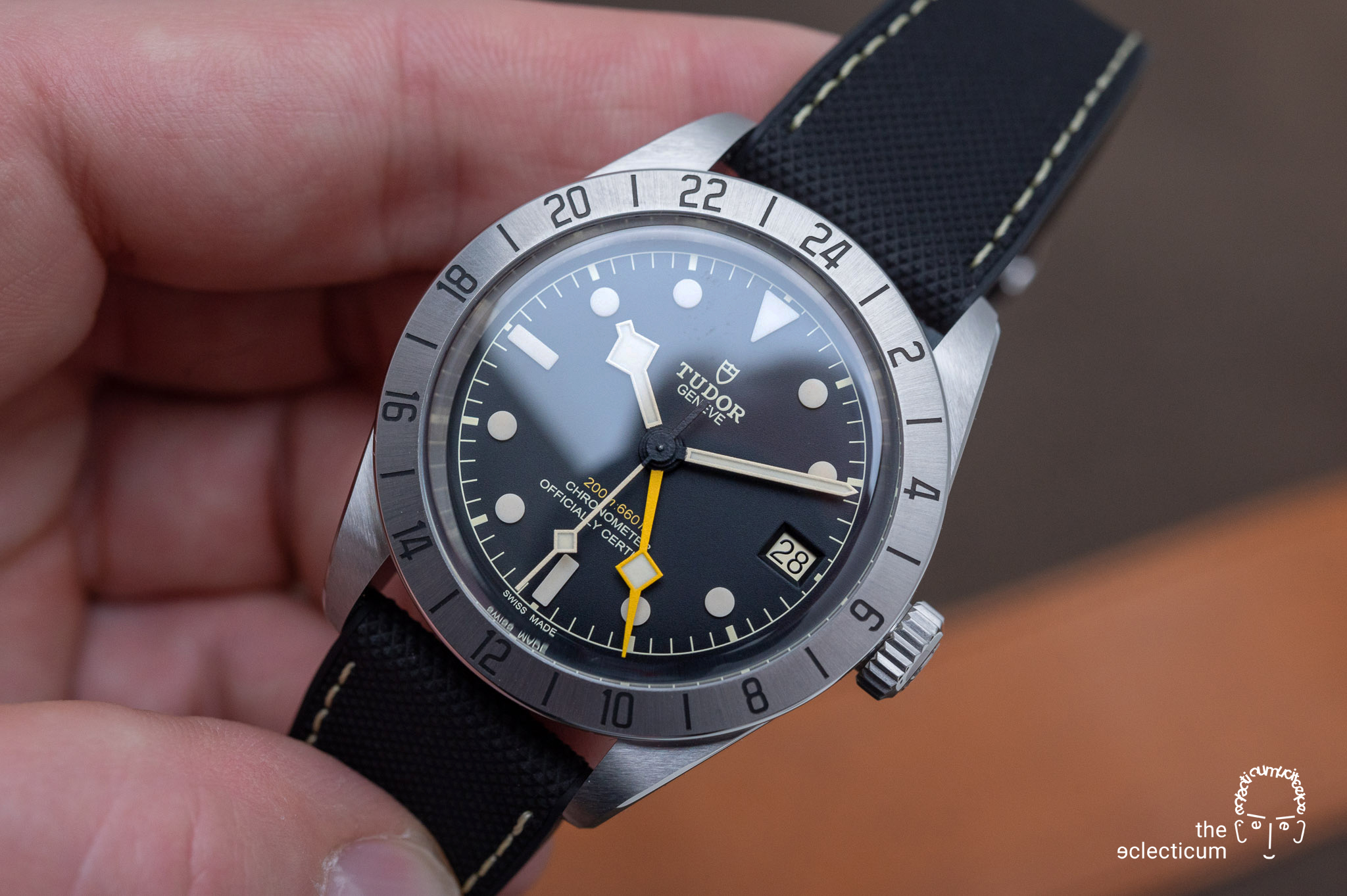 What does the 'Pro' add to this watch? Actually, a very wearable 39mm case (yet a bit thick at 14.6mm) with a fixed sunburst brushed GMT bezel in a design which certainly not by chance reminds on the 'big brother's' 1655 Explorer II, a matte domed dial and the typical 'diamond' hands.
Legibility is spot on with bold hands, easily distinguishable, and ample lume thanks to ceramic dots. While the watch refers to a great past piece, Tudor did not fall into the trap of artificially ageing it with a faux patina yet it added a distinct and quite subtle colour vibe to the hands. On either a rubber or a textile strap it just makes it to the Challenge category, however, if one opts for the metal bracelet one is out of its realm – a pity since the surcharge is not that high, but the bracelet is well made, comfortable and offers a clever T-Fit micro-adjustment system which simply works without tools.
Bear in mind this comes with Tudor's manufacture movement Cal. MT5652 with 70h autonomy this is a very attractive daily wearer!

Wrapping up:
It felt good to be 'on the ground' again! Meeting old and not so old friends, having the opportunity to see and discuss watches in the metal and on the wrists again gave some very much needed 'reality check' and sense of normality.
The overarching theme could be summarised (in a very good way) as 'focused collections' instead of a ´new dog for each village`, which in practical terms meant a lot of refinement in the detail, upgrades which subtly enhanced an existing watch, take the new Grand Lange 1 as a proverbial role model for such approach. Speaking of the brand, having a new 'super-watch' which almost deceptively doesn't look like it, the Richard Lange Minute Repeater is something delightful to observe in an overall quite vocal industry. Similar can be said for Chopard, which decided to complete the cycle celebrating their 25th anniversary of their L.U.C manufactory series with – important upgrades to a few of their most coveted pieces – just like their sister brand Ferdinand Berthoud equally made do with a (lovely) variation of the theme instead of a big bang (which, trust us, is coming soon ;-)).
Such restraint at times came from unexpected corners: Louis Moinet for example, known for its institutionalised exuberance, presented a refreshing departure from their 'usual' (what a word in this context!) offerings that focussed on haptic pleasure. Also, the new strategy of Parmigiani, excellence in a niche, shows once more that refinement can ultimately be extremely sexy.
And this even goes down to more accessible range, just look at IWC's ceratanium chronograph or Tudor's Black Bay Pro come to mind – two very different everyday watches, one with most modern materials which are matched by their aesthetics, the other so classical it even mimics a past legend, yet with some refinements (wearability, bracelet) we welcome very much.
While we are at comparisons – isn't it fascinating how different two luxury/jewellery brand like Hermès and Piaget approach watches? Hermès with an ultimately clever and practical GMT watch, Piaget with their record-breaking slim watch – both astonishing achievements which speak volume about the contexts both brands operate in.
The other end of the scale, with impressive handicrafts on display, came from maisons like JLC or Roger Dubuis (yes, we're serious about here!) – lots of different crafts, quite opposing concepts, but each consistent on their own. In fact, having handled the new RD pieces we were quite astonished how well polished they appear in the meantime (note emphasis!), their modern approach to fine watchmaking we guess needed a bit time to mature.
The allure of 'luxury sports watches' seem to continue, with the one 'white elephant' in the room which seems to be the new emperor: the Vacheron Constantin 222. The attention to the detail VC afforded to this watch was felt by many journalists and collectors alike, and the difference to the Overseas line was staggering to experience.
Overall, the entire Watches & Wonders organisation felt top-notch when we think about the experience on site – in terms professionalism, friendliness (!) and efficiency – be it shuttle busses, the cloakroom staff, the security controls, or the waiters in the halls to mention only a few – everything was planned with details in view and a welcoming spirit we haven't seen since a long time. Thanks to all the good people which made a difference!
To be continued in a bonus instalment covering what happened outside the Watches & Wonders exhibition … stay tuned!
the eclecticum