written by:
the eclecticum
published:
2022-04-16
categories:
A. Lange & Söhne, Chopard, collectors, Ferdinand Berthoud, Grand Seiko, IWC Schaffhausen, Jaeger-LeCoultre, Louis Moinet, Novelty 2022, Panerai, Parmigiani Fleurier, Patek Philippe, Roger Dubuis, Tudor, Ulysse Nardin, Vacheron Constantin, watches, Zenith


Watches & Wonders 2022 – a year of eclectic refinement and delights for the connoisseur (Part 2)


A view on Watches & Wonders 2022 novelties through the imaginary eye of an eclectic GPHG Academician (Iconic, Tourbillon, Calendar and Astronomy, Mechanical Exception)


Part two of our series on the Watches & Wonders 2022 novelties:
from Iconic to Mechanical Exception (this article)
from Chronograph to Challenge – and with our personal wrap-up

Iconic
Vacheron Constantin Historiques 222
Ok, it might seem a bit overwhelming to see the '222' mentioned again, but there were just too many arguments in its favour. First, it was one of the famour three revolutionary timepieces of the 1970, the Audemars Piguet Royal Oak, the Patek Philippe Nautilis, and finally the Vacheron Constantin 222 – created for and named after the brand's 222nd anniversary in 1977. One historical detail which set the 222 apart from the other two was that it is not a Gerald Genta design but the work of Jörg Hysek, a creation with lasting influence as the 222 eventually gave rise to the Overseas. This brings us to the final point: compared to the new 222, the Overseas feels a bit liked an economised version, not only in terms of design (a lot more elobarate) but also in terms of details and haptics. It feels ot us as if the 222 is what the Overseas should have been all the time (but please also read our remarks on the watch in part 1 of the article!)!

Ulysse Nardin Freak S
We both still remember very well when in 2001 the then Ulysse Nardin owner and CEO Rolf Snyder and technical virtuoso Ludwig Oechslin presented their first 'Freak' – a ground-breaking piece that turned 'watchmaking' into 'kinetic art': not separate movement, hands or dial, it was an all-integrated holistic concept with the entire movement rotating around the dial, with its bridges doubling as hands, and add to this the use of silicon and LIGA technologies – quite advanced at the time and still contemporary today.
The construction made a conventional crown impossible, hence the iconic knurled bezel that doubled for winding and time setting. The original idea came from Carole Forestier-Kasapi, who ironically is also behind the Cartier Masse Mystérieuse watch (that we unfortunately missed seeing for now).
UN has developed the 'Freak' ever since as their technological lab and experimental playground, with the current Freak S featuring the brand's first double oscillator with a differential (inclined by 20° towards each other, thereby also to some degree balancing gravitational influences) made in their own DiamonSIL technology, fed by a highly efficient "Grinder" automatic winding system.
That's a lot to digest, but it reminds us why the Freak is so influential. A Freak is a Freak and still amazing, even after twenty years of evolution.


Tourbillon
Chopard Alpine Eagle Flying Tourbillon
A little effort and an attractive watch – this we think could sum up the Chopard Alpine Eagle Flying Tourbillon.
It is amazing to see how well the design of the Alpine Eagle family enhances the tourbillon mechanism, with the coarsely brushed dial finishing centred on the tourbillon axis.
Not ground-breaking for sure, but nicely executed and for now the most comfortable Alpine Eagle on the wrist.

Grand Seiko Kodo Constant Force Tourbillon
A truly exceptional watch sporting a tourbillon with a 1-minute remontoir built into its cage, impressive to say the least. The movement is openworked, which is not to everyone's liking, yet it allows a deep glimpse into the inner working (it's worth it!).
Haptics are well considered as well, i.e., not only does the tourbillon loudly voice its constant force mechanism, also the case design and even the strap are specified in detail and add to the overall impression.
The whole concept and execution of this watch is consistent and represents Japanese watchmaking and crafts at the peak, very well.

Parmigiani Fleurier Tonda PF Flying Tourbillon
Again, a very attractive watch from the Tonda PF line.
What we especially liked is that Parmigiani apparently assumed that a tourbillon is excitement enough and hence decided to forego a guilloche decoration such that the tourbillon has the dial stage for itself. It's those small details which speak of the care applied…!

Vacheron Constantin Overseas Tourbillon Skeleton
A watch where our initial impressions were rather lacklustre (and this for a tourbillon, tss, tss…) but then we turned into fans: tasteful skeletonization under a sapphire dial, only the tourbillon is freely visible.
Again, the small details …


Calendar and Astronomy
Patek Philippe Annual Calendar Travel Time 5326G-001
Welcome! We like to see the use of calibre 260 more often, as it represents modern watchmaking at Patek Philippe.
When it comes to the watch itself, we are not smitten as it doesn't coincide with what we like to see from Patek Philippe.
As much as we appreciate the combination of complications itself, the style of the watch doesn't work for us.
It's a matter of taste and for sure, quite a few people will fall for it as there was already a lot of talk about this novelty around the show.

Patek Philippe Perpetual Calendar 5320G
A winner!
Classical design with high level attention to the details – everything works perfectly together.
It's not the most innovative or surprising watch, but it just delivers what you expect to see from Patek Philippe.
It's wearable, collectible and for sure one of those pieces quite a few collectors may have on their ´bucket list`, for good reasons.

Vacheron Constantin Overseas Perpetual Calendar Ultra-Thin Skeleton
 The tastefully open worked ultra-flat Perpetual Calendar version of the Overseas is not exactly new, in fact it has won this very category already two years ago.
This year Vacheron Constantin presented another variant, now with blue dial elements. A beautiful watch for sure, and that's about it.

Ulysse Nardin Blast Moonstruck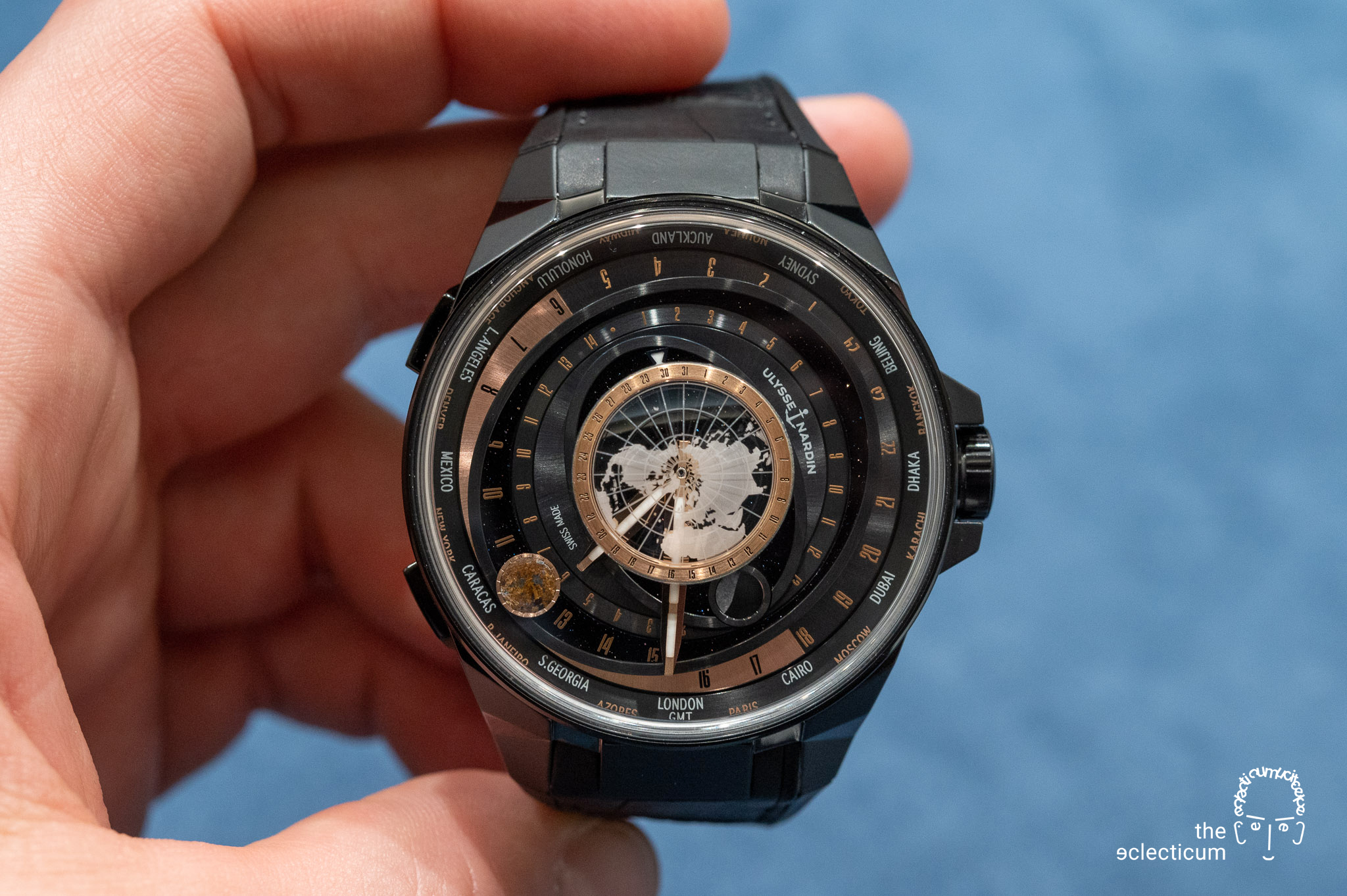 Decidedly modernised and updated, the Ulysse Nardin Blast Moonstruck is the spiritual successor to the legendary Tellurium Johannes Kepler from 1992. It shows the moon's rotation, the apparent movement of the sun around the globe as we observe it from Earth as well as a tidal chart.
The display of the indications is not scientifically correct as it is geocentric, a deliberate choice to make the astronomic indication both intelligible and intensely poetic. A quickset back- and forward setting mechanisms further facilitate the notion of ease of use – this is a typical Ludwig Oechslin concept … and for us the top (eclectic) choice in this category!
Mechanical Exception
 A. Lange & Söhne Richard Lange Minute Repeater
A new complication from arguably the finest manufacturers in Glashütte will always get everyone's attention – justifiably so.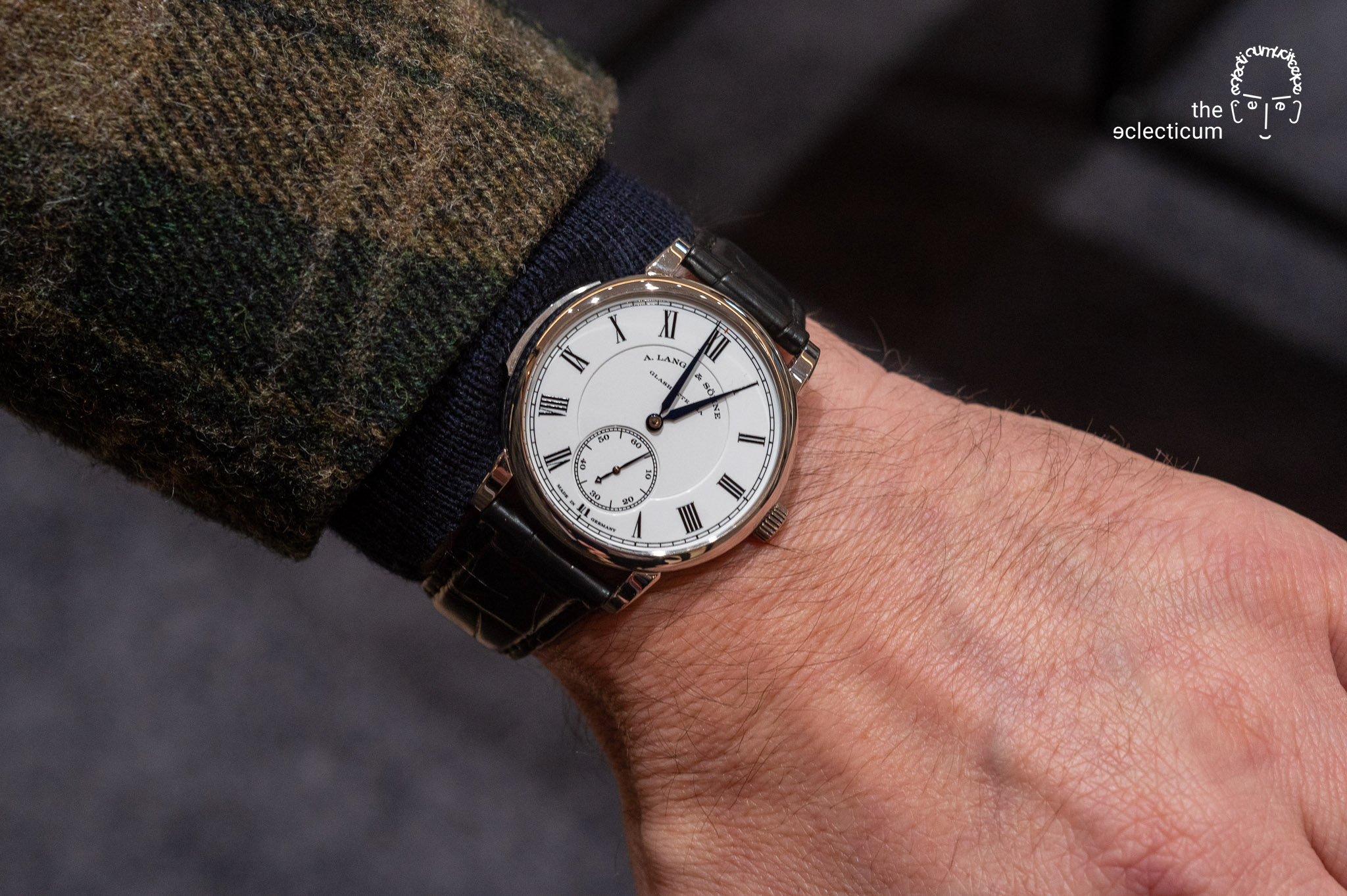 At first view the piece defies its complicated nature, with its classic (three parts) Grand Feu enamel dial and the 39mm platinum case that is just shy of 10mm thick it looks deceivingly 'simple', until one notices the actuation lever for the repeater. One would not expect a 'normal' minute repeater from ALS, and indeed this is not: the control mechanism considers the number of quarters that are to be chimed, and omits the 'silence' between the last quarter and the first minute gong conventional repeaters have if less than three quarters have passed since the last hour – an advanced feature that is difficult to realise (to our knowledge only the Chopard L.U.C Full Strike is similarly sophisticated). When it comes to sound, crisp, precise, and clear – one again is reminded on the sober appearance of the watch. It all fits into the overall concept of a Richard Lange watch, although the Minute Repeater might not be one with the most full-bodied sound. The latter is foremost a matter of personal taste, and we know that kind of discussions about favorite sound from music connoisseurs. We love that kind of qualified discussions – mutual learning is key and not who is right or wrong.
We expect to see more attention even for the three hand only ´entry level` Richard Lange, just because of this novelty, which is well deserved.


Chopard L.U.C Full Strike Sapphire
For the 25th anniversary of the L.U.C collection Chopard showed us a full trio of new chiming watches: the Chopard L.U.C Strike One, the L.U.C Full Strike Tourbillon, and finally the L.U.C Full Strike Sapphire. All have in common that Chopard equips them with their ingenuous monobloc sapphire crystal/gong system which ensures a remarkably pure and loud sound.
Also, all Full Strike watches omit silent quarters thanks to 'mechanical interim memory' system which ready the time first before passing it to the chimes themselves.
Amongst the team of 'the eclecticum' we oscillate between the Strike One and the L.U.C Full Strike Sapphire …

Ferdinand Berthoud Chronomètre FB 2RSM
We still wait for the day when Ferdinand Berthoud presents a watch that would not sing to us… and hopefully must wait forever! For this season the manufacture delighted us with their new Chronomètre FB 2RSM, their first tourbillon regulator fed with energy flatted by a fusée and chain that is combined with a dead-beat second, and once more it is a delight for all senses.
Again, Ferdinand Berthoud does not limit the watch but the movement (20 pieces), and offers the clients a wide range of case and finishing options.
In terms of watchmaking content is a variation of what the manufacture already offers, but this does not distract from the attractiveness of the watch – if something is already excellent, too much change can make things worse.

Jaeger-LeCoultre Master Hybris Artistica Calibre 945
Jaeger-LeCoultre this year spotlights the artistry of its Métiers Rares atelier with new versions of one of their most complicated watches: the Master Hybris Artistica Calibre 945 with a minute repeater and a flying tourbillon rotating around a celestial sky map as seen from the home of the Manufacture in the Vallée de Joux.
There are two variants, the 'Galaxia' and the 'Atomium', and we're particularly enamoured by the 'Atomium' version of the Calibre 954 due to the complimentary depth thanks to open support 'atom' structures of the sky dome, which is itself created using a rare enamelling technique called 'grisaille' (a multilayer halftone technique).
There is so much going on here, and both watches are certainly absolute condensates of many, many arts and crafts yet representing the standards of the current watch industry.

Louis Moinet Astronef
We often consider Louis Moinet's watches to be a bit over the top, but sometimes exuberance leads to mesmerising effects.
The Astronef is one such watch: like in a time capsule two tourbillons mounted on arches with counterweights turn in opposite direction and cross paths 18 times per hour (every 3 minutes and 20 seconds to be precise), with a most cinematic effect excellently visible under a crystal box, with the case providing only the frame.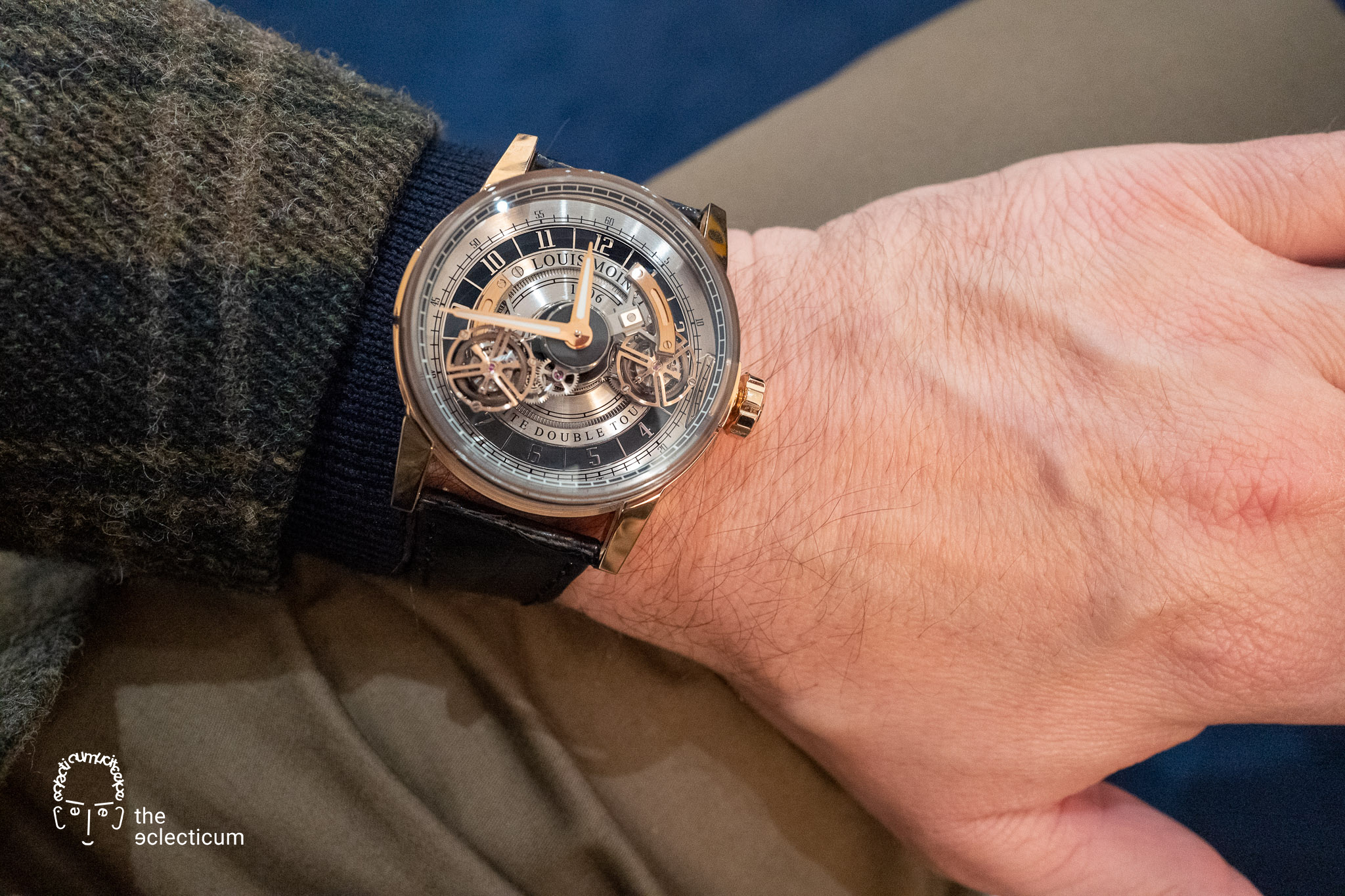 In its very own way a consistent piece, nonsensical but with lots of charm!

Stay tuned for the final part – from Chronograph to Challenge! If you want to go back to Luxury Sports Watches to Men's Complication please click here!