written by:
the eclecticum
published:
2022-04-15
categories:
A. Lange & Söhne, Chopard, collectors, Czapek, Ferdinand Berthoud, Grand Seiko, Hermès, IWC Schaffhausen, Jaeger-LeCoultre, L.U.C, Laurent Ferrier, Louis Moinet, Ludwig Oechslin, Novelty 2022, Panerai, Parmigiani Fleurier, Patek Philippe, Piaget, Ressence, Roger Dubuis, Tudor, Ulysse Nardin, Vacheron Constantin, watches, Zenith


Watches & Wonders 2022 – a year of eclectic refinement and delights for the connoisseur (Part 1)

A view on Watches & Wonders 2022 novelties through the imaginary eye of an eclectic GPHG Academician (Luxury Sports Watches, Ladies´ Complication, Men´s, Men´s Complication)

Finally, a fully-fledged physical watch fair again – and what a fair it was! Combining what formerly were BaselWorld and SIHH (at times quite literally when you saw a few ex-Basel booths standing out from the usually uniform SIHH interior, and then there are also a great number of brands who migrated), Watches & Wonders tried to break new grounds and let a few fresh breezes into the sacred Palexpo halls in Geneva.
That made us at 'the eclecticum' thinking: Geneva, and this year for the first time both of us are members of the Academy of the prestigious Grand Prix d'Horlogerie de Genève (GPHG) … so why not assume the view of an imaginary eclectic GPHG Academician and select those (potential) pieces which pass for an eclectic choice?
Well, here we go – the sheer multitude of watches required us to split our impressions into a series fo three articles (note: categories without entries are simply left out):
from Luxury Sports Watches to Men's Complication (this article)
from Chronograph to Challenge – and with our personal wrap-up


Luxury Sports Watches
You feel kind of unfamiliar with this category? Rest assured, that's understandable as it does not exist, but looking at this year's novelties it certainly feels that such is dearly missing – and it would be well populated. So, we took the liberty to 'create' one (recall the word 'imaginary' above ;-)).
There is most probably more competition than ever before and (almost) everyone in the industry tries to get his share these days. In the past it was only a few well-known players, but that changed. Looking at design it's quite often a matter of personal taste and preferences while the quality is quite high in general. One of the major differences for us is the comfort of the bracelets, and not everyone meets our (very high, to be honest) expectations. Just for example a fine adjustment still isn't a given in this category but almost a standard these days for bracelet on watches in the range between € 5k to 10k. Sure, it may be a question of intellectual ownership but still we would prefer to see it more often. The customer of tomorrow will ask for it, even more, because he or she just got used to it!


A. Lange & Söhne Odysseus Titanium


It was the first foray into the realm of 'sporty' pieces, and Lange's Odysseus watches made a very fine debut with lots of details specified in a very considered way (Making-of Odysseus from A. Lange & Söhne – the eclecticum).
This first serial watch in non-precious material is now followed by a second one in Titanium, and once more the result is marvellous – very light, yet still a solid 'Lange' feeling. Small refinements in the details, such as the dial decoration, speak for the love the team around Anthony de Haas has afforded to the version.

Czapek Antarctique Frozen Star S
Clearly a very successful addition to the collection, the Antarctique has now gained a new, smaller case in 38.5mm.
Unfortunately, and certainly due to production considerations it lacks a bit of spice if you look at the sides (the grooves are missing), but Czapek has made up for this in the Frozen Star S with a spectacularly sparkling dial made of crystallised Osmium, an extremely rare (and in raw form toxic) transition metal in the platinum group.

Laurent Ferrier Sportauto
A brand known for their elegance (especially in the details) presented their second steel-on-steel bracelet watch, but this time without tourbillon.
For sure it looks like a timepiece from Laurent Ferrier (the dial, the crown, the hands, and the movement), but somehow to our taste there is too much "extra meat on the bones". It feels "curvy" and solid, but less refined – especially when we think about the targeted price range. Still in general, it feels good on the wrist.

Parmigiani Fleurier Tonda PF GMT Rattrapante & Tonda PF Skeleton
What if a Purist at heart would take over Parmigiani Fleurier? That dream might have come true with the arrival of Guido Terreni at the helm of the brand, and if collectors' reactions to the redesigned Tonda PF line is an indication, it is already real.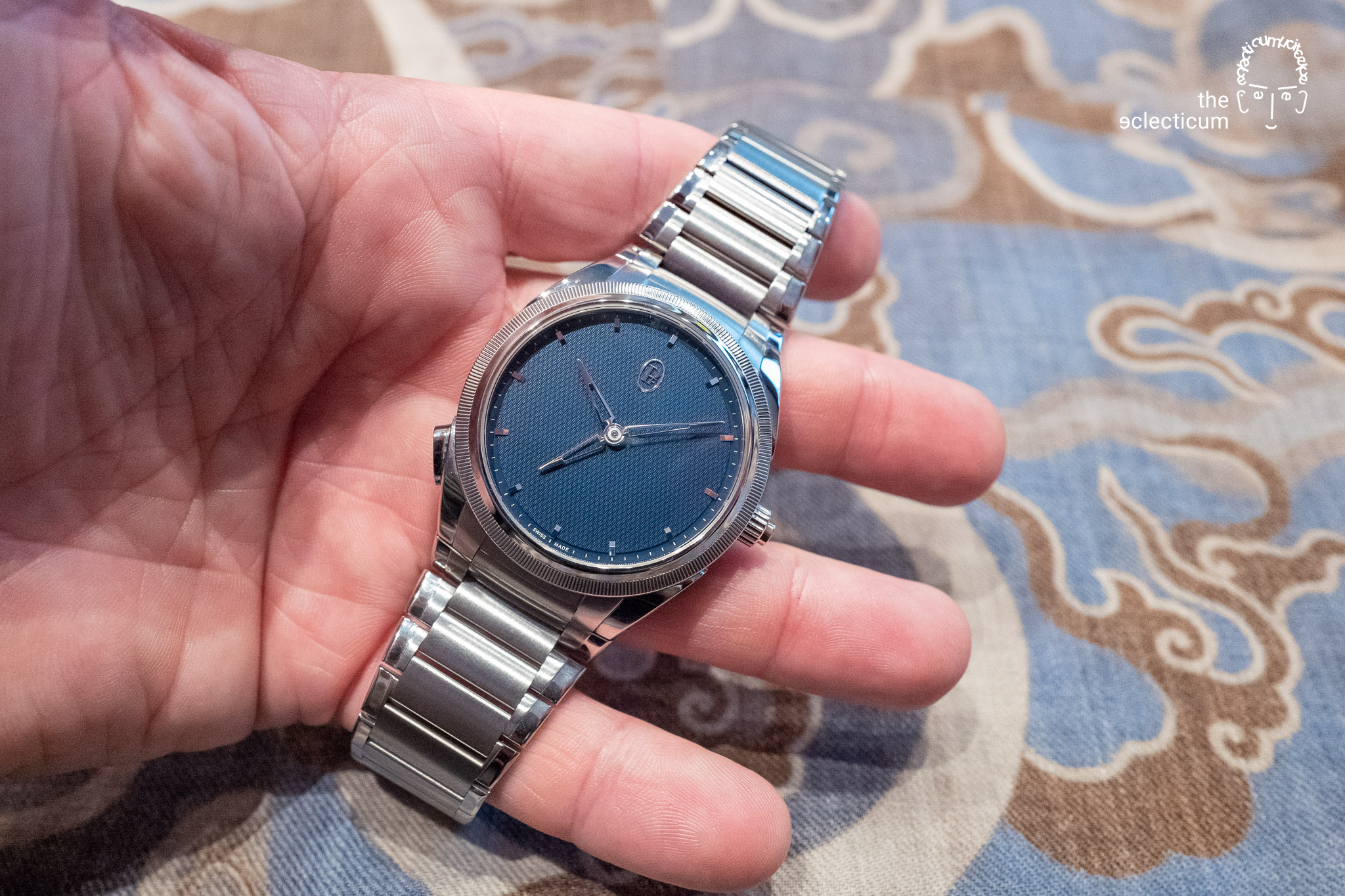 This year, the Tonda PF GMT Rattrapante was one talk of the show (when was that the last time for a Parmigiani watch?) with its cleverly devised GMT functions, and the even more clever use of words ('rattrapante', 'welcome-back-home' button…).
Seriously, one of the most impressive pieces – without being loud at all – at the show. Still, we feel the shallow guilloché on the dial lacks some sparkle its vast area could well use, and therefore (and quite to our surprise!) its sister Tonda PF Skeleton won our hearts – steel or gold, it doesn´t really matter in this case.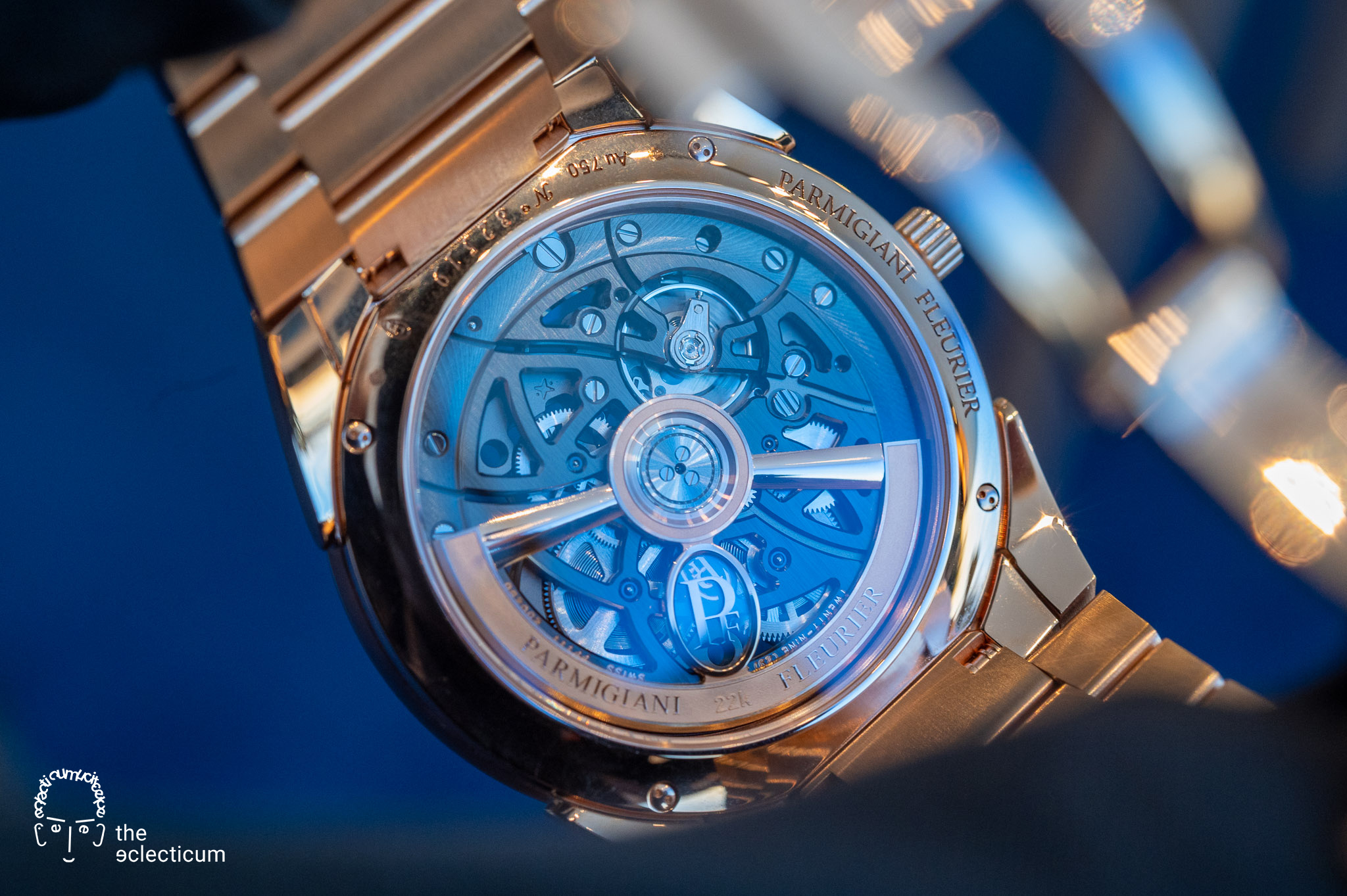 This beauty shows lots of fine details, a very consistent all-over design and feels just great on the wrist.



Piaget Polo Skeleton
Very fine, slim, skeletonised watch with attractive, flowing lines of open-worked bridges.
A seriously good and refined watch but given the context of other pieces presented in Geneva it quite doesn't make into (our) finals, mainly because of the bracelet not being on the same level of refinement as the watch itself – consistency which matters a lot already at this level.



Vacheron Constantin Historiques 222
Probably the most talked-about piece at the entire show, Vacheron Constantin took us by surprise with this one. And if you finally had your chance to hold it in your hands you understand why: it is fantastically realised with superb craftsmanship, detailing and aesthetics.
We're often critical towards the trend to revive icons from the past, but this here really shows why this can be worthwhile – in specific cases. But to fully 'get it' one must hold the watch in the hands – only then does it reveal its full magic, haptics included.
We regret a bit that no Cal. 1120 ticks inside, but we're told that case dimensions (37mm) would not allow for this. At first view it sounds quite ironical that this famous movement did fit in the original 222 with the very same diameter, but you have to keep in mind that the case construction changed from a monobloc to a (more conventional, sigh!) three-part case design – the additional seals, threads etc. might explain the choice of movement.
On the wrist it feels and looks very good – even in yellow gold, which is not a given. An eclectic choice for sure! We trust we will see more iterations in the future as it represents an additional ´luxury sports watch` collection, more refined and with better proportions than most watches in their Overseas collection.

Ladies' Complication
Jaeger-LeCoultre Rendez-Vous Star
Regrettably, we have not seen a lot of ladies' watches to start with, but Jaeger-LeCoultre's Rendez-Vous Star is a 'star' indeed: with an 'unpredictable' shooting star swishing by every once and then (statistically 5-6x/hour) the watch gives a mesmerizing mechanical reproduction of one of the most coveted astronomical phenomena.
We seriously like the "romantic complication" as it makes you smile whenever you catch it and we highly recommend making your wishes, just be prepared ?



Men's
A. Lange & Söhne Grand Lange 1
This is a novelty very close to our (collector) heart: Lange revised its iconic Grand Lange 1 and reduced the thickness by a tiny 0.6mm down to 8.2mm, mainly by reducing the thickness of bezel and indices.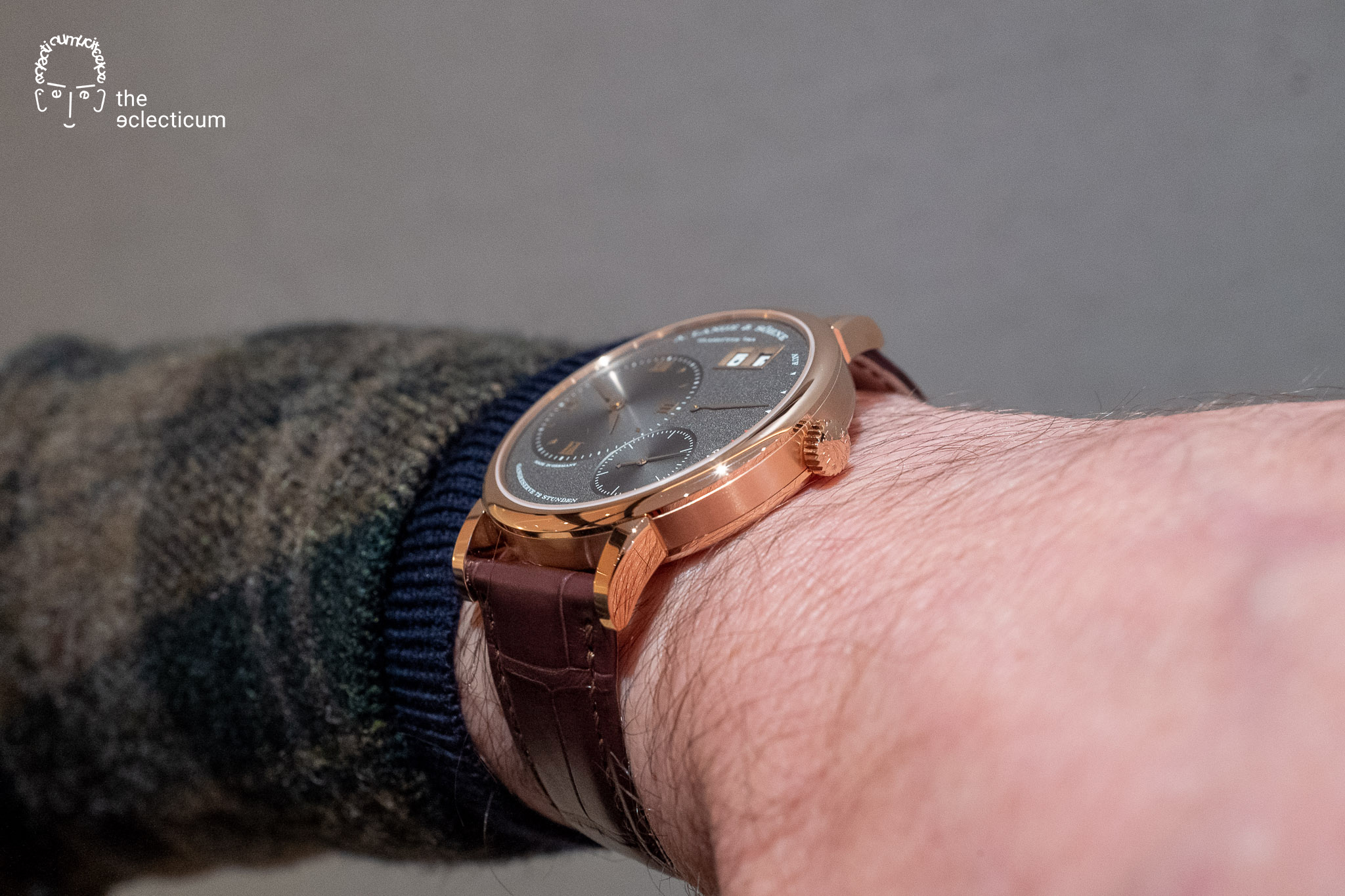 What normally would have resulted in, well, a 'flat' impression has been masterfully counterbalanced by a finely frosted finish of the dial area.
This is masterfully done product development and shows the attention to details only the great houses can afford – it's all about refinement and never to stand still. Even without the typical Lange approach of presenting a new watch only with a new calibre (although: 'different hand pinions do not qualify for a new movement designation') for us one of the best watches of the fair!


Chopard L.U.C XPS 1860 Officer
With the Grand Lange 1 setting a high standard we were quite surprised when we appreciated Chopard's L.U.C XPS 1860 Officer.
Taking the design elements from 2019's L.U.C Flying T Twin tourbillon watch, such as core case and dial design, Chopard has created a 'collector's piece' in the loveliest sense: a superb L.U.C micro-rotor calibre worth the Poinçon de Genève, enshrined in a fairmined yellow gold 'officer' case with hinged back, and on the front a hand-guilloché, deeply green dial.
For the most experienced collectors a true highlight – just so simple yet refreshing in the details representing fine watchmaking!


Laurent Ferrier Classic Origin Blue
Now we are talking, pure elegance and lots of understatement – at the front and back.
Sporty yet classic and therefore easy to imagine as a "daily beater" for almost any occasion. Touch and feel are just nice, as expeted!


Patek Philippe Calatrava 5226G-001
A new contribution to the long line of the (most often) exceptional Calatrava family, known for elegance and understatement.
Still this time it's different and even when there is no "flaw", we feel something is wrong for us. It feels like a fusion of known elements, initiated by marketing people, to please new target groups.
Maybe it´s just preconception we have, but it's not a winner in our book – we expect a bit more original thinking from Patek Philippe.


Ressence Type 8
Puristic, stylish (with features the brand is known for) and more elegant than ever before.
It represents their very special style and still is different – especially in the detail. On a very personal level it wouldn't be our first choice, but a nice evolution of the concept nonetheless which sticks to the roots of Ressence.
We never expected to see so many different watches based on the original idea, but it's great to see what you can reach with passion and talent for design.

Roger Dubuis Excalibur MB EON Gold 42mm
Bold comes to our mind when we think about the Excalibur collection, most of the time. Still, this time the reworked movement decoration combined with the case design with spider-like lugs that are balanced with equivalently shaped pads on the strap made us smile.
For us, this is akin 'detail in boldness' and this homogeneity took some time for RD to achieve (and for us to notice) – and this is an important aspect which to our surprise make the watch just 'work' (you need to strap it on, though).
It was (once more) the refinement and taking care of the details. The outcome is more consistent than ever before, but (still) not for everyone – which isn't a bad thing at all.

Men's Complication
Hermès Arceau Le temps voyageur
It's difficult to deny that Hermès is serious about watchmaking – without being too serious and most often with twist. Their win of the Astronomy and Calendar category at the 2019 GPHG with the Arceau L'heure de la lune testifies that this is increasingly recognised.
This year, a similar concept is applied to an ultimately practical, mechanically refined and aesthetically pleasing traveller's watch, the Arceau Le temps voyageur, with its satellite time display that travels around the globe (dial!) with an imaginary world map of dressage to indicate the second time zone as well, easily adjustable with a button.
Our favourite is the 38mm version due to the fantastic play of blue shades, but the 41mm is not only larger but also more 'sporty' – a tough choice for sure. Playful yet serious!

Piaget Altiplano Ultimate Concept
A watch one needs to hold in one's hand – only 2mm slim, slimmer than a 2 CHF coin, it gives the impression of fragility despite actually being robust enough to be worn (they had not a single one broken yet … mainly because of improved materials and technology, compared to the past).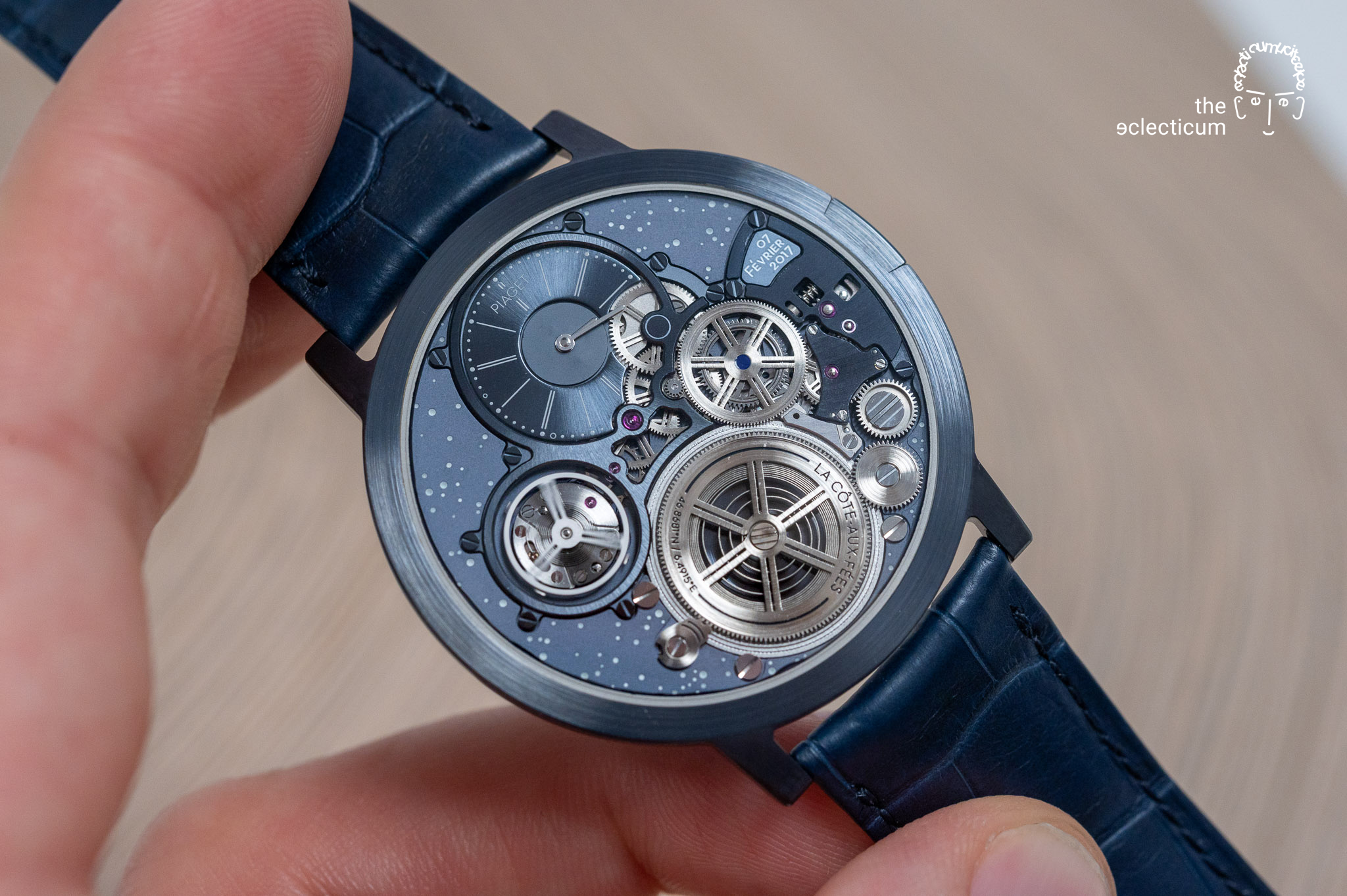 Now in a new mysterious cobalt alloy, Piaget seems to express their pride in this achievement – they have engraved the precise day at the precise minute in 2017 when the Ultimate Concept ticked their first beats.
However, next to its apparent fragility it with another characteristic: it sits slightly uncomfortable on the wrist, due to its 41mm diameter and flat design, but this may differ as it depends on one´s wrist.
Slim, slimmer is not a first and they are not the only ones in the market, but we highly recommend looking closer to the other approaches – to understand the differences. First and foremost, it's impressive in any case and represents very well the DNA of Piaget and their approach of fine watchmaking.


Ulysse Nardin Freak X Avanturine
The legendary (see below) 'Freak' in its most accessible form, but perhaps also the most conventional (crown!) version.
Still, the concept (a flying carrousel movement rotating around its own axis with no dedicated dial or hands) is the same, with all the advancements and inventions Ulysse Nardin has made in all the years since the debut of the Freak in terms of escapement or materials.
It might not be as exciting as the new Freak S, but if you think about where it came from, what you get and what impact this series of timepieces has made on the industry it is a very significant watch indeed.

Liked what you read? Head straight over to the next part – from Iconic to Mechanical Exception!