written by:
the eclecticum
published:
2023-04-23
categories:
A. Lange & Söhne, auction, Audemars Piguet, Jaeger-LeCoultre, Lemania, Leonidas, Movado, Omega, Patek Philippe, Rolex, Vacheron Constantin, watches
Hands-On with delights from the May 2023 Auction at Antiquorum Geneva!

´Collector´s View` on an eclectic selection of watches, from dress over complications to icons, to be sold at the Antiquorum Geneva auction, 14/15 May 2023


One of the great benefits of being in Geneva from time to time is the chance to pass by the local showrooms of the dedicated auction houses and marvel at some pieces you won't see all too often. Recently, Antiquorum had their doors open to us, and here's what caught our eyes at the upcoming Antiquorum 'Important Modern & Vintage Timepieces' auction to be held in Geneva on 14 & 15 May 2023*.
For ease of navigating, we sorted the watches into tangible categories. Now let's enjoy some tempting watches!
Dress Watches

Movado Polyplan WG
This watch, or more precisely its movement, has fascinated us ever since we first detected it in the book 'Wristwatches. Armbanduhren. Montres-bracelets' by Gisbert Brunner and the late Christian Pfeiffer-Belli: the highly curved Movado Polyplan with a Cal. 400 movement that is angled on both ends to allow for an unusually long and curved case which fits snug to the wrist. With a very logical layout – from top, (angled) level 1: keyless works, (plane) level 2 (main level): geatrain, (angled) level 3; escapement with a large balance (note the regulating lever passing through to the backside for easy rate adjustment without dissembling the watch completely), chronometry still stood in the center (a few watches received chronometer certifications from the Neuchâtel observatory) while allowing an eclectic shape. Here, design defined the technology to reach its end – function follows form, if you like. The dial shows quite some signs of a century worth of time, which surprisingly means something positive here as the water sealing is non-existent and a too well preserved dial would raise suspicion. Side note: independent watchmaker Eva Leube drew inspiration from the Polyplan when realising her own interpretation, the Ari watch, in 2011.
Antiquorum GVA, 14/15 May 2023, Lot 122 (estimate CHF 6,000 – 10,000, sold for CHF 8,125 incl. BP)
Patek Philippe Ref. 96 YG with an opaline dial
The iconic Patek Philippe dress watch and the one that coined that 'Calatrava' name. Many variants are known, and this one looks just like a distillate of classical watchmaking. Only 31mm in diameter, but every mm is full of delights – outside and inside with PP´s 1st ever in-house manual caliber 12-120. The black strap and buckle are still original Patek Philippe and of fitting vintage, the watch comes with some 'official' Patek Philippe service history.
Antiquorum GVA, 14/15 May 2023, Lot 176 (estimate CHF 5,000 – 7,000, sold for CHF 7,500 incl. BP)
Patek Philippe Ref. 570 YG with a black dial
A most lovely dress watch with lots of character owed to the simple 'Calatrava' style case and the stark contrast offered by the golden indices & hands over a black dial. It comes in a quite contemporary size of 35mm diameter. The movement is (once more) the manual caliber 12-120. The black strap is still original Patek Philippe. Included is an abstract from the archives.
Antiquorum GVA, 14/15 May 2023, Lot 185 (estimate CHF 50,000 – 80,000, sold for CHF 131,250 incl. BP)
Vacheron Constantin Ref. 4624 YG
Vintage Vacheron Constantin dress watches often offer slightly more 'spice' compared to the ones of the other great Swiss houses. This Ref. 4624 stems from 1960 and has a contemporaneously large 38mm yellow gold case – it looks 'simple' but actually offers lots of refinement – just look at the incredibly thin case side. Lovely, engraved enamel inscriptions. The condition appears also to be quite good, with the future owner only left to hunt for a period-correct pin buckle…
Antiquorum GVA, 14/15 May 2023, Lot 132 (estimate CHF 5,000 – 8,000, sold for CHF 9,375 incl. BP)


Chronographs

Lemania Monopusher Chronograph 'Istituto Idrografico della Marina'
The Italian Hydrographic Institute of the Marine headquartered in Genoa is tasked with providing updated nautical documentation, such as maps, of the Italian coasts and seas – covering over 550,000 square kilometers of sea waters and more than 7,800 kilometers of coastline. The institute provided service watches assigned to Navy vessels, such as this Lemania chronograph with a single pusher at 2 o'clock as well as a central seconds and 30 minute counters, respectively. Case, dial and hands are very well preserved considering the watch stems from the 1950s, inside ticks a Cal. 2210, originally born as a CH 15, and it comes without shock protection. Similar watches were also made for other Navies such as the British Royal Navy, but the 'Istituto Idrografico della Marina' inscription is too charming to resist – and note the dynamic yet totally functional font used for the numerals! Fun fact: those service watches were meant to stay as listed equipment to a ship, and were not given to individual military personnel. But it was quite common to declare them lost, pay a small fine and enjoy a fine watch …
Antiquorum GVA, 14/15 May 2023, Lot 371 (estimate CHF 4,000 – 6,000, sold for CHF 5,000 incl. BP)
Leonidas Rattrapante Chronograph ca. 1940
Mechanically, rattrapante or split-seconds chronographs are immensely demanding when it comes to construct and the ultimately produce them. That in mind, the appearance of wristwatches with such complication some 100 years ago is kind of mind-blowing. Most have been made for technical/military purposes. Here is a large (43mm) stainless steel Leonidas, powered by a Valjoux 55 VBR movement – which essentially is a monopusher chronograph (crown button) with a rattrapante seconds counter (button at 2 o'clock). The dial is described as 'tropical' and very likely left the factory as a 'gilt' dial.
Antiquorum GVA, 14/15 May 2023, Lot 136 (estimate CHF 30,000 – 50,000, not sold)
Omega Speedmaster Ref. ST 145.012 'Ultraman'
A legendary albeit also a bit elusive reference, the Omega Speedmaster 145.012 is the very last series which uses the equally legendary Cal. 321 column wheel chronograph movement and was produced in about 3,000 pieces. A very small subset of this reference came with a special orange seconds counter hand (also with a special shape) and appeared in the Japanese television series 'Ultraman', created by the Japanese director Eiji Tsuburaya (1901-1970) who often equipped his actors with interesting watches. This here is one of these, and it comes with an extract from the archives that confirmed it was originally equipped with an orange hand. It comes with a period-correct original Omega bracelet which still wears well.
Antiquorum GVA, 14/15 May 2023, Lot 360 (estimate CHF 20,000 – 40,000, sold for CHF 31,250)
Perpetual Calendars

Audemars Piguet Edward Piguet Perpetual Calendar
From a more quiet era than AP is known for today. One of those understated yet sophisticated (especially inside) watches which easily are overlooked these days like the entire Edward Piguet line. Yet it delights with a brilliant, sophisticated case design in our view, and the surprisingly strongly layered dial is just a marvel to appreciate. This one is for the savvy collector!
Antiquorum GVA, 14/15 May 2023, Lot 53 (estimate CHF 15,000 – 25,000, sold for CHF 31,250 incl. BP)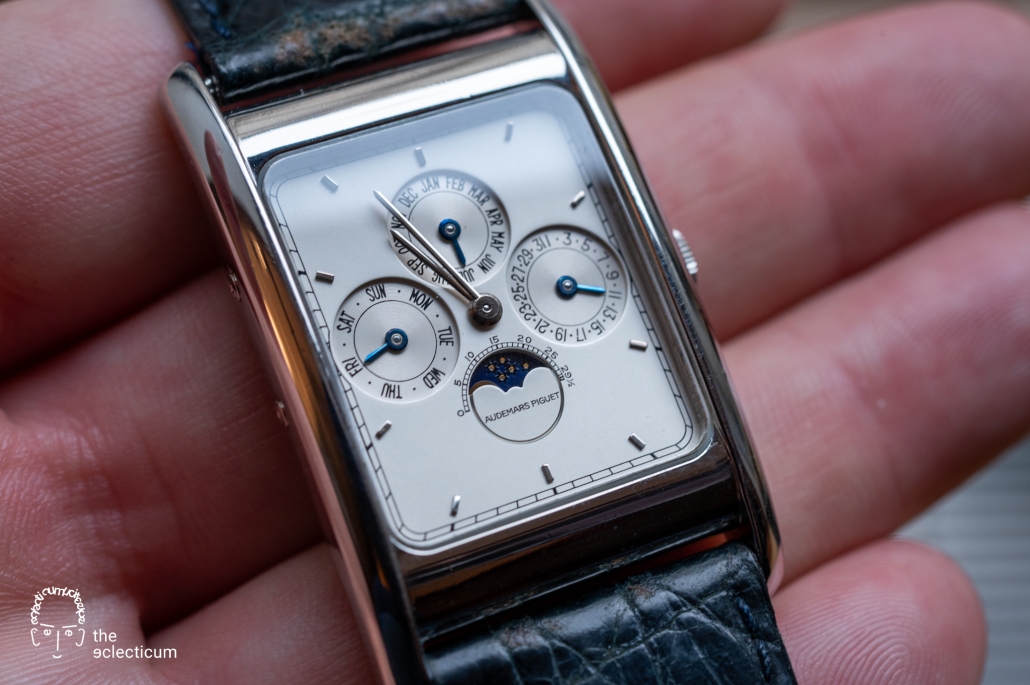 Jaeger-LeCoultre Reverso Quantième Perpétuel
One of the legendary complicated Reversos that JLC presented at the end of the 20th century (included a minute repeater, a tourbillon, a chronograph and this perpetual calendar), and which the manufacture has reintroduced just this year. An idiosyncratic take on the popular complication which makes best use of the Reverso's characteristic dual-face case real estate, with only the day/night indication on the main time side and the remainder to the calendar on the other – allowing the wearer to decide between a watch and a calendar, essentially. The day/night indication doubles also as 'don't touch warning' reminding the owner not to set the calendar between midnight and 3 o'clock – brilliant! Like all of those original complicated Reveros it is a mechanical masterpiece in an execution abounding with fine finishes in a most compact case!
Antiquorum GVA, 14/15 May 2023, Lot 108 (estimate CHF 15,000 – 25,000, sold for CHF 28,750 incl. BP)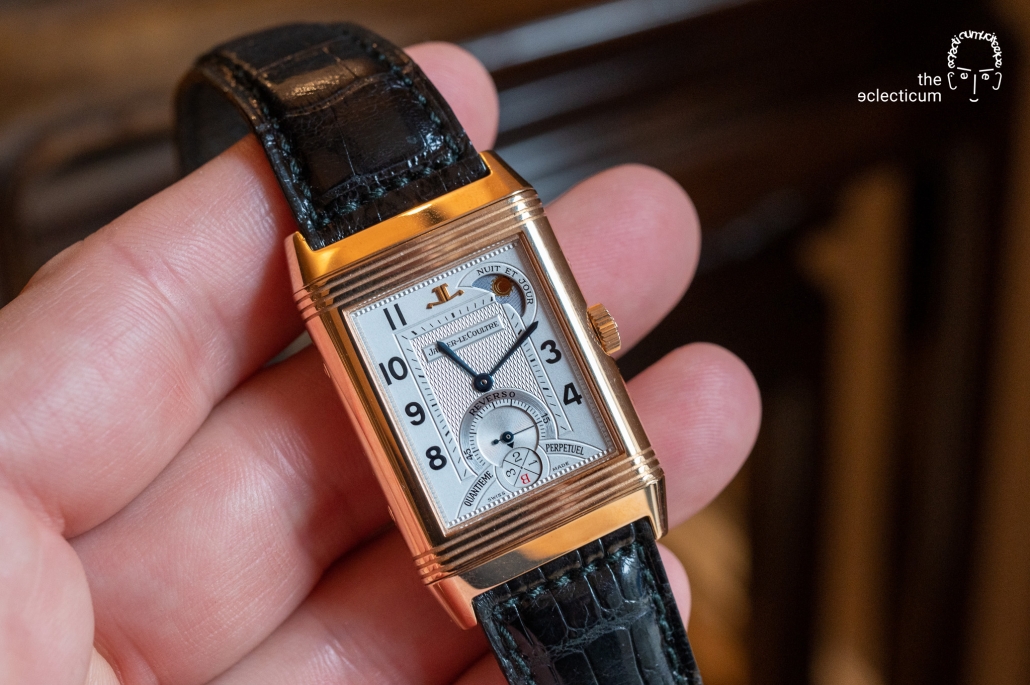 Iconic Watches

A. Lange & Söhne Lange 1 YG
A watch that defined a manufacture – that's what the original Lange 1 is for sure. What made all collectors' heads turn in 1994 when the team around the inimitable duo Günther Blümlein and Walter Lange presented the first ever collection of the revived German watchmaker was a very distinctive yet somehow 'naturally' feeling asymmetric design with a large date, a 3/4 plate movement made of German Silver and a finishing that made the great Swiss watchmaking houses scratching their heads. At hand or on the wrist it feels more solid than most Swiss watches from that era – just to make a difference and to stress its (haptic) quality. Today, a Lange 1 feels as fresh and contemporary as it did some 30 years ago (damn, we're way too long into this obsession…), particularly in yellow gold like this, and with the lovely dark patina on the untouched movement bridges.
Antiquorum GVA, 14/15 May 2023, Lot 392 (estimate CHF 15,000 – 20,000, sold for CHF 22,500 incl. BP)
Jaeger-LeCoultre Memovox 'Deep Sea'
This watch is the very first alarm diving watch ever – made in 1061 pieces, of which only about 200 were made with the 'European' dial like this watch. The alarm function seems like an afterthought at first, but actually was a tremendous safety feature to remind the diver to return to surface in time. It was found in an abandoned store in France and left in that condition – very original thus.
Antiquorum GVA, 14/15 May 2023, Lot 23 (estimate CHF 20,000 – 30,000; sold for CHF 30,000 incl. BP)
Patek Philippe Ref. 3970EP Perpetual Calendar Chronograph with a black diamond dial
Patek's Ref. 3970 > 1st introduced already in 1986 < is an icon (and as such it could feature 3x at least in this article) - full stop! Actually, much like the JLC Reverso Quantième Perpétuel further up it is a distillate of watchmaking encompassing design, technology and execution in a most holistic way. And just like the mentioned JLC, also in an incredibly compact case of only 36mm diameter without looking like a hockey puck on your wrist (while to be clear much of the height is hidden by the concave bezel). The Ref. 3970 has surely been devised with lots of respect for the watch and with great taste as well, both indispensable if you want to create an icon that is rightfully cherished until today (and probably only surpassed by its split-second sibling Ref. 5004 - but this is something else entirely!). The specimen here has 12 diamonds as hour indices for extra spice.
Antiquorum GVA, 14/15 May 2023, Lot 349 (estimate CHF 100,000 – 150,000, sold for CHF 131,250 incl. BP)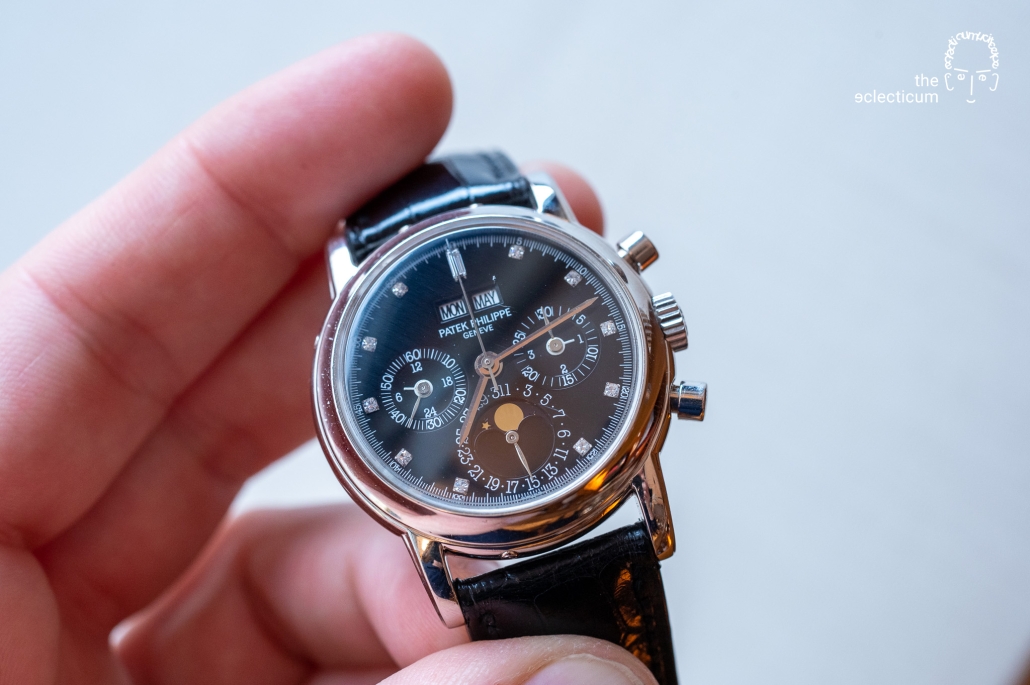 Rolex Milgauss Ref. 6541
The original Milgauss watch from 1954 was intended to serve primarily scientists exposed to strong magnetic fields, specifically to those working at the European research organisation CERN. Movement parts made of anti-magnetic material and additional soft-iron shields in the case made the watch resistant to fields up to 1000 Gauss, hence the name of the watch. Actual tests revealed it retained its accuracy even at 5x stronger fields. Rolex produced this reference split by market, with a plain bezel for the American (like this watch) and a graduated revolving bezel for the European market. This is the practically both, an American model where the owner also bought the European bezel as a spare part. It also has a contemporary Rolex steel bracelet and one of the dials where there is no 'Milgauss' inscription, and it is aged to the desired 'tropical' state.
Antiquorum GVA, 14/15 May 2023, Lot 430 (estimate CHF 120,000 – 180,000, not sold)
Vacheron Constantin 222 Ref. 44018 YG
The Vacheron Constantin 222 is one of those characteristic watches that could only occur during the 1970 period. Drawn by German designer Jörg Hysek, it joined the ranks of the Gerald Genta works like Audemars Piguet's Royal Oak, the Patek Philippe Nautilus or the IWC Ingenieur, but remained more in the background of collector's interest. That changed after Vacheron Constantin reintroduced this reference last year (a watch we very much liked), and we certainly appreciate the chance of handling the original – after all, it has the more elaborate construction (monobloc case!) and carries the arguably most desirable ultra-flat Cal. 1121. This specimen looks very well cared after, with only slight marks of use, apparently never being refinished (a crucial parameter for this type of watches where the cases are precisely defined and loose much appeal once lines softened after re-polish) and with a tight bracelet.
Antiquorum GVA, 14/15 May 2023, Lot 432 (estimate CHF 50,000 – 80,000, sold for CHF 62,500 incl. BP)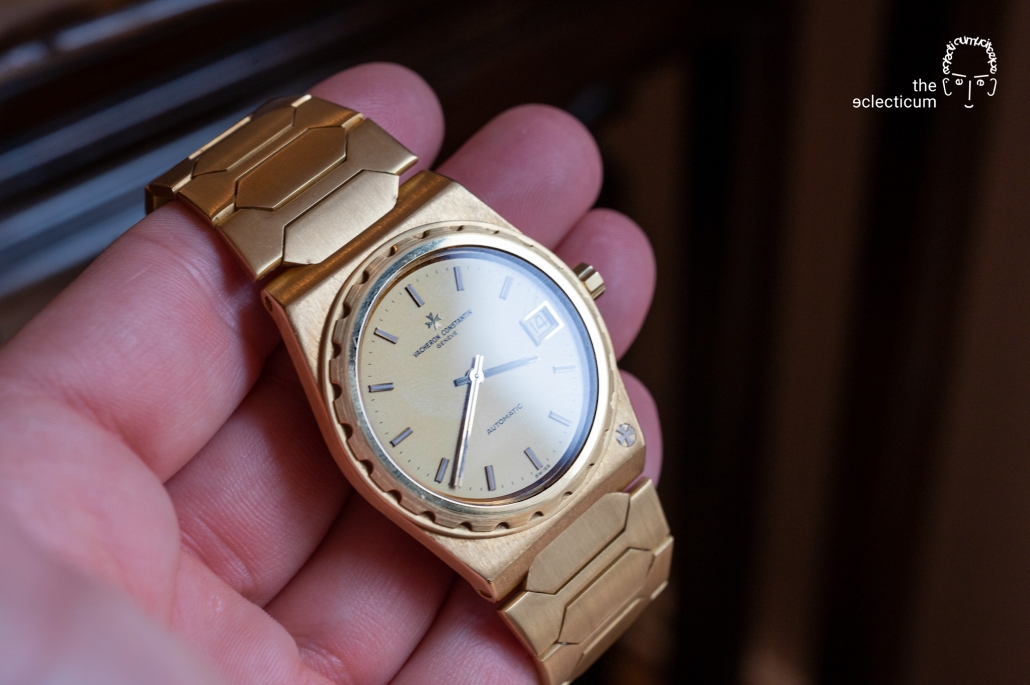 Some funky stuff

Jaeger-LeCoultre Chronograph Ref. 2648
You just got to love the massive, bold case designs from the 1970s. Jaeger-LeCoultre's Ref. 2648 comes in a large (43mm) monobloc steel case with a colourful, wide dial with pulsometer scale, and those fantastically detailed time and square-cut orange chronograph hands. Movement is a Valjoux 72, less significant than another oversized 1970s chronograph, the Breitling Navytimer 'Fried Egg' with the automatic movement Cal. 11, but still desirable as well and eas(ier) to service.
Antiquorum GVA, 14/15 May 2023, Lot 26 (estimate CHF 4,500 – 6,500, sold for CHF 5,625 incl. BP)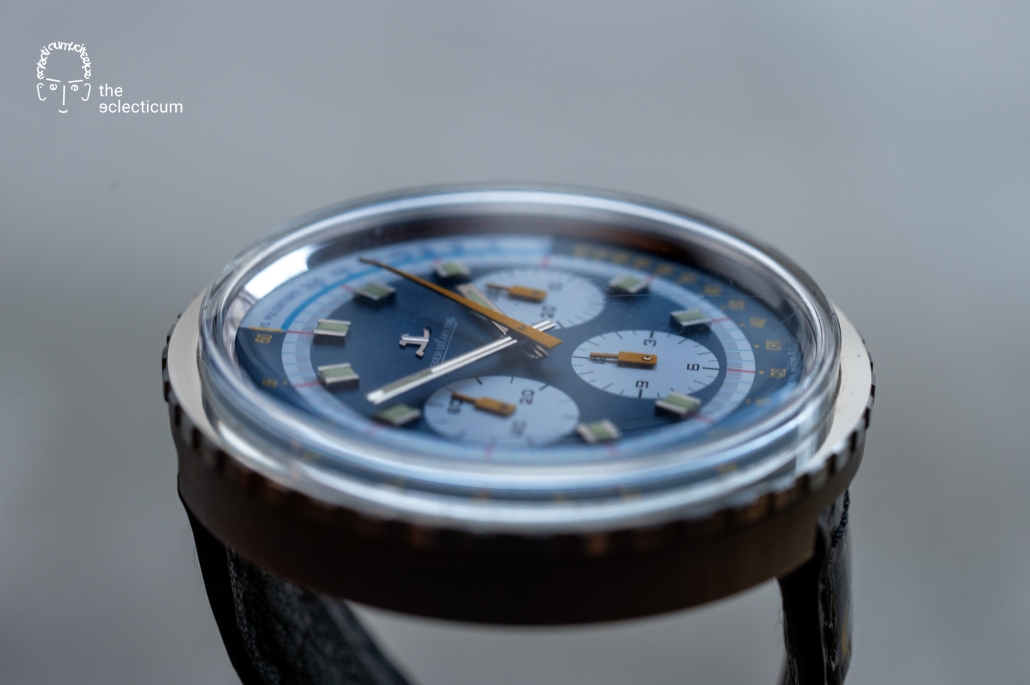 Omega Seamaster 'Giant' in tungsten-treated steel
Another bold piece from the 70s: here Omega showed an early attempt to reinforce case material and used a tungsten-treated stainless steel. Oversized at 44mm, this watch certainly makes a statement!
Antiquorum GVA, 14/15 May 2023, Lot 358 (estimate CHF 1,000 – 2,000, sold for CHF 1,750)


Horological Discretion

Patek Philippe stainless steel pocket watch with sector dial and centre seconds
Pocket watches offer a lot more of watchmaking real estate compared to wristwatches, and this most of the time at a lower price. This Patek Philippe piece is from 1929 and comes in a 46mm stainless steel case and has a well-preserved sector dial and – rather unusual for a pocket watch – a central seconds. Movement is a 18″ Patek Philippe with wolf's teeth winding wheels and a moustache pallet. A wonderfully eclectic watch if you value watchmaking excellence in a discrete form!
Antiquorum GVA, 14/15 May 2023, Lot 174 (estimate CHF 15,000 – 25,000, sold for CHF 22,500 incl. BP)

This is just our own eclectic selection from this auction. We'd like to thank the Antiquorum Geneva team for their readiness to accommodate our visit and our never-ending requests and inquiries.
One caveat at the end: above are our views but we won´t comment on condition and authenticity with authority – do your homework before bidding, as we would always recommend!
'the eclecticum'
______________________________
*) Link: