written by:
small-luxury-world
published:
2023-02-19
categories:
[sc_post_category]


Collector's view: Schwarz Etienne ROMA SYNERGY by Kari Voutilainen – the value of collaborations and a pledge!

A hands-on experience with both versions of the Schwarz Etienne ´ROMA SYNERGY` by Kari Voutilainen (royal blue and sand grey) – triggers some thoughts about the right dose of respective contribution, and the potential of the collaborative concept itself

Both watches not being a novelty and we at ´the eclecticum` already did a hands-on before (see here: Schwarz Etienne: Hands-On with the new Roma Synergy by Kari Voutilainen – the eclecticum) which I highly recommend to read as as a primer for more details and impressions.
Why this second article with more hands-on on the same watches? you may say. Well, as it was a first occasion for me to handle those, and only this allows mew to share my point of view. Whenever possible we try to write only about watches where at least (one of us) had the possibility to handle them in the metal, because it makes a difference so often. This time it was both of us, but not together.
On top I believe concepts like the Roma Synergy could be interesting for a number of reasons and this not only for Schwarz Etienne … more on this later.


Facts & Snapshots:
(Version with royal blue dial; WROVMA03SSCUBCLTD-A)

There are two version of the watch which share the same case, the same principal dial decoration and also the same movement incl. decoration. The difference lies entirely in the colour ways – there is a royal blue and a sand grey dial, respectively.


The movement
Caliber: ASE 200.00
Type: manufacture automatic movement with micro-rotor
Decoration:
Traditional hand guilloché emanating from the balance wheel made by Les Ateliers Kari Voutilainen.
Diamond drops and snailing on the ratchet wheel made by Les Ateliers Kari Voutilainen.
5N 18ct red gold applique made by Les Ateliers Kari Voutilainen.
Micro-rotor decorated by Les Ateliers Kari Voutilainen.
Bridges – hand bevelling and straight-grained flanks.
Hand bevelling and black polished steel.

Functions:
Hours, minutes, small seconds at 6 o'clock
Power reserve: 86 hours
Frequency: 3 HZ (21'600 Alt/h)

The case
Case: Stainless steel (39 mm)
Water resistance: 5 ATM / 50 m



The dial(s)
Dials: two versions, both guilloched on a sliver base plate, in either ´royal blue` or ´sand grey` colour.
Decoration:
Hand-guilloché, made by Les Ateliers Kari Voutilainen.
Flange: guilloché "Soleil".
Main dial: guilloché "écaille de poisson".
Small second : guilloché "vague".
Applique "By Voutilainen".
Silver Arabic numerals and indexes, silver applique and Schwarz Etienne logo
Lancine-style hour and minute hands, silver coloured brass

Strap & buckle: Blue grey leather strap with gold leather lining. Folding buckle in stainless steel with Schwarz Etienne logo


(Version with sand grey dial; WROVMA03SSCUBCLTD-A)



Strap & buckle: Aged grey leather strap with grey leather lining. Folding buckle in stainless steel with Schwarz Etienne logo



Context
Schwarz Etienne a watch manufacture in business since 1902, still was to many (even senior collectors) almost a hidden secret. Founded in La Chaux-de-Fonds it was conceived as a manufacturer of mechanical movements with production centred on several different marques under its umbrella, notably Venus, Alpha, Sultana Le Phare and Astin. For several decades they had partnerships with brands like Chanel, Dunhill, Mauboussin and Caran d´Arche – in their shadow, but crucial to their success when we talk about the technical/production part. After surviving the general crisis Schwarz Etienne started to develop its own marque and distinct collections, gradually becoming recognised as a fully-fledged manufacturer. In 2007 Raffaello Radicchi, a passionate local entrepreneur, took over the former founding family-owned company. A major part of their successful business was (best to my knowledge) being a strong supplier of (quite often) crucial parts to watches from well-known brands, which tend to be silent about their partners and especially when proudly promote their outstanding technical skills. Schwarz Etienne presented three new calibres (as a start only) in 2013 dually intended to integrate the composition of its own creations and to constitute the core range of watches for its clientele. Still the company was almost unknown to many even eclectic connoisseurs of watches for whatever reasons.
My first encounter with SE was in 2018 and I had the pleasure to handle some of their watches at Baselworld. Not all to my tastes to be honest, but I was especially impressed by their technical skills shown. It´s always a great pleasure to get in touch with new (at least to me) members of the industry, as there are still quite a few ´hidden ones` with passion, creativity, and in some cases unexpected professionalism.
When did you learn about the brand, if I may ask? Was it because of their highly successful partnership with MING watches? Was it because of their participation at the Grand Prix d'Horlogerie de Genève? Was it because of Baselworld or somewhere else?


Back to the watches themselves, both versions.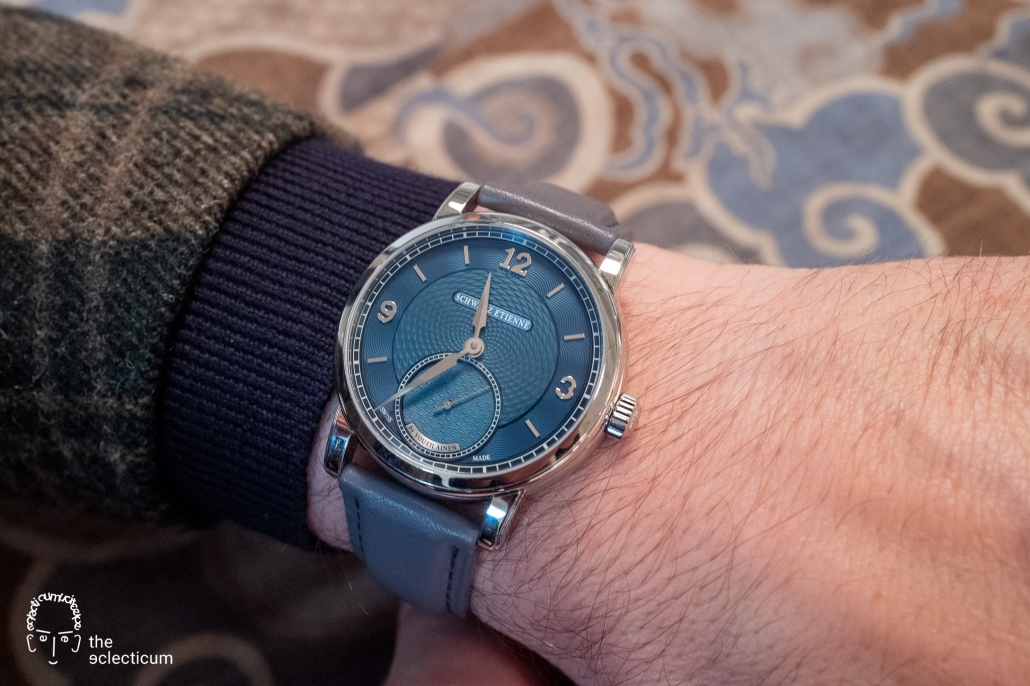 My point of view:
Serious competences and acclaimed masterminds are involved in this project for sure, but what does one get for the steep premium one has to pay over a 'standard' Roma?
Is it more than just a refined Roma, featuring a case exclusive for the model which is 3mm smaller (42 compared to 39mm)? That alone makes it more traditional, more wearable (for many) and should increase the number of prospects – collectors in the market for traditional fine watchmaking with up to-date features.


(SE Roma Manufacture Small Second; 42mm; manual winding)


(Base caliber: ASE 100.00; for comparison)


(Caliber ASE 200.00 with a Kari Voutilainen touch)

Technically (looking at the movement) there is no upgrade to explain the premium. So what stays is aesthetic refinement (dial and movement) and once more, it´s all about the details that matter – if they matter to you. I have a soft-spot for those dials, but honestly speaking, the finishing of the movement isn´t my favourite one. It´s a bit too exuberant for me, hence something more pure – less shiny – would be more to my taste (and would arguably give the watch a more refined impression).
The dials show amazing craftsmanship, only a few companies can produce dials on this level – or shall we say are (still) crazy enough to do so – and this is way above the industry standard of today even when there is no lack of "guilloche dials" in the market. Try to find one with several different (matching!) engraving patterns, arranged in different layers, with common Arabic numbers yet looking different … and all those details produced/finished on that level. In case you found one, it won´t be a bargain as well.
Based on the pictures I have seen before; my favourite was the grey dial and therefore I took pictures of this one first. Almost didn´t shoot the blue one, to be honest. With some extra time at hand, I took a second look at the blue one. It was growing on me, seriously growing and now I have more than just a soft spot for the blue dial. It just brings out the best of the guilloché patterns and the face of this watch is a beauty on its own. In any case you can´t go wrong with that kind of (traditional) dials, designed by Kari Voutilainen and produced by his dial manufacturing company Comblémine, if you have a soft spot for those.
You get what you pay for, but what matters depends on you and your priorities, and this triggers the following thought:
Side note: The 'Roma Synergy' concept comes with many of what are buzz words these days: "manufacture", "guilloché", "in-house", "Kari Voutilainen", and some more. Do they play a role for you? Do you care about (famous) names (and be it just to be 'save')? Or is it a specific and or unique style and finishing you prefer? I guess its all of the above, to individual extends, if one is honest. The deeper your level of knowledge about fine watchmaking is in general, the more intense your hands-on (!) experience, the more you might trust your own judgement and the lesser you might value a famous name on the dial. There's nothing wrong with either, but its important to be aware on what foundations your preference are developed.
In any case, be eclectic for your own reasons!
When contemplating the above it occurred to me that such a concept would have more added spice and would add even more value to watchmaking (from watchmakers to actual watch collectors) if one would approach is from a different angle:
A Petition to SE:
Allow me to begin with a few personal preferences (which are there for a reason!): me would like to see a slightly smaller and more refined (basic) SE Roma as I think they don´t get the attention for what they managed to achieve (being a manufacture with a vertical integration that resides at the very top of the scale; nothing more, nothing less) so far, but that is another story for another day.
I would also like to see another Roma Synergy, but with Schwarz Etienne´s manual movement (Cal. MSE 100.00) and a different finishing to make it stand out more from competitors. There is no need to be shy about their "standard" version, but collectors (especially the more savvy ones) love added spice – especially when it comes to projects like Roma Synergy.


("Standard" SE Roma Manufacture Small Second with caliber MSE 100.00; just to get an idea what to start from)

But let's set my own preferences aside and take a wider angle of view: Roma Synergy – this time it was by Kari Voutilainen (like so many we might say…). Does it need to be him (and his team, but foremost his 'name'!) again to make it a success? I don´t think so and me could imagine other outstanding watchmakers as well. Of course, when we only talk about that kind of (traditional made, with handmade skills involved) dials it will be challenging to find an alternative for several reasons – like it or not. Still, me could imagine the Roma Synergy as a kind of 'LAB' to feature outstanding independent watchmakers and/or craftsmen and -women, all of them starting from above same base. Thinking about this, I can only encourage Schwarz Etienne and their CEO Mauro Egermini to give it a thought and particularly involve lesser known or even upcoming independents and outstanding suppliers as well. There is more than just "Kari & different colours", instead give those a chance that deserve to be discovered by the larger collectors' scene.
In any case stick to the (39mm) steel case, think about your manual movement to start from, create interesting dials and offer only a limited amount of each version. More to come, but with consideration, hopefully yes!
SE is in quite a unique position to implement such!
All ideas taken together add to the substance and also create the buzz needed to raie awareness for SE: make collectors happy with interesting and (relatively) affordable offers to please those being eclectic. Support fellows in the industry and on top make your brand even stronger in the process. A 'Win-Win', isn´t it?!

small-luxury-world