Snapshot(s) – URWERK UR-100V MAGIC T

Principles of minimalism – revisited! UR-100V MAGIC T – it´s all about titanium and pure magic in the details. Some snapshots and our brief thoughts about the "jewellery piece for the wrist that happens to show the time"



Just recently we had the pleasure to handle the latest UR-100V – Magic T – and to get this out of the way:
It´s amazing in the details and on the wrist.
A winner on many levels!
In more detail: The UR-100 collection is …
What is it at all? An entry level piece in the world of the brand? Not anymore. A classic? Not yet. Is it something to experiment with when we think about new materials, coatings, refinements at the case and the bracelet – nuances, reflections and (chromatic) subtleties.
Yes, we already have seen several interpretations and yet still we could imagine a lot more to come. It seems it is just perfect canvas for experimenting, not looking at new ´technical complications` this time, as it is just so versatile and easily changes mood and appearance at ease – even with (already) two similar titanium (bracelet) versions there is a difference, a notable one.
And this is what this novelty is all about!
For the first time, Urwerk offer the UR-100 in a new shade of titanium, now with a light, refined shot-blasting. The grey is light, finer, and this gives a subtle new character to a perfectly monochromatic watch. The UR-100V Magic T is like a piece of modern jewellery – high jewellery at the peak – that happens to show the time as well.
Looking closely at the very sophisticated case and bracelet one should get an idea why we jewellery comes to our mind – even when it´s not glamorous and bling. It´s technical solutions, smart design, and finishes – all the beauty of titanium and coherence design is there.
Everything to please the eye, the hand and the wrist – even for spoiled connoisseurs!
Yes it´s a work of masters, but this time it´s not the master watchmakers – we talk about case and bracelet primarily.
Team Urwerk also worked on the legibility of the timepiece (yes, it´s still a timepiece), added complexity to the dial that is now broken down into several elements to give it more structure.
small-luxury-world
"Try to distinguish between the many different levels of this 3D creation and you will discover that everything has been thought through right the way down to the smallest details, pushing the limits of perceptibility",
says Felix Baumgartner, master watchmaker and co-founder of URWERK and we at ´the eclecticum` agree.
On the wrist it feels like a "glove" made from high-quality material with a good ´touch & feel` and one of the notable differences compared to the 1st titanium version, it will be more durable and has a tad more glam – still being understated.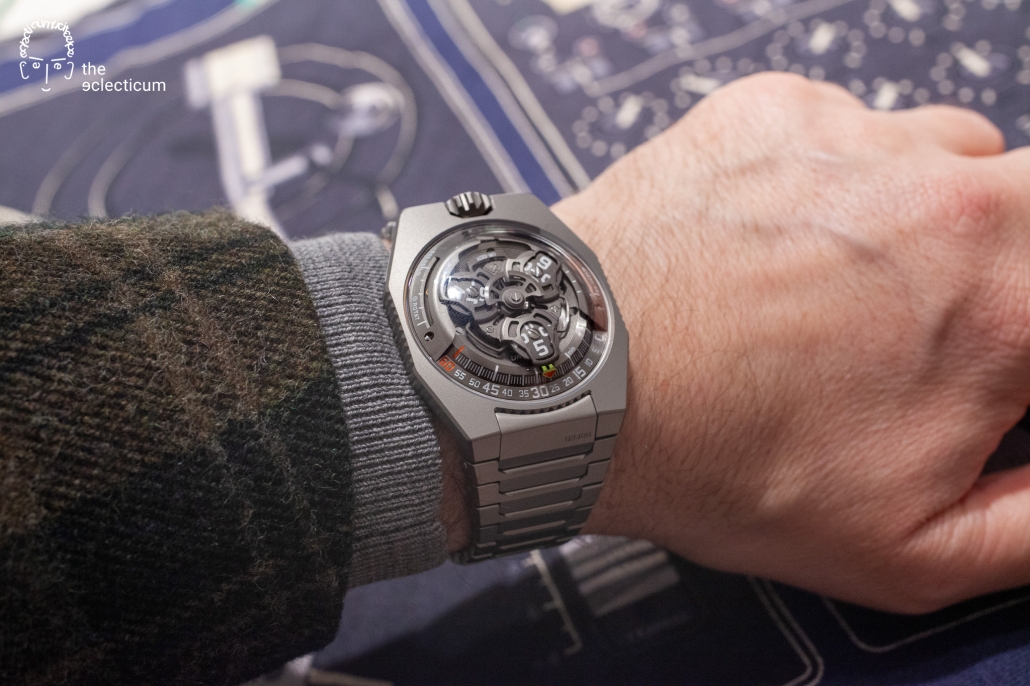 Principles of minimalism – accumulate material things that bring value to life, getting rid of unnecessary physical clutter, and reducing mental distractions.
Yes, it delivers in my book.
small-luxury-world