Gérald Genta's Retro Classic turns 50 – a revival!
Bulgari celebrates the purest form of wearing a legend

Gérald Genta (1931 – 2011) certainly belonged to the most prolific and celebrated watch designers. Numerous concepts were developed for some of the 'who is who' of Switzerland's prestigious brands or for his own watch companies. A great fraction of the, developed into instantly recognisable icons, and are still today considered highly collectable landmarks: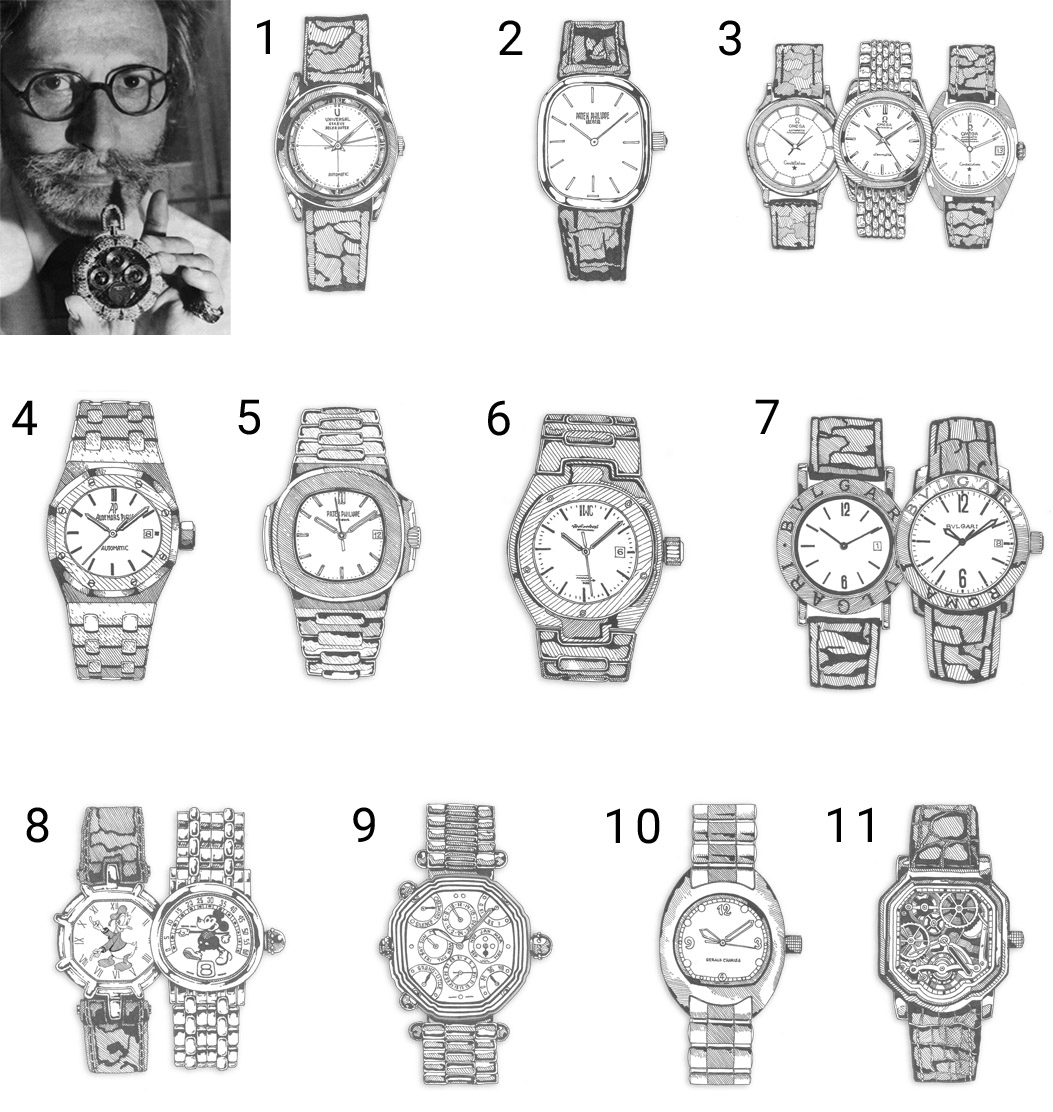 (Gérald Genta and his famous watch creations: (1) Universal Geneve Polerouter, 1954; (2) Patek Philippe Golden Ellipse, 1958; (3) Omega Constellation, 1960; (4) Audemars Piguet Royal Oak, 1972; (5) Patek Philippe Nautilus, 1976; (6) IWC Ingenieur SL, 1976; (7) Bvlgari Bvlgari, 1977; (8) Walt Disney Retro Fantasy, 1980s; (9) Gérald Genta Grande Sonnerie, 1990s; (10) Gérald Charles Renaissance, 2001; (11) Gérald Charles Maestro, 2006. Images via Gérald Charles Watches and the Gérald Genta Heritage Association)

When I look at the designs in general, I think it is fair to say that Mr Genta loved a certain flamboyant style – clearly noticeable especially when one focusses on the designs he created for his own brand(s). Trapezoid forms, stacked shapes and knurls (which ironically remind a bit on the Corona virus shell structure;-)) are defining elements, and while they are iconic, they might not be for everyone, at any time. 'Exuberance with style' comes to mind… and you need to be 'ready' for it.
(A masterpiece of the rare kind: the Gérald Genta Grande Sonnerie. Image © Phillips Auctions)


Yet these idiosyncratic Genta pieces showed the master's vision in an uncompromised, consistent way – for many, myself included – a compelling reason to take a closer look, perhaps with one of the purest incarnations: the Gérald Genta Retro Classic manufactured 1997 and 2004, a watch which comes with all design elements of a Genta, plus a time indication which was typical for him: a jumping hour combined with a retrograde minute:
(The Gérald Genta Retro Classic – property of a gentleman)

In terms of design this is certainly not 'retro', but modern. The 'retro' here indicates the retrograde minute, at the time quite a novelty, and points to the Gérald Genta Calibre 4503, which translates into an ETA 2892-A2 with proprietary module. At 38mm this one is very well proportioned, and magnificently designed.
Gérald Genta, the firm, was eventually absorbed by Bulgari, who continued the Genta branding for quite some time, until they eventually disposed even of this famous name – sadly!

And then, during BaselWorld 2019, at the Bulgari presentation, this blue watch immediately drew my attention, and dang! – there was this name again:
(The new Bulgari Gérald Genta 50th Anniversary Arena Bi-Retro watch)

Yes – Gérald Genta is back, and what a lovely return this is. So lovely I would even pardon the unwieldly long name of this watch: Bulgari Gérald Genta 50th Anniversary Arena Bi-Retro.
The name however pays tribute to Genta's past: the Bulgari ownership, the 'Arena' collection with their typical coin-edged case band, and of course 'Retro' – here even twice, as the watch not only comes with a retrograde minute display but features the same also for the seconds.
(Bi-retrograde cum jumping hours)
(The typical Arena case side: coin edges and the integrated crown protection)

The case has been slightly enlarged, up to 41mm, and is now crafted in platinum – apart from that, literally unchanged from the past. A word to the dial: the soleil-brushed dial base with the thick transparent lacquer upon which the indices are printed or applied, respectively, is simply a beauty to behold:
('The' name is back! Take also note of the subtle 3D effect of the indices printed on the thick transparent lacquer)

The movement now also has been entirely moved in-house – a modern Bulgari Cal. BVL 300 with bidirectional (sic!) automatic winding and 42h power reserve, a solid movement but nothing spectacular. This never was the essence of the Genta 'Retro' watch, so I am completely satisfied with the choices made.
(The Cal. BVL 300 on the back)

Overall: a wonderful homage to a great master, with one of his most iconic creations. But then also: CHF 55,000…
(An enriching feel on the wrist…)

So, whether you are in for the modern 50th Anniversary piece or one of the original 'vintage' ones – those are masterpieces. You don't collect them for their watchmaking achievements (although Genta was a pioneer in retrograde and jumping indications; but certainly not for finishing), you collect them for your private pleasure, to enjoy quality time with one of the most influential watch designers of all times.

All too often, Gerald Genta is cited in the context of his more widely known creations, such as the Audemars Piguet Royal Oak or the Patek Philippe Nautilus. Those are justifiably considered legends, but for me the chance of owning watch which the creator designed form himself and not according the brief of a client comes with a deep emotional satisfaction.

To put in the words of professional gentleman eccentric Nicholas Foulkes: Gérald Genta is the "horological equivalent to the great Italian coachbuilders—Bertone, Giugiaro and Pininfarina".

Ornatus Mundi 

P.S.: I still have not found my personal Gerald Genta piece – in this particular case also because a certain gentleman was faster… Truth to be told, we met again last year, and he wore the piece – damn you, how shall I sleep again?