Swatch – Hands-On with the Sistem51 Petite Seconde, an engineering marvel
A timeless marvel of automatised watchmaking gets a subtle treat

The Swatch Sistem51 is a revolutionary mechanical watch in many ways. The outside-the-box thinking required in its creation is a bit lost when you look at it, however, getting closer and you realise that there are lots of audacious solutions contributing to a watch which the years before was unthinkable: an really affordable mechanical watch, stylish, entirely swiss made, from a maker of high repute and recognition, precise, with long power reserve, and free from any of the usual quirks of owning a mechanical timepiece (for good or for bad).
Today, the watch gets a significant, in my opinion, update: next to the original central seconds, the new Petite Seconde version gets a – well – small seconds at 6 o'clock: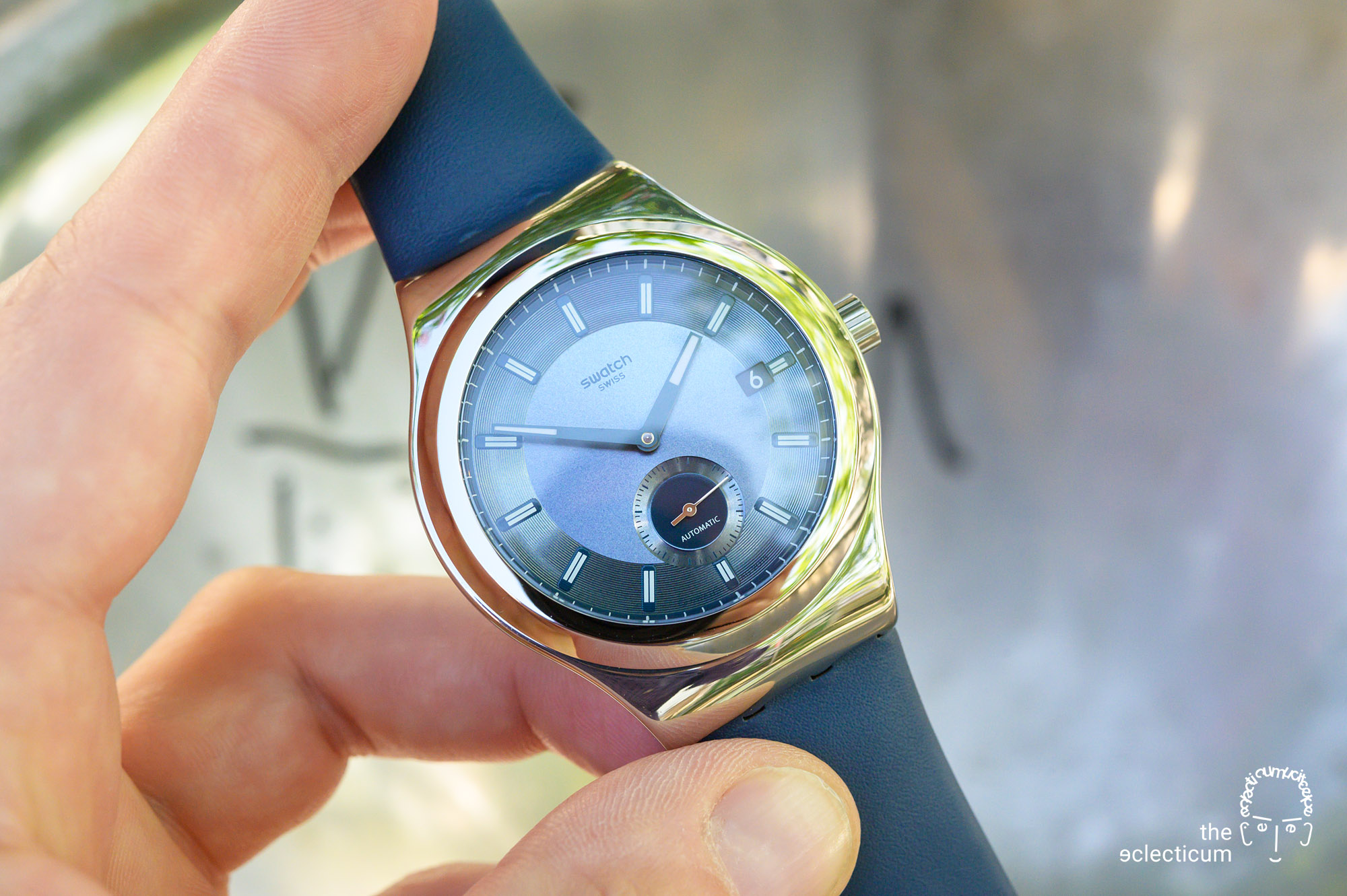 I well remember the peculiar sensation when strolling the halls of BaselWorld 2013: for the first time, not a super complicated piece, a new Rolex Submariner or a handcrafted artwork at the AHCI booth dominated the chatter in the corridors; it was a humble, plastic watch costing below € 150 – a Swatch of all brands! When Swatch Group president Nick Hayek entered the stage of a press conference at he was certain he had a sensation to announce: a new mechanical Swatch, an automatic one (of course at this market segment!) with an impressive 90h of autonomy, and one which was built in revolutionary, fully automatised assembly line: the Swatch Sistem51.
(Swatch Group's president G. Nick Hayek discussing the new Swatch Sistem51 with journalists just after he had presented the watch at BaselWorld 2013)

With the Sistem51 (the -51 refers to the number of its individual parts) Swatch once more reminded us what a game changer the brand was: with the original plastic quartz Swatch, a daring gamble unfolded into a tremendous success: instead of a mechanical wonder piece, Nicolas Hayek Senior decided to put Swiss watchmaking back into the minds of the consumers worldwide using a cheap watch made by robots – but stylish and a 'must have' piece.
The Swatch was an instant success, and quickly developed into the watchmaking equivalent of a Volkswagen Golf: practical, reliable, versatile, an icon that defies categorisation.
ETA, mainly responsible for the technical implementation, used a concept formerly tested with the slimmest watches ever produced: The Concord Delirium, one of them, was only a remarkable 1.98 mm thick, a world record, made possible through the use of the case as movement plate as well. The Swatch did the same, but not for the sake of saving µm, but for the sake of economising production and assembly. And it became an icon of pop culture, a single product which put Swiss watchmaking back on the map!
Fast forward, with the advent of electronic gadgets and smartphones attracting the youngsters, Swatch reckoned it was time for another such splash: creating an affordable mass-produced mechanical watch. But the time was running, as the grapevine had it that – again! – the Japanese were working on similar.
(ETA is again technical mastermind behind the Sistem51)


To save on time, ETA, again technical leader for this project, decided to develop watch and the respective production machinery in parallel. The Swiss engineering industry condescendingly dismissed the prospect, but a precision machine specialist SME from the German Black Forest region took up the challenge, and together with ETA succeeded.
(an original Swatch Sistem51 (centre left) and a quartz Swatch (centre right) framed by a Hamilton Khaki Field Automatic (left) and a MING 17.01 (right))


Enter the Swatch Sistem51! As hinted above, there are a number of technological feats built into the watch, mainly the movement – more on this in a bit. The initial version came in a plastic case with a sweep central second, and a modern, distinctive design. Another distinctive feature was the noise…
Eventually, Swatch would also offer a metal case (the 'Irony' model, pun (I guess) intended…), and a few weeks ago a mechanically modified version came to light: the Sistem51 Petite Seconde:


Not surprisingly this one replaced the central seconds with a small second at 6 o'clock. But this was not the only change.
The designers at Swatch also opted for a distinctly classic yet sporty and bold dial, with a central area in a light blue sunburst finish (which appears much lighter than the press images suggest) framed by an (embossed?) circular grained chapter ring for the applied indices, and a finely brushed one for the seconds display.
Overall, a quite characteristic presentation, particularly in sided light:


Certainly, this appears to be a comparatively luxurious specification for a watch slightly south of € 200, and the cost saving measures are clearly laid open: the central dial area rather looks like finished with your kids' old water colour kit (it is a bit coarse and lacks the glow of much higher priced watches), and also the seconds hand sits highly above the dial such as to provide sufficient clearing for the rather rougher robot-facilitated settings of the hands: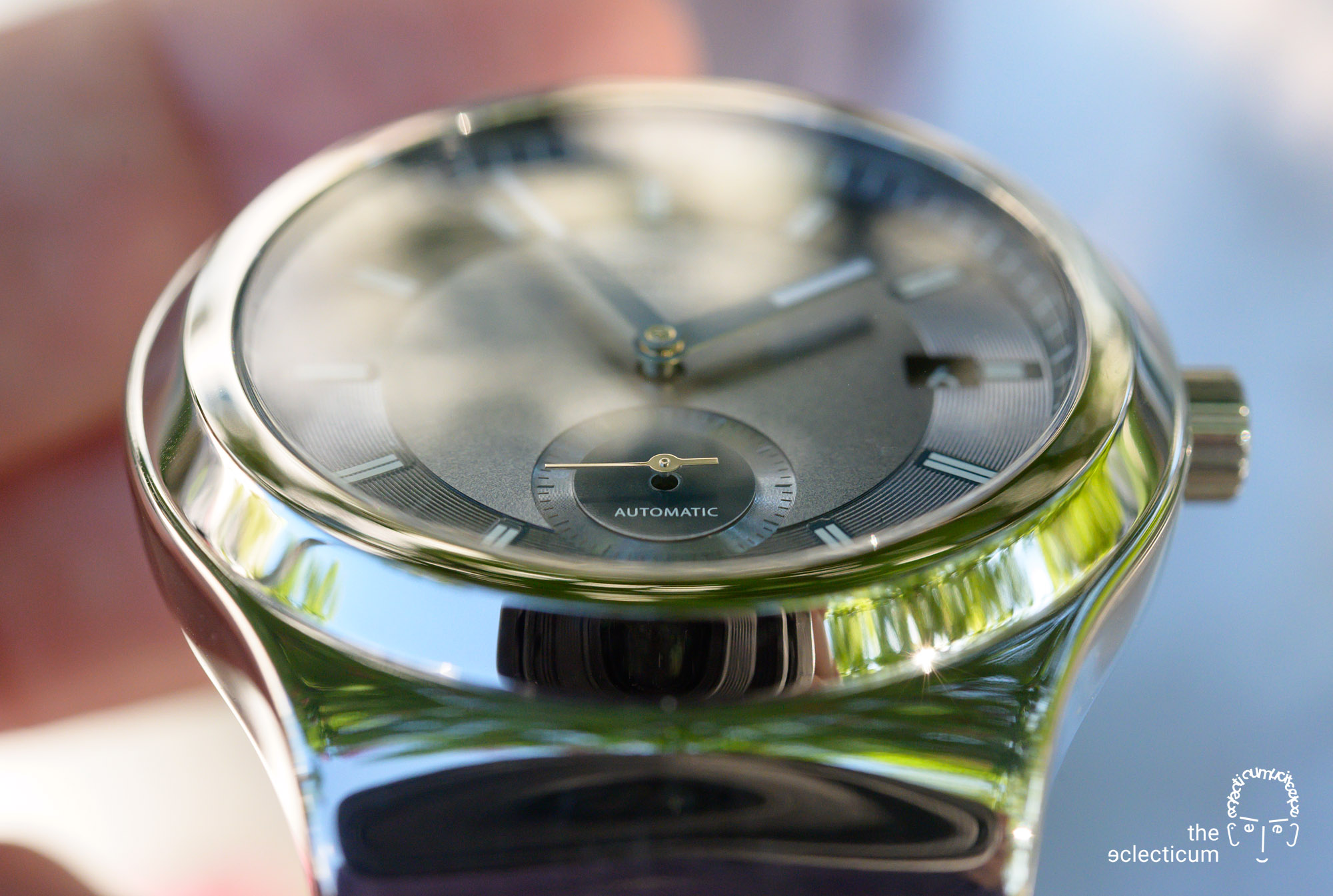 (detail of the small seconds dial)


Overall, this has to be seen in context, and given this, I am clearly more than d'accord with what I have seen…
I mentioned unusual technologies several times already, and also the noise… time to look at the back:


The movement, a slow beat automatic engine with a pace of 21,600 vph offering a solid 90h of power reserve, is key to the entire watch:
Apart from the rather strange bridge decoration, it breaks with a number of rules broadly adhered to in watchmaking: it makes compromises usually not accepted for the sake of keeping costs down, and here this means manual labour: like the case, dial and hands also the movement is made practically without human interference.
To make this possible, ETA rethought a great number of processes, e.g.:
The entire movement is made from an alloy called ARCAP (composed of copper, nickel, and zinc), intrinsically anti-magnetic, taking away the need for adjustments later.
Balance and hairspring are laser-poised and laser-regulated during production, there is no need to regulate it later (it is also not possible); prerequisite for this is (1)
The bridges are no longer screwed to the mainplate, they are laser-soldered in place (this makes servicing the watch impossible: if you disassemble you destroy the movement)
There is one single screw attaching the rotor, and the ball-bearing used makes quite noticeable noise when worn
(detail of the escapement system: you clearly see the laser-cemented balance spring. It is also perfectly symmetrical)


Side Note: if you think about the Sistem51 also from an investment point of view the watch you might be impressed: all the above, with the fully automatised production, assembly, regulation and quality control make up for a complete, very dedicated and made-to-measure production line – just for this movement/watch. A humongous investment that we believe lies in the 500 mio CHF ballpark – only a family-controlled group like Swatch Group could pull that off sine there's no chance for a timely recuperation.
The costs were so high that essentially no marketing budget worth mentioning was left for the Sistem51 – it largely had to convince on its own merits. If you count this into the value equation – the Swatch Sistem51 is a bargain!
Again, compromises I would not accept at any of the watches I usually look at, but given the objectives of the Sistem51 and the price, I can perfectly accept them. Also, we should keep in mind that up to mid-range watches even perfectly repairable mechanical watches are usually replaced rather than repaired.
At 42mm this is not a small watch by any means, and the bulk of the typical Swatch case design makes no effort to hide this fact.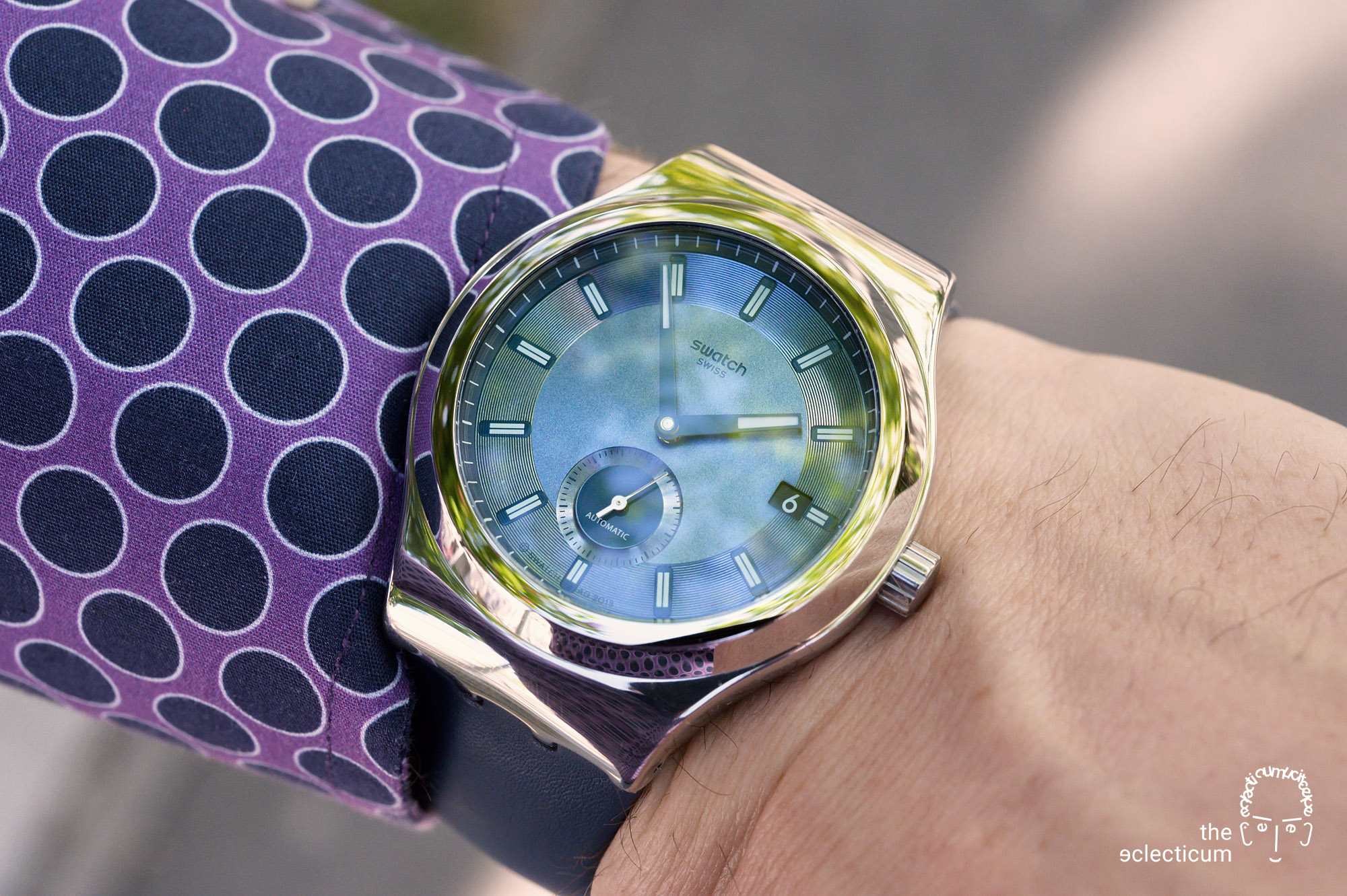 Still, even the – again comparatively – coarsely executed details give a great variability of impressions on wrist, light really can play with the elements and makes for changing views – a times bold and succinct, at other time quite monochrome and subtle:


Overall – I like the watch, and it is a keeper for me. It is refined, in its own way, unusual, again in its own way, it is a stunning technical achievement which takes some efforts for us 'seasoned' collectors to understand and accept.


If we adopt an open mind and look from a different perspective, e.g. that of teenager discovering something different than a smart wearable, there is a lot of content right up with the big boys: manufacture (in a way), long power reserve, recognisable – what is not to like, particularly at this price?
Ornatus Mundi