written by:
the eclecticum
published:
2020-05-02
categories:
[sc_post_category]
The pinnacle of (fine) watchmaking: Patek Philippe
The famous watchmaker from Geneva is an obvious candidate, isn't it?

In general, one might think of Patek Philippe as an obvious entry to a hypothetical list of the best as far as watchmaking is concerned. The brand enjoys a stellar reputation and an at times almost religious following. Still, the eclecticum took a very close view and found that – while the reputation is certainly well deserved – it pays out to differentiate! The devil, as always, is in the details…
Welcome to another instalment of our 'Pinnacle of Watchmaking' series!
(Patek Philippe Ref. 5170G hand wound chronograph with pulsation scale)

Patek Philippe (PP) is generally considered as one, if not THE, synonym of fine watchmaking: the firm has a long tradition of excellence and – like Breguet– many famous public figures amongst its clients – and there is an impressive amount of watchmaking substance to backup this claim. Still, if you produce about 62.000 watches per year it is nearly impossible that all of them would be qualified to represent the best watchmaking could offer today (even if you take out all the watches with quartz movements which account for around ¼ of PP's annual production, and maybe all non-complicated watches).
(A Patek Philippe wristwatch that belonged to Josip Broz Tito, former Marshal of Yugoslavia)

So where does Patek Philippe fit into the hierarchy of fine watchmaking today, and is the brand still rightfully seen as being at the very apex of the best? The is no clear-cut conclusion to this question; and answering needs a considerably differentiated view and requires quite some background knowledge about (fine) watchmaking today.
(Patek Philippe milestones from the foundation in 1839 until after WWII)
We'd like to start our reflections with the observation that not all modern Patek Philippe watches are created equal:  A major part of their current production is industrialised, on a high level, but still dominated by machine-executed work, with the 'staple' automatic movements, the micro-rotor Cal. 240 and the central rotor Cal. 315/324 families, essentially in production (but frequently improved) since 1977 and 1984, respectively.

(Patek Philippe's basic automatic movements, Cal. 240 (right) and Cal. 324 (here the S C version))

The devil is, as all too often, in the details, and wherever you are looking closely, at their hands, indexes, dials, cases or movements, you will learn something. The succus should not offense anybody, but it would be obvious that high volume and pinnacle of watchmaking doesn´t fit well together – not even today, not at Patek Philippe (from a general perspective) and clearly not in our book.

Case in point: The (modern) Patek Philippe Chronograph
A lovely complication and quite often underrated when you ask for the best. Only late PP introduced their first (manual wind) in-house chronograph – calibre CH 29-535 PS. Any Patek Philippe chronograph wristwatch before was based on outsourced movements (so called ébauches) made by famous chronograph specialists such as Victorin Piguet or Nouvelle Lemania.
A treasured reference was and still is the Ref. 5070 (introduced in 1998) which is equipped with a Cal. CH 27-70 movement that is actually built on a 'Nouvelle Lemania' 2310 base and reworked "in depth" by PP. Handmade anglage, Cotes De Genève and a "hidden" column wheel with a polished cap (a PP eccentricity and also dedicated to the Poinçon de Genève, more on this further down) … everything you would like to see from a brand with the kind of reputation PP enjoys. The fact that the watch never was considered a benchmark when it comes to "pusher feel" (a central aspect for seasoned chronograph collectors) was not a big issue for most as it represented something different: a reference from another era – loved by many and only available to a few. Even at PP, it was (only!) a small team of highly educated and trained people which had been able to work on those, which naturally limited the production. Facing demand that way exceeds production capacities is a nice problem to have, but … at the beginning of the 21st century – to say the least – it was time for something new as well.
(Patek Philippe's legendary Cal. CH 27-70 in a Ref. 5070)

In 2009 the calibre CH 29-535 PS was introduced, a successor reflecting technical advancements and also matching the production requirements of today. A well-conceived in-house movement, with several fine features and one major objective – "le confort" (ease of use). We won´t go in all the details (that would warrant a separate article), but the modern movement can be produced more easily and in higher volumes. Good news (more customers to please) or bad news (less exclusivity, more modern concept), this certainly is a question of personal taste or preferences.
(Patek Philippe' modern Cal. CH 29-535 PS chronograph)

As far as the eclecticum is concerned, we think it lacks some "soul & (olde worlde) charm" (i.e. the classic constructional layout of the predecessor or its slow 18,000 A/h escapement evoking memories of the golden times of watchmaking) as it appears kind of "cold" to us. Also, the price increase is steep, while at the same time we are sure that its production requires less (highly skilled) manual work. A more complicated movement like a chronograph with perpetual calendar or even a split-seconds chronograph, representing also the "modern way of fine watchmaking at PP" does not compensate for the streamlined construction, particularly when we talk about our view on the pinnacle of watchmaking. From a commercial perspective it´s easy to understand why PP decided to go that way and nothing is wrong with a company doing (very successful) business. Of course, it´s not only the movement …
(Ref. 5204 Split-Seconds Chronograph Perpetual Calendar)
(Dial detail Ref. 5950)

… and still there are exceptions – easily matching our expectations.
However, those are tokens of the past: If we stay with chronographs an all-time favourite of ours is the Ref. 5950 (introduced in 2010) a split-seconds monopusher chronograph:
(A watch which deserves more than a passing admiration: the Ref. 5950A Rattrapante)

Yes, it´s kind of "old-school" but it shows just so many to die for details if you look closely.
In the official instructions you find sentences like:
"Haute horlogerie at its very finest"
"The pinnacle of artisanship"
"A paragon of style"
Phrases like those certainly sound like buzz words like we get them too often from the desks of most watch brands' marketing departments. But in the context of Patek Philippe? Well, they are not exactly known for being boastful, aren't they?
When we look at the evolution of the Patek Philippe chronograph (in general) it perfectly illustrates its uninterrupted, consistent quality of watchmaking the company has practiced throughout its history, something hardly any of its rivals can match.
Like many other historical watch brands, also Patek Philippe started with pocket watch chronographs. Quite early on the brand embraced wristwatches and began production of wristwatch chronographs in the 1920s (based on outsourced calibres), with the first one being sold in 1925. Only four years later they showed their first split-seconds chronograph, followed by some (almost) legendary references like Ref. 130, Ref. 533, Ref. 1463 (first waterproof chronograph), to mention only a few.
So, nothing to proof when it comes to history.
(Source of inspiration: a Rattrapante chronograph from 1929, fitted with a movement based upon a Victorin Piguet ébauche)

Still, there are the bold statements above that we must deal with…
If we look at the Ref. 5950 above we notice that the case is thinner than that of many simple three-hand watches even, and this is only possible because of the thinnest column-wheel split-seconds chronograph calibre ever made – 27 mm diameter and only 5.25 mm height. Only recently Bulgari introduced the Cal. BVL 318 with its 3.3mm height, but it is much simpler as it features no rattrapante.
Also, there are fine technical delicacies like e.g. patented teething geometries for the chronograph wheels, but to be honest the most important aspects about chronographs for us are reliability, crispness and smoothness of the pushers as well as constructional beauty (e.g. the layout in general and in detail; including difficult to describe and certainly subjective character and charm). The first is hard to proof without owning the watch for a longer period, the second is something the eclecticum team however had the pleasure to try several times, while the third is a clear home run as far as we are concerned: have you ever had the chance to appreciate the movement in real, and if so, did you use a loupe (trust us on this: whether at 2.5x, 5x or even 10x magnification – you won't be disappointed at all!) to examine it in detail?
(An astoundingly beautiful split-second movement: the Patek Philippe Cal. CHR 27-525PS)

The clothes make the watch… as well!
The finest watches, no matter how sophisticated the movement might be constructed, are always incomplete until 'finished'. While that seems like obvious to us, since even if the movement works accurately and reliable when correctly engineered, yet there is still something missing – in the absence of a more precise word we summarise it as 'soul & charm'. Without a sophisticated finish even the most advanced and refined complications lack something. The level of finish is the factor that truly makes the difference (at least for the experienced connoisseur) when it comes to judging the perfection of a watch. In the case of the Ref. 5950 each movement is adorned in an artisanal fashion through a great number of manual steps, one by one, in the manufacture's haute horlogerie ateliers. The pieces we have seen so far from these ateliers at Patek Philippe reliably (almost) blew us away, and we would go as far as considering them as (some of) the finest what we have seen so far in watchmaking. There is one sad notion though as we hinted already further above: such elaborate elite movements cannot be compared with most of the movements from the current PP collection.
(Design inspirations for the Patek Philippe 5370P Split-Seconds Chronograph)

So far we mainly considered details of the movement, but when it comes to outstanding details we should talk about the case, the dial, the hands and the numerals as well. The dial of Ref. 5950 looks almost white on the pictures but seen in the metal (at best at natural light) we'd say silvery (or opaline) describes it much better.
(Ref. 5950A in Patek Phlippe's official press image)

Depending on the lightning situation it is understated, sophisticated … and for sure a real beauty. How could one describe the colour/finish of the hands and the indices? Grey, black, blue … matt or shiny? They mystically evade a precise description, there is so much variability in these hands! Or look at the numerals, are they sitting flat on the dial? Look closer: for example, the tip of the number '6' (and likewise the '2') doesn´t touch the dial. It is "curved" in all three dimensions and a piece of art for its own. You can hardly see it on (official) pictures: this is a sophistication reserved for discovery only by the most passionate connoisseurs …
Some live pictures (taken by small-luxury-world) may be helpful for those who never had the chance to handle this piece. Hopefully!
(Some impressions of the Ref. 5950A – details, shapes and wrist shots)

Anything to blame? Yes, but we are complaining on a high level. Very limited production – for the best reasons: outstanding skills needed and only very few employees can deliver that kind of detail quality. Patience, still today, is a virtue – even for the lucky ones.
We could continue with Ref. 5959 (introduced in 2005) …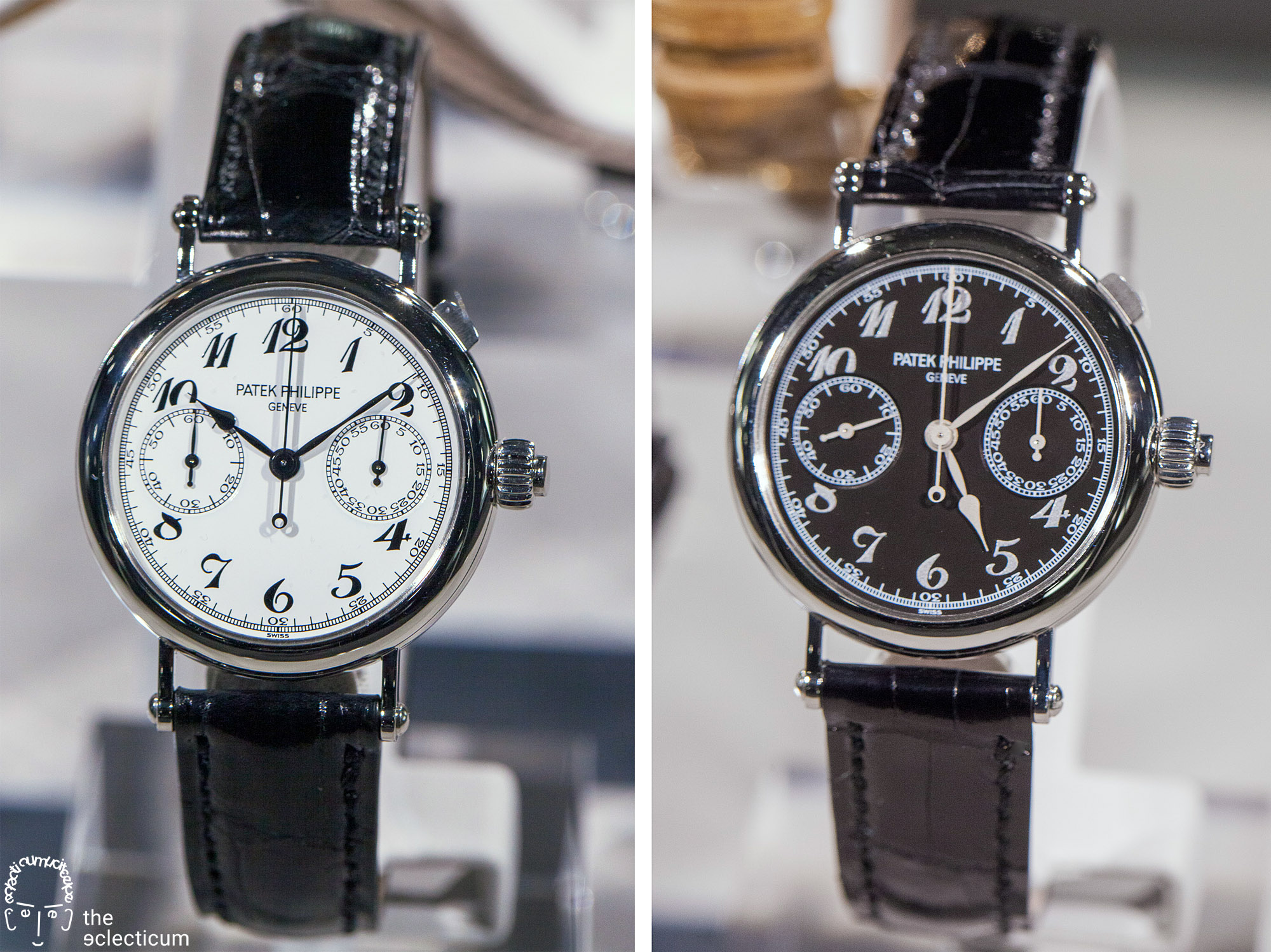 (Patek Philippe Ref. 5959P – a tiny 33mm concentrate of finest watchmaking, i.e. the thinnest rattrapante movement ever created. Comes in a white or a black dial)

… or with the fabulous 10 Day Tourbillon Ref. 5101:

The Ref. 5101 was available in several versions and all of them are impressive, especially for their technical features regarding the movement. On the outside it looked like a simple watch, with a sophisticated case – adorable for connoisseurs.
(The Ref. 5101G in an even more exclusive 'rare handicrafts' version (presented in 2013) – each case takes more than 100 hours of skilled handwork. Note that even the hands are engraved!)

On top they did some very special pieces with an additional complication, engraved cases. Sure it´s not for everyone, but it represents engraving skills at the pinnacle.
Rare handicrafts like e.g. engraving, enamelling or even marquetry, an artisanal legacy from Geneva – PP always took good care of it. The Stern family was aware that the future of these handcrafts can only be safeguarded if they are continuously cultivated across generations. Even when there was low or almost no demand from the market, they produced exceptional creations – pocket watches, wristwatches, or table clocks – year by year.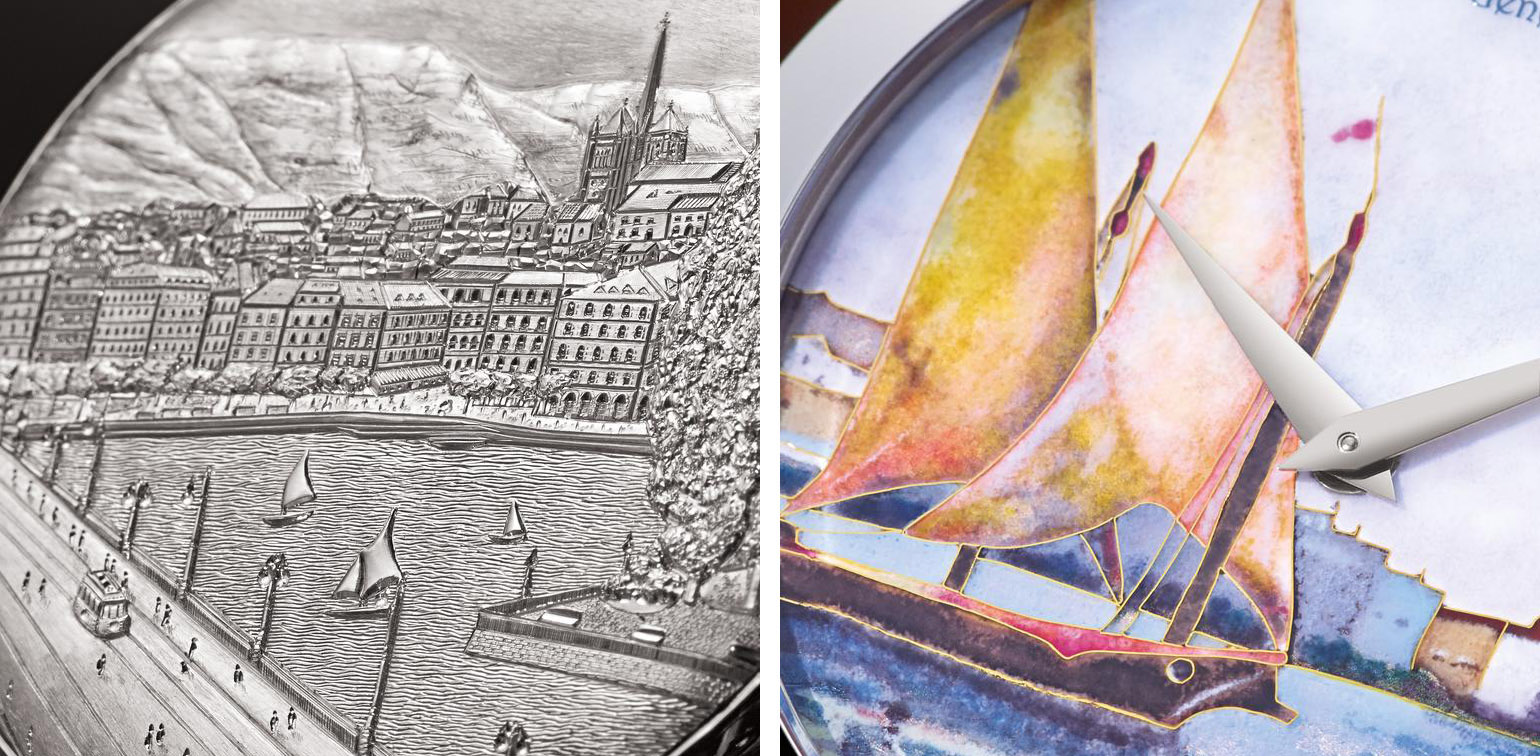 Quite often one-of-a-kind, keeping alive precious techniques that would otherwise become extinct. For quite some time they had an (let´s call it like this) almost crazy overstock especially on table clocks. These days, that kind of protective behaviour is rare in the industry and if at all only shown at family owned companies. Once more, in the long run, it was a great success for them – also business-wise.
Some examples – Rare Handcrafts:
(For its 175th Anniversary, Patek Philippe created a series of Calatrava watches (Ref. 5089G) celebrating astounding examples of decorative techniques (from left): Cloisonnée enamel, engraving, marquetry)
(Patek Philippe 5131/175G "Geneva Harbor" Worldtime Enamel, LE 20 pieces)
(Patek Philippe 1657M Dom-Pendulette Oktoberfest)
(Patek Philippe 5077P Cathedral Notre Dame)
(engraved Patek Philippe pocket watch 982/167 "Bavarian Float"; >350 hours working hours for the decoration only; piece unique)

While we didn´t even look at their "firsts" when it comes to complications and not to forget their famous minute repeaters, but you probably got the message even without: yes, Patek Philippe (still) can deliver, but not always and not all the time.

Considered approach to technological milestones and modern materials
Note that we have not yet touched advanced materials and techniques yet. Patek was certainly at the forefront of a number of developments. Here we are not only referring to state-of-the-art materials, but also improvements with 'everyday' use value: take the minute repeater cases of PP as an example (ok, one could object that this cannot be considered an 'everyday' problem, but this is an entirely different question …). Such cases, created in the atelier of Genevan master casemaker Jean-Pierre Hagmann (who recently retired from retiring and joined the ambitious young Genevan watchmaker Rexhep Rexhepi and his brand Akrivia), were the first which positioned the repeater slide in a dedicated cavity on the case side, thereby tremendously improving the lateral positioning and guidance of the slide – this is a prime example of practical refinement and is something which is considered 'standard' these days.
But PP was also active in advanced materials, in consortia together with Swatch Group and others. Silicon escapements is one such example where PP indeed acted as pacemaker and secured a number of patents.
A few examples from their "Advanced Research" limited editions (100 to 300 pieces):
2005 – Ref. 5250 (LE 100 pieces); annual calendar Cal. 315 (based on cal. 324): first Silinvar® escape wheel made from silicon which has been modified in a molecular level. Requires no lubrication or surface coating.
2006 – Ref. 5350 (LE 300 pieces); annual calendar Cal. 324 S IRM QA LU (based on cal. 324): first concentrically breathing flat Spiromax® balance spring in Silinvar® for improved isochronism.
2008 – Ref. 5450 (LE 300 pieces); annual calendar Cal. 324 S QA IRM LU (based on cal. 324): first Pulsomax® escapement, with modified architecture and entirely made in Silinvar® for more efficient power transmission (resulting in 30% gain in autonomy).
2011 – Ref. 5550 (LE 300 pieces); perpetual calendar Cal. 240 Q Si: first Oscillomax® escapement. The movement based on cal. 240 incorporates the following Silinvar® components: the patented Patek Philippe Spiromax®balance spring, the patented Pulsomax® escapement, and the patented GyromaxSi® balance.
(The Patek Philippe Advanced Research watches: 1) Ref. 5250 (2005); 2) Ref. 5350 (2006); 3) Ref. 5450 (2008); 4) Ref 5550 (2011))

Aside the "Advanced Research" pieces, in summer 2011 Patek Philippe also introduced the Ref. 5235, featuring a regulator with annual calendar.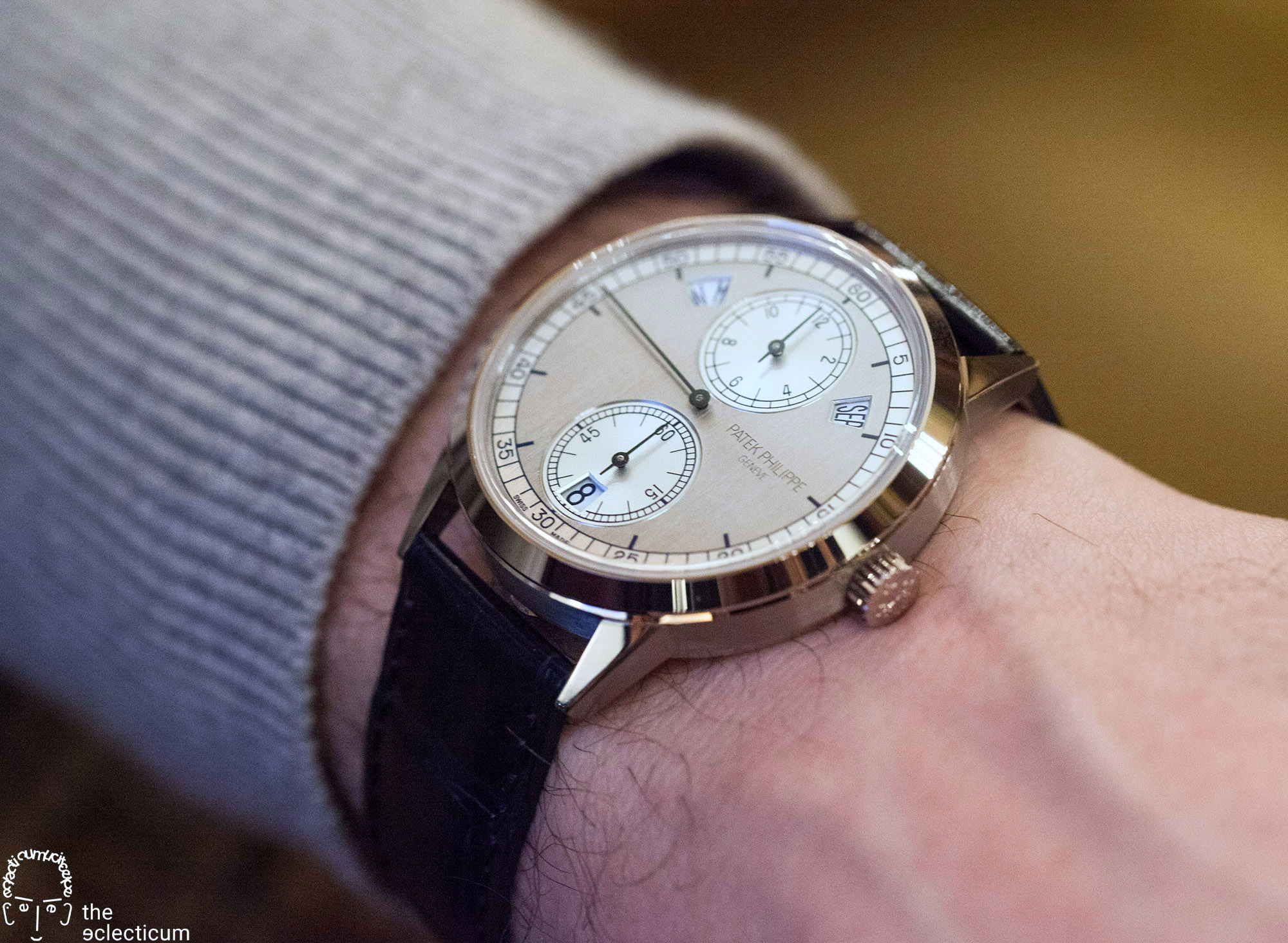 (Patek Philippe Ref. 5235 Annual Calendar Regulator)

The new movement, the Cal. 31-260 REG QA, was designed from the outset to incorporate all of the advanced research technologies (with the exception of the Oscillomax®), in a standard production wristwatch. It became available for the market much later and probably for good reasons – technical challenges in series production. This is the sole instance for 'Advanced Research' technology applied in a serial watch. For all other, Patek Philippe resorted to tried & tested traditional (or shall we say: conventional?) solutions, for reasons not known to us.
Lastly, this brings us to the – so far – last research piece, the Ref. 5650G Advanced Research Aquanaut Travel Time, and this is an unusual one: not using any additionally new advanced materials (just the Spiromax® balance spring in Silinvar®, everything else is conventional), the innovation here is realised with entirely traditional stainless steel: the worldtime complication makes use of a compliant mechanism, which greatly reduces the number of parts requires from 37 individual components to 12. Major contributor is a complexly shaped compliant leaf spring. Compliant solutions exploit elasticity properties intrinsic to a given material to replace multi-part mechanical joints.
(The Ref. 5650G Advanced Research Aquanaut Travel Time as displayed at BaselWorld 2017)

The watch was produced in 500 pieces to celebrate the 20th anniversary of the Aquanaut collection in 2017.
To sum up, at Patek Philippe, we find a limited number of advanced solutions, executed with novel materials offered in classic watches, and with traditional material given in a (more) modern collection. Talk about consistency…

The issue of (independent) certification
For more than 123 years, Patek Philippe's watches carried the prestigious Poinçon de Genève, the Geneva Seal, a hallmark of excellence. The Seal, providing for a number of technical and execution criteria, and also certified the provenance of the movements, in this case confined to the canton of Geneva, by an independent office. Patek Philippe fully embraced the Seal from early on to the extent that the brand was the quasi synonym for the Seal.
During BaselWorld 2009 however the brand announced a sudden 180° change of course: not only would PP no longer submit movements to the authorities. Instead, they have established their own, in-house certification scheme called the Patek Philippe Seal, symbolised by the double P sign.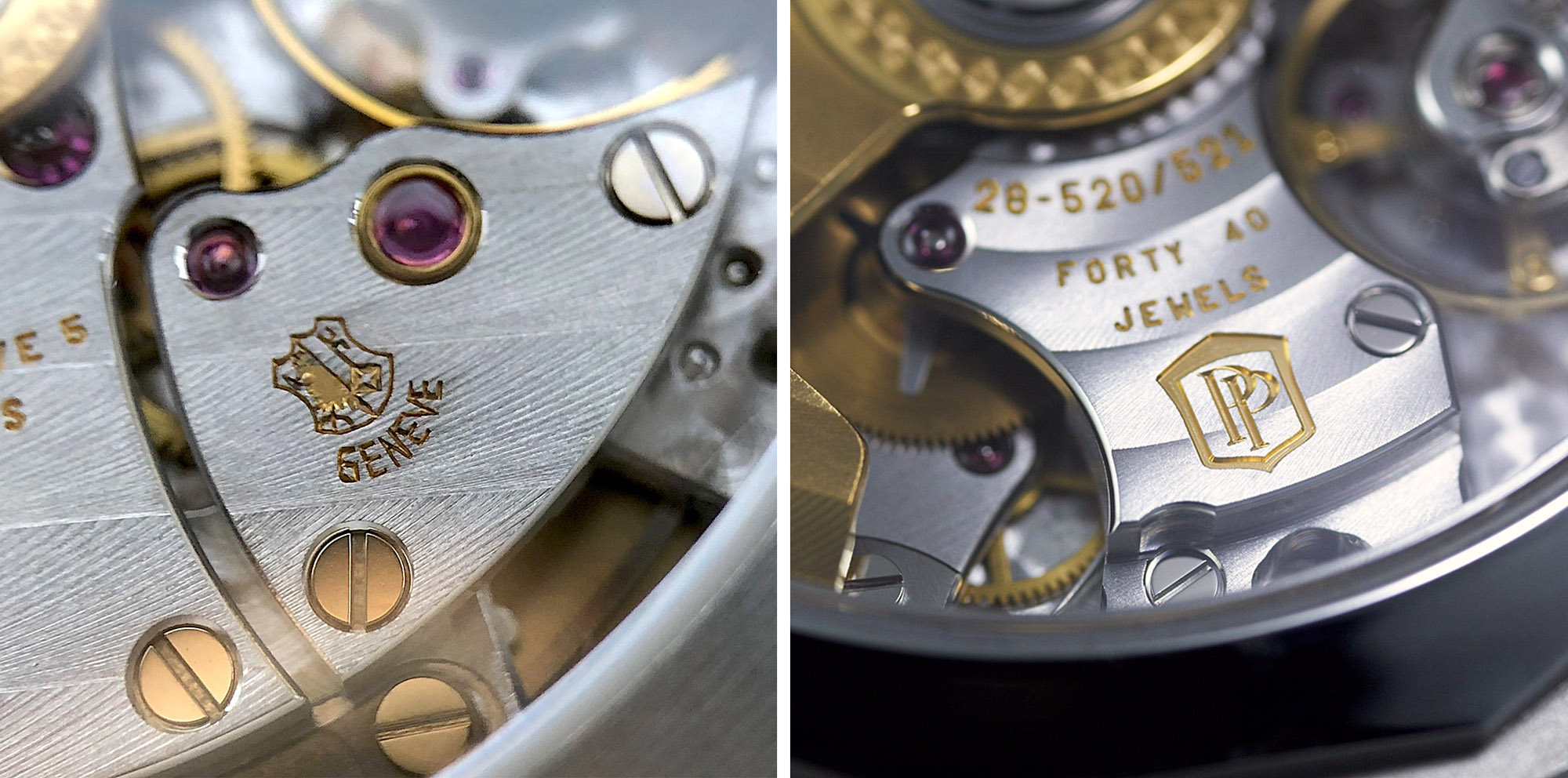 (From past (Poinçon de Genève) to present (Patek Philippe Seal). Geneva Seal image © GR Luxury SG; Patek Philippe Seal image © Patek Philippe)

Officially, the brand cites the outdated and incomplete criteria for the Geneva Seal certification, e.g. the lack of accuracy testing or the evaluation of the exterior of a watch (both have been corrected in 2011 when the criteria qualifying a watch for the Geneva Seal have been updated and expanded). Off the record it is said that Patek Philippe did not like the fact that 'lesser' brands such as Cartier or Roger Dubuis made excessive use of the Poinçon.
The crux with an in-house certification like the PP Seal lies in exactly this – it is no longer independent, thus putting question marks on its credibility. The criteria could be strictly enforced or not, and criteria changed without further notice. To mitigate this vulnerability Patek Philippe has created internal supervisory and enforcement bodies, but most prominently have nominated Thierry Stern, its CEO, and his father Philippe Stern as guardians of the Patek Philippe Seal and thereby putting their weight as warrants for the trustworthiness of the brand's Seal.
In summary, the evaluation of the merits and disadvantages of in-house vs. independent certification is by far not clear-cut. Would you prefer a weak set of criteria controlled by a respected, self-sufficient body, or rather a stricter set that comes with all the vested interest issues one's own certification has? We tend to think that both Patek Philippe as a brand, and particularly the two Stern gentlemen would hurt themselves tremendously would they allow to weaken the PP Seal's criteria. After all, the execution can be evaluated by each individual owner, if they dare to do so and also if they possess the knowledge and experience.
Common to the Poinçon as to the Seal alike is that there never was, importantly, a differentiation between the outstanding masterpieces of Patek Philippe and their more 'pedestrian' models as far as the certification is concerned. There is one aspect though the Poinçon de Genève will never be able to match: the guarantee of lifetime serviceability offered by the PP seal.

In a nutshell – the criteria in summary:
In-house manufacturing capacity: definitely there and with considerable depth
Handmade: yes, they can deliver finest handmade quality in each part. Still only a part of the total production is representing it.
Consistency of production quality: consistency is what Patek Philippe is known for in general, but it may differ for the connoisseur as there are different levels of quality shown in their collection.
Superior finishing: yes, they can – once more. Is it shown in a major part of their collection? No, not from our point of view. What you can get for your money, is at least "high industry standard" and finishing at the peak in some selected cases.
Unique materials: not really, but this is fine for us. Patek Philippe is better known for classics and sometimes classics with a twist.
Advanced technologies: yes, Patek Philippe was a pacemaker in research, but applies it very carefully and rarely in serial production
Outstanding design: being the master of classical watchmaking and watch design does probably not help here. Still they deliver quite often in detail and therefore we love them.
Consistency in presentation: Yes, for sure. It´s almost a given strength of them, however they have a quirky way to stick to it when it comes to present research innovations.

Conclusion:
Overall, for very good reasons there continues to be lots of respect for the brand and the people behind, but today only a minor part of their (comparatively high volume) production qualifies as the very best of contemporary watchmaking. Probably relevant only for 'purists' and that kind of passionate aficionados, but obviously not a big deal for a major part of their customers anyway. Otherwise, business wouldn´t be as strong for them and (street prices) would be less "crazy" if we look at the current (super) hype for their Nautilus collection … another story, for another day.
So, to answer the question: does PP qualify to enter the Holy Temple of the best in watchmaking? From the above, the answer is a 'yes', but with a caveat: it does not apply across the entire range of PP watches. There are those of undisputed excellence (always, considering industrial watchmaking), and then there is the vast majority of watches that are 'merely' fine.
(Patek Philippe Ref. 5370P Split Seconds Rattrapante Chronograph with black enamel dial)

The image of PP as one the 'holy trinity' of watchmaking stems from decades of the (older but also more recent) past, when there were almost exclusively traditional watch companies, when knowledge was less wide spread even among collectors and manufactory tours almost unheard of. That was also a time when no independent watchmaker would challenge the established brands (exceptions like George Daniels, Derek Pratt or Richard Daners notwithstanding). Yes, back then, PP was rightfully considered a 'pinnacle' across the board.
(Patek Philippe Ref. 6102R Sky Moon Celestial astronomic wristwatch)

But times have changed, and new challengers have entered the field. One of the most famous ones was an 'upstart' German brand that in 1994 almost overnight dared to recalibrate the expectations of collectors when it comes to fine finishing, value for money and the overall ownership experience: A. Lange & Söhne in Glashütte/Germany. Their initial pieces glowed in lustre compared to a Patek, causing almost the entire collectors' community to drool …  – Good or bad? Successful in business numbers? Well it depends on the point of view, once more.
Around the same time, exceptional watchmakers such as Philippe Dufour, Kari Voutilainen … and most recently Rexhep Rexhepi further upped the ante from the independent watchmaker's side.
(A Pièce de Résistance: the elusive Patek Philippe Ref. 6002G Sky Moon Tourbillon, here in an entirely hand-engraved version)

Thus, PP once was one of the most excellent watchmaking companies. Today, they are still very good with a number of outstanding pieces, while others have surpassed the quality in detail and at times also in a consistency we so much appreciate. In the global world of today this is probably the price you must pay, being very successful in such (relatively) high volumes. If they would (significantly) reduce their volume, more (than already today) people would blame them anyway. For those in the market for "the real thing, only", we suggest: just keep your eyes open, do your homework, be patient and hopefully you'll do fine with serious investments.