written by:
the eclecticum
published:
2021-05-07
categories:
A. Lange & Söhne, auction, Audemars Piguet, Bulgari, Cartier, Daniel Roth, F.P. Journe, François-Paul Journe, George Daniels, Habring2, Harry Winston, IWC Schaffhausen, Jaeger-LeCoultre, Kurt Klaus, Longines, MB&F, Omega, Patek Philippe, Richard Habring, Roger Dubuis, Roger Dubuis, Rolex, Vacheron Constantin, watches


Delights from the May 2021 Auctions at Antiquorum, Ineichen and Phillips

Auction season is approaching, a there are a number of true collector's delights to marvel (and perhaps bid?) at amongst the offerings – some combining watchmaking excellence in dangerous concentration

'Auction Season' – this usually means a few marvels and gems are to be discovered, and this one does not disappoint. Here's what caught our eyes at the upcoming Antiquorum, Ineichen and Phillips auctions in Geneva in May*:

A. Lange & Söhne Lange 1 Stainless Steel
Apparently about only 30 pieces ever made in steel, this is the ultimate understatement and essence for finest Saxon watchmaking.
Antiquorum, 9 May 2021, Lot 434

Anonymous, Minute Repeating Chronograph
It looks like a knock off from a Franck Muller, but if you look closely… it comes with a case made by Jean-Pierre Hagmann and a minute repeater module by F.P. Journe – all with a beautifully made but not signed case and dial – can it get any better, for 'us'?
Philipps GVA, 8/9 May 2021, Lot 91

Audemars Piguet Star Wheel Ref. 257200
An iconic piece which inspired a lot of others – eclectic time display with an equally eclectic exterior – splendid!
Philipps GVA, 8/9 May 2021, Lot 38

Cartier Minute Repeater Pocket Watch
A superb example of understated Art Déco watchmaking, this 49mm yellow gold pocket watch by Cartier, made around 1930, belongs to the finest the stylish house had to offer: an understated exterior with subtly twisted design elements (note those lovely numerals, for example) that has true excellence under the hood: the nicely preserved minute repeater movement made by the then prime partner of Cartier, European Watch & Clock Company:
Antiquorum, 9 May 2021, Lot 84

Daniel Roth Tourbillon Retrograde Date Ref. 196.X.40
Daniel Roth's designs are legendary, and this is one of the tourbillons which defined his work. The retrograde date adds to the spice, plus that it was made before the company was sold to Bulgari.
Antiquorum, 9 May 2021, Lot 200

Dunhill Lighter Watch
Can it get any more eclectic? The ultimate accessory for the discerning gentleman.
Antiquorum, 9 May 2021, Lot 295

Gschwind & Häni Prototype Diver's Watch
Surprisingly modern looking diver's watch with a 46mm steel and aluminium case. Obscure manufacturer, but an attractive beast (reminds a bit on Ralph Lauren's Automotive and on Vianney Halter's HTO watches)!
Antiquorum, 9 May 2021, Lot 69
Harry Winston and F.P. Journe, Opus One Tourbillon:
One of the inaugural pieces which established the legends of both F.P Journe and Max Büsser were the 'Opus' watches for Harry Winston. Each of the six watches were unique, and this one with the turquoise dial is just magic!
Philipps GVA, 8/9 May 2021, Lot 142

IWC Da Vinci Perpetual Calendar Chronograph Ref. 3750
The icon for the genius of Kurt Klaus. An eminent piece of watchmaking history, it its most pure expression in stainless steel.
Ineichen, 22 May 2021, Lot 67

IWC Portugieser Rattrapante Chronograph Prototype by Richard Habring
The second IWC icon, this time featuring Richard Habring who developed the 'economical' split second mechanism for IWC. This is Richard's own prototype, and all proceeds will go for charity. Included also is a Heuer pocket rattrapante which was his inspiration. Stuff of legends!
Philipps GVA, 8/9 May 2021, Lot 165

Jaeger-LeCoultre Lépine pocket watch
JLC was once christened the 'watchmaker's watchmaker', and this understated yet nicely designed and superbly made stainless steel pocket watch exemplifies what JLC is all about. Black dial, railroad track and lancet hands, in an Art Déco design – love!
Ineichen, 22 May 2021, Lot 53
Jaeger-LeCoultre Memovox Snowdrop Speedbeat Ref. E877
Those funky 1970s designs! This JLC alarm watch is a prime example for this, executed in fine quality and apparently nicely preserved. With 43mm, its rather large, and comes with the sought-after movement Cal. 916, Jaeger-LeCoultre's first alarm calibre to use a high-speed 28,800 A/h balance, and also the first ever automatic alarm watch movement with a rotor instead of a bumper.
Antiquorum, 9 May 2021, Lot 16

Longines Flyback Chronograph 30CH
An attractive chronograph with a legendary flyback movement Cal. 30CH, directly from the 'good old days' of the manufacture. The dial has quite some patina, but the movement appears to be in exceptional condition.
Ineichen, 22 May 2021, Lot 107

Longines Pilot's Watch made for Swissair Ref. 6630
This one was actually commissioned by Swissair to use for its flight crews in 1955, and thus carries a 24h dial to avoid day/night mistakes. 47mm large.
Philipps GVA, 8/9 May 2021, Lot 84

OMEGA Constellation Electroquartz Ref. 196.005
A watch of immense significance – an early OMEGA with the Cal. 1300, so early that it is likely one of the 42 exhibition piece examples of the Beta 21 that were shown at the Basel fair in 1970. A piece of watchmaking history!
Antiquorum, 9 May 2021, Lot 48

Omega Chronometre à Tourbillon
Another legend: the tourbillon movements were made exclusively for Observatory precision contests, yielding spectacular results between 1947 to 1952 at the contests in Kew Teddington (London), Neuchatel and Geneva. Encased at the end of the 1980s, about 7 of these movements were sold to VIP clients. This particular pieces once belonged to Franck Muller who had a dial made by Tille and the case by Jean-Pierre Hagmann. There're very few watches that condense so much watchmaking excellence!
Antiquorum, 9 May 2021, Lot 444

Omega De Ville Co-Axial Limited Edition
Can this ever stop? The OMEGA De Ville Co-Axial of 1999 was the exact watch which launched the Co-Axial escapement of legendary British watchmaker George Daniels at production scale. Beautiful red gold case with midnight blue 'pie-pan' dial as well.
Ineichen, 22 May 2021, Lot 90
Omega Speedmaster Apollo XI Ref. 145.022-69
One of only 1014 ever made between 1969 and 1972 in celebration of the Apollo XI mission.
Antiquorum, 9 May 2021, Lot 243

Patek Philippe Ref. 3466, signed Tiffany
Patek Philippe and Tiffany, a legendary combination, and on top in stainless steel. Understatement with a twist…
Antiquorum, 9 May 2021, Lot 372

Patek Philippe Split Seconds Ref. 5950R
The Genevan firm's re-entry into rattrapante chronographs with this absolutely adorable all-new, in-house ultra-thin movement, the calibre CHR 27-525 PS, which looks classical down to the tiniest lever, but actually abounds with small innovations, housed in an unassuming but in the detail fantastically made case and dial!
Philipps GVA, 8/9 May 2021, Lot 70
Roger Dubius Hommage 40 Chronograph
Those were the days – considered exuberance, Genevan style! Two such watches are on offer, a Monopusher (with lacquered dial) at Phillips and a Two-pusher (with guilloché dial) at Ineichen:
Philipps GVA, 8/9 May 2021, Lot 227
Ineichen, 22 May 2021, Lot 203

Rolex Prince Chronomètre 'Railway'
A collector's coveted item from a few years back, this is eclectic design at a high level: a 14k white and pink gold wristwatch with two-tone silver and gold dial.
Antiquorum, 9 May 2021, Lot 142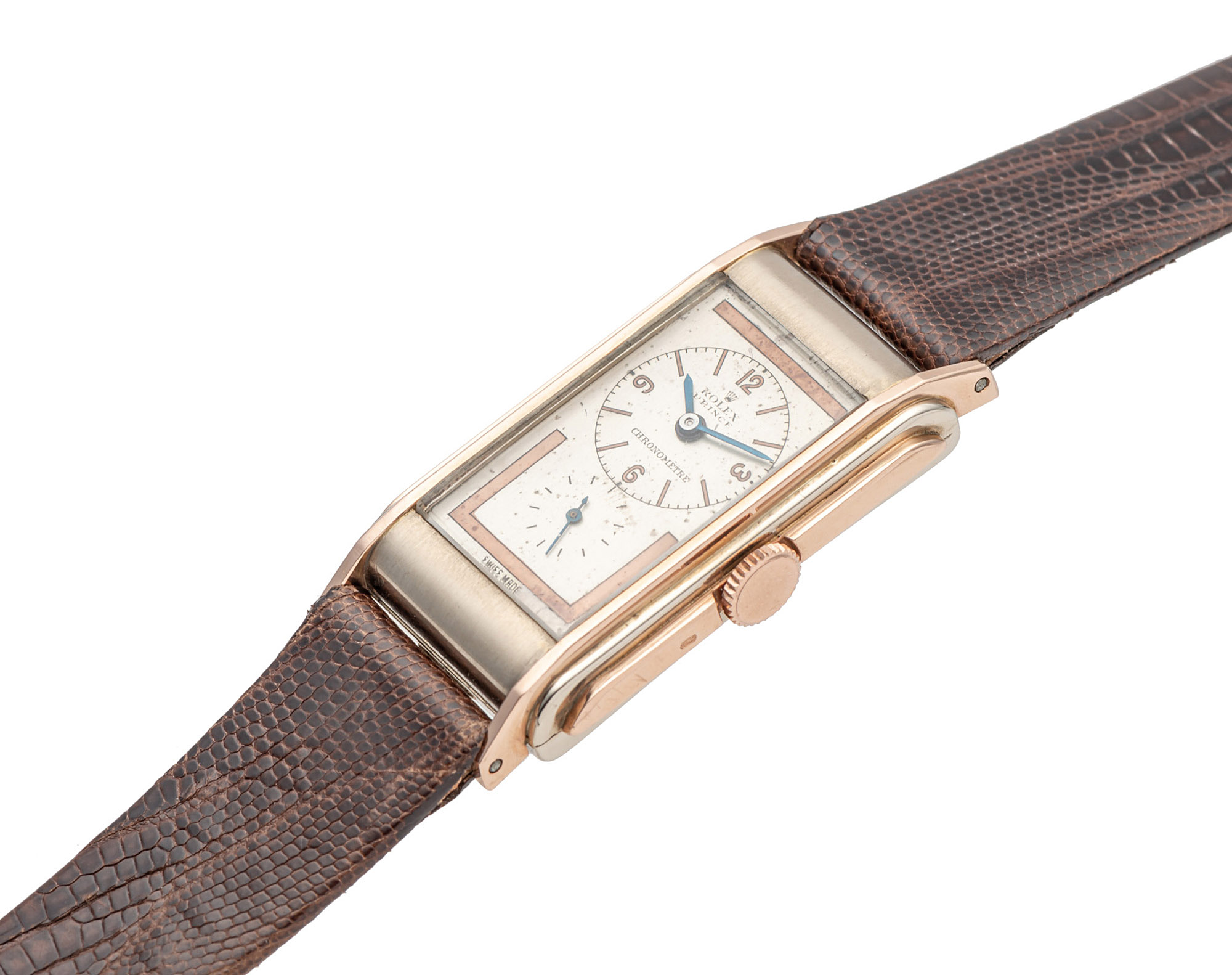 Vacheron Constantin Heure Sautante
A superbly beautiful eclectic pocket watch with jumping hours complication and eccentric minute dial, cylinder escapement and an abundance of guilloche work, almost 200 years old.
Ineichen, 22 May 2021, Lot 10


So, we did not promise to much, we hope…
Cheers,
the eclecticum

______________________________
*) Links:
Antiquorum Geneva, 9 May 2021: https://catalog.antiquorum.swiss/en/auctions/geneva-2021-05-09/lots
Ineichen Zurich, 22 May 2021: https://catalog.ineichen.com/174?
Phillips: Geneva, 8 & 9 May 2021: https://www.phillips.com/auctions/auction/CH080121