written by:
Ornatus Mundi
published:
2021-05-02
categories:
[sc_post_category]


Gold Dust: Massena Lab's Archetype 0.0 brings back the lovely gilt dials of the past

Noted collector, industry insider and now also watch producer William Massena embarked on a mission to revive the forgotten art of 'true' gilt dials – a high rejection rate allowed for only two hand full of Archetype 0.0 watches to be made
When William Massena, well-known collector and a long-time industry insider, started his eponymous brand, Massena Lab, I took well notice, as he was one of those members of the early online watch communities that accompanied me throughout my horological upbringing and who's voice I listen to. William disposes of a wealth of knowledge complemented by an even more extensive watchmaking library and sharp judgement, so the expectations with his watches were stellar, and what I heard so far was – he delivers.
Massena Lab's watches hardly bring much 'innovation' to the table, instead they draw inspiration from great vintage designs and combine them with modern technology and attractive prices. Earlier this year they presented the Archetype 0.0, a lovely two-register hand wound chronograph with what William called a 'true' gilt dial – that was the point when I knew I had to have it!





But first, let's discuss briefly what such a true gilt dial means:
A great number of vintage watches, chronographs most notably, made during WWII or in the first decades after, came with highly coveted dials which convey something like 'vintage charm' like only few other types: gilt dials, usually warm gold inscriptions on black surfaces. For most collectors that's the definition.
However, 'gilt dial' can also be defined stricter, and then it includes the process as well*: Here, an underlying surface is exposed by removing a top coating – regardless of colour, although the prime combination is gold and black.


('True' gilt dial on an early Rolex Explorer. Image © Watch Works Haarlem)

One usually starts with a polished dial surface, gilded usually, upon which a contrasting galvanisation is applied. The desired inscription is either masked or (rarer since more susceptible to defects) subsequently removed to expose the polished base below. A protecting lacquer is added and maybe also additional print.
Good quality gilt dials made this way are spectacular to observe, playing with light like only few others.
According to William Massena, there are only very, very few artists who still practice true gilt technique. Idea and opportunity also presented themselves, when William and a dial maker he worked with exchanged ideas the topic came to gilt dials and both concluded 'it would be an interesting project to work on'. Inspired by a vintage chronograph dial, they transformed it into a gilt design, and the dial maker commenced his delicate handwork.



(An early dial rendering. Image © Massena Lab)


The team quickly discovered that gilt dials are not really ready for production scale: the rejection rate was enormous such that they ended up with only two dozen usable ones (and even these show a few imperfections – hand work!). A high rejection rate – we know this from enamel dials. Consequently, the decision was made to offer those few for 'friends & family'.





The Archetype 0.0 is a 42 mm x 13.5 mm watch with a finely detailed stainless steel case, a box sapphire crystal and a hand wound Sellita SW510 M chronograph movement, regulated to COSC chronometer standards. The movement is derived from the ubiquitous Valjoux 7750, with a few improvements, two very noticeable ones being the extended autonomy (58h) and the smoother pusher feel (I compared against the new Hamilton Intra-Matic Chronograph H, which uses a manual version of the Valjoux 7753). It is not visible since the watch has a very simple closed case back.





That's a solid base with very attractive juxtaposition of brushed surfaces and polished accents, but as mentioned above, the true allure is found in the dial: Massena Lab combined the gilt elements with inscriptions printed in gold, e.g., on the chronograph counters which make for a fascinating play of light, due to their mat character contrasting well with the shiny gold gilt: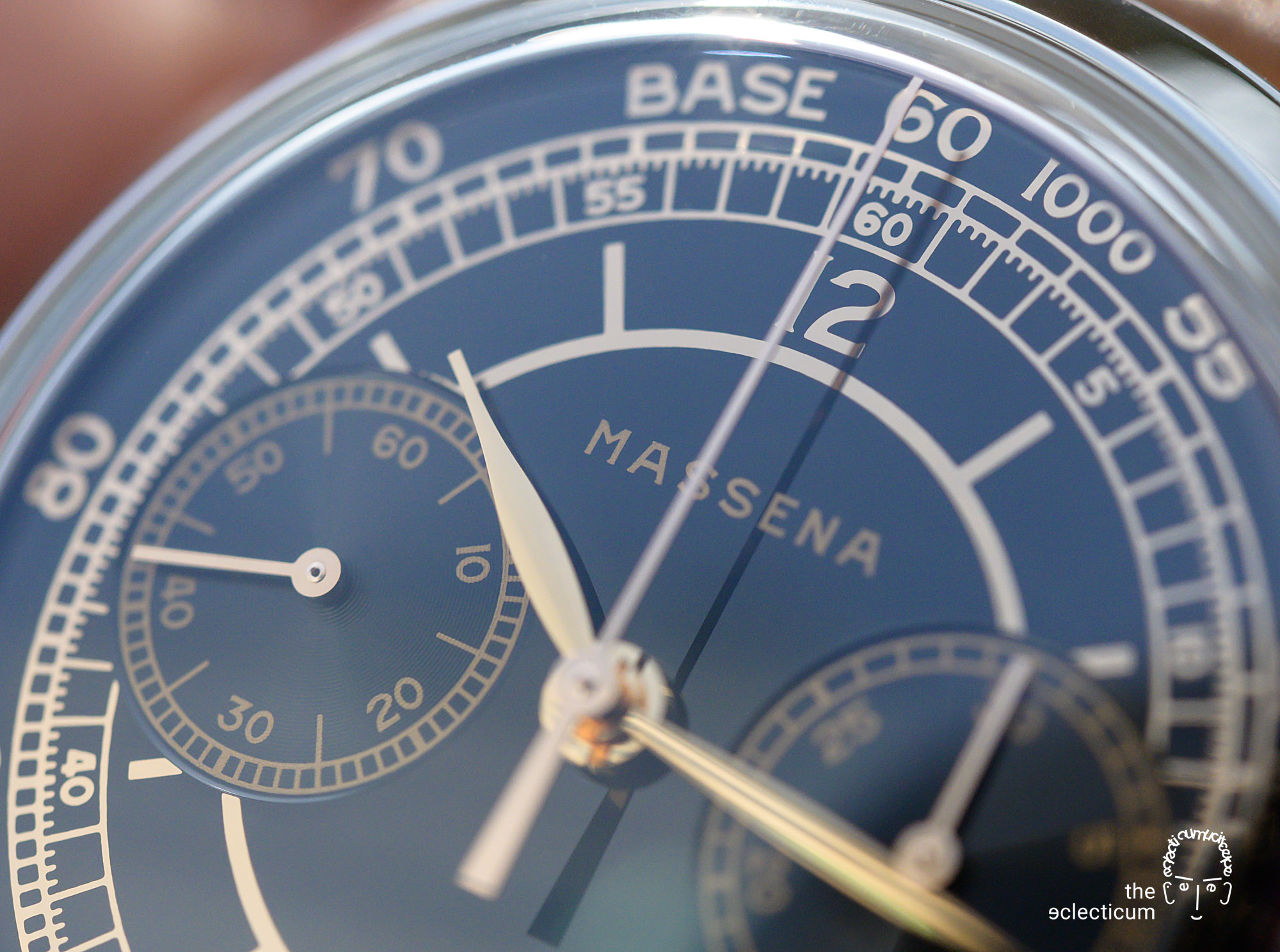 Note also the wonderful serifs on the numerals – a testament to the attention for the detail!
If there is something to criticise then I would mention the hands – I would love to see a more rounded top, and more importantly I would think they should be bent on their outside to reduce parallax to their respective indices.





My second area of critique is the strap: a supple deer skin strap and an elaborate tang buckle. The strap tapes from 20 to 15mm, which is a bit too much for my liking.





That aside, the Massena Lab Archetype 0.0 is a lovely watch to wear. While it breaks no new ground, the watch does convey the notion of love to the detail. It resurrects the forgotten art of gilt dials, true ones, and does it with aplomb and knowledge: the difference to printed indices is nicely integrated into the dial with great effect.





Implementing the gilt dial was a labour of love, particularly in a sub 5k$ price range, and this distinguishes the Archetype from so many vintage-inspired watches: it uses the period-correct technique. No lookalike, no fake patina… the real deal. That's extremely rare, and that's why I think this watch qualifies as a 'gold dust' candidate.





It's a pity though that no larger editions of this watch could be made, but I heard there will be other (production) versions of the Archetype, just not with this charming technique!
Congrats to William Massena for another accomplishment!
Ornatus Mundi


______________________________
*) for more on gilt dials read this article on Rescapement!