"Guy´s Eclectic Choice of The Week": Laurent Ferrier – Galet Classic Tourbillon Double Spiral


Photographer Guy Lucas de Peslouan shares his images on the Laurent Ferrier ´Galet Classic Tourbillon Double Spiral` and we "the eclecticum" added some context


Laurent Ferrier – a brand founded in 2008, by the man Laurent Ferrier. A retired veteran of Patek Philippe, who was their head of development for quite some time. His first product with the new company – his own company – got a lot of attention among (senior) collectors for several reasons.



Me saw the `Galet Classic Tourbillon Double Spiral` for the first time at a collector's dinner hosted by the brand, back in 2011.



Even in bad light conditions I was blown away, to be honest. A considered design approach all over the product – dial, hands, case and of course the tempting highly complicated movement with superb finishing on top – like we do not see that often, especially not when we think about "start-up´s". That night we compared and discussed it among the best of fine watchmaking – outstanding watches from powerhouses and independent watchmaking in hand. Finishing – there was no need to be shy.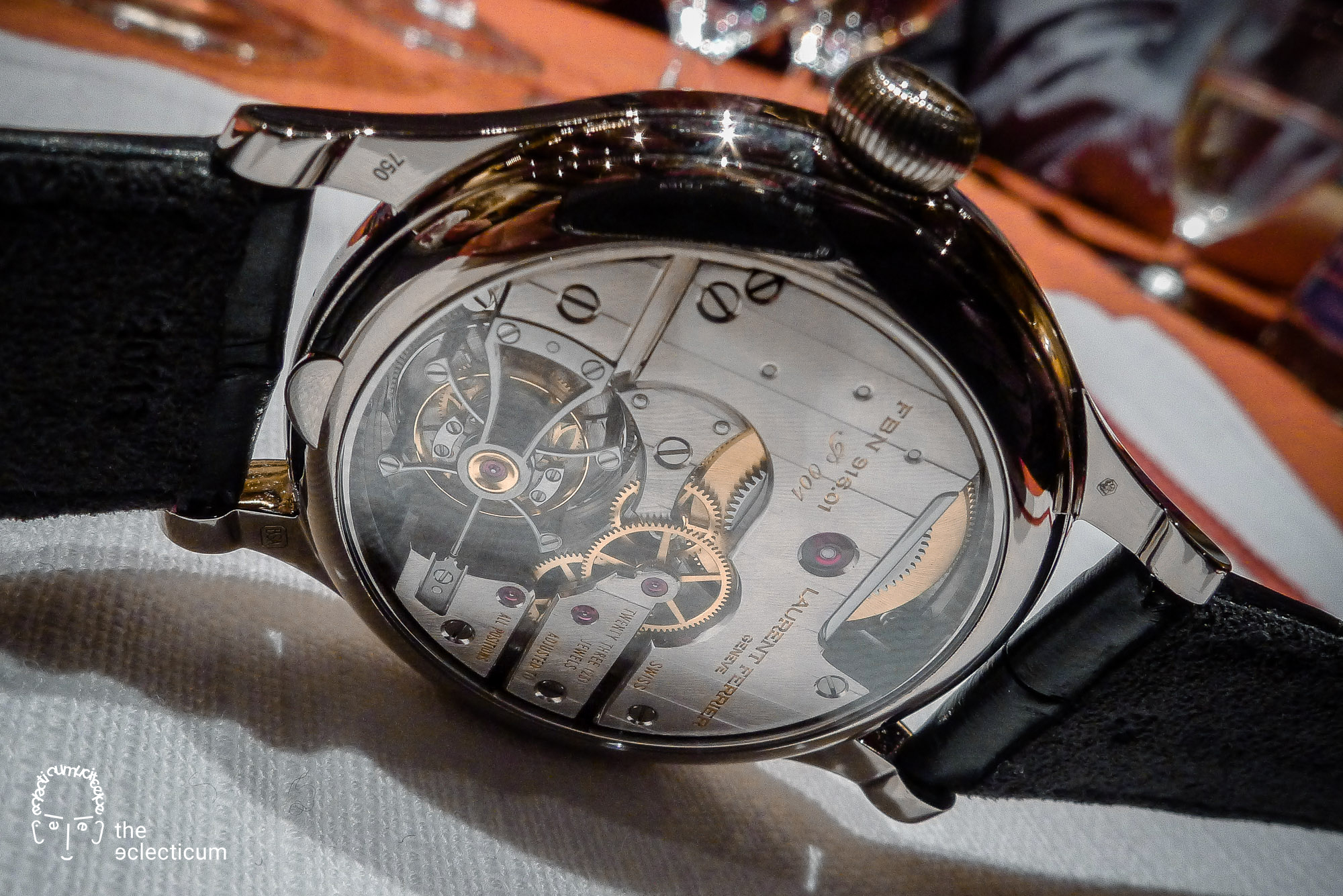 All the details shown looked superb and even the ´touch & feel` was outstanding and far from being standard in the industry. To discuss it with the people behind – founder of the brand, the CEO, and the constructors of the movement – was even better.


Side note: La Fabrique du Temps did the construction of the movement for the `Galet Classic Tourbillon Double Spiral` as well as their (later introduced) micro-rotor caliber. The company was founded in 2007 by two of the co-founders of BNB Concept – Michel Navas and Enrico Barbasini – and acquired by Louis Vuitton in 2011. BNB Concept (founded in 2004) started with a tourbillon – BNB 1000 – and was known as a specialist for complicated watches. Today they are part of Hublot – more or less. (More info you can find here: https://www.theeclecticum.com/gold-dust-a-surprisingly-timeless-and-restraint-hublot-classic-fusion-flying-tourbillon/ )
Guy´s pictures will make it easier to understand what I am talking about in case you never handled the watch yourself.



Conclusion: even when the watch was introduced almost 10 years ago, it still is an outstanding piece today. Timeless design (case, dial & hands), exquisite finishing quality and breath-taking movement architecture. It represents a lot from the past – only the best of fine watchmaking – and yet me would call it modern.


More "Guy´s Eclectic Choices of The Week" you will find here, every Monday.