F.P. Journe 20th Anniversary Exhibition « 20 years of Résonance »
A virtual walk through F. P. Journe's exhibition celebrating the 20th Anniversary of his iconic Chronomètre à Résonance watch



Anniversary Exhibition – Geneva
The Chronomètre à Résonance has become a fixture in Journe's collection and has seen many variations and technical improvements over the 20 years of its existence. Two decades is a quite commendable achievement and attests to the significance of watch, both for the advancement of watchmaking but also for the brand and Mr Journe himself.




It is therefore natural that François-Paul Journe wished to celebrate this milestone and share his excitement with the collectors and watch lovers worldwide. An anniversary exhibition was put together and set to travel the world – alas, the Coronavirus crisis put a full stop to such plans, and the exhibition had to be confined to the F.P. Journe manufacture building in Geneva. Good news, we have been allowed to take pictures and we are happy to share what we have – in case you couldn´t make it to Geneva.




The exhibition presented the evolution over time manifested in the several series of the Chronomètre à Résonance watch, important variants, and details like dials, hands, or movement parts. Like this it was only possible because of (generous) loans from collectors and therefore such a presentation of the history of the Résonance (probably) won´t be shown like this anymore.
What we experienced was a lovely exhibition of some outstanding and rare (to say the least) pieces, which we enjoyed a lot. The curators of the exhibition apparently made a conscious decision not to overload the viewer with written information – like often in a museum. That's quite understandable, as watchmaking today in general and particularly in the case of François-Paul Journe is a work of passion, and thus emotional. 'Passionate' was also the brief introduction to the pieces we were given by a thoroughly knowledgeable staff member, which added a lot to our enjoyment.
Before we show you the pieces on display, we would like to add some context about the complication itself.
Precision in tandem – resonance as a cornerstone of François-Paul Journe's watchmaking
It really is a ubiquitous physical phenomenon – resonance – and it "describes the phenomenon of increased amplitude that occurs when the frequency of a periodically applied force (or a Fourier component of it) is equal or close to a natural frequency of the system on which it acts." (Wikipedia). The key here is that the force needed can actually be quite small, and where else shall we find such combined with a 'periodically applied force' than in watches?
In a watch, when you have two oscillators (pendulums, balances) that are mechanically coupled and closely regulated in respect to each other, the two oscillators start to resonate in phase, thereby stabilising the system and balancing out each other's variations in rate – quite advantageous from a chronometric perspective.


(Antide Janvier's Regulator, dated 1780, in the F. P. Journe Geneva showroom. Image © F. P. Journe)


The discovery of resonance is not really new – in fact, already mid-17th century Galileo Galilei observed resonance when experimenting with pendulums. Credit goes to famed watchmakers Antide Janvier, and three decades later, Abraham-Louis Breguet, who both successfully constructed pendulum clocks and pocket watches, respectively, employing resonance to improve rate. Breguet conducted a great number of experiments, with different types and strengths of mechanical coupling between his (pocket watch, hence balance & balance spring) oscillators, and also to exclude the suspicion that it was actually the motion of air between the balances which drives resonance (credit goes to Jack Forster for unearthing Breguet's experimentation from George Daniels' book 'The Art of Breguet', p. 76f.).


(Breguet pocket watch No. 2788 dated 1812, with two resonating escapements. The watch was set to be auctioned by Sotheby's in London on 28 October 2020, Lot #205, but was ultimately withdrawn. Images © Sotheby's)


Resonance fascinated François-Paul Journe from very early on in his career, and the idea manifested in his mind when he was restoring a Breguet resonance clock in the Paris atelier of his uncle. Journe started to develop a pocket watch movement built on resonance in the early 1980s, the resonance worked, at least for some time period.


(François-Paul Journe's resonance pocket watch movement)


Regardless of initial failures, Journe persevered, and was able to shrink a resonance movement to wristwatch size, and presented the resulting watch, the Chronomètre à Résonance, at BaselWorld 1999, at the AHCI booth.


(Prototype N°1 of the Chronomètre à Résonance. Note the applied scale for the power reserve indication (which also shows power used, hence '0' means fully wound) and the engraving of the number between the subdials)


A new watchmaking legend and instant icon was born: the first ever wristwatch to successfully exploit the phenomenon of resonance.
(F.P. Journe's Cal. 1499.2. Note the characteristic adjustment pinion in the centre to control the distance between the two escapements. Image © F.P. Journe)


What immediately strikes it the symmetry of the construction with two identical separate gear trains having their escapement in close proximity to each other. Both balance springs are free-sprung and the balances regulated with timing weights, a crucial aspect already observed by Breguet: a conventional regulator would interact with balance, limit the freedom of its movement and thus put constraints to the transmission of the balance's vibrations to the movement plate, and impact on its potential to resonate with its partner. Another requirement is tight regulation within a 5sec/day limit between the two – small – balances.


(F. P. Journe's Cal. 1499.2)


The rest is legend, and the Chronomètre à Résonance has become the single piece, apart perhaps from the Tourbillon Souverain, to 'define' François-Paul Journe not on a single sentence, but at least in a single watch.
As a watchmaker down to the bottom of his heart, precision is a key objective to Mr Journe. When asked how he evaluates the performance of his creation he simply says:
"Today, the Chronomètre à Résonance fully satisfies my timekeeping requirements."
With all that context given, we would like to share the exhibition pieces with you. So here we go – pictures and details:
20 years of the Chronomètre à Résonance – a journey in watches:

Souscription Models
Characteristics:
Production period: 1999 – ~2000
Reference: R (Résonance)
Case: platinum, 38mm
Dial: yellow gold
Movement: Cal. 1499 (brass)
Numbering: "N° xxx-yyR" ('yy' refers to case production year; caseback)
Speciality: accompanied by a 'Souscription certificate'
(A very rare 'Souscription' version with a bicolour case and a rose gold dial – only 2 such watches were made)


Just like the Tourbillon Souverain also the Chronomètre à Résonance was initially offered in a subscription scheme. The watches had a platinum case of 38mm diameter and a yellow gold dial. The movement Cal. 1499 always came in brass.
Almost all of the patrons of the Tourbillon also opted for the Résonance, and in total reportedly only about 16-17 (other sources state 22) such watches have been made.
One quirky detail on the Souscription pieces is that none of them carries a '99' in the case number. The reason is that François-Paul Journe reserved the first cases made in 2000 for the Souscription watch, in order to give the patrons a small surprise. As a result, only a few Series 1 watch would carry a '99' for the case production year.

Series 1 Post-Souscription Models
Characteristics:
Production period: 2000 – ~2004
Reference: R (Résonance)
Case: platinum or rose gold, 38mm
Dial: white gold, rose gold or yellow gold (with platinum case only)
Movement: Cal. 1499 (brass)
Numbering: "N° xxx-yyR" ('yy' refers to case production year; caseback)
(The first serial 'R' watch with case number 000-R from 2000)


The first, or post-subscription model is virtually indistinguishable from the preceding Souscription specimens. Here the first choices, in terms of the case material and dial colour, were offered.
This series is also the most interesting, for collectors, when it comes to dial appearance – mainly referring to the shininess of the dial and the colour for the subdials (white or silver), but not dial design. Initial dials (1999/2000) were very shiny, subsequent ones (2001-2003) not so much, and again after 2003 Journe used matt duals. Early subdials were silver, in 2003 white and silver again after.
Those variations were due to the various dial suppliers Journe contracted and whether he ordered dial blanks which he finished in his workshop or whether he ordered complete dials.
A bit less than 400 pieces were made.

Series 2 Resonance models
Characteristics:
Production period: 2004 – ~2009
Reference: RN (Résonance Nouveau)
Case: platinum or rose gold, 38mm & 40mm
Dial: white gold or rose gold (with platinum case only)
Movement: Cal. 1499.2 & 1499.3 (rose gold)
Numbering: "N° xxx-yyRN" and later "N°xxx-RN" ('yy' refers to case production year; caseback)
(An example for a watch from Series 2 ('RN') in a 40mm platinum case. Dated 2004)


This is a major shift in aesthetics from previous versions: now Journe offered a second case size (40mm, which was 2mm thicker to accommodate a larger crown), and also the movements were now made in rose gold.
The dials were slightly modified as well. First, a yellow gold dial was no longer offered as it supposedly did not match well with the rose gold movement colour. Second, the steel frames around the sub dials had their areas around the screws softened in shape (there are a few Series 2 watches with old dials, though). All dials had a matter surface finishing.
The movement were called Cal. 1499.2 & 1499.3, all in rose gold, with the latter upgraded in 2006 with the more efficient ratchet wheel Journe developed for the Chronomètre Souverain.
The numbering system started with '1'. Over the course of this series, Journe adopted a new numbering syntax without indicating the case production year.

10th Anniversary Edition Series 3 Resonance models
Characteristics:
Production period: 2010 – ~2017
Reference: RT (Résonance Trois)
Case: platinum or rose gold, 38mm & 40mm
Dial: white gold, or rose gold
Movement: Cal. 1499.3 (rose gold)
Numbering: "N° xxx-RT" (case back)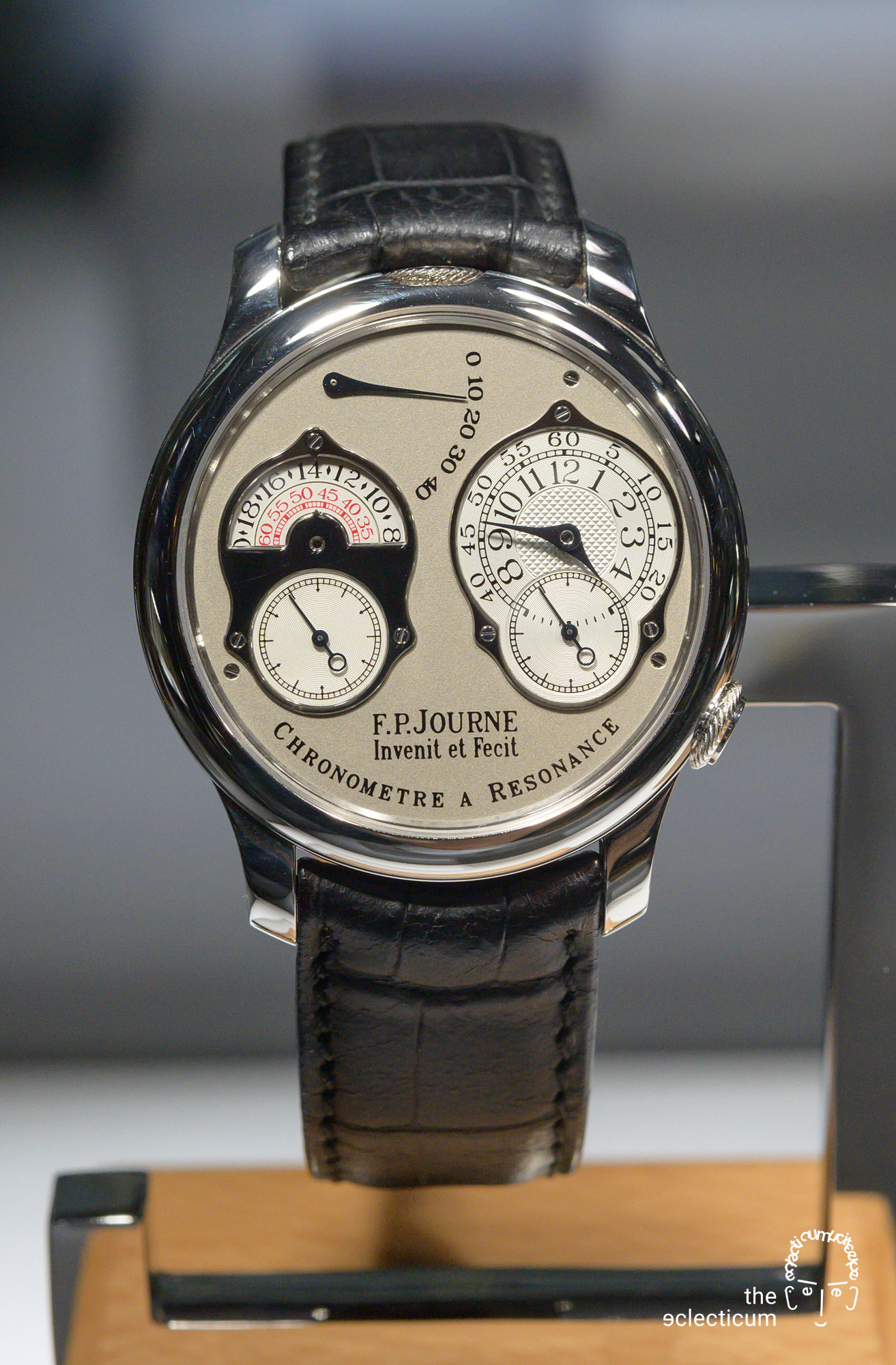 (Prototype for the Series 3 10th Anniversary 'RT' model)


Also called the 'parking meter' the new 3rd version came with a significant aesthetic and functional change: the left sub dial was redesigned with concentric 24h/minute disks, turning the watch into a travel companion. This did not require a movement change.
The numbering system started with '1'.

20th Anniversary Edition Series 3 Resonance models
Characteristics:
Production period: 2019
Reference: RT (Résonance Trois)
Case: platinum or rose gold, 40mm
Dial: white or rose gold
Movement: Cal. 1499.3 (rose gold)
Numbering: "N°xxx-RT" (case back)
Specialties: also available with matching bracelet
(An example for the 20th Anniversary 'RT' version)


Technically, the watch is identical to the normal Series 3 watches, with a symmetrically looking dial, except that the left sub dial retains the 24h function of the preceding series. The sub dial frames are identical to Series 2. This dial appears large and a bit cleaner since the outer numerical minute scales of the previous models have been omitted.

This model marks the end of the 'classical' Cal. 1499-derived Chronomètre à Résonance watches.

Series 4 Resonance models
Characteristics:
Production period: 2020 –
Reference: RQ (Résonance Quatre)
Case: platinum or rose gold, 40mm & 42mm
Dial: white gold or rose gold (with platinum case only)
Movement: Cal. 1520 (rose gold)
Numbering: "N°xxx-RQ" (case back)
(The all new 'RQ' version, the fourth generation with the considerably updated Cal. 1520)


The first complete overhaul of technics and design. François-Paul Journe thoroughly revisited the Résonance movement for this new iteration. The movement, Cal. 1520, has seen a tremendous technical update focussed on constant energy supply: now only with one barrel (split by a differential which is visible through the dial cut-out), the two escapements receive their own constant energy thanks to a one-second remontoire d'égalité on each of the two gear trains. The remontoire needs a minimum amount of energy to function, which are the first ~28h – the watch would continue to run beyond that duration for the full 48h autonomy that the mainspring provides, just without an effective remontoire.
One the dial, the Series 4 watches have one single dial insert framing both subdials. The left of the two subdials retained the 24h function of the 20th Anniversary watch, although Journe opted to again add to both subdials a surrounding minute scale, just like in the early Résonance series.
Finally, the new gear train layout allowed the repositioning of the winding crown from 12 or 2 o'clock, offering an ergonomic advantage as well.
The numbering system started with '1'.

Special Editions:
Throughout the series, F. P. Journe has offered a number of special or limited editions – differing through dial colour, case material or movement finishing from the 'normal' pieces. With the already comparatively small production at F.P. Journe a manufacture cannot retain prototypes of each of their special editions. It is thus clear that the Anniversary Exhibition cannot account for them in their entirety, but the curators of the exhibition have chosen to showcase those which mark important milestones.
One set of special watches which we see recursively throughout the production period of the Résonance are those with so-called 'Régence' dials – artisanal hand-engraved dials with a Régence Circulaire motif, a homage François-Paul Journe intended to pay to the Regency era in Great Britain (1811-20), a transitory period in British history.
For the Résonance watch, it is believed that only three have ever been made carrying such an artisanal dial: one on the elusive N° x21-99R, supposedly the first serial Résonance ever made. The watch was the very one presented at BaselWorld 1999:




A second one is this model from 2002 with a rose gold dial:


It is absolutely stunning and mind-blowing for a collector so the both of the only two such pieces in existence shown together!
Other notable versions include a special series with Ruthenium-coated dials, made in a series of 99 pieces for each of the (then) existing Journe models, including the Tourbillon Souverain and the Chronométre à Résonance. Those watches belong to Series 2 and were the first ones to be enclosed in a 40mm (platinum) case:
(Prototype of the limited 'R' series of watches with Ruthenium dial from 2001. Case in 40mm platinum)


Combining an unusual (for Journe) case material (Titanium Grade 5) and a Ruthenium dial colour marks the special edition for the 3rd anniversary of Journe's Tokyo boutique from 2006 (Series 2):


There are quite a few more variations that have been produced, and this makes special edition of the already quite rare F.P. Journe watches a fascinating collection focus on its own right. Below as example a unique piece in platinum with bracelet made in 2001 for Gabriel Tortella, a renowned Spanish economist, famous journalist and friend of François-Paul:





´the eclecticum` comments
Same watch, different personalities. Which one to choose? One could get lost in the details (obvious and hidden ones), easily. But you have to be open minded (almost like a collector of art or antiques) to changes over time. It takes time until you really know if you have something beautiful or something to die for. Journe watches age with grace and they have oddities (not bad at all, in our book!) but watches like this are not for everyone.
One aspect we mentioned are the dials: there are quite a few, with differences in production – from more reflective, to almost matt, to something in between, from silver to beige/brown and sometimes even matte yellow (even when we talk about the same colour). At some the printing seems to float above the dial, and on other it appears directly printed. Also, there are versions in rose, grey, black, mother of pearl and so on. Most of them seem to age differently and it almost feels like each one is different.



(Limited edition Series 2 with a Ruthenium dial and a rose gold case; property of a gentleman)


To judge a dial based on photographs is almost impossible, and you need to see them in the metal – each and every single one. Recall what we have mentioned above on the Series 1 watches: early dials were supplied to the manufacture in raw state, e.g. from Gerald Genta's dial workshop, and finished by Journe, whereas later ones are made entirely in-house. Early seconds hands for example have been curved at the end to correct for parallax. Materials for movement parts changed as well … We won´t delve into all those details for now, but one thing is clear: Journes are not industrialised products – the changes and variations reflect different production means, periods and company structures.
We would say this is a major difference to most competitors – good or bad, it´s up to personal preferences – and call it added character. Quite certainly that´s part of the success of (especially early) Journes today in the auction market.
Connoisseurs (with deep pockets) may try to get as much variants as possible or THE best – based on personal taste. Lucky us we had the pleasure to see quite a few from fellow collectors over the years and even more at the exhibition.





At the end of the day, the exhibition has opened our eyes (much wider than before) for the watchmaking œvre of François-Paul Journe. Focussing on a single, idiosyncratic exploit of the famous watchmaker it allowed us to follow him through all the difficulties he faced at the start, the setbacks, but then also the well-deserved successes he has until today. It further demonstrated the keen eye for the detail, the focus on the watchmaking essence, and a clear and very well refined aesthetic sense which evolved the Résonance with care.
The Chronomètre à Résonance is an icon which touches us emotionally – resonance is something physical yet inherently human as well, as the following citation of Keith Jarrett, dated February 2002, from the early F.P. Journe catalogues demonstrates:
"According to my experience, resonance involves all fields. This is particularly obvious in music […] I remember the day I first noticed that the same music resonated differently when different people were present in the same place.


The closer two systems are to each other, be they mechanical, musical, human or other, the more they are interact or may be said to be in resonance. The closer two lovers feel, the greater effect they have on each other."
A pity that the exhibition could not travel the world, as the specimens shown were unified for the first (and probably also the last) time. As a small and incomplete recompense we hope this article is able to convey the sensation of this exhibition!
the eclecticum

Literature:
Jack Forster (Revolution) – In Plain Sight: Revealing The Secrets Of F. P. Journe's Resonance Chronometer(May 2014)
The Journe Guy – Traveling Through Time with F.P. Journe's Resonance: Part 1 (September 2018)
The Journe Guy – Traveling Through Time with F.P. Journe's Resonance: Part 2 (October 2018)
The Journe Guy – The rare and unusual watches of early F.P. Journe (June 2020)
Jack Forster (Hodinkee) – In-Depth The New F.P. Journe Chronomètre à Résonance, Explained (April 2020)
Allen Farmello (Robb Report) – A Brief History of Watchmaker F.P. Journe's Most Influential Timepiece, the Chronomètre à Resonance (April 2020)
A Collected Man – The Rare And Unusual Watches Of Early F.P. Journe (June 2020)