"Guy's Eclectic Choice of The Week": George Daniels – Co-Axial Anniversary Watch
Photographer Guy Lucas de Peslouan shares his images on the George Daniels ´Co-Axial Anniversary Watch` and we "the eclecticum" added some context


There is really not much to add to the outstanding watches created by the late British watchmaker extraordinaire Dr. George Daniels: his impact on the industry is legend, as was his sense for style and proportion, his original expertise and his unrepeatable aptitude to pass on this immense wealth of knowledge in the form of books and lectures.
Outside the tremendously remarkable watches Daniels created under his own name it was the Co-Axial escapement which probably was his single most influential invention, intended to tackle the multifaceted implications of friction in a watch movement.
The co-axial escaping faced quite some resistance by the (mainly Swiss) watch industry, but ultimately Daniels managed to convince OMEGA to adopt the new concept – the rest common knowledge for us: OMEGA now uses it on almost all their watches.
Daniels celebrated OMEGA's decision with the Millennium series launched in 1998, however, these watches were based on automatic movements equipped with Daniels Co-axial escapement that came off the Omega production line.
It was in 2010 when Daniels and his former apprentice, Roger W. Smith, launched a 'proper English made watch' using Daniels' escapement – the result is the 'Co-Axial Anniversary' wristwatch: 




The watch was issued in a limited edition of 35 pieces, to celebrate the 35th anniversary of the co-axial escapement in 2010. Designed as a manually wound wristwatch with power reserve indicator, calendar mechanism and seconds dial in a style reminiscent of the appearance of the famous tourbillon chronograph pocket watch created by Dr. Daniels in 1994.
The dial, signed 'Daniels', is a work of art: made of silver with yellow gold chapter rings, its manually engine-turned with four distinct pattern, as are the golden hands. 




The 18,000 bph movement, an hand wound engine, would feature the co-axial escapement and a few other goodies as well, such as a free sprung balance, an English finishing with frosted and gilded plates as well as flame coloured screws to a purple/blue hue: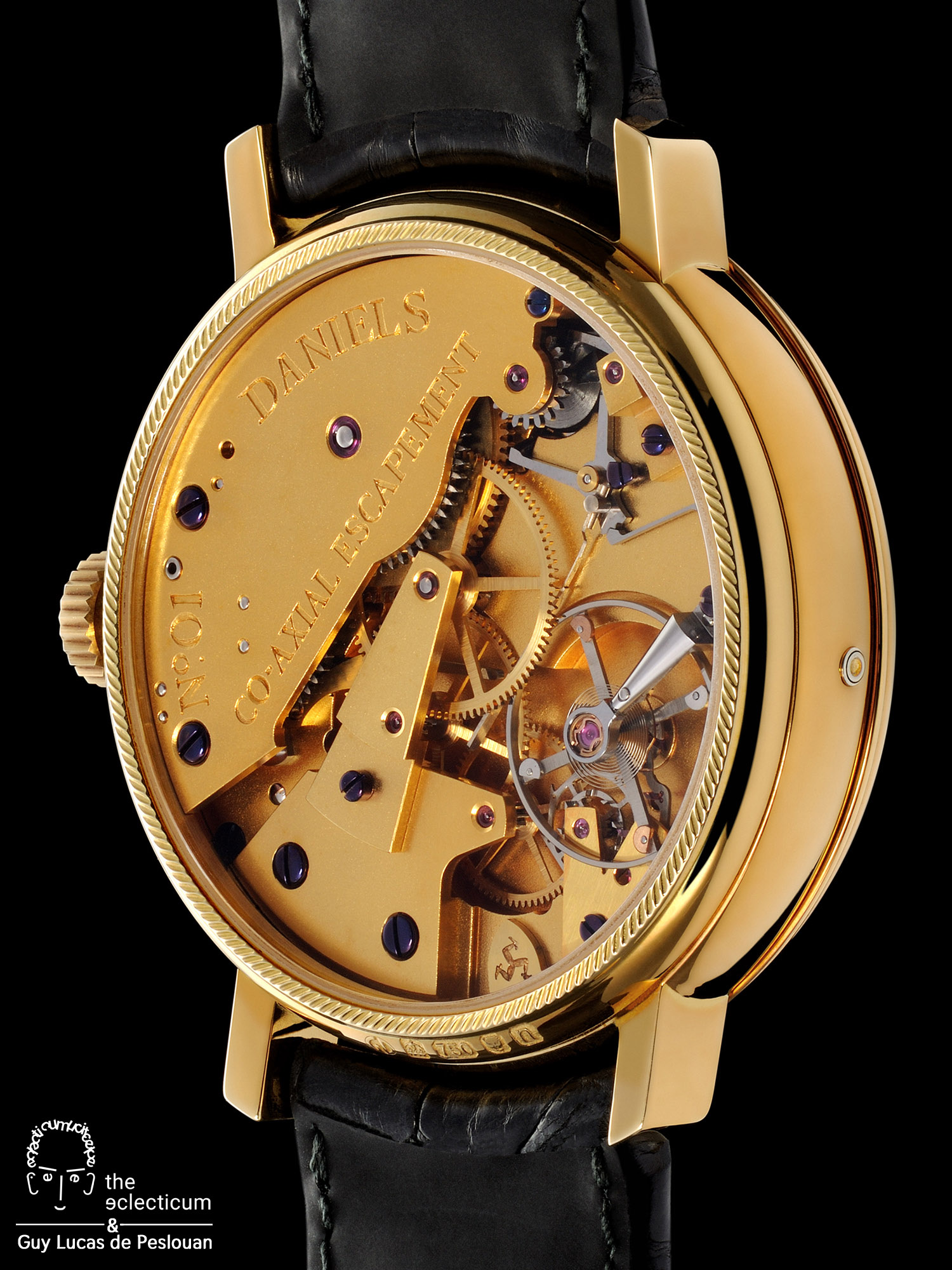 Roger W. Smith would design, construct and produce the watch under close guidance of George Daniels. Smith also implemented the first major improvements to the co-axial escapement, namely its single wheel version, where the the upper and lower wheels would be combined into one by adding raised 'teeth' onto the lower wheel:




George Daniels sadly passed shorty after he approved the final construction and design of the Anniversary Watch. He did however leave us his thoughts for this magnificent piece:
"My goal has always been to make watches which provide historical, technical, intellectual, aesthetic, amusing and useful qualities. This wrist watch is a culmination of over 40 years of watchmaking and unashamedly takes inspiration from several pieces in my body of work. The 18 carat gold case houses a completely new and original Daniels calibre which is fitted with a calendar and power reserve complication and, along with the minute, hour and seconds, provides all the information that a fine watch should."
Conclusion: there is one sentence on the George Daniels website which sums up everything: "To own George Daniels' work is to possess something exceptional and unique due to its horological distinction and artful execution."
For us, there is little to add. To put a George Daniels watch in one's hands is the equivalent to watchmaking heaven – this barely can be topped. And thus even being able to spend some quality time with this watch to photograph it must be extraordinary exciting!

the eclecticum

More "Guy´s Eclectic Choices of The Week" you will find here, every Monday.