"Guy´s Eclectic Choice of The Week": Cabestan ´Winch Tourbillon Vertical`
Photographer Guy Lucas de Peslouan shares his images on the Cabestan ´Winch Tourbillon Vertical` vertical tourbillon with constant force delivered by the fusée-and-chain



Cabestan Genéve – a brand founded in 2003. The French word 'Cabestan' means 'winch' in English. Vertically-aligned winches are the signature throughout the brands collection.


´Winch Tourbillon Vertical` – the masterminds behind the project were the watch engineer Jean-François Ruchonnet supported by Vianney Halter (technical guidance during the first year) and Eric Coudray (who helped as well in the final year of the project).


'Winch' – the basic idea is that vertical gears, barrels and drum make up a watch movement, including the 'hands' or other means of time display. Energy transported within the system also by means of a rope, or better: chain, and fed (and set) by small winch handle that is concealed in the deployant buckle – hence the name. 


From this simple idea was born the Cabestan Winch Tourbillon Vertical, but it turned out that only the idea was simple to say the least. It is one of the very few wristwatch movements with completely vertical gearing.


A vertical tourbillon regulates the movement, and also serves as seconds display, with other drums set to display the time. Energy transportation is effected by a miniature chain and fusee, with a stainless steel chain of 160 mm length composed of 235 links and 156 rivets, all painstakingly assembled by hand. The chain elements alone require countless hours of hand-assembly and this is only one part of it all.


The overall composition is erfectly and stunningly visible under twin sapphire crystals that provide spectacular 180° views of the movement.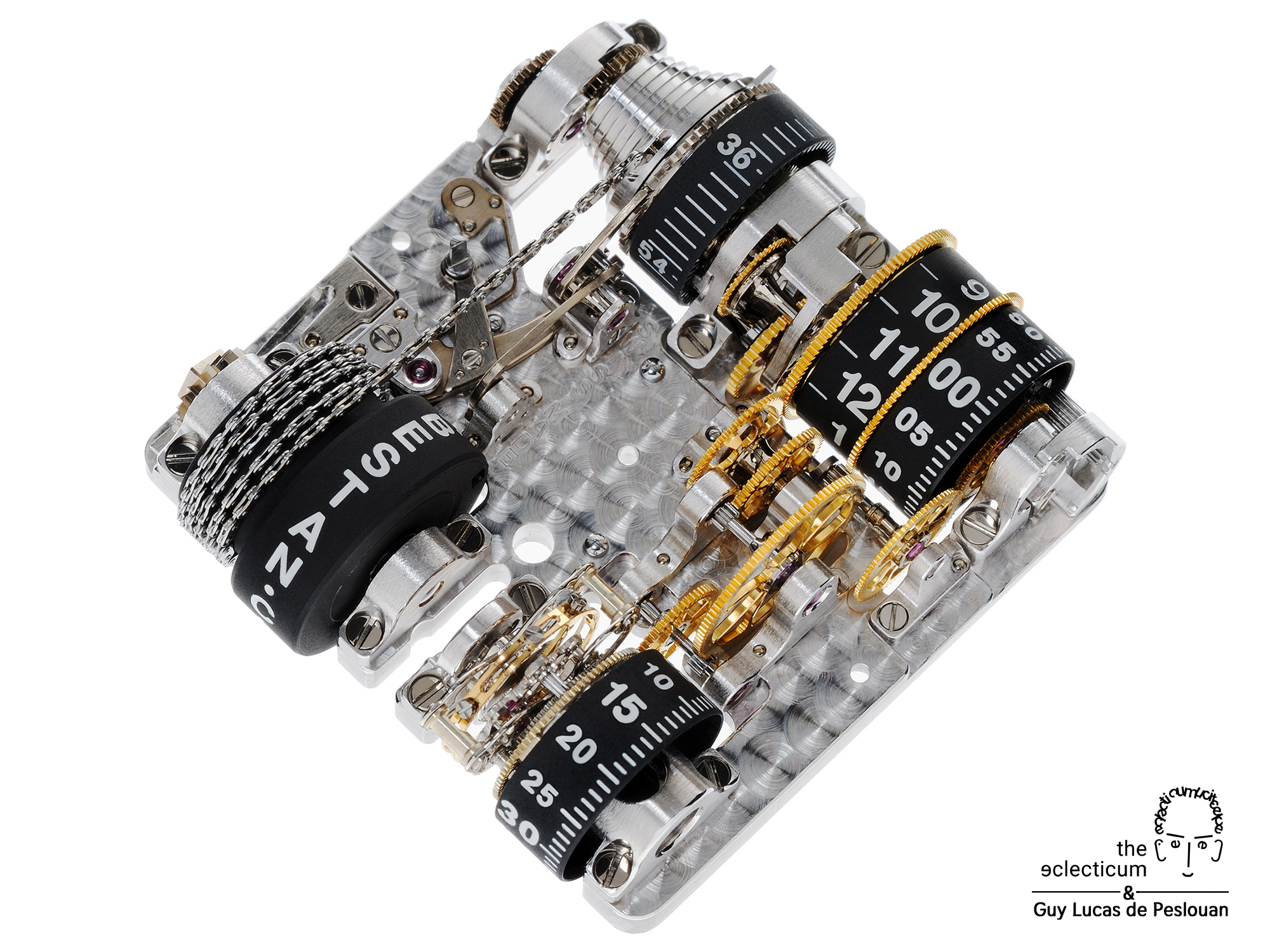 Close-up of the miniature "chain and fusée" constant force mechanism present in all Cabestan movements, supplying equal amounts of energy from the vertical mainspring barrel to the gear train throughout the mainspring's winding down, insuring optimum chronometer performance of the watch.


The result: a rare work of fine mechanical art, an exceptional timepiece demonstrating elegance and harmony, with a very precise mechanical movement on top. The watch went through a long period of gestation, with a number of the most respected watchmakers around, with several iterations, dead end roads, and about 99% of an existing construction needed to be redone, attesting to the complexity of the mechanical idea behind it.
When it was finally ready the market thought it too expensive for what it is, and success cam when the price was adjusted.


Whatever we think about such complex pieces, the Cabestan Winch Tourbillon Vertical is one example where the saying 'too many cooks spoileth broth' does not apply!


More "Guy´s Eclectic Choices of The Week" you will find here, every Monday.