written by:
Ornatus Mundi
published:
2020-06-28
categories:
[sc_post_category]


Gold Dust: the Parmigiani Ionica Hebdomadaire – the aesthetic and watchmaking vision of Michel Parmigiani, concentrated
Also, a splendid reminder to a time when in-house movements were really exotic - particularly if they were of tonneau shape and exceeded more than one-week power reserve


Today's discovery is the Parmigiani Ionica Hebdomadaire, the first watch Michel Parmigiani made for his own brand that came with an in-house movement. To give some context as to why I find this watch so important and worthwhile to consider please allow me for longer introductory words as usual:
When an eminent watchmaker and noted vintage watch restorer decides to set up his own brand one can expect to discover a lot of experience and lessons learned in his own collection of timepieces, after all, exposure to treasures of the past likely exceeds the body of knowledge a watchmaking teacher could ever pass on.
Michel Parmigiani, born 1950, who garnered his fame as watch restorer for the exceptional Maurice-Yves Sandoz collection*, has two hearts beating in his chest: that of a watchmaker, obviously, and that of an architect, his second passion.
During his years spent bringing back the beauty of ancient timepieces Parmigiani he accumulated ideas and created concept of what could eventually be the foundations of an own brand. Pierre Landolt, then president of the Sandoz Family Foundation, encouraged him take this step, and thus, on 29 May 1996, the manufacture Parmigiani Fleurier was officially launched.
It is here where the two passion of Michel Parmigiani came together symbiotically, if only its full extend showed only over time. The aesthetic as well as the watchmaking direction however were seen early on – the iconic design with double coin edged bezels and recognisable 'javelin' hands.
(Double coin edges on the bezel)
(Rosé Mother-of-Pearl dial with the 'javelin' hands)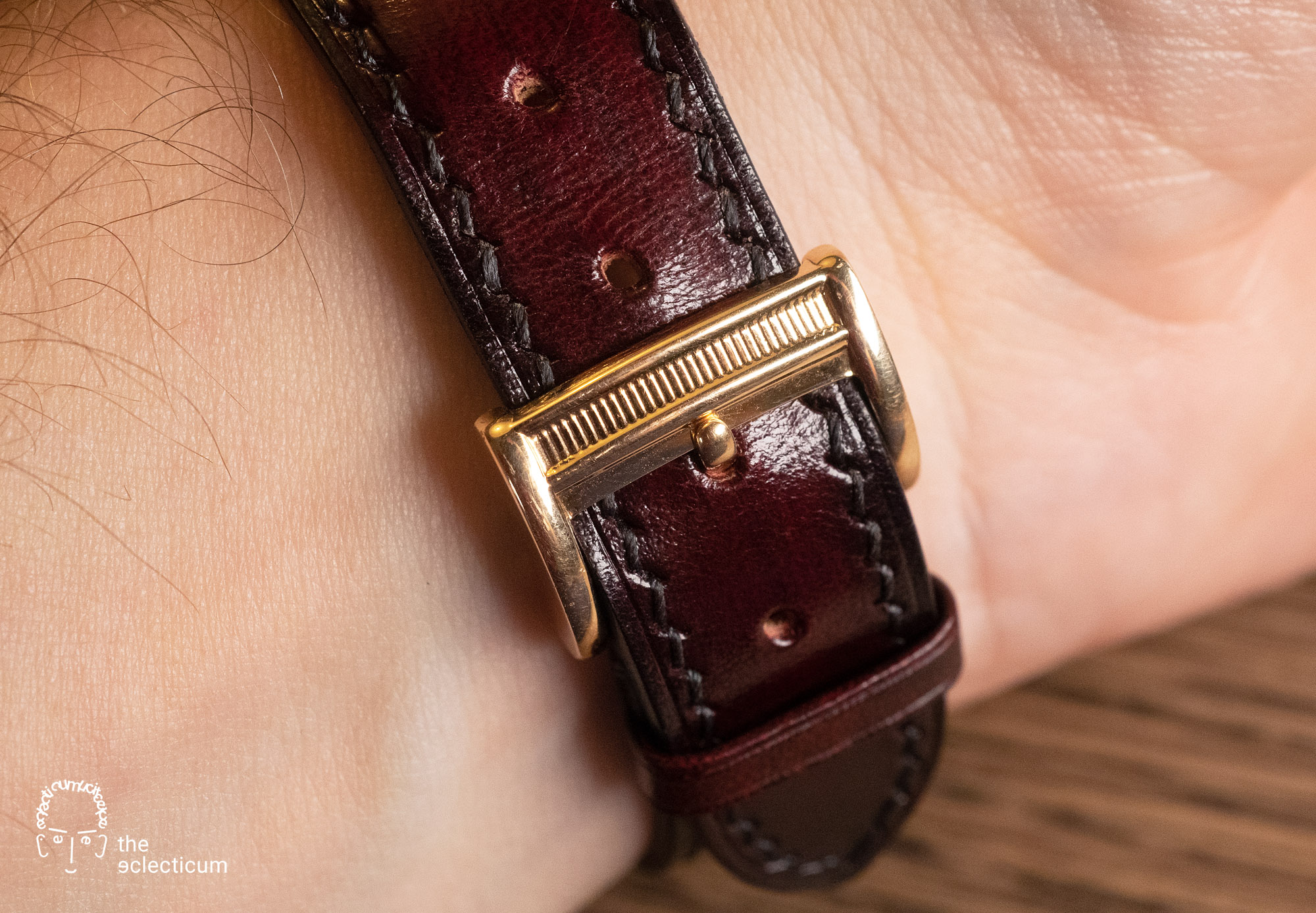 (The coin motif is repeated on the buckle)


One important milestone towards vertical integration was the first in-house movement, the form movement Cal. PF 110 which was presented in a new watch, the Parmigiani Ionica Hebdomadaire, which already indicated the long autonomy of the movement – 8 days, or more than one week! And it came in a new, shaped case, exactly matching the movements lines (or vice-versa).
(Parmigiani Cal. PF 110)


That was quite a sensation in 1999 – at a time when in-house movements were by far not as commonplace as these days, when it was perfectly acceptable to put ETA movements even in higher prices watches, and the entire infrastructure enabling more and more brands to develop their own was simply not there. Michel Parmigiani took up the challenge and built this environment he needed himself… from movement parts production (eventually becoming Vaucher), to cases, dials and hands…
Back to the movement: it is a sight to behold and represents the traditional movement style of the Fleurier region, with beautifully modelled bridges at times shaped like flowers or buds, with exemplary decoration such as the striping, but above all the generously rounded and highly polished anglage. The bridges covering the gear train show a lot of sharp inward angles requiring considerable polishing skill – and time as well.
(Note the inward angles and their fine polishing!)


One tiny detail which always delighted me was the inserted plate atop the mainspring barrels – it shows perfect fit not only in place, but also as far as the Geneva stripes are concerned.
(Perfectly machined plate insert)


Yet what really makes this particular specimen the choice of an eclectic gentleman or lady is the combinations chosen:
A red gold case with a rosé Mother-of-Pearl dial – that takes some consideration, self-confidence and a peculiar taste, yet the result is so outstanding, immediately captivating and yet still outré in my opinion – and I dare say this is one very proper way to wear a Parmigiani.
Above squarely also reflects the reasons why the owner, a friend of mine who prefers to remain anonymous, chose this timepiece:
Well for me it's really the whole package and in short:
the case is a very elegant tonneau shape with knurling on its bezel which I know is not the simplest to make.
it has got a very unique movement shape according to the case, not only that, it's got nicely designed bridges that showcase a little bit more effort to polish especially the few curves. 8 days power is of course a bonus.
the brand, I have a lot of respect for Mr Parmigiani himself, as well as being one of the lesser known brands usually only appreciated by collectors making it like a WIS only watch.
early model like this Ionica is arguably quite rare as well, at least I do not know anyone of my friends in the circle who owns one now.
I simply find it to be in good company with my Daniel Roth and Roger Dubuis 😊
As my friend hinted, Parmigiani watches never really captured the imagination of the broad majority of watch lovers, and this in my view opens up tremendous degree of freedom to choose one's own watch. Be eclectic, be daring and creative, live your dream and go for exotic yet tasteful specimens – the lucky owner of this eclectic watch, a dear friend of mine did exactly this!
The Ionica Hebdomadaire stands out amongst Mr Parmigiani's work as it represents the most condensed and pure essence of his work – a holistic testament to his aesthetic and watchmaking vision.

Ornatus Mundi



*) P.S.: For those who desire to savour the Maurice-Yves Sandoz collection: there is a permanent exhibition at the Château des Monts in Le Locle. Futhermore, the Sandoz foundation sponsored the movie "An Invitation to Dream" featuring the impressive timepieces acquired by Mr Sandoz. For more, please visit the museum's website!