written by:
Ornatus Mundi
published:
2020-08-20
categories:
[sc_post_category]


Schwarz Etienne: Hands-On with the new Roma Synergy by Kari Voutilainen

The Roma Synergy shows how carefully Kari Voutilainen interprets the work of a fellow integrated manufacturer


There are a few people in the watch industry landscape whom I respect and trust entirely: Kari Voutilainen and Mauro Egermini are amongst them for sure. While the former is a legend who needs no introduction, the latter is the CEO of manufacture Schwarz Etienne, a manufacture with a vertical integration that resides at the very top of the scale (and many watch brands benefit from this). Mauro has now entrusted Kari with the task to come up with his own interpretation of SE's Roma dress watch. Kari obliged, and the result are two fine and immensely attractive watches (aptly called Roma Synergy by Kari Voutilainen) that evoke a kind of a déjà-vu moment (more on this in a bit).

The 39mm watch, with a stainless case exclusive for the Voutilainen special edition (compared to the 42mm series, otherwise identical), comes with two exclusive dial variations designed and made by Kari Voutilainen, and a special version of SE's own in-house ASE 200.00 automatic movement, largely decorated mainly by Kari as well, and is priced at CHF 29'500 incl. taxes (compared to the CHF 10'500 base Roma), and is limited to 50 pieces in each colour.


The dial: savouring textures and colours
When we hear the name of Kari Voutilainen, the immediate association is hand guilloche, and this is expectedly also the case with the Roma Synergy. Kari has developed a rather complex dial with three shades and three different engraving patterns, all arranged in 5 individual layers, and he has also opted for his own distinct style of numerals. 6 parts, without counting the indices, make up each dial.
Two versions exist with a deep blue and a refined grey colour theme, respectively:

The immediate impression is that of a mini-me Voutilainen, and I will come to that in a bit. For now, let's get a bit closer to the watches themselves:
The dials have three main engine-turned areas, a wave-patterned ("vague") outer circumference, a central barley-corn ("grain d'orge") motif and finally the old basket ("vieux panier") decoration in the subseconds dial. For each of the two versions, the colour shades transition from dark on the outer to brighter on the inner compartments, with darker frames also separating adjacent same colour areas:



The base material of the dials is silver, which is responsible the refined mat yet still magically glowing guilloche surfaces (the base material is a defining factor in the overall impression – not quality! – of the surface, and we'll see this when we appreciate the movement decoration):



As you can easily see, the dial is a complex affair not only due to the numerous patterns and shades but also because of the various different elements required to compose such a dial. Depending on illumination the impression can be quite graphic:



All dials are entirely made from base over guilloche to colour at Kari Voutilainen's Comblemine dial workshop, a fact he is both proud of and also very adamant since if his name is on dial like in this case, he likes to have complete control of the final product.


The movement: two masters unite
Schwarz Etienne is very accomplished manufacture, able to produce not only movement plates, wheels or levers in-house, escapements, hairsprings or mainsprings and balance wheels, but moreover, SE's sister companies even manufacture the laser and CNC machines used to produce such parts. If there is a vertically integrated manufacture, Schwarz Etienne is probably a role model for this.


(Machine for rolling of hairsprings at SE, developed by sister company BC Technologies SA).

The range of in-house movements cover anything from simple three-hand movements over small complications to flying tourbillons. Their approach to variety is modular, based upon a core design which comes either as a manual wound ('MSE') or as an automatic ('ASE') movement, whereby the second mainspring barrel of the MSE is replaced by the micro-rotor automatic winding system to create the ASE:


(The Schwarz Etienne movement family: top, automatic versions (from right: ISE 100.00 (inverted), ASE 100.00 (full bridge), ASE 200.00, TSE 121.00 (flying tourbillon); bottom, manual versions (from right: MSE 100.00 (full bridge), MSE 200.00, MSE100.1 (partly skeletonised)))

Schwarz Etienne selected the ASE 200.00, an 86h power reserve movement with micro-rotor and yet generous plate surface to give Kari and his team a bit of work…

And he and his team did deliver, with all the bridges generously adorned with wave guilloche which centres – very aptly so! -on the balance axis:



If you look very closely, you'll notice the difference in surface presentation of the engraved lines. This is due to the brass material which shows a lot more traces of mechanical machining than the silver dials, yet also provide higher contrast due to the more polished surfaces:



The rotor has been decorated by Schwarz Etienne themselves, with a fine sandblasted surface framed with relief engraving (done by laser, hence with very sharp definition). Same holds true for the mat finishing on the ratchet wheel:



Now, it would be quite natural to expect further constituents of Kari Voutilainen's magnificent hand-finishing such as the polished anglage and more. However, given the already elaborate engine turning on dials and the movement a line had to be drawn, and Mauro Egermini decided to offer a considerable basket of 'Kari feeling' at a much more affordable price without competing directly with Kari's own watches, and given that Kari agreed to sign the movement as well, we can assume that all are happy with this.
But this then touches another important consideration … and I'll touch that as well!
Both watches come with SE's own deployant clasp…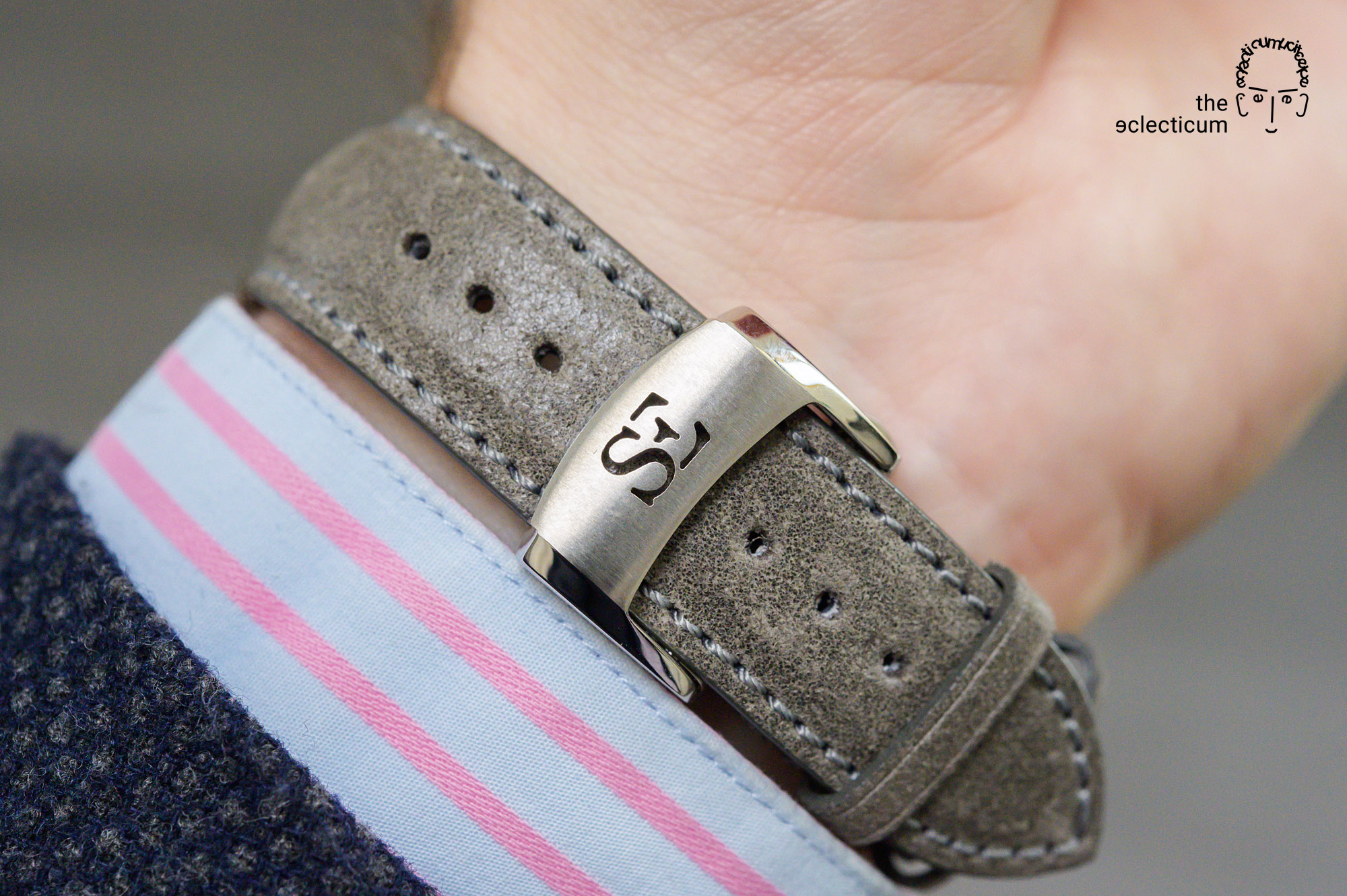 … and are just splendid to wear:



How attractive is the proposition of the Schwarz Etienne Roma Synergy by Kari Voutilainen? A very attractive offering for sure, and the surcharge SE asks for the 'Kari-treatment' is absolutely reasonable given the work Voutilainen's teams add (and also considering the low-quantity special steel case). Yet any answer is not so easy!


Seen in comparison…
No watch can be appreciated in isolation, there is a lot of context, particularly when it comes to Kari Voutilainen since he is not only a very accomplished but also quite proliferative watchmaker, who has engaged in a great number of collaborations that range from consulting services to parts production up to full manufacture. The collaborations not only offer additional income sources, but also increase the throughput particularly for his Comblemine dial manufacturer and thus help to improve processes (I recall that e.g. galvanisation was an area where Kari looked for a lot of practice to master the process).
On the other hand, the collaborations expand the options one has to acquire a Kari Voutilainen piece in one way or the other (and be it a mobile phone or a key ring ;-)).
So, when it comes to comment on the new Roma Synergy, I suggest it makes sense to look at two of the most compelling options – a Kari Voutilainen Vingt-8 and perhaps a bespoke 1941 Remontoire from the Grönefeld Horological Brothers.
Kari's own Vingt-8 is certainly the closest to the Roma Synergy, similar size, colour and indices:



The similarity is to be expected, after all since Mauro gave Kari a clean sheet of paper (and the watch, of course ;-)) to start with. Thus, it should not surprise if the new piece also reflects Kari's own tastes and preferences.
Yet, if you look closely the differences are subtle and significant. The guilloche patterns on Kari's watch are fewer, but finer, and therefore might be just as time-intensive to create and might require as much skill as the multi-part dials he realised for SE.
So, from the dial side, its entirely a matter of preferences. As far as the movement is concerned, I appreciate that Kari paid a lot of respect to the manufacture qualities of SE, highlighting the balance wheel, yet respecting market position and preserving his own speciality at the same time.
Given the significant difference in prices (the SE costs less than half of a Kari), very apt choices have been made here, and the choice is logical and clear (if one looks close enough).


Let's now look at the Grönefeld 1941 Remontoire (awardee of Grand Prix d'Horlogerie de Genève in 2016, Men's category). This time the prize they've won was for the best watch in the "Mens Watch" category. with Kari's bespoke blue fishbone guilloche:



Here you see what comes out if Kari has been given a more specific brief, realising a motif that conveys the northern marine background of the Dutch manufacturer. It's a clear departure from Voutilainen's own aesthetics, with everything but the dial typical Grönefeld.
With about € 52.5k (sans taxes) the 1941 Bespoke costs € 8.5k more than the regular version, and about 50% more than the SE Roma Synergy, but remember here movement and case are also a lot more complex.
In summary, one has now another very attractive option to acquire a Kari Voutilainen 'tuned' timepiece, at a very attractive price given reflecting the hands-on qualities of both manufacturers.


… and by itself
So is this now a 'SE/Kari' or a 'Kari/SE' or a 'SE=Kari'? When Mauro presented the two watches to me, I asked him why SE commissioned a 'Kari interpretation' of their watches and did not do the complete design themselves and simply use his skill and handcraft – such as like giving more emphasis to the 'SE' part of it (hint: if you know SE better you'll sure agree with me that they deserve more recognition …).


The answer I got was … there's more to come…


(SE is the main partner of watch brand MING, thus it was only natural to have Ming Thein exposing the beauty of the Roma through the eyes of his lenses for the press images – talk about synergy… Image © SE/Ming Thein)

Whatever that might be one fundamental question here is: If one would take away the 'Kari Voutilainen' name from the watch, and appreciate it strictly for what it is – would you consider spending nearly 30k for an decidedly beautiful and mechanically thoroughbred Schwarz Etienne watch, given a great number of credible alternatives from other, in many cases much more well-known brands. That's a tough question to ask and requires (but also deserves) a lot of thought and personal context. If you fall for perfectly made dials like this and this is your major focus, on top of a very reliable watch on high industry standard, it could even be a bargain in your context. Not to mention the understatement given, without missing sophisticated details for those who know.
In any case I guess, you need to have an open mind, the capabilities and knowledge to appreciate manufactory excellence, and on top being completely independent from external confirmation by your peers.
Further above in this chapter I asked whether this watch is a 'SE/Kari' or a 'Kari/SE' or a 'SE=Kari'. This is a question I would like to invite SE's CEO Mauro Egermini to ponder as well a bit: his manufacturer is capable like only a few others in the industry. It is high time to get that notion across, and while the new Roma Synergy will certainly help, I would like to see a more self-confident approach here. Or better: one that focusses more on their excellence!
Until then, enjoy this fantastic watch!
Ornatus Mundi