written by:
Ornatus Mundi
published:
2021-07-04
categories:
[sc_post_category]


Vegan Deluxe? Hands-on with the new Hirsch WINE strap made of Austrian wine leaves

'Sustainability' is a troubled keyword. In the watch industry, brands are adding 'vegan' straps. We had our hands on a charming option from Austria, the Hirsch WINE making use of real wine leaves. Is it a valid alternative yet?
(Zenith Chronomaster Open am Hirsch WINE strap)

One of the prevailing watch industry trends of 2021 was a focus on sustainability (read also our analysis of Watches & Wonders 2021 here), exemplified by the use of recycled materials, ethical sourcing and the use of regrowing, plant-based materials to replace those of animal origin – straps thus mainly.
While such a move, using plant material for consumable accessories like strap, is a very welcome and at the same time quite trendy initiative, it does come with several questions, or concerns: how pleasant are such straps to wear (we are talking about a luxury product here, mostly)? What kind of variety is possible in terms of strap design (surface structure, cut and shape of a strap, colours)? And, finally, how durable and robust are such straps?
To get a first impression we had a new product from Austrian strap specialist Hirsch in our hands, the new WINE strap:


(Hirsch's WINE strap is made of real Austrian wine leaves. Image © Hirsch)

The Hirsch WINE strap is not the first vegetable, or even vegan, strap offering of Hirsch. The first one was the LEAF strap, where Hirsch used the vascular 'skeleton' of a plant leaf. With the WINE, the company goes one step farther and developed a technology which allows them to use an entire wine leaf as surface layer just like a conventional animal leather. The inner layers as well as the two flaps are made with their own Fibre Tech lining material.


(Top, natural impression of the top surface thanks to an intact wine leaf; bottom, lining material)

To complete the package, Hirsch includes a quick-release spring bar and a deployant clasp with each bracelet:


(The fittings: quick-release spring bar (top) and deployant clasp (bottom))

There is one aspect which sets the Hirsch apart from other plant-based straps such as those recently introduced by brands like IWC or Greubel Forsey: Both offer straps which are entirely made from plants, but this material is used more like rubber straps where the final surface texture is determined ad libitum by the production process.
This is different from the Hirsch straps, where the structure of the plant material is not only kept intact, moreover, it is the final determinant of the final product down to the colour. Just like with any leather used in conventional straps, the intrinsic qualities of the raw materials already appoint the finished product. This in turn also means that (at least with the WINE strap) each individual strap is unique in texture and colour.
Here two straps to illustrate the individuality of each:




As Hirsch can only source their raw material in autumn, from organically grown Austrian vineyards, the WINE strap is only offered as limited editions (and made in 16, 18, 20 and 22mm lug width and different lengths).
Now how does the Hirsch WINE strap feel strapped on?




First, its surface structure feels a bit harsh compared to leather strap, and for the time I had it I could not determine if and how it 'wears in'. It gives the watch, in this case, certainly an unusual and – in my opinion – a quite attractive complement. That's not to say it is uncomfortable – the strap is not, but the deployant clasp is.
Let's put it this way: I have never been a fan of deployant clasps, and the one Hirsch supplies won't change my stance.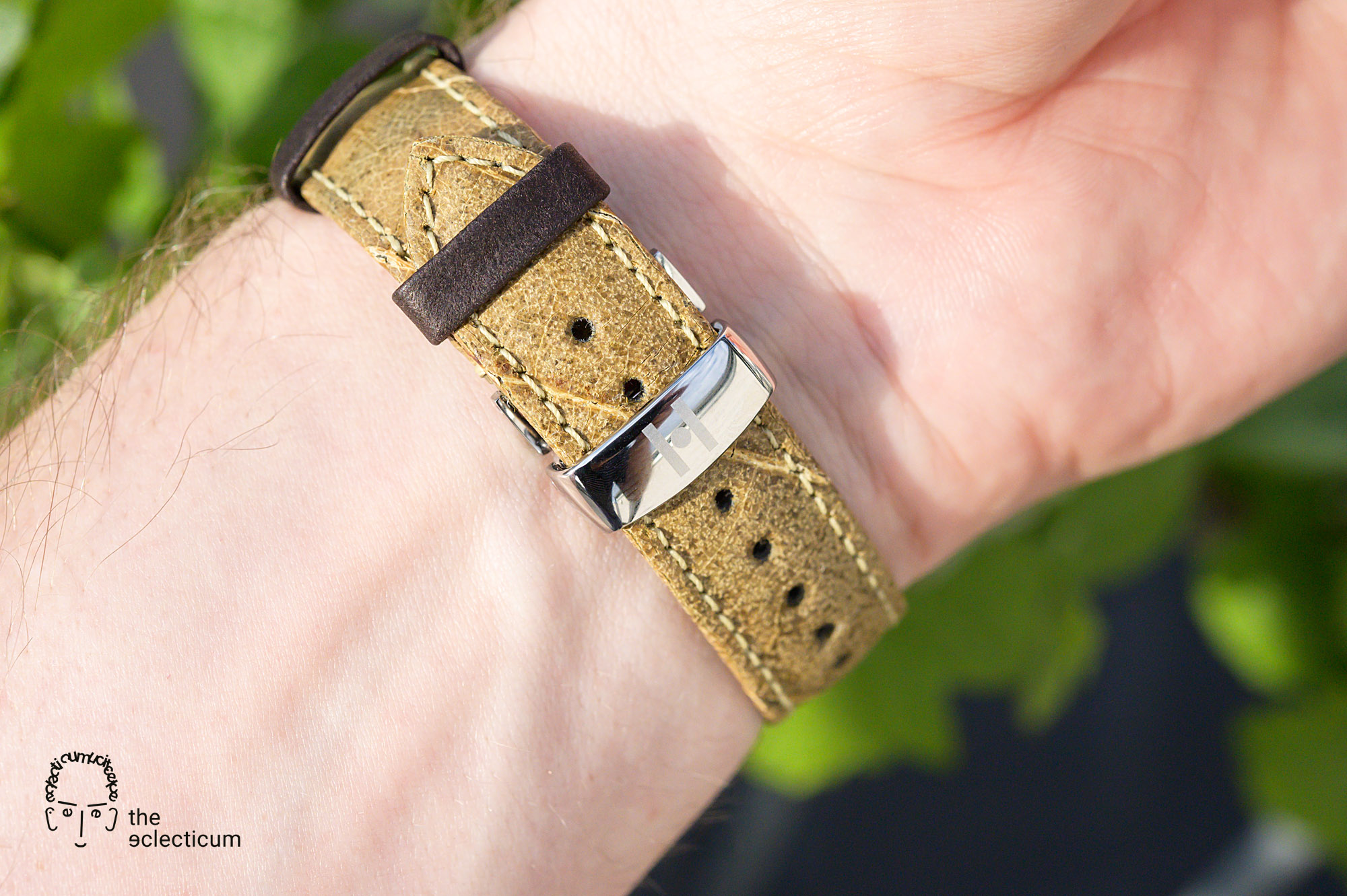 Yet the fact that Hirsch always includes this clasp points to what I consider the strap's potential Achilles heel: durability!
Already when you look at a factory new strap, you'll spot a few creases in the leaf surface:




Such creases may not necessarily point to structural weaknesses (just look at a few other leathers such as salmon leather), and indeed Hirsch confirmed to me that such creases won't impact longevity as the leaves are bonded to a strong carrier material.
Furthermore, Hirsch executes about 11 different homologation tests which include tension, sweat or multiple use case tests. Yet still, Hirsch recommends wearing the strap not on a daily basis, and thus the quick-release system comes in quite handy.


Overall, I am happy to see such innovation to happen. At the last, 'vegan' expands the offerings and thus choice. For those more sustainability and animal welfare minded the strap offers an alternative, particularly to straps made from animals that are only farmed for their skin – such as alligators (for calf, horse, or other leathers the skin is just a by-product).
And particularly here, Hirsch's implementation – a typically Austrian idea (making use of a signature agricultural plant of the country) – is a lot more in line with the 'luxury' appeal of leather, i.e., that the haptic qualities are largely determined by nature, namely during the growth history of the source plant.
It would need a long(er) term wearing test to see how the straps fares over time, and maybe some process optimisations to improve the feel of the strap ex-factory. Until then, well done!

Ornatus Mundi