written by:
small-luxury-world
published:
2022-08-15
categories:
[sc_post_category]


Snapshot(s) – Patek Philippe ´Annual Calendar – Ref. 5205R-011` – an exception from the rule
Hands-on. Snapshots and thoughts about an highly attractive ´Annual Calendar` from Patek Philippe with an ´eclectic´ green dial
Exception from the rule, in several cases!

Patek is known for a lot of (good) things, but quite often their watches are "Calvinistic" instead of being "flamboyant" or even "sexy". Annual Calendar´s are almost common these days and not rocket science at all – even when it is quite often an (important) entry into the world of ´complicated timepieces` (a rabbit hole, well-known).

Snapshots to admire the beauty and to get an idea about the reference:
In 2010 Thierry Stern (already) introduced the Ref. 5205 "… distinctive white gold case with delicately pierced lugs … concave bezel …" and it was a refreshing new approach – one could feel fresh blood at the company. One that we welcomed and liked a lot!
We loved the refined case with all the details as it was classic yet sexy to us. So far there have been quite a few iterations when we talk about metal and dial, meeting different people's taste.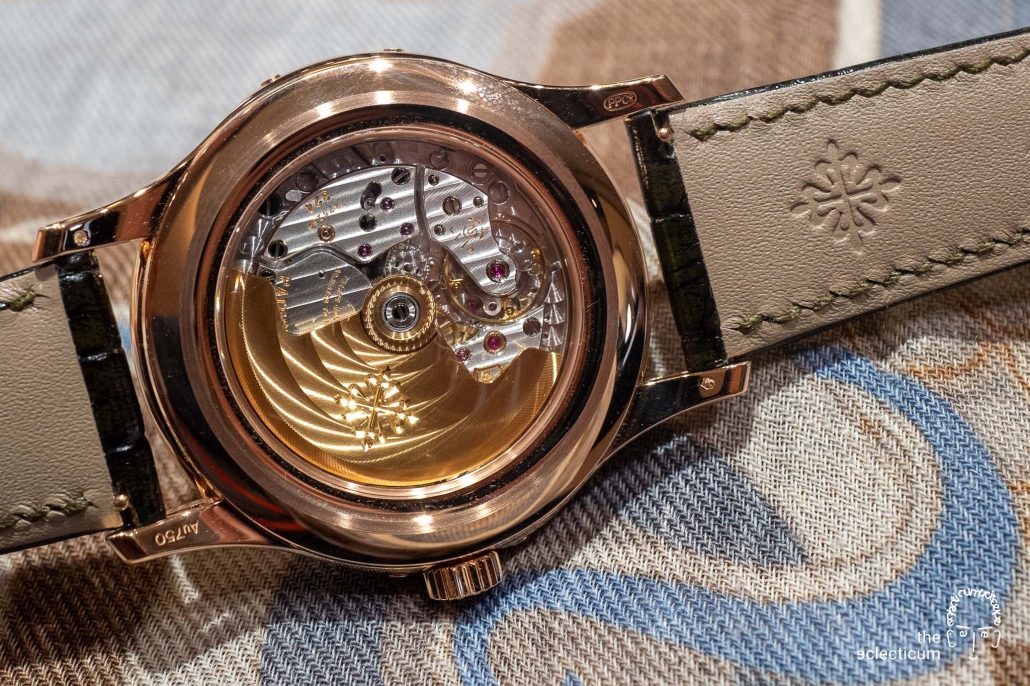 Honestly, ´one more green dial` came to our mind as we feel there are already too many of those in the industry and quite often, we are bored because of this. Well, not this time.
The rose gold case with deep changing oliver green dial is a winner, an eclectic one. Probably not what one would wear (in the western world) to the office, but for those (rare?!) moments in life it could be THE one …



Even collecting several versions of this same reference, we can imagine as it is one of the most wearable, practical complications and on top (at "Patek level" and given the means in general) doesn´t break the bank in total:
White gold two-tone dial
Platinum black dial
Rose gold green dial
Three pieces covering quite a few occasions which also represent the "era" of Thierry Stern pretty well, without paying the grotesque "mainstream taste premium" prices … Just a thought to be considered 😉


(Ref. 5205R-011; Case: 40mm x 11.36mm, rose gold; Dial: olive green sunburst, black-gradient rim, faceted gold applied hour markers; Water-resistant to 30m; Movement: caliber 324 S QA LU 24H/206)


For more information, please check here: Patek Philippe | Complications Ref. 5205R-011 Rose Gold