"Guy's Eclectic Choice of The Week": Vianney Halter Antiqua
Photographer Guy Lucas de Peslouan shares his images and thoughts on the watch which defined 'steampunk' and put a now legendary watchmaker forever on the map of collectors




A few thoughts by Guy:
"Vianney Halter: here is an incredible watchmaker, one of the best of his generation. Inventor of the new contemporary horology. Master watchmaker and artist, father and guide for a lot, uncompromising and innovative, he left his mark on fine watchmaking: Vianney Halter is the laureate of three GPHG Prizes – so far!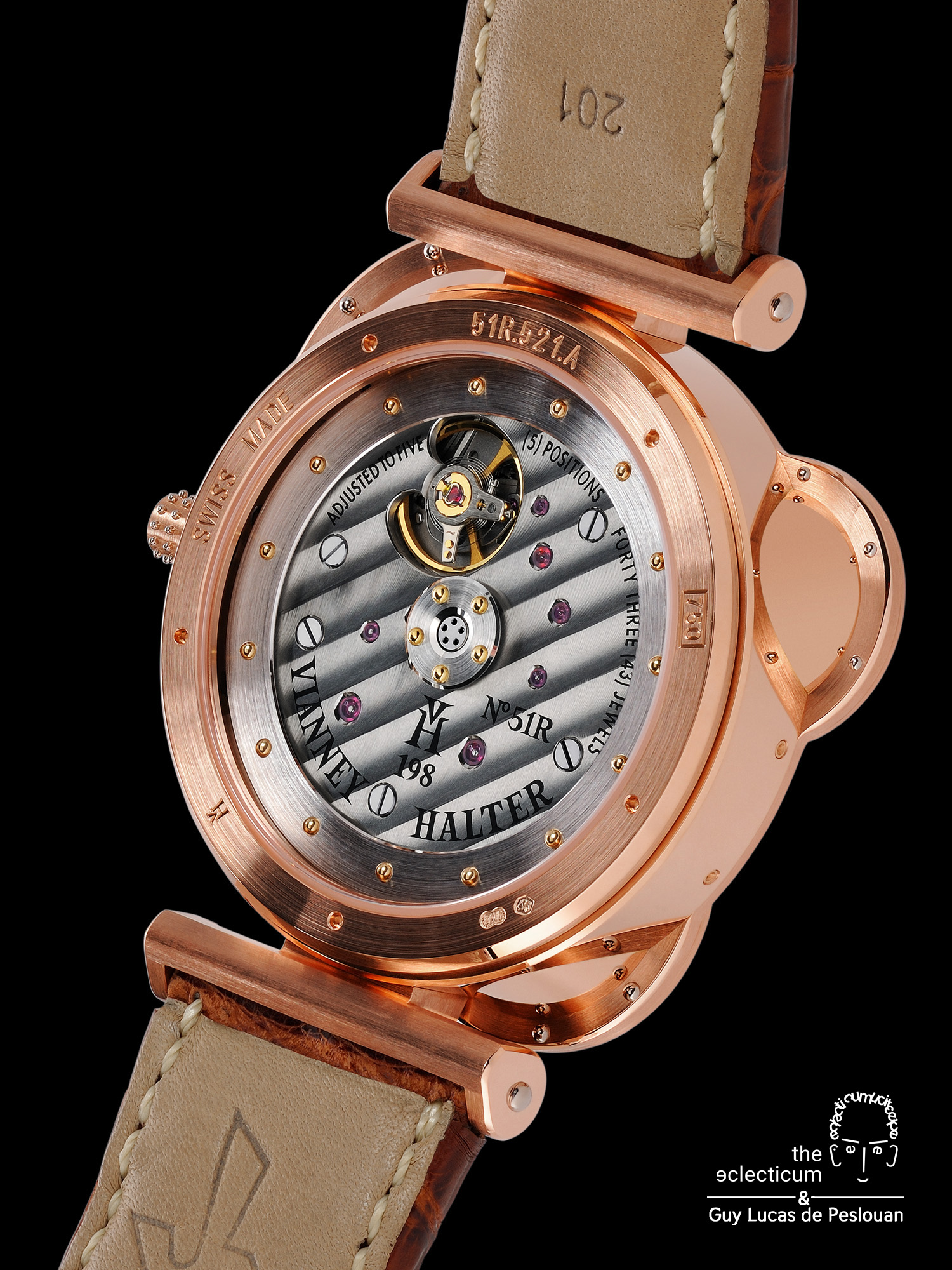 The Vianney Halter Antiqua is a flagship model in these creations: a perpetual calendar, with a unique design that fully transcribes the spirit of its maker. This icon of watchmaking can be worn on a woman's wrist as well as a man's."
Additional context by the eclecticum:
The man – Vianney Halter today is considered a 'senior' of independent watchmaking. Starting in Paris as a restaurateur, Halter's early daily habit involved long train commutes – time used to read novels, graphic novels and science fiction such as Jules Verne's adventures or Star Trek.
At the Basel Watch Fair 1998 Halter announced his own line of watches – conceptually unusual to say the least, with stark flash-backs to 19th century – mostly steam-powered – machinery and – back then – futuristic impressions of mankind's exploration of the elements – seas, skies and land, aptly named by Halter the Future Antérieur or Future Past, in a broader sense commonly referred to as steampunk or retrofuturism.
The design was developed with designer Jeff Barnes, and not only proved itself to last for decades without apparent ageing, it also paved the way for other brands who explore the 'machinistic' aspect of watchmaking, like MB&F or De Bethune.


The watch – the first watch of Vianney Halter was also the one which set his aesthetic language and also defined the man: the Antiqua – a perpetual calendar watch using separate apertures for each of its indications, with numerous individually finished rivets around them – more than 100 in the case of the Antiqua. Also, all dials, hands and cases are hand-made in Halter's atelier.
The movement caliber VH198, based upon a Lemania 8815, is irritating at first view: its an automatic winder, but there is no visible link between movement and the rotor (who has its oscillating weight hidden in the case ring).
The watch is an icon on our view and demonstrates that daring, outside-the-box thinking in some instances yields timeless designs which are far from being boring and slightly modified repetitions of the existing. 
The aesthetics have lived on since then, only with the Deep Space Tourbillon seeing its first significant development.
More "Guy´s Eclectic Choices of The Week" you will find here, every Monday.