"Guy's Eclectic Choice of The Week": Audemars Piguet – Chronograph Royal Oak Offshore Michael Schumacher
Photographer Guy Lucas de Peslouan shares his images and thoughts on AP´s Royal Oak Offshore Michael Schumacher



A few thoughts by Guy:
This watch came in a limited edition and was the first collaboration between the legendary Michael Schumacher and the manufacture. One of three variants of a watch designed to celebrate the peerless career and final retirement of the seven-time Formula 1 world champion, the platinum model is the rarest by far.


(AP ROO MS; platinum; 100 pieces)

(AP ROO MS; titanium; 1000 pieces)


(AP ROO MS; red gold; 500 pieces)
It is an Audemars Piguet in-house caliber 3126/3840 chronograph with 59 jewels and 365 components. High-tech ceramic winding rotor bearings derive from F1 technology. Cermet is a very advanced composite typically used in creating heat shields for space shuttles and its name is the result of the contraction of the words "ceramic" and "metal". Cermet is anti-corrosive and extremely hard with a hardness rating of 1,450 Vickers.


Additional context by the eclecticum:
The Audemars Piguet Royal Oak Offshore Limited Edition Michael Schumacher was already presented in 2012 and me had the pleasure to be invited to Berlin for presentation and party afterwards. Michael Schumacher attended as well and had an active part. Also he took a personal role in the creation of the watch bears his name, working closely with (at this time) AP lead artistic designer Octavio Garcia.
Sidenote: Garcia later left AP and co-founded his own watch brand, Gorilla.
The watch was meant to celebrate the end of the highly successful career of the world champion.
As always it´s not that easy to take appropriate pictures during a presentation or even a party, but I tried my best. No competition to Guy, but for comparison and a kind of "live" spirit.


(PT)


Note on the Tachy scale – two blue (for Benetton) stars and five red (for Ferrari) stars – symbolizing the seven titles of world champion driver.

(Ti)



(RG)


My (visual) personal favourite was the Platinum version, but on the wrist, me preferred the Titanium version for obvious reason – wearability.



When it was presented me was slightly disappointed because I hoped to get out more from the deep (technology) Formula 1 knowledge of Michael.
Still, on the wrist it was very tempting. Today, after 8 years, me still thinks it is an interesting watch that does age with grace. Collectible – it depends on the theme of your collection. Be eclectic, take your own decisions!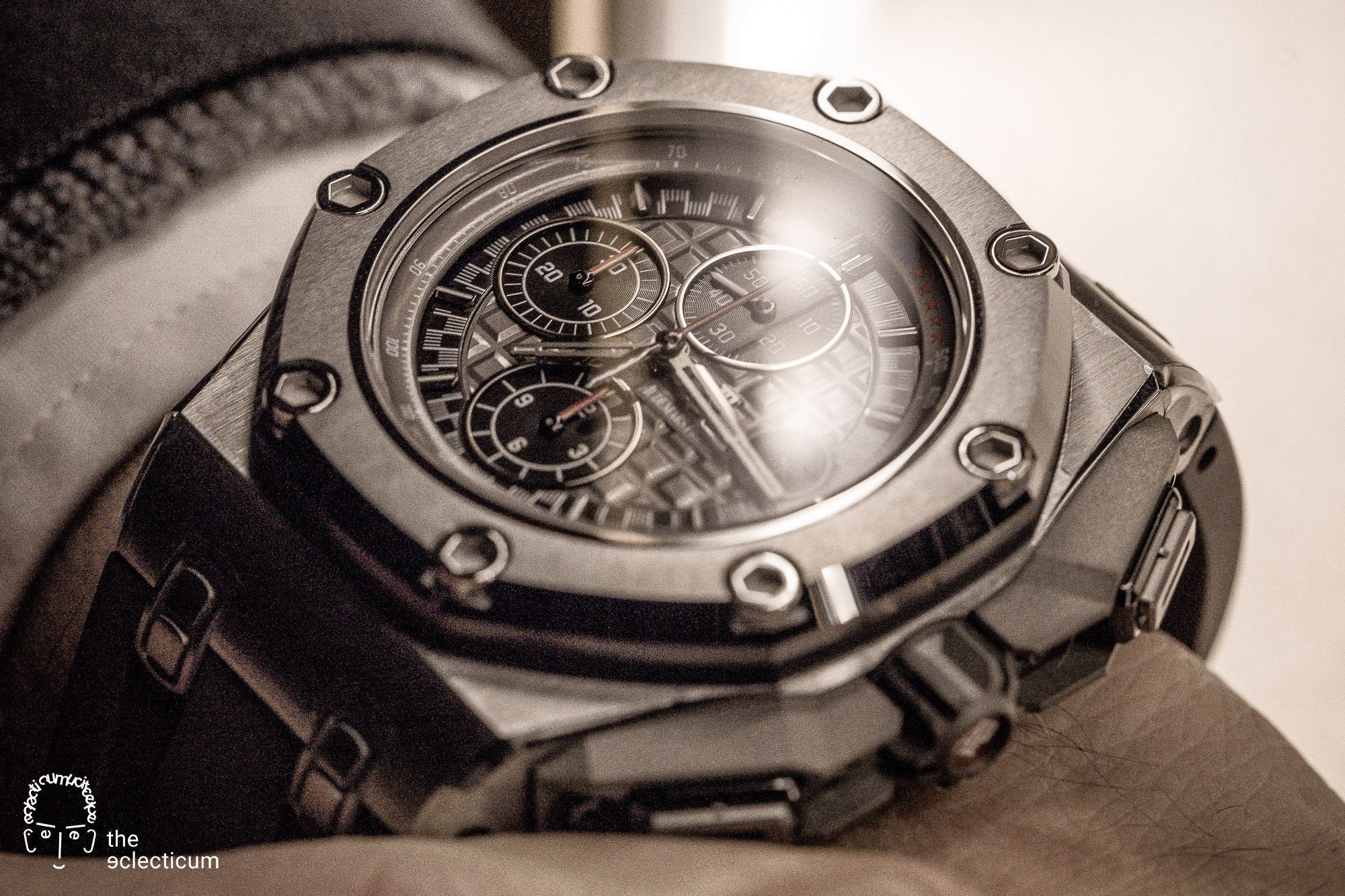 Regarding the party – AP knows how to party, for sure. Great location, good spirit and lots of people dancing all night long.


Excellent choice, Guy, and one which tends to get judged by the 'Schumacher' name alone all too easily. Thanks for bringing back good memories!
small-luxury-world
More "Guy´s Eclectic Choices of The Week" you will find here, every Monday.