written by:
the eclecticum
published:
2021-05-30
categories:
Akrivia, Daniel Roth, François-Paul Journe, gold dust, Greubel Forsey, Jean-Pierre Hagmann, Kari Voutilainen, Michel Boulanger, Michel Parmigiani, Novelty 2021, Peter Speake, Rexhep Rexhepi, Roger Dubuis, Vacheron Constantin, Vianney Halter, watches


Gold Dust: Vacheron Constantin's ´American 1921 Piece Unique` – "faithfully recreated as if in 1921"

How Vacheron Constantin created the ´American 1921 Piece Unique`: When one of the ´Holy Trinity` comes across like an independent artisan …


A watch "faithfully recreated as if in 1921" is great news to connoisseurs of fine watchmaking, with their full attention assured, with expectations to match. Even more when it comes from a powerhouse like Vacheron Constantin and concerns one of their collectors' darlings – the American 1921.
For the 100th anniversary of this iconic watch we have – just recently – already seen a couple of related novelties presented during ´Watches & Wonders`. This time it´s more than just a couple of new (limited) watches, the Vacheron Constantin American 1921 Piece Unique is an exceptional one-of-a-kind creation that symbolises the manufacture´s commitment to the transmission and enhancement of traditional skills.

Context by ´the eclecticum`
What most people are not aware of, only 24 pieces of the reference 1921 were originally manufactured – nothing more, nothing less. One (!) of them is part of VC´s private collection and this is at least a good start for such a project. Watchmaking back in the 'roaring 1920s' was different on many levels, to say the least – marketing, branding, and even the term 'collection' was not what it means today. When a brand aims to create a piece like this (today) with such a serious approach, you need tools, materials, and skills – but those that are very different compared to the regular production pieces – and even more. Vacheron Constantin is lucky (or was smart) enough that they already invested (heavily, we guess) in their own heritage and restoration departments. It´s not self-evident in the industry, even when 'history' (in the sense of caring for historical pieces) gets more attention recently. Still there are differences, what is (actually) done in-house and on which level.


(Vacheron Constantin American 1921 – left the 'Piece Unique' from 2021, right the original from the manufacture's museum)

Restoration – some of the best independent watchmakers spent serious time working in restoration and a highly appraised workshop was (for example) formerly founded and operated by Parmigiani – Michel Parmigiani. One of the employees (to mention only one) was no one less than Kari Voutilainen. To study old and used pieces in detail helps a lot for further experience and skill in watchmaking. To find solutions as the issues and problems present themselves, without just swapping spare parts, is not to underestimate and not for everyone. You need to be smart, openminded and creative. You need broad knowledge on watchmaking history and a complementarily wide set of skills at a high level, and it does not help to be outstanding in just one discipline. Sometimes it even may help to be a "wizard" ? A big part of the skill set needed is not trained in watchmaking schools of today (at least not in most or not in adequate detail). You need to learn from the "old ones" and quite often it´s learning by doing – the hard way.
It is not surprising that many of today's most accomplished (independent) watchmakers started with watch restoration.
That is the human side of the medal. The other one(s) transpire when one considers what efforts Vacheron Constantin afforded to the project, and which resources they had available to make the project possible:
Let´s have a look to what lengths Vacheron Constantin went to recreate a 1921 watch – in 2021!
We hinted already further above that restoring an important vintage watch is a challenge which takes advanced watchmaking skills. Restored or even newly made parts need to seemingly fit into an ancient watch, which means that contemporary techniques and machines need be employed. To select the correct ones, a sound knowledge of the history of watchmaking in general, and on the specific 'watchmaking footprint' a given manufacturer used in a given time is needed. Further, technical data on watch and movement are to be obtained.


(All movement, case and dial components created for the rebirth of the watch)

In an ideal world, one would have the watch in question at hand, a fully equipped historical restoration workshop available manned with expert watch restorers, complemented with extensive archive material such as technical drawings, workbench journals, catalogues and sales records.
Ideal worlds rarely exist, but here Vacheron Constantin came damn close, thanks to a long strategic decision made long ago to set up both their heritage departments, their restoration workshop as well as their 'Les Cabinotiers' bespoke watch atelier.
Overall, this gave Vacheron Constantin an advantage few large brands possess, and in many aspects this recalls how an independent watchmaker would approach a project (without the heritage part, of course):


Heritage and Restoration departments
In this department, historical knowledge, spare parts as well as vintage machines are preserved, restored and repaired. The maison mentions that more than 800 antique watchmaking machines and tools have their home here, an immense amount of vintage spare parts as well and more than 420 linear metres of bookshelves are filled with production and accounting registers providing essential aesthetic, technical and commercial background to the firm's past.


(Spare parts archive at Vacheron Constantin)
(Parts used for the recreation of the Calibre Nouveau)
(New old stock raw crown found in the spare parts archives)

This wealth of knowledge and tools is usually used to restore and repair vintage pieces in a period sensitive manner, but now, for the first time, it is made available to recreate a timepiece in the same spirit.

Antique machines and tools
One important notion is that design, construction as well production reflect not only fashion but also the materials and tools available at a given period. Restoring a vintage piece requires that exactly its respective historical context is considered, since otherwise any newly made or refinished part would stand out in an unpleasant way – like in a 'frankenwatch'.
(Early 20th century staking tool used to correctly set the jewel in plates and bridges)

Using such ancient tools requires training and knowledge, and it is quite consuming to preserve such in a modern firm and to pass it over from generation to generation. In this specific case, Vacheron Constantin use a range of such vintage tools, such as a 19th century facing lathe (case elements) and a topping tool (gears & wheels), a 18th century drilling accessory (to drill through the movement's mainplate) and an early 20th century staking tool (jewel setting).


Rebirth of a vintage movement
The original American 1921 watch was driven by a 11-ligne Calibre Nouveau, and Vacheron Constantin chose exactly such a movement for the recreation. But they did not restore a vintage movement, they created it de novo, all the bridges, gears, wheels and lever, consulting their archives, but also taking measures for each of the 115 components from the parts and raw blanks the manufacture still keeps.


(Applying the period-correct type of Côtes de Genève)
(The jewels used are new old stock. Note the fine jewel bearings)
(Vintage escape wheels)
(All of the 115 movements parts are either new old stock or, in most cases, fathfully recreated parts)
(Setting the balance cock)
(The ready movement placed in its case)

Watchmakers hat to consider how and when the movement needed to be (intermediary) pre-assembled, regulated and adjusted, they had to find out how jewels were set 100 years ago, and how the jewel bearings were made or how the wheels needed to be gilded to achieve the specific period-correct hue.


A hand-crafted case
The case needed to be made entirely from scratch, with only the crown being in stock as a vintage raw blank. The case was entrusted to the goldsmiths in their team, using a vintage correct 3N gold alloy (also for the buckle), while the manufacture went the extra way to use spectrometry to ascertain that the colour matches as well as reasonably possible.
Only the engraving on the back was done with a laser, a to us a bit counterintuitive decision, to say the least.
(Finished case components: back, case band and bezel)
(The goldsmith starts with a flat sheet of 3N gold and marks the base outline from a vignette)
(Using another, 3-dimensional vignette the part is hammered to form)
(Surplus material is sawn off)
(Heat makes the gold sheet more flexible)
(The lugs are soldered on just in as it was traditionally done)
(Vacheron Constantin had vintage raw crowns its their spare parts archive suitable for this watch)
(Backside after (laser-) engraving and polishing)
(Ready case, movement, dial and hands are already set and mounted)

Tradition: Grand Feu enamel dial & heat blued hands
The dial is made in Grand Feu enamel and the (new old stock) hands were heat blued. Both technique require skill and experience as well, but have recently been rediscovered and thus are today much better established than just a few years ago.


(Two-piece Grand Feu enamel dial)
(The enamel consists of a number of layers, each individually applied and then fired at high temperature in a kiln)

(The dial is printed using the tampon technique which is still quite common today)
(The hole for the subdial insert needed to be carefully cut out and its circumference polished)
(Dial feet are soldered to the back of the dial plate)
(The hands are new old stock which just needed to be heat blued before mounting them on their movement arbors)


Technical Data
In naked numbers and descriptors, here's the facts:
American 1921 ´Piece Unique`
Reference 1921H/000J-B949
Calibre
1921

Developed and crafted by Vacheron Constantin

Mechanical, manual-winding

24.8 mm (11''') diameter, 4.31 mm thick

Approximately 30 hours of power reserve

2.5 Hz (18,000 vibrations/hour)

115 components

16 jewels

Indications
Hours, minutes

Small seconds

Case
18K 3N yellow gold, same alloy as the 1921 original timepiece

Hand-crafted in the Vacheron Constantin restoration workshop

31 mm in diameter, 8.75 mm thick

Dial
White, Grand Feu enamel

Blued steel open-tipped hands – blued in our workshops

Strap
Brown calf leather, hand-sewn, tone-to-tone stitching,

Calf lining

Buckle
18K 3N yellow gold pin buckle, same alloy as the 1921 original timepiece

Hand-crafted in the Vacheron Constantin restoration workshop

A few additional thoughts by ´the eclecticum`
Watchmaking progress has been tremendous throughout the years, and brought us more reliability, better precision, a lot more variety, accessibility and a broader range of complications. With it came automatised production of many of a watch's components (and sometimes even the entire watch…), which reduced human error in the process, but also took out – human skill (if you want a very practical example, the recently presented Zenith Defy Oscillator, combining the entire escapement assembly into a single, machine made component, thereby taking out the watchmaker (almost) in total). This is the reality of industrial watchmaking, despite the image of the secluded watchmaker quietly toiling away in his eremite atelier, an image that the industry ever perpetuated.




There are a number of techniques that become obsolete over the years, with the consequence that skills got forgotten and knowledge vanished. We would not be surprised if there are fantastic vintage watches and clocks that can no longer be restored because no one knows how they were made.
So, restoring vintage pieces can today be considered the 'royal league' of watchmaking, as a lot of historical knowledge, a broad set of skills and some investigative spirit is needed – we mentioned that already in the beginning. It is therefore not surprising that many of the great masters of today started as restorers – Roger Dubuis, Philippe Dufour, Vianney Halter, François-Paul Journe, Michel Parmigiani, or Peter Speake, to name just a few.
Developing and perpetuating the excellence of the past is not really an economically attractive task for watch brands, not even for the most acclaimed manufactures – the skills and infrastructure are only needed in an ad hoc fashion, at best, and thus do not fit into the realities of modern production planning. Furthermore, also a lot of collectors today lack in-depth knowledge on the context of their pieces and are content with vintage looking pieces with contemporary performance – the vast amount of 'vintage-inspired' pieces speaks volume. Others (probably a much smaller group of connoisseurs) have that kind of knowledge, because of their serious passion for fine watchmaking but lack the funds to support it – truth to be said.
Good for the industry, but this also means that we, the collectors, are partly to blame if watchmaking is getting deprived of the wonderful artisanal skills and techniques of the past! Have you ever seen the depth of a vintage enamel dial? The sheer sheen of a heat blued (and that is only one part of the beauty!) vintage steel hands, or those lavish and lustrous Geneva stripes which appear to be applied by just the breath of an angel?
But thankfully there are initiatives which aim at collecting, taking stock of, practising, and teaching those vintage handicrafts – the Naissance d'une Montre project chiefly comes to mind, which aimed to create an entire watch using only vintage techniques and materials, and documenting it all for future reference (and essentially, saving quite a body of knowledge from oblivion).
(Escapement model from the Naissance d'une Montre Le Garde Temps project realised by Michel Boulanger under the auspices of Philippe Dufour, Greubel Forsey and the TimeAeon Foundation)

Other examples include the stunning Greubel Forsey Handmade 1 or the recently established cooperation between legendary casemaker Jean-Pierre Hagmann and Akrivia to foster the knowledge on traditional case making.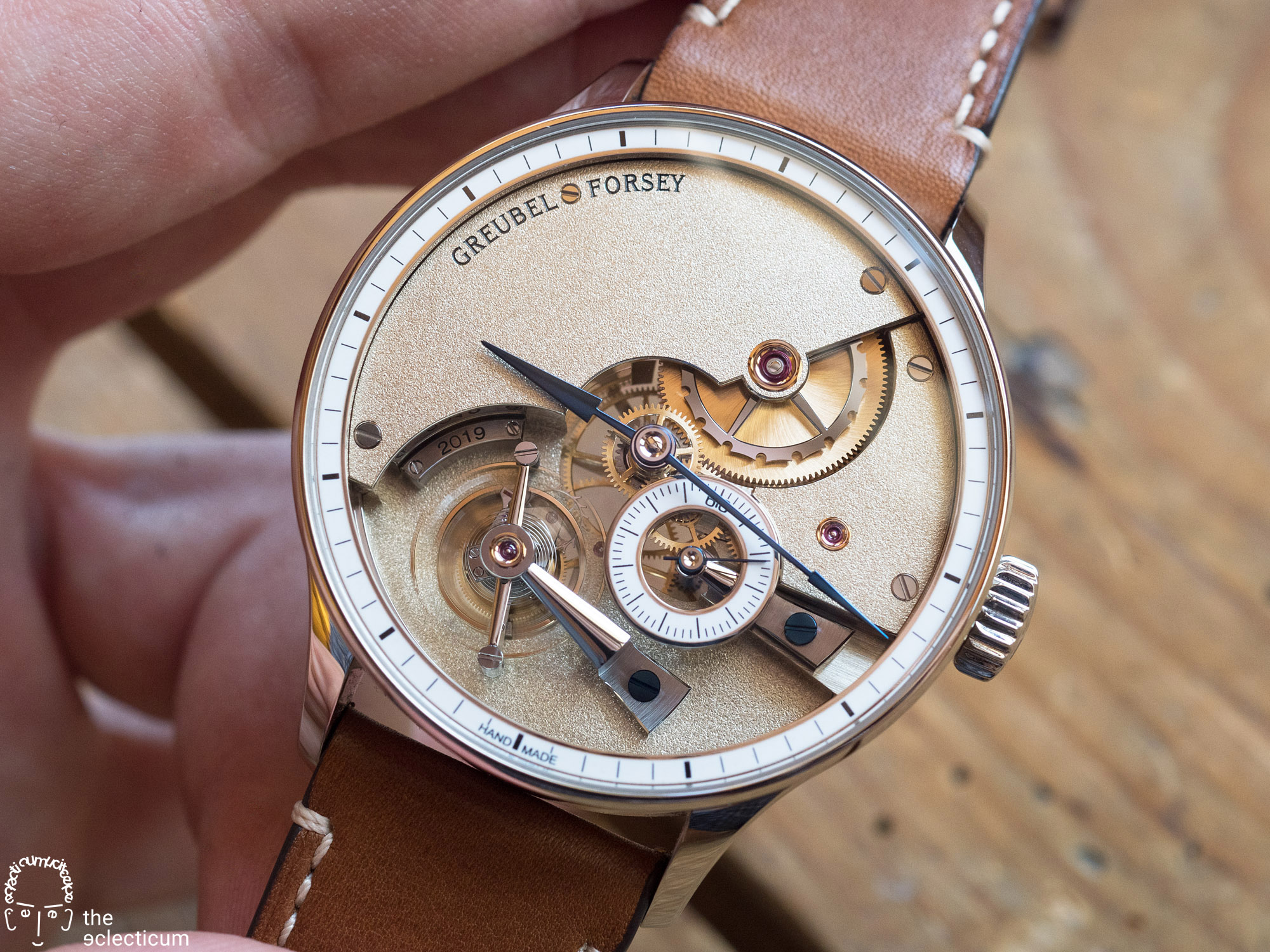 (Greubel Forsey Handmade 1)

When now a venerable manufacturer, one of the 'Holy Trinity', engages into a similar project, then our hearts are filled with joy. For us, this is a true commitment to watchmaking as a cultural heritage of mankind, to its own past, but it also shows that there is more in the industry than production planning that serves more than the most economical way to use its resources.
This is when a long-established manufacturer suddenly feels like a small independent artisan watchmaker!
Let us repeat again: Have you ever tasted the haptic qualities of those brilliant pieces of the past?


(Oh, this mystical shimmer of a traditional Grand Feu enamel dial!)

But it is not only that. Vacheron Constantin can now lifts its bespoke watch offerings at a totally new level, with entirely new degrees of freedom to define a project, with the notion of 'handmade' not only being a phrase – but being the essence!
And this is the news which will vastly transpire the sole creation of this one piece – and the beautiful pictures it created!




Vacheron Constantin, you got our full attention and now we are awaiting what comes next as it seems there is more than just a "new" product behind. It seems there is a strategy and this was only the beginning, was it?!
the eclecticum
______________________________
Disclaimer:
All the pictures shown (except two) and the information provided were supplied by Vacheron Constantin. We're thankful for the excellent image material prepared by Romain Levrault. We had not (yet) the chance to visit the heritage workshops at Vacheron Constantin nor have we seen the piece. But we'll do our best, promise!