Gold Dust: the Roger Dubuis Hommage 'Condottieri'
Some ultra-fine simple timepieces irrestably burst of watchmaking content, and the Roger Dubuis Hommage 'Condottieri' is certainly one of them

Time pieces exist which bring with them an unusual rich concentration of watchmaking drama – be it because they represent the pinnacle of a watchmaker's creation, a historical turning point in watchmaking, or are a signpost of an era.


The Roger Dubuis Hommage 'Condottieri' is one of them – one of the original pieces which brought Mr Roger Dubuis to fame, as the merrier and a tiny (!) bit more exuberant Horloger Genèvois. A gentleman and accomplished watchmaker, a person who exemplified the Genevan way of creating timepieces – an idol and – dare I say? – somewhat of a tragic figure at the end of his days (could you imagine a connection between Mr Dubuis and the watches the namesake brand offered lastly?).

Anyway, the watch in question is both one of his early defining pieces and also perhaps the ultimate essence of his watchmaking ethos, a watch that clearly expressed himself, and a watch which is said to have been regulated by Mr Dubuis – one after the other.
Presented as one of the first watches to be produced by Mr Roger Dubuis under his own brand in the mid-1990's, it was an unusual watch in its days: It came with a diameter of 40mm which was considered huge in these days (36mm was the 'norm' for a man's watch back then, and 38mm 'big' – long time ago!).

The dial is crafted in snow white fired enamel and is of superb quality. The indications are all painted sharply against the white background. The image above does not show it well but the hands are proprietary designs, quite three-dimensional and executed as heat-blued steel of matched colours. Superb craftsmanship with a vivid presentation! I have always admired such hands with RD. This one is no exception, and there were other fantastic specimens particularly in the Hommage collection.

The traditionally-inspired case is a three-piece construction with a screw-in back. It is made in unplated white gold and is actually quite thin (9mm). I think it compliments the classical overall design very well. Also note the elaborately ornamented crown:

Below a sapphire crystal (with the – back then – typical etched-in RD logo) lies a movement of splendid dimensions and marvellous execution – the Roger Dubuis Cal. RD27 which started life as a pocket watch movement originally manufactured by Tavannes Watch Co. of La Chaux-de-Fonds:

A bit of background on the Tavannes Watch company:
Tavannes was founded in 1895 through the merger of two incorporated companies in  La Chaux-de-Fonds under the management of Théodore and Joseph Schwob, two french jews who emigrated from the French Alsace region. The company quickly adopted American techniques for mass production and achieved a daily output of 2.500 watches in 1913. Tavannes was hit severely by the establishment of the soviet rule in the USSR (which basically cut them off their important Russian market) as well as the economic crisis in the 1930's. In 1966 Tavannes was absorbed into the holding Ebauches S.A. Cyma was one of Tavannes' trademarks.
[condensed and translated from Dictionnaire Historique de la Suisse, Berne]
The base movement is a Tavannes Caliber 507 from the 1940's. It was equipped with a Breguet spiral and came in a diameter of 33.4mm (15''') at a height of 3.4mm. It is also known as the Cyma Cal. 586 and was used in many watches where reliability and accuracy were of principal importance, e.g. military watches. It is an obscure and relatively unknown these days, and the only watchmaker I am aware o who has used it as base is Raul Pagès for his stupendously finished Soberly Onyx watch.
(a vintage Cyma Cal. 586 movement, image taken from the web)

On that basis Roger Dubuis applied a number of intensive modification work on the movement, including:

new bridges, e.g. balance and geartrain cocks
top-grade movement finish (perlage, Geneva stripes, anglage, polished gear teeth, matte gear surfaces, anglage on gears)
swan-neck regulator
center jewel
mirror-polished cap on the escapement wheel cock
modified balance spring assembly
polished and chamfered screws

Overall, the modifications added a lot of watchmaking 'spice' and qualified the originally rather pedestrian base movement for the prestigious Poinçon de Genève, or Geneva Seal:

A few of the above modifications were actually mandatory for the Poinçon, e.g. the new spring attachment and several finishing touches. It might well be that other changes had to be implemented which are not visible with a fully assembled movement like this one.
Moreover, Roger Dubuis had the Condottieri also certified for its chronometric performance at the Observatoire National de Besançon, France. The resulting Bulletin de Marche is quite an interesting one:

First of all, it demonstrates the expert skill of the master who regulated this watch – all values are squarely within the specification ranges. Second, the bulletin also names the watchmaker who performed the regulation (there were times in Switzerland where regulateurs had a kind of a 'rock-star status'!) – in this case Mr Roger Dubuis himself!
His company back then was called Sogem S.A. ("Société Genèvoise des Montres"); only later it was christened after its co-founder. As per the bulletin it also looks like there were two companies involved – Sogem (as the manufacturer) and Montres Roger Dubuis (as the 'destinataire' = consignee). I will have to do some research whether the latter was solely the marketing/sales company.
Finally, I have to admit that I really love this statement on the top of the bulletin: "Le Bulletin et la Montre sont inséparables" – the bulletin and the watch are inseparable. In other words: the bulletin is an original that won't be replaced if lost.
The Bottom Line:
Let's spell it out clearly: Roger Dubuis' Condottieri is a downright conservative watch. Manual-wind, three hand and a round case with an enamel dial. It even uses a 70 years old movement! So this is just a romantic token for times long gone?
Not exactly: Firstly, there is something special about those really well-made simple 3-hand watches that particularly strikes a lot of chords with many, many watch enthusiasts. Just think about Roger Smith, Philippe Dufour or Kari Voutilainen. It is perhaps so because those watches are unassuming and not officious, they are content with a limited and intellectually quite manageable number of components, which in turn facilitates appreciation of the finissage of each individual of the movement's constituents and makes for a much more involving experience.

Thus, I think ultra-fine time-only watches like the Condottieri have a certain humanistic touch to which one only can fall victim. It is a life-long 'enslavement' that brings a lot of pleasure and enrichment. Subtle difference can be understood. For example, the individual variations and idiosyncrasies of each master watchmakers in respect to Geneva stripes or other types of finishing can be studied better with such movements. Thus, these watches are cornerstones for a deeper understanding of individual watchmaking languages and thereby make us 'better' connoisseurs.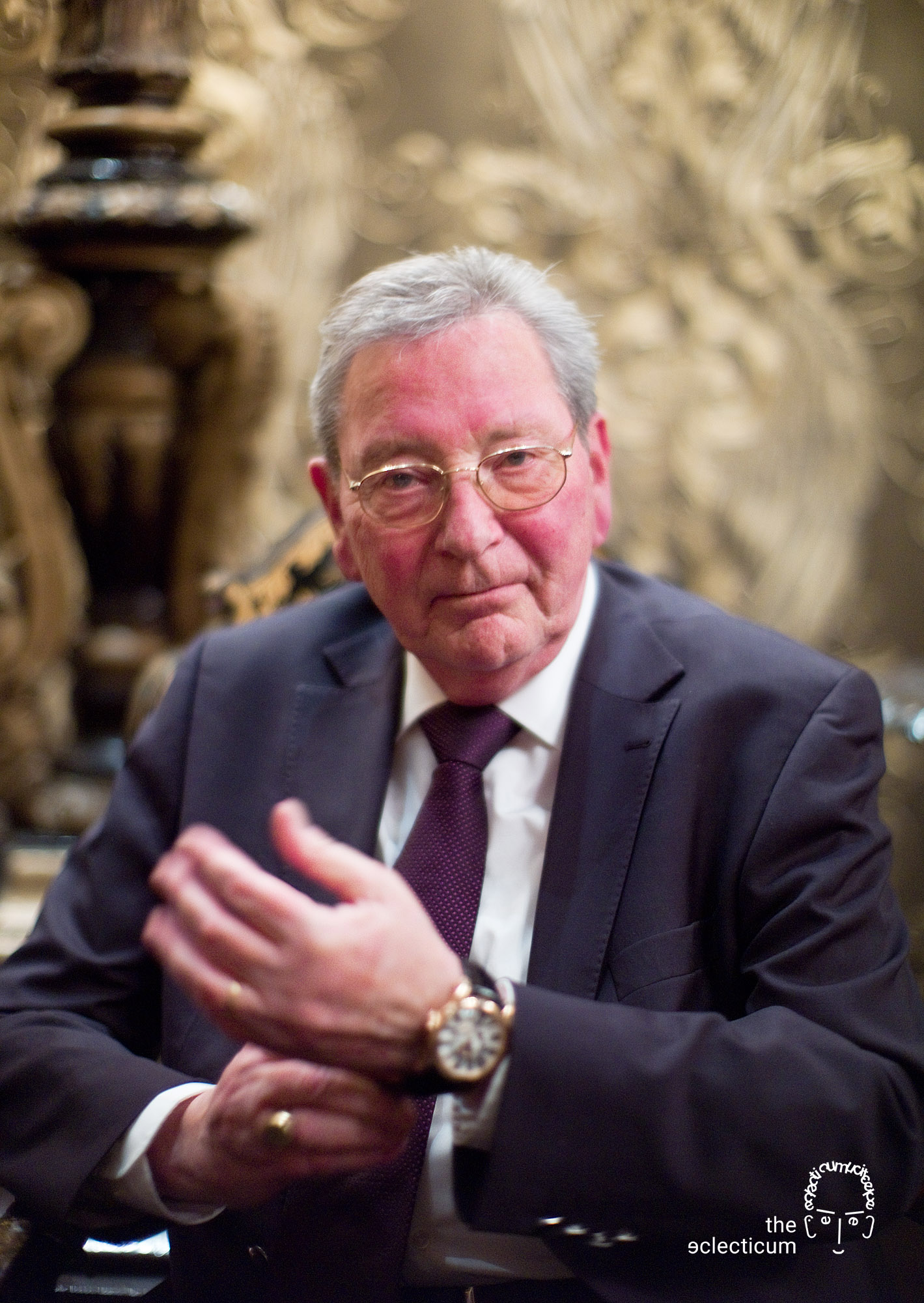 (Mr. Roger Dubuis photographed at SIHH, wearing a RD Hommage Perpetual Calendar – this already was a story of another post!)

Secondly, there is something decidedly human with this specific watch: the fact that Mr Roger Dubuis himself regulated it originally! Thus, the master's own touch is inseparable from this watch as is his clear influence its design and construction. 
Thirdly, if you imagine Mr Dubuis at his watchmaker's bench, if you had met him or even had the chance to talk to him, you would have certainly grown the impression that the Roger Dubuis Hommage 'Condottieri' would be exactly his own idea of a 'perfect' watch – the essence of his watchmaking philosophy.
I just wish such watches would be offered also today – and not only by a few very select independent masters! A successor to this watch is deeply missed in the current RD collection.
Ornatus Mundi