written by:
the eclecticum
published:
2020-05-29
categories:
[sc_post_category]


The pinnacle of (fine) watchmaking: Ferdinand Berthoud
Ferdinand Berthoud - an acclaimed watchmaker in the 18th century and reborn as a brand only in 2015 – old yet young with highest ambitions and idiosyncratic details

The manufacture Ferdinand Berthoud is known only to an inside circle of collectors. The company, operating under the umbrella of Chopard, offers finest watchmaking centred around chronometric performance, and thus perpetuates the tradition of its namesake founder. Rarely have we seen a brand executing a concept at such high a level, and with impressive consistency. Taking a close look pays out, really!
Welcome to another instalment of our 'Pinnacle of Watchmaking' series!



Mr. Ferdinand Berthoud (1727 – 1807) was a gifted horologist and scientist from the area of Neuchâtel, until these days a cradle for fine watchmaking. He learned from Pierre LeRoy, another famous countryman and watchmaker. During his lifetime Berthoud enjoyed a legendary reputation especially for his exceptionally precise marine chronometers, securing him the position of 'Horologist-Mechanic by appointment to the French King and the Navy', and also as an 'associate foreign member' of the Royal Society in London.
(A Ferdinand Berthoud Marine Chronometer from the collection of Karl Friedrich Scheufele. Note the 'Dépot Marine' inscription at 12 o'clock)


Next to his output as one of the most accomplished watchmakers of his time he was also a prolific writer of technical treatises and reference articles on watchmaking, wherein he discussed the results and learnings of his ample chronometric experiments, often together with notable scientists and philosophers such as Diderot or d'Alembert.
(Ferdinand Berthoud (1727 – 1807); and excerpts from Traité des Horloges Marines (1773), one of his numerous publications)

Eventually however (and like many formerly famous names in watchmaking), Ferdinand Berthoud fell into oblivion. This changed only after an industry heavyweight, the Chopard Group, acquired the rights to the name in 2006.
(The original farmhouse/atelier of Ferdinand Berthoud, just across the street from the Chopard workshops in in Val-de-Travers. Image © Guy Bove)

R&D began in 2010 and only in 2015 they launched Ferdinand Berthoud as a brand to the public. Like with other resurrective exercises in the industry, a number of fundamental questions like: "What would a wristwatch look like if XYZ were to make one today?", had also been asked – and answered – before. And again, as found often, specific watchmaking features, most prominently a number of recognisable design elements (certainly also for marketing reasons, we guess), but also Ferdinand Berthoud´s ethos of innovation and precision had to be translated in a contemporary interpretation, with lots of "extra miles to go".
(Deriving the design for the Ferdinand Berthoud Chronometer FB 1. Image © Ferdinand Berthoud)

First, movement and exterior were needed, and here the team had (or better: had the freedom) to start from zero. For this, a dedicated team was assembled at Ferdinand Berthoud, defying the temptation to outsource the tasks to the established teams at Chopard which could always be called upon should specialist help, or resources be needed, e.g. to produce components and prototypes. There is a small, light-flooded atelier in Val-de-Travers, adjacent to the Chopard manufactory and very close to the original Berthoud atelier (the building still exists today):
(Atelier Ferdinand Berthoud in Val-de-Travers)

Without going too much into detail we think it is safe to conclude that the team at FB accomplished the job with aplomb, as 27 experts from all around the world would testify: At the 2016 Grand Prix d´Horlogerie de Genève Ferdinand Berthoud was awarded with the "Aiguille d´Or", the highest prize possible to win, akin the Oscar, but in fine watchmaking.
FB did not rest on these early laurels, and today there are four models in the collection, but different iterations, and all limited (from top left, clockwise):
Chronomètre FB 1 (five different versions)
Chronomètre FB 1R (two different versions)
Chronomètre FB 1L (two different versions)
Special editions (three different versions; here: Œuvre d'Or)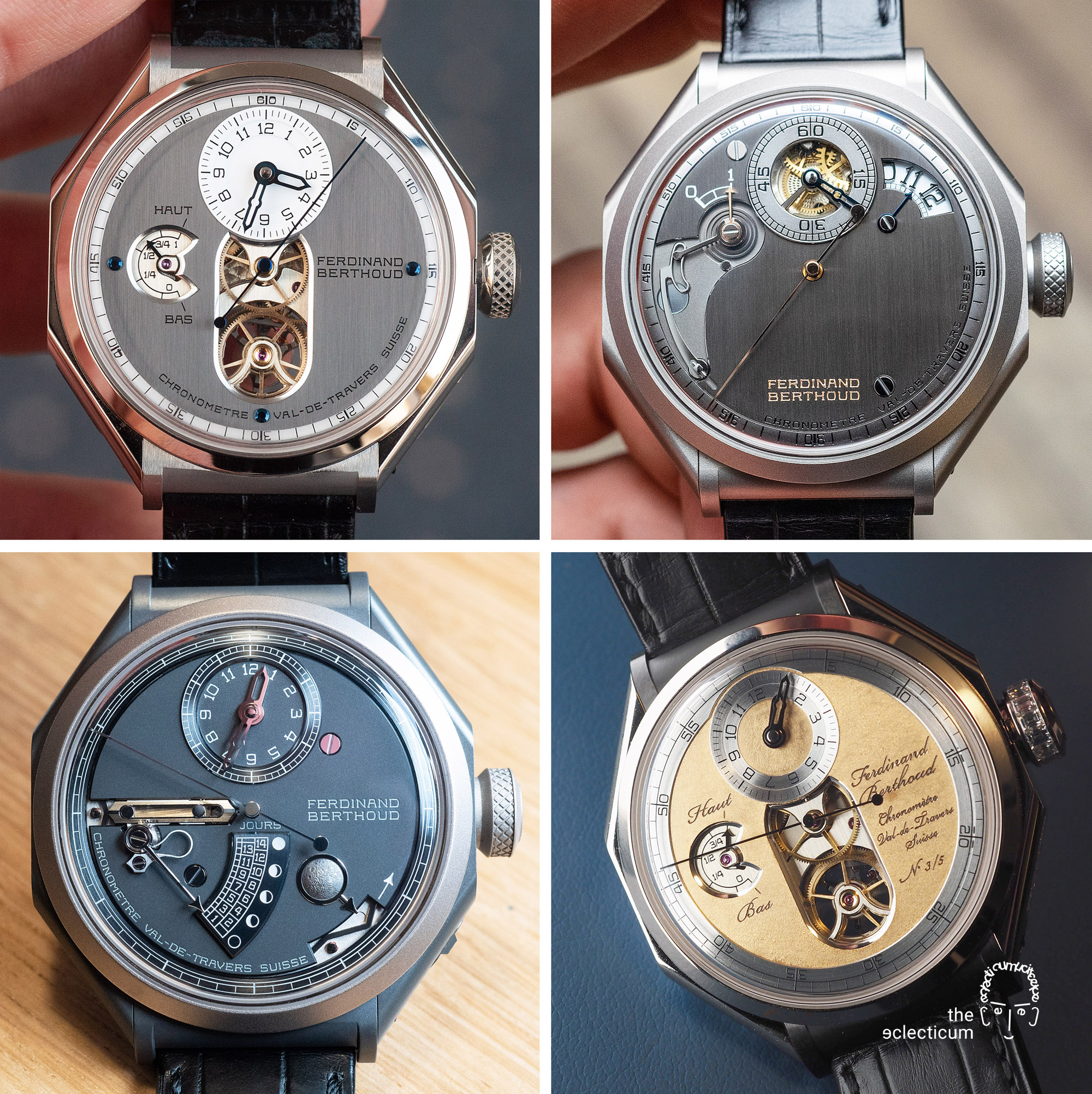 What did strike us is the observation that none of them represent luxury in the conventional sense of the word: Ferdinand Berthoud watches are superbly constructed and crafted watches, and they represent the top end of quality – only produced in very limited numbers (probably less than 100 watches per year; in total). However, they do not convey any 'status'.
Even for the majority of us who did not have the pleasure (yet) to visit the workshops, FB ticks most (if not all) of the boxes we expect at the pinnacle of watchmaking. And this not (only) because of the complications like tourbillon, fusée-et-chaîne, the Maltese Crosses and other delicacies we have seen. It is because of their fundamental approach to watchmaking, their attention to details, which goes all the way down to miniscule aspects like the feel of the winding crown or the sound of the escapement … and not to forget their passion we could sense at our visits at BaselWorld. All this is rarely seen today, particularly in such a concentration, and we appreciate it a lot.
Side note by small-luxury-world: spirit and passion of the people remind me of the early days at A. Lange & Söhne and of course Greubel Forsey
Now it´s time to look closer at the watches, finally…  our intention here is not to present the entire collection of FB (although we would happily share a few more images later on…), but rather to revisit a few of the criteria we set out in our introductory post:
Let's first consider the in-house manufactory capabilities: As mentioned further above, they are there, and this to a great depth and quality: benefitting from the infrastructure of mother Chopard, Ferdinand Berthoud has a vertically integrated system at its disposal that most can only dream about: from the usual bridges, wheels, springs and levers, to hairsprings, and finally even down to cases and even an in-house foundry. Raw components are then carried over to the FB atelier where they are completed and receive their superb finishing, such as this balance wheel assembly:
(Assembling the movement)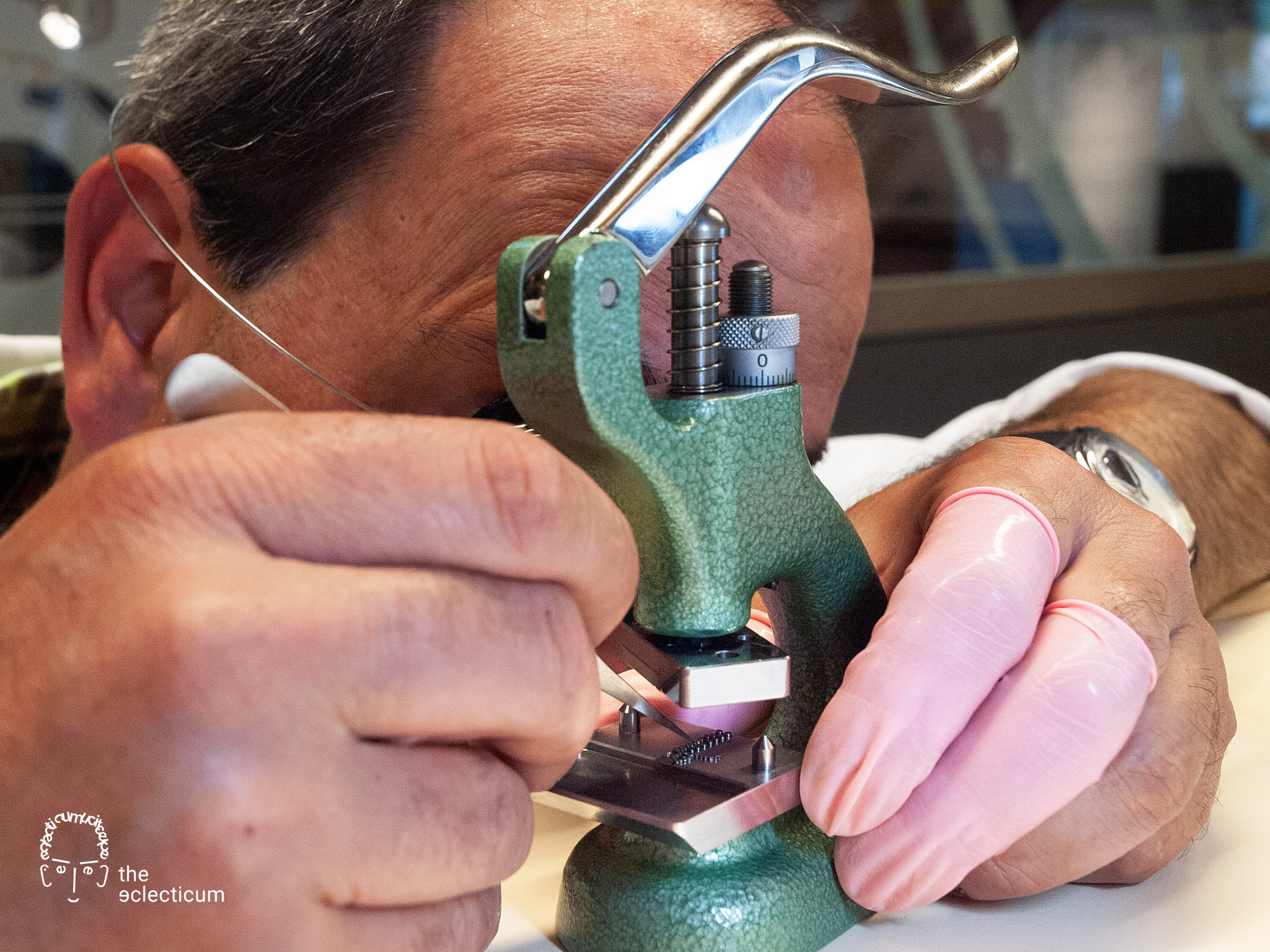 (Linking the fusée elements)
(Asserting correct poise of the balance wheel)

Ferdinand Berthoud does not make use of advanced technologies in the sense of modern materials but opted for elaborate traditional watchmaking techniques serving best chronometric performance. Thus, we find a robust movement construction using pillars like a century-old marine chronometer movement. Technical refinements include a constant energy delivery achieved through a suspended fusée-et-chaîne mechanism feeding into a – once more – suspended barrel, with a traditional Maltese Cross stop mechanism preventing overwinding.
(Gear train of a typical Ferdinand Berthoud movement. Image © Ferdinand Berthoud)
Side note for the technologically inclined: Tourbillon and particularly the fusée-et-chaîne mechanism are only the most prominent devices to ensure an as constant as feasible power delivery to the escapement. The engineers at Ferdinand Berthoud went a lot further:
the Maltese Cross controls both minimum as well as maximum tension of the mainspring: the barrel is stopped when it reaches 1.25 turns at the minimum. This leaves about 12 Nmm tension in the mainspring barrel which is immediately available to the escapement after only 1/4 of a crown turn, i.e. the mainspring is 'pre-armed' already.
(Maltese Cross integrated into the mainspring barrel of the Ferdinand Berthoud FB1 movement. Image © Ferdinand Berthoud)
the maximum state of winding is set at 7 turns (limiting the effective operational range of the barrel to 5.75 turns, indicated by the red range below). During winding, the tension reaches a maximum torque of 30 Nmm (top curve). The mainspring would be able to store more, but this would effect the rate negatively. Therefore, the Maltese Cross limits the winging to 7 turns.
upon release of the crown the tension quickly settles at 22 Nmm, and gradually feeds into the escapement with a flat decrease curve down to the 12 Nmm lower limit (bottom curve).
(Tension curves of the Ferdinand Berthoud FB1 A0 prototype movement during up to 875 test cycles. Top curve mainspring tension during winding; bottom curve mainspring tension when watch running. The red bar indicates the useable range of barrel windings (i.e. between 1.25 and 7 turns), the green bar the resulting torque range, respectively. Image © Ferdinand Berthoud; adapted)
a satellite differential mechanism renders the precision/rate of the movement largely unsusceptible to varying winding conditions (slowly or quickly).
the movement is protected from over winding by a dynamometric (uncoupling) crown. It can also not overbook, except if exposed to a strong shock, e.g. if it his a concrete floor.
(Satellite differential in the fusée cone of the Ferdinand Berthoud FB1 movement. Image © Ferdinand Berthoud)
And with a superbly designed, executed and finished implementation such as with Ferdinand Berthoud, the result of course is a feast for the eyes:
(Fusée-et-chaîne details of a Ferdinand Berthoud movement)


A power reserve indication gauges the energy in remaining in the mainspring via a unique conical guide (suspended of course!). Finally, we find a very large tourbillon on every watch offered so far, with other idiosyncratic details like regulator dials or clever moon phase indications being reserved to specific models. Whatever the references, every such technical detail has a sense and a place serving timekeeping, such as the offset time and the large, central seconds hand.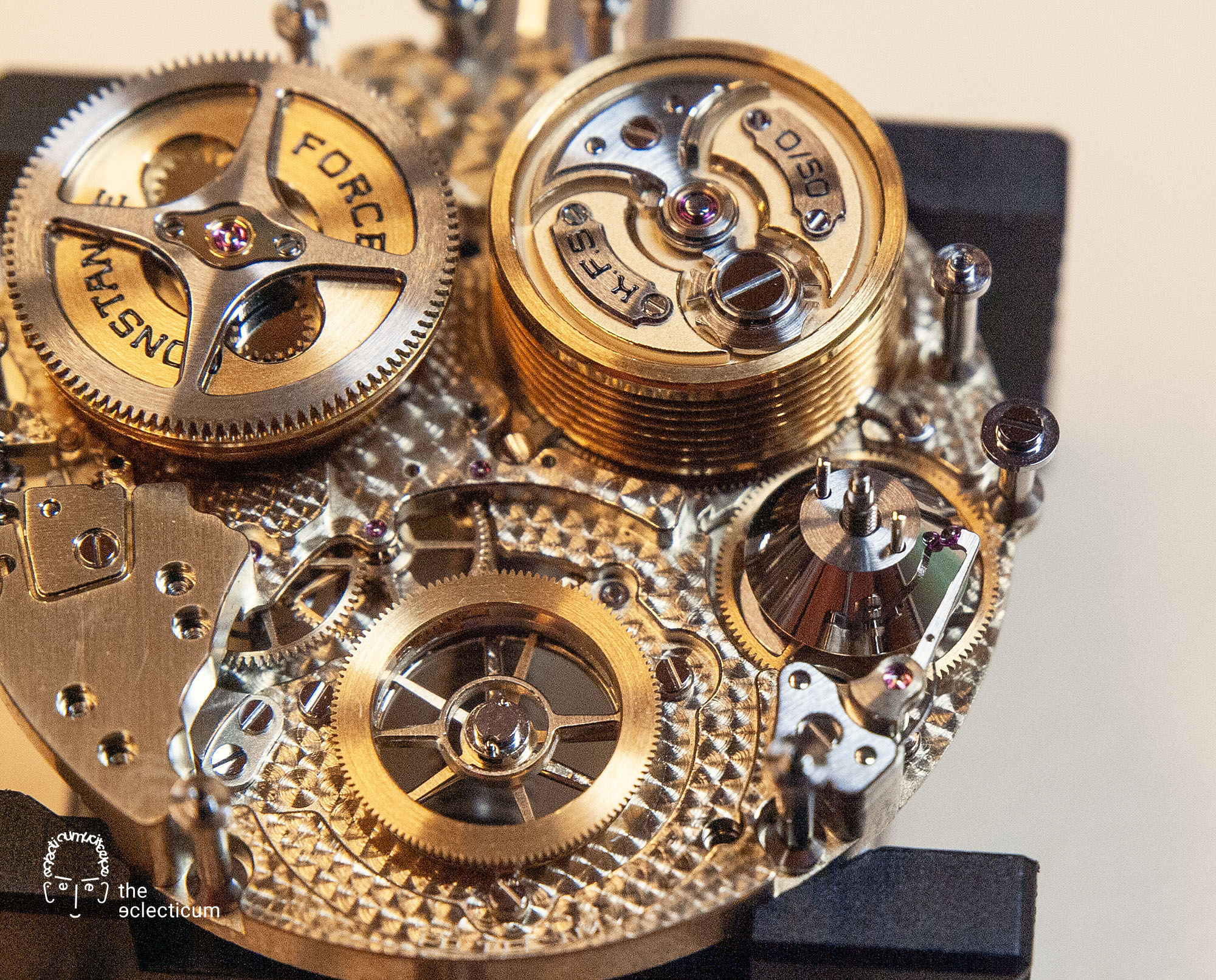 (Chronomètre FB 1 during assembly and completed)

Solid choices are made in respect to the materials used, which are all of a high quality but clearly take the backseat in favour of the watchmaking delicacies. Cases for most of the watches come in gold and titanium, but also bronze (a somewhat odd choice for a watch in this price range, but befitting a company whose founder excelled at marine chronometers), and a highly scratch resistant (1200 Vickers), carburised steel alloy.
Completely the opposite is found for the movement bridges (and also for some dials), which are mostly crafted in German Silver, a material extremely susceptible to handling errors.
(Conventional vs. carburised steel as used at Ferdinand Berthoud)

The finishing is of the highest quality one can ask for, yet again it is quite different from what one would usually find in finest watches: the decorations here are devised such that they emphasise the intrinsic qualities of the materials used – brass, German silver or steel mainly. Also, the handwork done is at the same very high level throughout the watches (be it front- or backside), so the consistency we identified as an important criterium is well observed.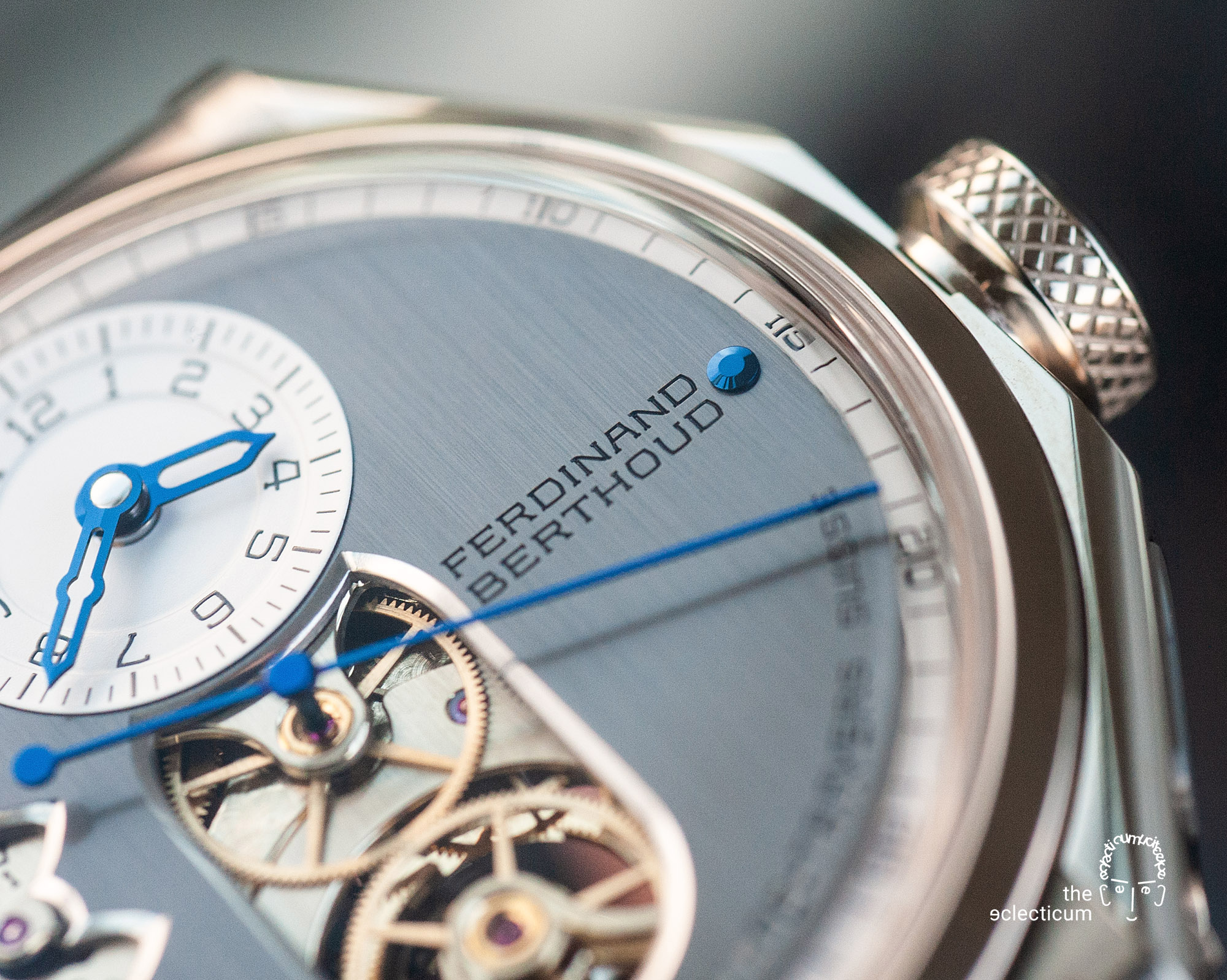 (Superb dial and hands detailing)
(Tourbillon cage)
(Flawless bridge finishing with perfectly sharp anglage on both inwards and outwards corners)

Which brings us to the last criterium: aesthetics! One has to keep in mind that Ferdinand Berthoud's conception recalls the time when watches were not fashion but – at times – mission-critical scientific instruments. And just as with the Breguets of the foundation years, the entire dial elements are laid out following their respective function, chronometry primarily, as dictated by the construction of the movements.
One of Berthoud's marine chronometers, No. 12, served as direct inspiration for the modern watches and is exhibited on the Musée International d'Horlogerie (MIH) in La Chaux-de-Fonds.
(Ferdinand Berthoud Marine Chronometer No. 12, exhibited at the MIH)

As a consequence, the idiosyncratic implementation of complications at Ferdinand Berthoud leads to a, well, not exactly mass-compatible watch design, with lots of eccentric indications distributed around an – at times – vastly open dial area.
A few examples:
(Chronomètre FB 1L)
(Eccentric time display Chronomètre FB 1 – Œuvre d'Or)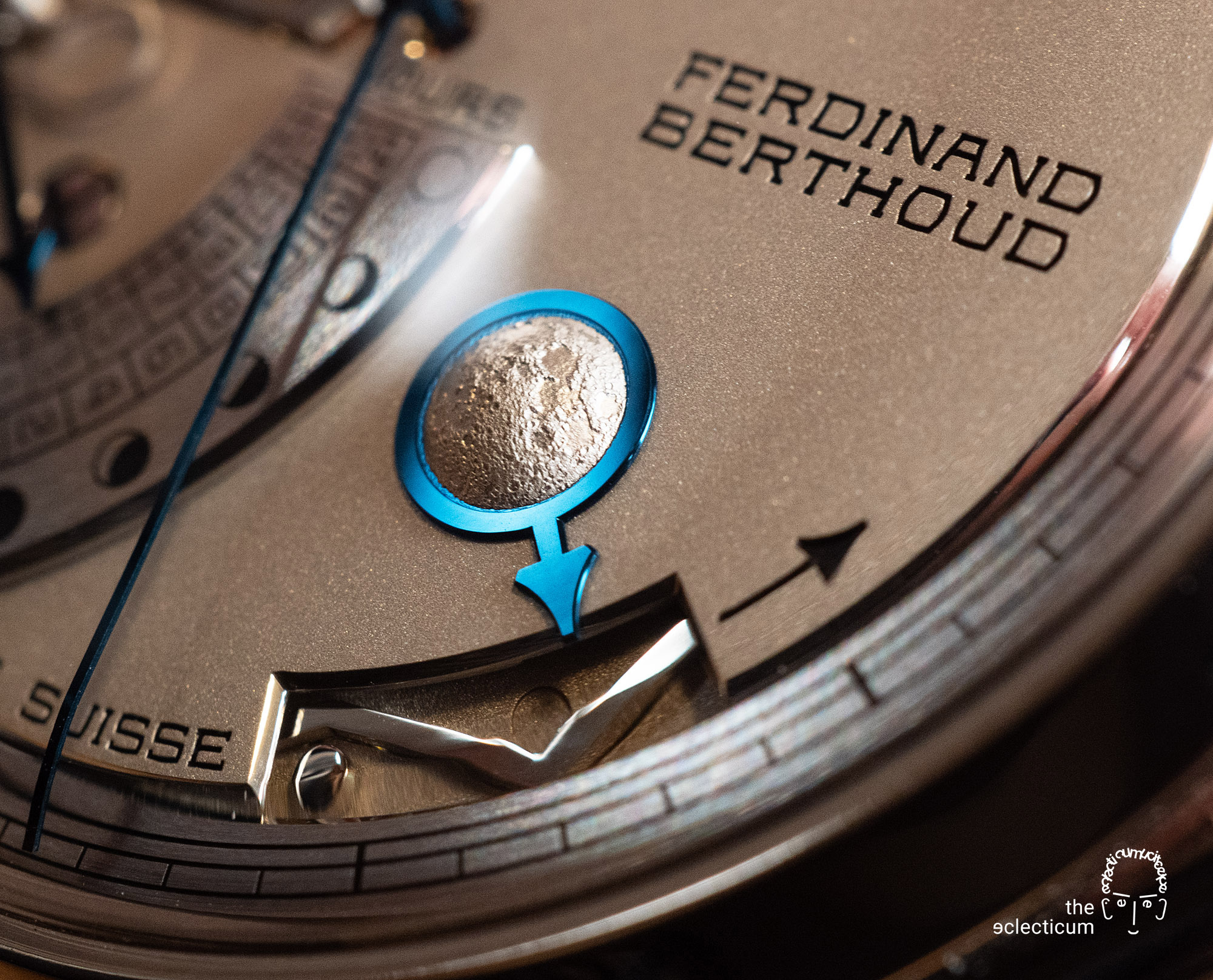 (Moon phase indicator Chronomètre FB 1L)

We at the eclecticum find that such an approach has a particular attraction and charm which reveals itself slowly over time. But a look at the other side is an instantaneous delight and an exercise in pure symmetry. So, technology first, design to make the best out of it. As purists, we certainly appreciate this hierarchical order!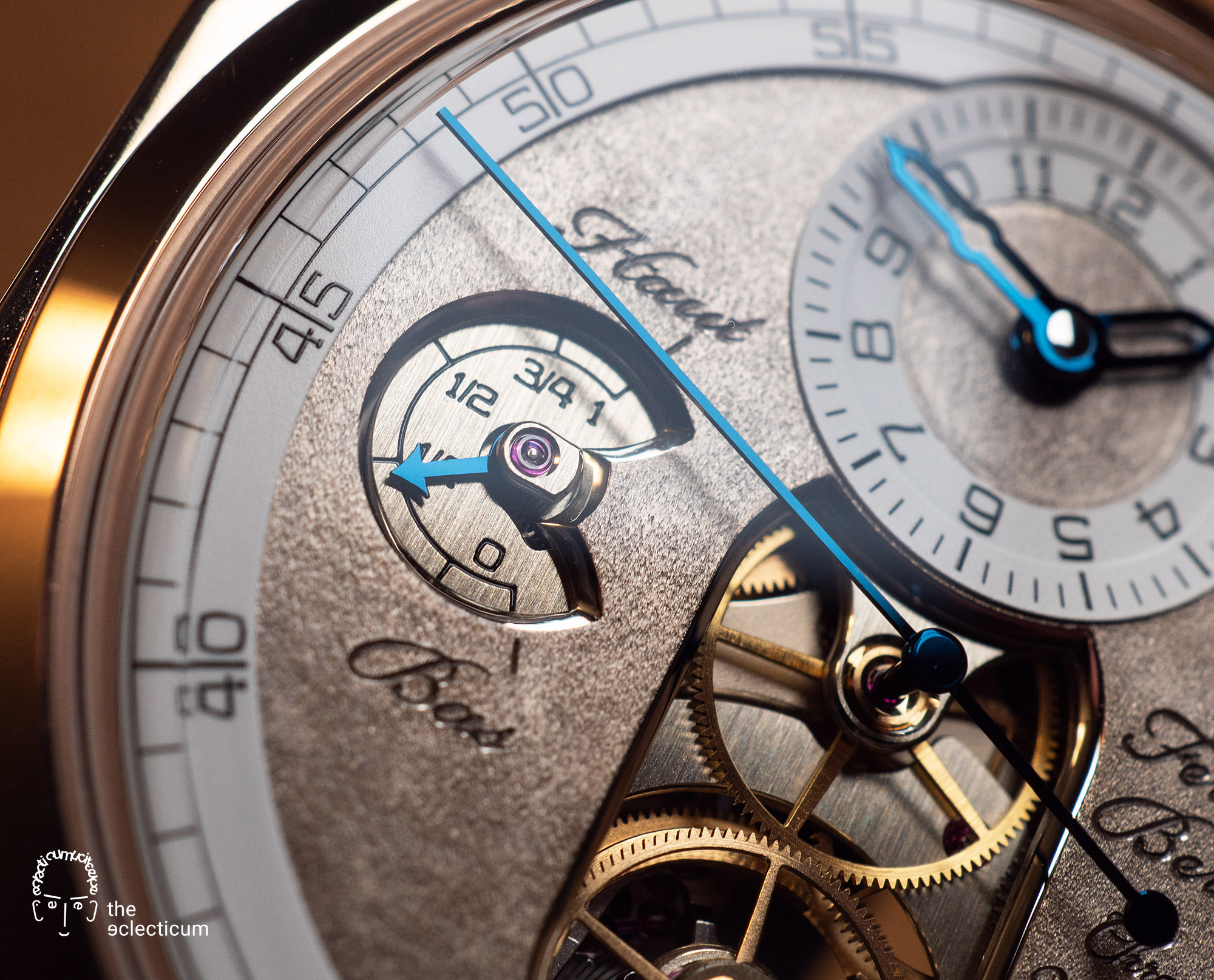 (Unmistakable: power reserve indicator and dial surface Chronomètre FB 1 – Œuvre d'Or)
(Unmistakable: Dial layout Chronomètre FB 1L)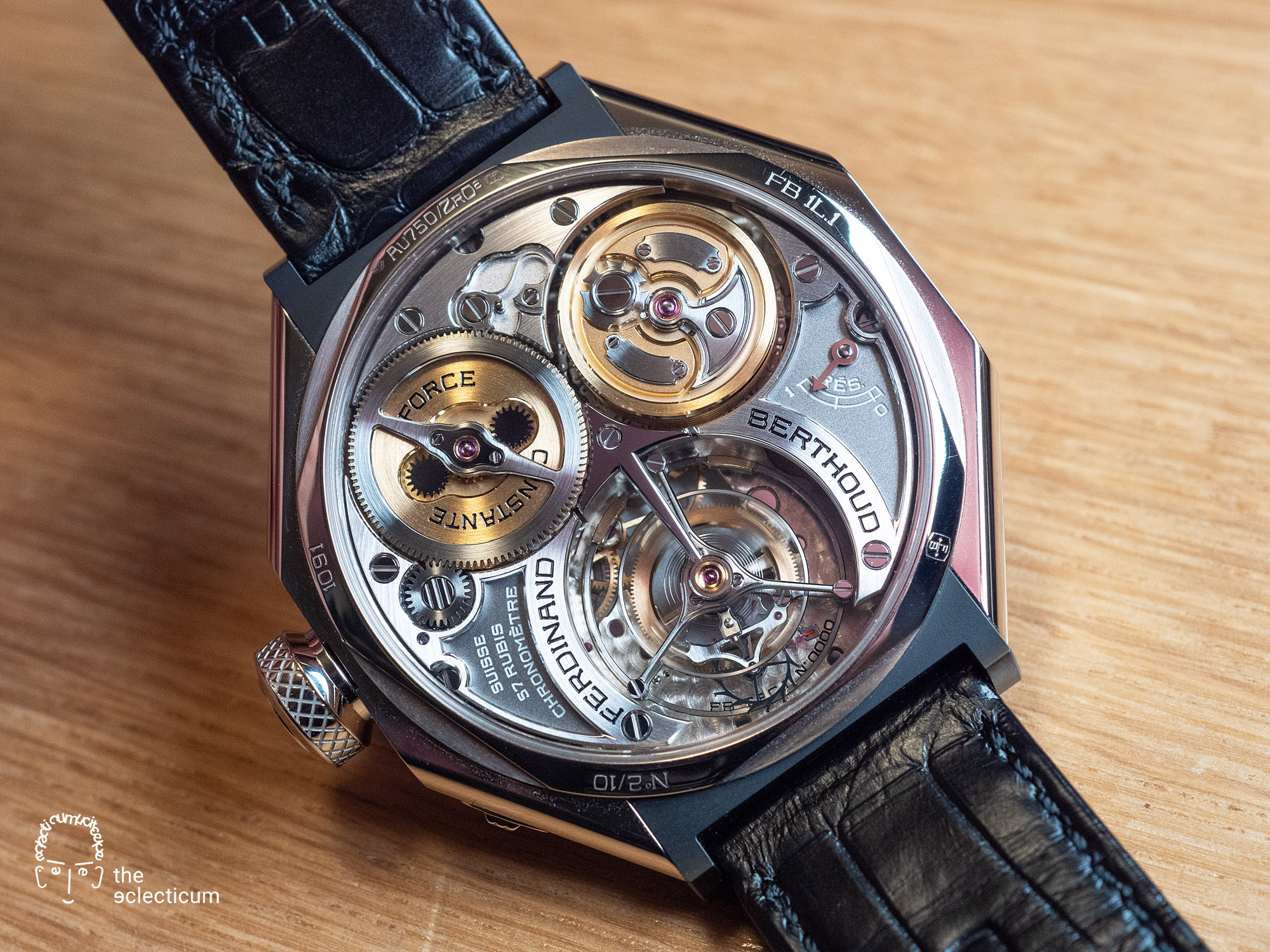 (Unmistakable: movement layout Chronomètre FB 1L)


Lastly, there are no ambassadors, no elaborate marketing campaigns to speak of, and also the people behind the brand are refreshingly passionate, approachable and down to earth. In case you would like to handle one or even buy, you will have to make some efforts as you won´t find them at any Chopard Boutique – there are (at the moment) only seven Points of Sale in total.
(Ferdinand Berthoud booth at SIHH 2019)


Good or bad, but it makes sense to us as it ensures that the brand gets in direct contact to its collectors, and this is reflective of what the watches speak of.
In a nutshell – the criteria in summary:
In-house manufacturing capacity: definitely there, of considerable depth particularly in one count those of the Chopard parent as well.
Handmade: definitely of finest handmade quality, not only the movements, but also dials, hands or cases.
Consistency of production quality: its early days, but so far, the FB watches could serve as a role model for consistency.
Superior finishing: the finishing not only is of superb quality, evenness and sparkle, it is also masterfully applied and devised such that it exposes the quality of materials used.
Unique materials: FB uses a number of mainstream but highly adequate watchmaking materials. The hardened steel or ceramics for some cases are rather exceptions.
Advanced technologies: we found a great number of technical details which represent the top of traditional chronometrics, but less so anything modern and ground-breaking.
Outstanding design: FB's watch designs follow their function and emphasise the technology they house. They are not immediately likeable but reveal their attractions over time.
Consistency in Presentation: the overall package of FB – watches, technology, execution, price and communication match each other nicely and do not pretend to be something else.

Conclusion:
When we think about (modern) Ferdinand Berthoud we think of a manufacturer that embodies one of these rare cases where the resurrection of an ancient and forgotten name is mastered with a combination of a modern identity with tremendous historical and intellectual substance. The overall œvre of the brand is consistent in great a number of aspects including (i) design, (ii) technology and also (iii) execution, always respecting the highest values and skill levels of haute horlogerie. That all (!) watches being Chronometers, officially certified by COSC, makes it even better (for those who do not put particularly weight on a COSC certificate: please remember that ironically tourbillons rarely get certified).
What we particularly appreciate is the clever fusion of traditional and modern elements. The brand takes clear inspiration from its past, particularly when it comes to dial design and certain technical details, but embeds this into a modern composition thereby avoiding the perils of historicising their past and at some time becoming slave to it (and by doing so, foregoing the chance to shape their own future).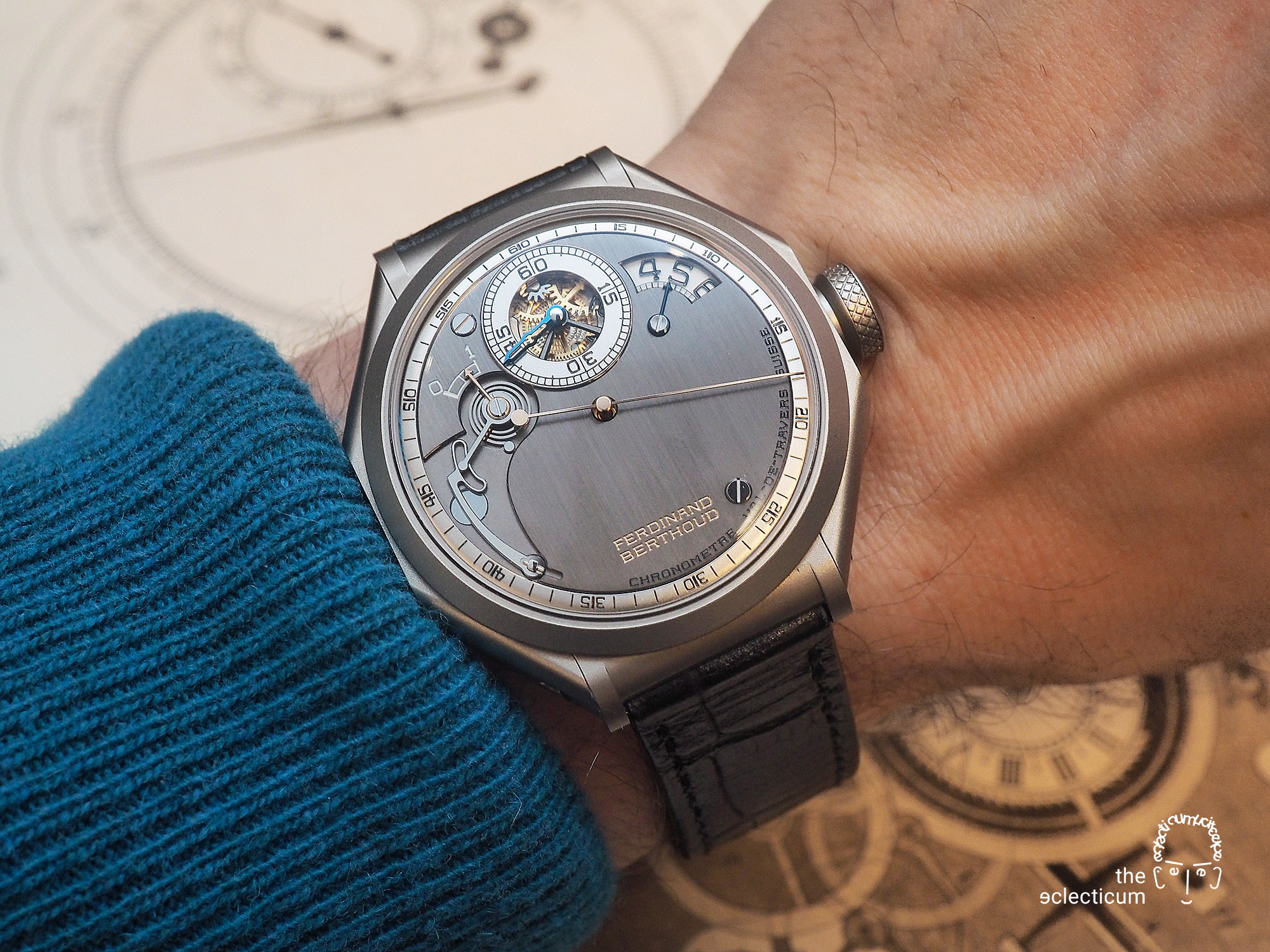 (Chronomètre FB 1R)

How contrasting is the picture at Ferdinand Berthoud! The historical aspects here merely serve as anchors for the elaborate watchmaking around – and this even blends nicely with contemporary design elements such as ceramic cases. While traditional as far as the material used and the complications are concerned, the watchmaking offered by FB is of a self-sufficient opulence and distinctiveness we rarely see implemented in such a compelling concept. There is an inherent logic in the composition of the watchmaking details which feels natural and – since carried directly over to the aesthetics – lends the Ferdinand Berthoud watches their unmistakable character. Every aspect seems well-considered and based upon chronometric reasoning, which creates the strong notion of a well-conceived objective holistically driving the development and creation of these watches.
This, in our minds, lifts the answer to the question we posed at the very beginning of this article ("What would a wristwatch look like if FB were to make one today?") on a meta-level: the answer is not confined to the aesthetics, as so often, but considers and continues the conceptual work of the ancestors.
(Chronomètre FB 1 – Œuvre d'Or)

If you read all of the above, we are sure you sensed our affection for Ferdinand Berthoud – and in fact, we have lots of respect for both the brand and the people driving it …
We can go even thus far as to confess that to our surprise we could not identify any watch produced by Ferdinand Berthoud, yet, that we would not like to call our own (we have favourites still, of course…). Any and all of them are pieces that would satisfy the most discerning and eclectic connoisseurs around (design notwithstanding). Kudos to the whole team and especially Karl-Friedrich Scheufele (the man behind) or providing the necessary freedom and making the resources needed available to allow such an endeavour to happen.
As it (still) is a young-old brand we wish them all the best for a bright future, and we sincerely hope they manage to maintain their current high level in the long run – right there at the pinnacle of watchmaking.

P.S.: A special thanks goes to Ferdinand Berthoud General Manager Vincent Lapaire and Jonathan Richard for generously sharing technical details and answering countless questions of ours.