written by:
the eclecticum
published:
2021-09-19
categories:
[sc_post_category]


In and around Geneva Watch Days 2021 – when context and news have (somehow) more weight than watches themselves

GEVENA WATCH DAYS 2021 and more: On the rise of individuality, the consequences of success and moral hazards. Insights, Snaphots & Thoughts

Since the beginning of the COVID pandemics it doesn't happen that often that we travel to see novelties from the watch industry. Already Geneva Watch Days 2020 was a very pleasing event for us, the way we did it – a few selected brands only. In 2021 it was a short but very intense trip for both of us, which we appreciated even more than the 1st one.




As often, it was about meeting people, the latest talks and changes, and not to forget some nice novelties. This time however there were moments where it almost felt like that there was more attention for 'news' than for novelties. Something was different for whatever reason – good or bad.
For today we have chosen 6 topics about what we found noteworthy on and behind the scenes of both Geneva Watch Days 2021 and around Geneva at the same time. No worries, after all those we will share a couple of personal watch highlights – snapshots only.

(1) Individuality wins
If there was one distinct segment of the watch market which flourished during the COVID pandemics then this was those brands who offered clearly distinguishable watches, and in most cases, those were independent watchmakers. This notion was felt throughout the brand visits in Geneva (to various extents, certainly), and it is a powerful antithesis to how 'mainstream' brands, particularly certain large watchmaking conglomerates, operate: instead of trying to economise their huge investments in advanced CNC machinery with easy to (machine-) produce movements and complete watches (even at the highest level of the industry), the independents (at least a major part of them) focus on creativity, proprietary concepts and more/unique handwork.


(Hand-finishing work at Kari Voutilainen)

In times where you spend more time at home and are often more the master of your time than before, people look closer and take notice – not a bad strategy in these times (and a déjá-vu from the early 2000s)!
Currently it seems more independents than ever before are ´sold out` and must face a stronger demand than ever before.
With success comes increased workload, and there are several ways to deal with.

(2) Scarcity of skilled artisans becomes more pressing than ever
That watches need to be made is an obvious notion, and herein lies a crux – at least for those who rely on real expertise and experience, and not on assembly line production: One bold message came from the Grönefeld (although absent from Geneva they communicated at the same time): Having recently occupied a new, dedicated atelier, their challenge now is to occupy the additional workplaces with skilled craftspeople. Since such is not easy and certainly not quickly accomplished (skilled people don't 'grow on trees'), the 'Horological Brothers' decided to stop accepting orders for now until the bottleneck is fixed, and they are confident they can deliver. Others face similar challenges but are less proactive in communicating those.
It is not only capacity expansion, which is limited by available specialists, even current production volumes are threatened, as we learned from highly regarded ateliers like Andersen Genève: for elaborate cases they rely on highly specialised artisans who often work eremite-like secluded in their ateliers. A significant percentage of those highly capable people is already well past retirement age, yet prospect successors did not appear on the horizon yet. And likely won't for a foreseeable time, as unfortunately crafts like casemaking are no longer part of curricula in watchmaking or jewellery schools…


(Amazing casework on the BCHH x Andersen Genève Celestial Voyager)

Akrivia's recent decision to cooperate with legendary casemaker Jean-Pierre Hagmann to acquire and internalise casemaking skills appears to be as visionary as much as highly necessary manoeuvre to prevent them from being cut off from adequate case supply for the years to come. It should not surprise anyone that Kari Voutilainen acquired a majority stake in the now Voutilainen & Cattin SA casemaking workshop…


(Rexhep Rexhepi at his bench at the Akrivia manufacture)
Another problem was mentioned in a conversation we had with Rexhep Rexhepi (we sat together for an hour without even having seen a watch at a distance, but boy what a fascinating quality time that was…): even if qualification seems suitable, it takes time and energy to determine if a person really is a fit – for your company, your products, your specific way of doing things. Yet younger people seem eager to make their individual mark, so it is not always an easy and straightforward process, to say the least.

(3) Success requires strategy adjustments
A second consequence of increased workload are impacts on internal processes – with far-reaching implications. The most prominent example might be one company at the apex of the trade, Greubel Forsey. The manufacturer earlier on communicated that Antonio Calce has assumed the post as CEO, while both Robert Greubel and Stephen Forsey retreat – to some extend – from daily management tasks to focus on aspects close to their hearts, development, and production, respectively.


(At Greubel Forsey: Antonio Calce (left) takes over management duties from Robert Greubel (right))

The decision is now being implemented, and again we had one of those meetings that seem to characterise the autumn shows this year: more time spent on content and context, less so on actual watches. We learned that this move also aims to consider that both founders slowly approach retirement age and understandably wish to load off certain work. Many times, when founders take things easier the original identity of a brand becomes less clear-cut, but in this case we're optimistic: one of the first new steps taken is to split their offerings into more production style watches on the one and more elaborate complications, even more exclusive pieces on the other side. Again, the fact that one only has so many watchmakers able to produce at Greubel Forsey's level is one argument for this split. If you fear the 'production pieces' are washed-down versions, rest assured: we have seen current drawings, and we saw what we like – it makes sense!
A refreshing, and come to think of it, strikingly logical new approach comes from Ferdinand Berthoud: again, with a view on production abilities, the boutique manufacturer will henceforth limit based on their watchmaking core, the elusive movements, and let clients decide on case and materials. A lot of new market insights were derived from this, and additional markets opened to them without doing much market research: let the products speak for themselves! We have elaborated on this decision in one of our most recent articles, and we look forward to what degree of consequence it will be implemented. Certainly, if followed with some stringency, this can be immensely interesting.

(4) Moral hazard? When the lines between watch producers and sellers become foggy…
A notion that could barely be missed is the apparent intermixing between watch manufacturers and (used) watch sellers – usually two separate entities, for good reasons. At Geneva, it was puzzling to see Phillips, a major player in the secondhand watch collectors' auction market, being at the centre of the Geneva Watch Days show, organising panel discussions and featuring a majority of new (sic!) watches in their channels – are the grounds for future auctions already prepared well ahead? It reminded us to those days when artists started to produce art directly for dedicated auctions, instead of collectors and art dealers.
During those talks it was a very eclectic choice looking at the speakers. Some of them almost ´toxic` on the first view, but most of them delivered interesting content.  What came to our mind was: My doctor, my lawyer, my banker, my fashion stylist, my tailor … my drug dealer and even my ex-wife – all at the same party. We don't think it was wrong (in general), but it all happened in public and for sure this was different to say the least. Interesting times, for sure!
In a similar vein, one of the big news during the Geneva Watch Days this year was the announcement that specialised (and not exactly uncontroversial) secondhand watch specialist WatchBox acquired a majority stake in revered high-end watchmaker De Bethune, leading to the fear that one entity now has the market power to control both new and used sales of a highly sought-after watch brand. Recollections of the recent stratospheric rise of secondhand F. P. Journe watches (also here WatchBox is alleged of having 'engineered' the used market).  For now, we won´t judge about good or bad, but we will observe carefully.
That is one aspect and only the future will tell. We at 'the eclecticum' would like to offer one additional different view on the matter as well: If you'd followed De Bethune's novelties over the past few years, one could not miss the observation that the early years of highly paced innovation cadences were over, times when you had to closely inspect a De Bethune watch every time you saw one, even a few weeks later one might have spotted yet another balance or hairspring design. Technical novelties now come slower, and this could be due to technical maturity or a change in focus towards the exterior of the watches.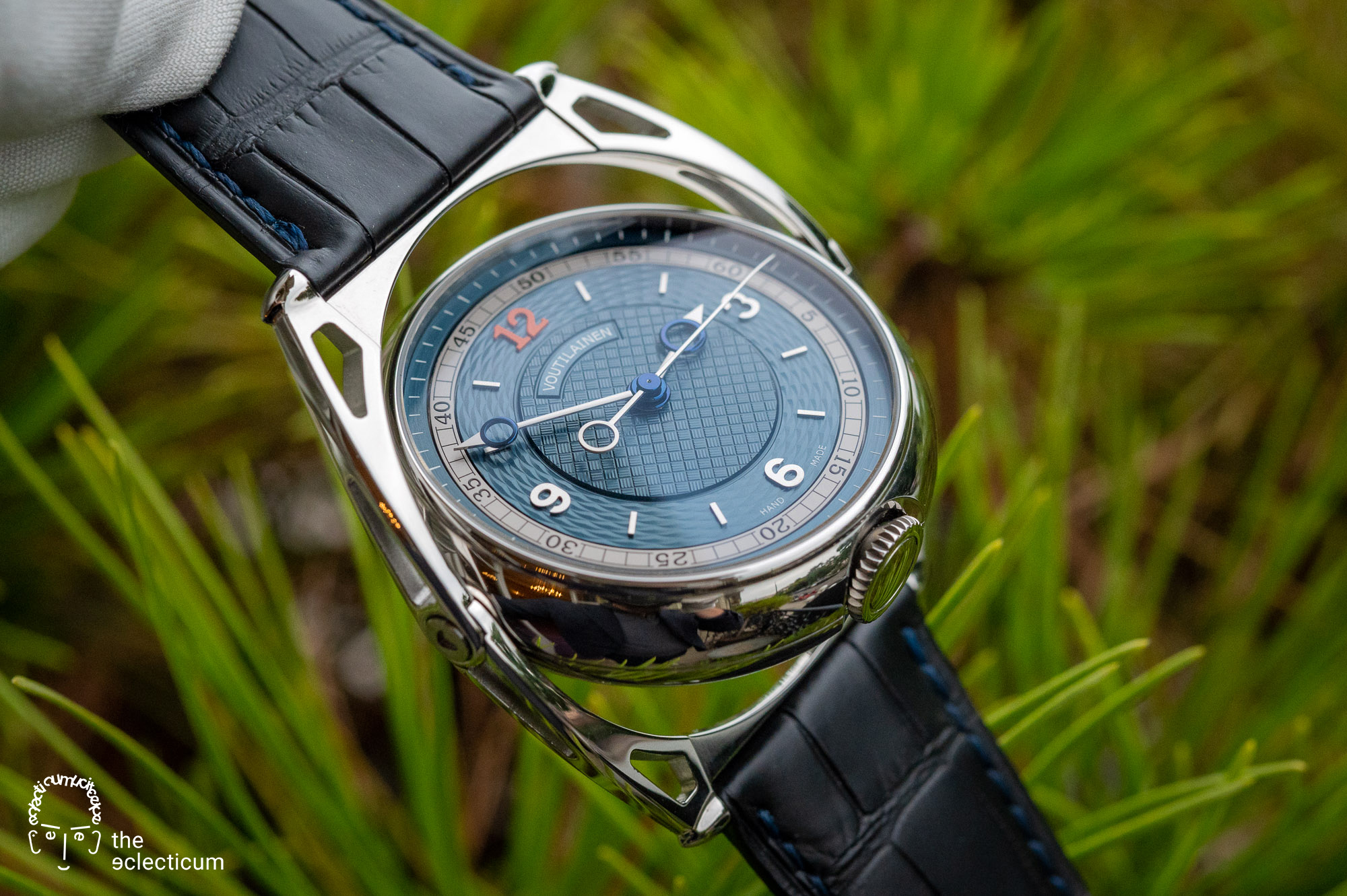 (De Bethune x Voutilainen Kind of Magic with the elegant rotating case)

We think it is a combination of both, as we appreciate that with the newest 'Kind of Two' watches De Bethune's case design has reached new heights. The characteristic 'floating lugs' case received about 30 additional parts and now allow to turn the case by 360° such that both sides can be worn at the will of the wearer. Next to more flexibility to wear the piece as it deems fit this opens completely new aesthetic possibilities, and we guess we have seen only the beginning yet.
In essence, we think that now De Bethune's cases have matched the sophistication of their movements.
How does this link to the WatchBox investment? Well, we were told that WatchBox will replace about a dozen individual investors, thereby greatly facilitating the strategic decision making within the company. In other words, less time spent on administrative matters, more resources free for the watchmaking essence. Fingers crossed!

(5) Setting the records straight
Continuing from above, the question arises whether the arrival of such an influential investor like WatchBox would be compatible with the notion of 'independence', a question which was heatedly discussed in Geneva and took a central stage in the 'The Rise of Independents' panel:


('Independent's Watch' Panel, from left: William Massena (Massena Lab), Felix Baumgartner (Urwerk), Pierre Jacques (De Bethune), Alex Ghotbi (Phillips Auctions), Elizabeth Dörr (Quill & Pad))

Our favourite answer came from William Massena, noted collector and co-founder of Massena Lab:
"Independence is mainly a state of mind!"
And this we support wholeheartedly!
Overall, the panels were at time of high quality with some true revelations. The Independent's panel was one such, the 'What Women Want'.


('What Women Watch' Panel, from left: Tiffany To (Phillips), Yacine Sar (Urwerk), Suzanne Wong (Worldtempus, WatchFemme), Catherine Eberlé-Devaux (BVLGARI), Clara Kessi (Phillips))

The (lively) panel did a great job not going into any detail but discussing the topic with a boarder view. The puzzling realisation is that alone the moniker 'ladies' watches' in each watch collection sounds a bit patronising (compare to just 'watches' for the masculine pieces) – who then determines that such pieces are what women want? The succus of the panel then defined a ladies watch as a piece that is actually worn by women, regardless of design, and this for us feels to the point, as well as putting the onus back to the watch industry to reconsider their offerings for a female clientele. Soft, oftentimes cartoonish designs with impaired utility or simply 'iced out' and diminished versions of men's watches are certainly not enough (anymore).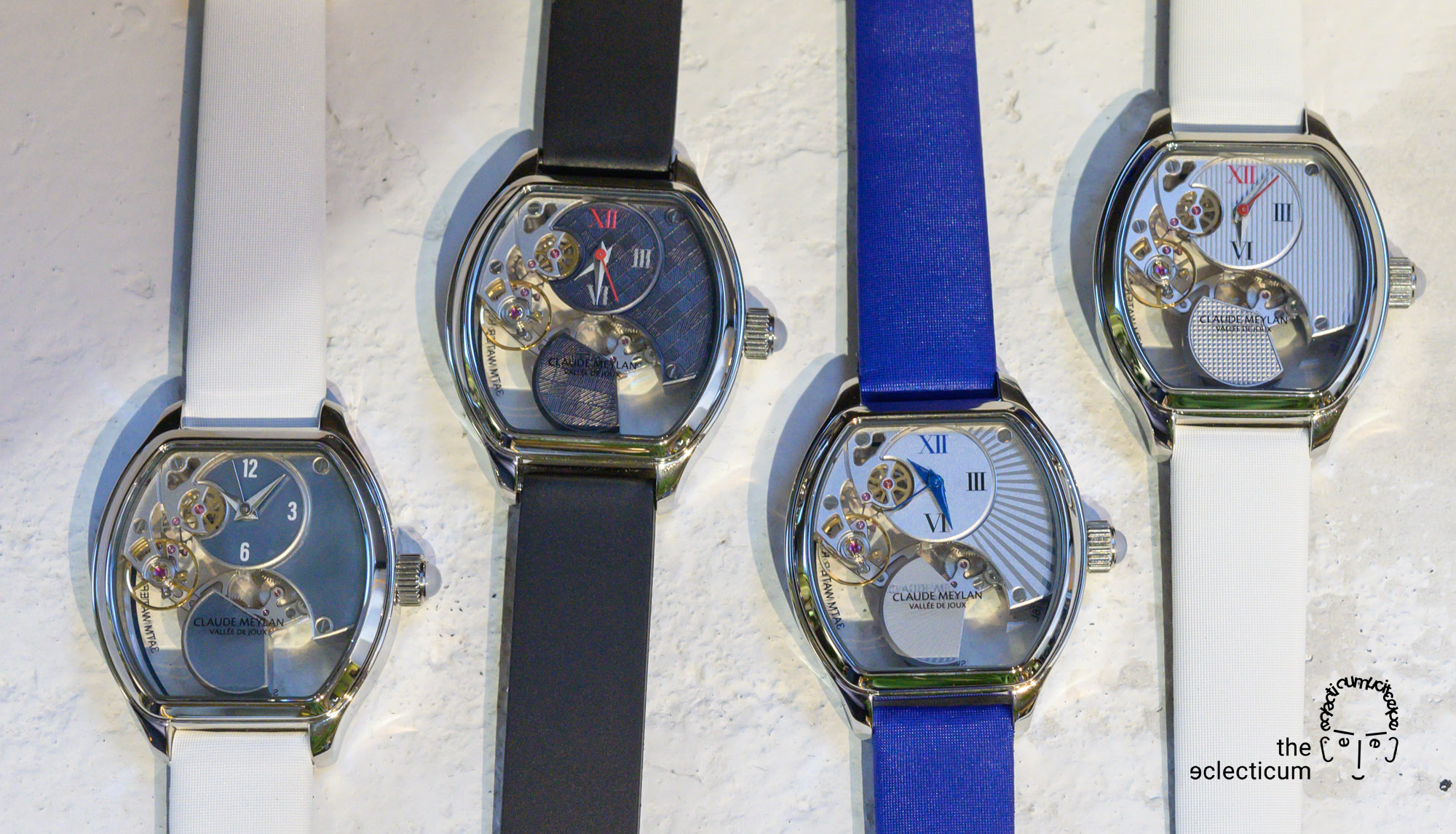 (Claude Meylan's Tortue Lady – the brand's press lady Pia de Chefdebien was asked to come up with ideas for this micro-rotor tortue-shaped watch, and came up with – yes! – watchmaking decoration techniques. What women want…!)

We felt this panel quite liberating, and God knows we do love to see 'women's watches' where we as males would be quite jealous to wear ourselves (the MB&F Flying T would be one such!).

(6) BaselWorld is coming to town (Geneva)
Pop-Ups are in vogue all over the world, but who (from the industry) expected to see an 'embassy from the (former) biggest trade show in the French part of Switzerland? We didn´t, to be honest. Still, we think it is a smart move to skip paradigms in favour of exploring new ways to connect with the industry and their customers (again). We don´t know if it was a success for anyone, but we like the spirit behind. Roll up one´s sleeves and give it a try, no one cares about ´palaces` these days!




Snapshots of our favourites
Lastly, we want to share those watches that caught our attention, in no special order:


(Konstantin Chaykin; Mars Conqueror Mark 3)
(Czapek & Cie.; Antarctique Rattrapante Silver Grey)
(Ferdinand Berthoud; Régulateur Squelette; calibre FB-T.FC-RS; two different versions: octagonal in carburised steel (left) and round in rose gold (right))
(Greubel Forsey; GMT Sport Titanium)
(Urwerk; UR-100 Electrum)
(De Bethune; DB 25 GMT Starry Varius)
(Raketa; Copernic)
(Ulysse Nardin; Tourbillon Free Wheel)
(Andersen Genève & Edward Sexton; 'Quotidiana'; pièce unique for OnlyWatch 2021)

Plus, some more that we are not allowed to share for now!

Conclusio
It is a notion that popped up with both of us several times in the past, but during these days it became reinforced: the stuff that really matters happens behind the scenes, and you need time, trust, and at times a question from the side lines to grasp this. What the autumn days in Geneva did was to create an atmosphere where such titbits were more freely discussed and allowed to occupy more room.
It could also well be that more and more industry players face similar constraints and thus matters like skilled people, long-term financial 'peace' and adjustments to strategy are a lot more relevant.
In the 80s and 90s it was all about missing skills in the industry. A lot of training was given to young people, but also a big part of skills needed was replaced by (super sophisticated) CNC machines and that kind. Heavy investments lead to more convenient production lines than ever before, but also to more pressure when we think about refinancing. With demand given a lot of brands could produce whatever is needed – good or bad. It seems customers and especially collectors (no matter where they are based or from which origin!) are asking for more – more uniqueness, more authenticity, more added value, more individuality, more … – and are comfortable to hunt those and even to pay a premium for it. The market is strong, very strong … but not for everything and everyone.
Also, it seems that ´heavy weights` and ´independents` are boxing in the same category and ring, these days. For example: during COVID small and big brands had to use only (!) the same tools for selling – no big events and that kind, only internet communication. As we already mentioned above: interesting times!
Whatever it was, our trip to Geneva proved rich with fascinating insights which we briefly presented here (at least those we are allowed to communicate in public; secrets are still secrets!) and which we will digest and discuss further.
Even had we seen no single watch, the trip would be tremendously successful – when could you ever say that?
the eclecticum