The value of passionate spending: A bespoke project about shoes with ´Il Micio – Hidetaka Fukaya`


This time it´s about shoes, a personal bespoke project with ´Il Micio - Hidetaka Fukaya`, from Firenze. A first on several levels and an interesting journey



Passionate spending?
Before we look at the project itself, I would like to explain why we at ´the eclecticum` talk about the value of passionate spending. For us it should be more than just to buy something. It´s more like an investment – in your own pleasures and based on your own values. The latter may be different for all of us and that´s fine, in general. Value – to be clear from the beginning, it´s not about money, best price or even profit what we would like to talk about here. Still, we all need (extra) budget to feed our passions, because quite often it´s luxury items we are passionate about and not essential necessities for life. To get those we (also) need to spend money and therefore we need to talk about it, from time to time. Just take it as an (intellectual) exercise. It´s more like a journey, it takes time and you can learn something – even about you.
Budget – small or big, it doesn´t matter as it is relative anyway. Think about ´quality budget` and make sure to take your pleasures seriously. Plus, don´t forget to appreciate your (personal) journey!


Bespoke – the risk and pleasure to discover – yourself
Bespoke makes the difference, does it? For some it´s a magic word, an entry into another world and for others it´s just to show off wealth. To us it´s more like an antonym to mass-produced. The latter has its benefits as well, but those just don´t speak to our heart. Art and soul are just missing.
My own journey in "good shoes" began when I was a teenager and not only in shoes, but this is another topic. Back in those days I started to look for well-made shoes, matching my style – if there was one at all. Budget was an issue and so I started to visit outstanding shops frequently – hunting for best value. In the beginning it was loafers, double monks and Budapester´s from brands like Ed Meier, Bowens or Alden, but mainly bought during sale season – to be honest. Followed by shoes from Balint, John Lobb, Ludwig Reiter … to mention only a few. It was and still is a journey. Some shoes still stay with me, even after 20 or 30 years. Still presentable? Well, most and some just stay for sentimental reasons.
Fashion for clothes changed, but my beloved classical shoes stayed. No big difference being a schoolboy, an apprentice, a student, a business consultant, or a manager, when it came to shoes. "Well made (classical; in her case) shoes make the difference", that´s what I learned from my dear grand aunt – a lady of great taste and good humour. Always try to stick to it!
End of story? No.
After many years of experience with different shoes and brands you get a passable idea of what is important to you. Some of the brands changed their quality and style – good or bad.  My interest in high quality never rested and my taste evolved. In the past my hunts were confined to the "best shop" in town, but today it´s travelling abroad, dedicated books/magazines and of course passionate forums and blogs, when it comes to research. As I spent plenty of time (to say the least) on and with PuristS, it was just a matter of time to evolve to a more eclectic taste – also in shoes. For example, Corthay was brought to my attention by fellow PuristS from France and Singapore. In the beginning I was almost "shocked" by their extrovert style, but at the same time attracted to some details shown. My first visit at their boutique in Paris was before a PuristS GTG, some years ago. My first pair of shoes from them I bought in Geneva just before attending the Grand Prix d´Horlogerie de Genéve …  my second pair I got in Brussels … All was fine with ready-made shoes, as long as they had something "special" like colour,  patina or shape and fitted my feet's. Because of "sneaker feet" customers, (RTW = ready-to-wear) shoes became wider and I had to change to made-to-order. The latter asks for a little bit more patience and budget – most of the time it turned out well. "Most of the time" can be annoying if you are passionate and so I started thinking about one step further.
To make a long story short(er) on how I have chosen my first pair of bespoke shoes, it was once more a (former) Purist who did a book about master shoemakers: ´Master Shoemakers – The Art and Soul of Bepoke Shoes`, by Gary Tok



It gave me a good (first) overview about possibilities, about some people behind the shoes and lots of shoes to look at. It was a great start for further research, with books and magazines (´The Rake` for example), on Instagram and quite a few internet sites. Different styles, different approaches in making lasts and shoes … and not to forget the person behind, once more. I didn´t want to go with one of the big brands (this time) and preferred (so called) independents.
So, I was on a mission when me and my family travelled to Firenze some time ago. A town known for crafts and especially nice shoes. I made a list whom I wanted to pay a visit as there are quite a few eclectic (work-)shops. It was a start for me and I tried to visit all of them, but most of the time I felt a great disappointment: Almost nothing was left over from their former glory, came to my mind at least once. With all respect for craftsmanship, "trained monkeys" instead of outstanding craftsmen and a focus on marketing and sales didn´t help the product, at least from my point of view. Improved business cases (short term) driven by money instead of passion is not what I was looking for. At the end it was still two people on my list, which seemed to be promising for what I was asking for. They couldn´t be more different in personality and their way of doing is different as well, but both made me comfortable when it comes to passion for what they are doing – great shoes with art and soul.
Your first bespoke shoes are like your first kiss: you can only do it once, and I was sure that there is quite a lot to learn during the process. Once more I was curious but had to choose one to start with. At the end we placed two orders, one for my wife and one for me. For my wifes project (and yes she was quite sceptic about that kind of project, in general) I have chosen Saskia Wittmer, an energetic, open minded and warmhearted lady from Germany living in Firenze. It was a good decision, almost a perfect match, but more on this at a later time.  I was part of the process with both artisans and me learned a lot, including patience.


Start of the project with ´Il Micio – Hidetaka Fukaya`



(picture credit; Master Shoemakers by Gary Tok)



(picture credit; Master Shoemakers by Gary Tok)



(shop from outside)


If you think you can just walk in, look around what you like and place your order – you are wrong. This is not how it works, not in this place. First you need to get an appointment, second you are guided to an almost Zen-like process including measuring and observations by the master. Me spent time to think about to get a Loafer, a Monk, a Derby … preferred leather and colour. Well, the first choice (with this master) is not yours, only in some details if at all. Still, I felt confident that I will get something nice, because the recommendation was something classic and timeless – still showing his special signatures, of course.
What is his idea behind? What is his intention to be so strict, you may ask? If there is no further commission, still you will have a pair of outstanding shoes that are just right for many occasions and are able to last for a very long time – something timeless that also represents the master behind very well.
Hidetaka Fukaya is not a man of great words, but for sure he is a perfectionist on so many levels – personal style, details in his shop … and even when it comes to bycicles, but that´s another story. It may not be for everyone, but to me it was simply fine after doing my homework before and finally meeting ´the man/the master` himself. My project started and I was curios about the outcome, but all I got for now was impressions and a first idea about my shoes.
After three month me got an email to make an appointment for my first fitting. Travelling to Firenze is always nice, but it´s time consuming and costs some extra money – both underestimated by me. Love it or hate it, it´s part of the deal if you go for bespoke abroad. Me still enjoyed every minute and it was more than interesting, in my book.
A shoe last made from wood, based on my own feet's. Finally, there is something to try, even when it doesn´t show the final product. You walk with them and get observed carefully. Cuts and notes by the master and (more) intimate details about me and my feet's. Once more, a Zen-like process by the master himself.
 


About ten month later (in my case) after the first fitting, I got a second email. My shoes are ready, and I need to travel to Firenze one more time …


Collection of my shoes
Incoming email on Friday, travelling by plane on Monday. You need to stay overnight because you can´t try shoes properly after travelling by plane.
A nice dinner at night in a favourite restaurant of mine and some live music at a bar afterwards …



… a short coffee before my appointment in the morning. Pleasures of travelling to nice places!


When arriving, everything (curated to the tiniest detail – even his and his wifes outfit) was prepared, and I got a short explanation about the extras/tools he had chosen for me. To avoid extra luggage, he had chosen a travel bag for my shoes instead of a wooden box. Plus, everything you need for taking care of the shoes and of course only the best selected by him. Nice!
Looking at the shoes, my shoes, for the first time, made me smile. A long wait came to an end and it seemed to be a good one.



A close-fitting, but me didn´t expect anything else. Now they need to be worn to make them mine … 😊
No, I didn´t leave the shop with the shoes on my feet's. Me decided to enjoy them like a "beautiful virgin" first. Fine things just need to be celebrated.


In love with my new shoes, but not blinded by love. My trained eyes saw something nice on Hidetaka-Sans wrist. A lovely vintage Jaeger-LeCoultre Reverso which I had to compliment, of course. It turned out to be even more interesting on the back but see yourself.



A beauty on its own together with an interesting strap. Art and soul are what you can find with vintage Reverso´s, don´t you agree?



Engraved on the back: 'il micio (the cat) Hidetaka Fukaya Firenze'.
Luckily, I got the permission to take some pictures and this time it was not only me with a smile. Sharing passion – it´s all about!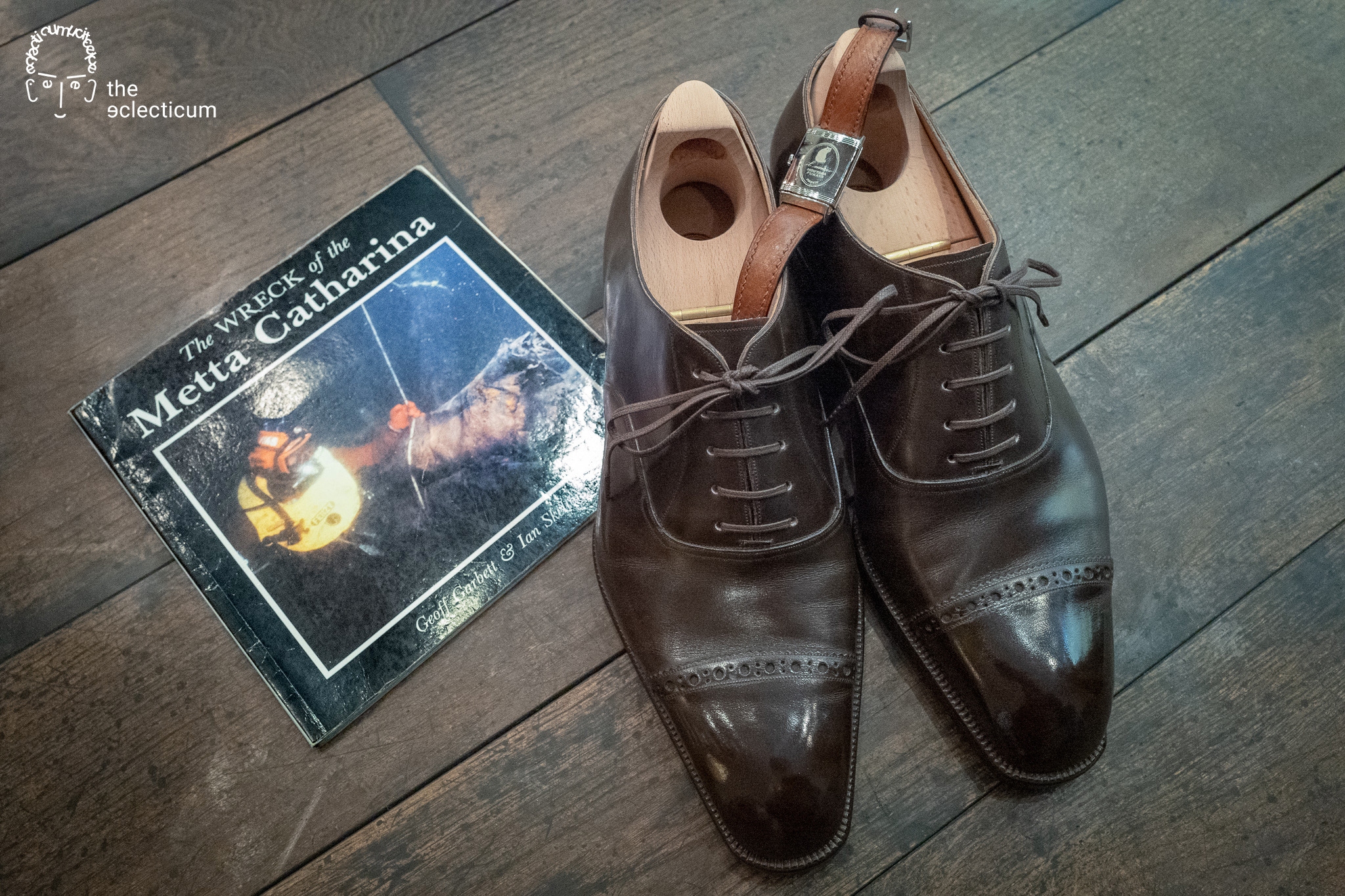 The leather of the strap came from the wreck of the ´Metta Catharina´ (a vessel foundered in a storm in December 1786 on its way from the (then) Danish port of Flensburg. It carried a unique cargo – Russian Reindeer Leather, which was remarkably preserved by the sea bed for over 200 years when the wreck was discovered in 1973) and it was made by another Japanese gentleman, living in Firenze, Hiroyuki Murata the man behind ´Saic Firenze`.
Can you guess what I had in mind? Well, making an appointment and to place my order was not possible, because the gentleman was on his way to Japan – for business. Bad luck, or just one more reason to travel to Firenze once more – it´s not decided yet.


Outcome
A few snapshots to give you an idea about what I got:
Conclusion
To me it felt like passionate spending in a holistic way (research, selection, detailing, traveling, fitting, …and yes, rewarding the work of a master with my own money) and the outcome is amazing – especially in the details. Is it my best fitting shoe ever? No, it´s (still) tight but you get used to it. What´s outstanding is the attention to details and the finishing shown – the shape of the heel, the amount of (tiny!) stitches and so on. If you are familiar with independent watchmaking, only the best that come to your mind with artist approach are comparable. Good news it can be done with a far smaller budget (< €5k; without travel costs), to satisfy one's interest in outstanding quality and to please personal eclectic taste.
Would I do it again? Yes, but with a soft spot not to do it abroad.
´Bespoke` is it a must? No, but I can recommend doing it at least once – no matter which subject (shoes, clothes, watches …) you choose. The same level of crafts is hard to find in any "serial production" and not at all at mass products – no matter which luxury brand comes to your mind – it´s just not possible. But be warned not all offers are on the same level and sometimes it´s close to be a phrase what you get under the tag ´bespoke`.  Do your research before, choose your craftsman to your likes (values), enjoy meeting the person behind and never forget to enjoy the whole process. On top you learn something about yourself and practice patience.
To be part of the process is much more rewarding than just buying ´shoes` from the shelf – passionate spending in the likes of ´the eclecticum´ and based on one's values.
small-luxury-world


PS: Stay tuned if you like our thoughts about passionate spending, as we will continue soon