Snapshot(s): selected 2021 Longines novelties: Spirit 40mm Titanium, Avigation BigEye Titanium and Heritage Classic Sector Dial Black

The gems in the 2021 vintage of Longines (pun intended): the Spirit 40mm Titanium, Avigation BigEye Titanium and Heritage Classic Sector Dial Black are all inspired by the brand's past


If you are into (traditional) watchmaking fun at a price roughly between 2000 – 3200 €, without all the serious ballast of in-house movements, finest finishing and exotic materials, brands like Longines are always worth a second look. For this year, the brand again trawled through their archive, and came back with three quite lovable, different timepiece. Without going much into technical details we'd like to share our images:


Longines Spirit 40mm Titanium

Normally only dress or pilot's watches make it out of the richness of Longines' past into the present, but this time it was a sports watch as well: the Longines Spirit 40mm Titanium has a lot to offer for the purist.



First, there is the case with a pilot's crown and a modest size of 40mm (a 42mm version also exists), and there is no date – a Purist's delight! The watch is still light thanks to the titanium case.
The dial in this version is particularly detailed: applied, gold coated numerals and the traditional 5 stars indicating a Longines chronometer, and a facetted, golden outer ring around the dial with tiny cut-outs for the rhombical indices – a playground for light!



In the version we have seen it came on a textile loosely 'NATO'-inspired strap which has a quick release function – a nice and welcome detail:



Overall, a fine everyday watch with lots of features to appreciate!



Specifications
Movement: Calibre L.888.4, automatic, 25.200 A/h, 3.5 Hz, 72h PR, silicon hairspring, COSC-certified chronometer
Functions: Hours, minutes, seconds, COSC-certified chronometer
Case: 40mm x 12.2mm case in grade 5 titanium, synthetic strap with quick-release function


Longines Avigation BigEye Titanium

Not exactly a new watch, but now in titanium as well and with a superb degradé blue dial with eggshell texture and a titanium case: the Longines Avigation BigEye Titanium.



The star really is the dial with the tri-compax layout with enlarged minutes counter (hence name), the defined egg-shell structure and a new, very attractive colour-scheme, with a nice contrast to the brushed titanium hands:



Longines opted for the column-wheel version of the (essentially) Valjoux 7750-based chronograph movement, but chose to hide it, fitting for a 'pilot's watch', beneath a closed back. This back has the traditional Longines engravings:



Again, a fun watch to wear with lots of presence:



Specifications
Movement: Calibre L.688, automatic chronograph (column-wheel), 28.800 A/h, 4 Hz, 66h PR
Functions: Hours, minutes, seconds, chronograph (60 sec, 30min, 12h)
Case: 41mm x 14.5mm case in grade 5 titanium, calf leather strap


Longines Heritage Classic Sector Dial Black

Finally, again a dial variant of a known value, the new Longines Heritage Classic Sector Dial Black. The watch has seen a few variants already in the last years and was a real success amongst collectors. New now is an elegant dark (not 'black') dial and a fine beads-of-rice bracelet:



A very appropriate case in stainless steel, with a classic 38.5mm case. Instead of 2019's silver now with a dark anthracite colour, again as a 'sector dial' with different finishings around the area (concentric brushing (outer area), matte (inner area) and concentric circles (seconds subdial):



Elegant and easy to wear on the new beads-of-rice bracelet, which feels surprisingly well made (for its price point):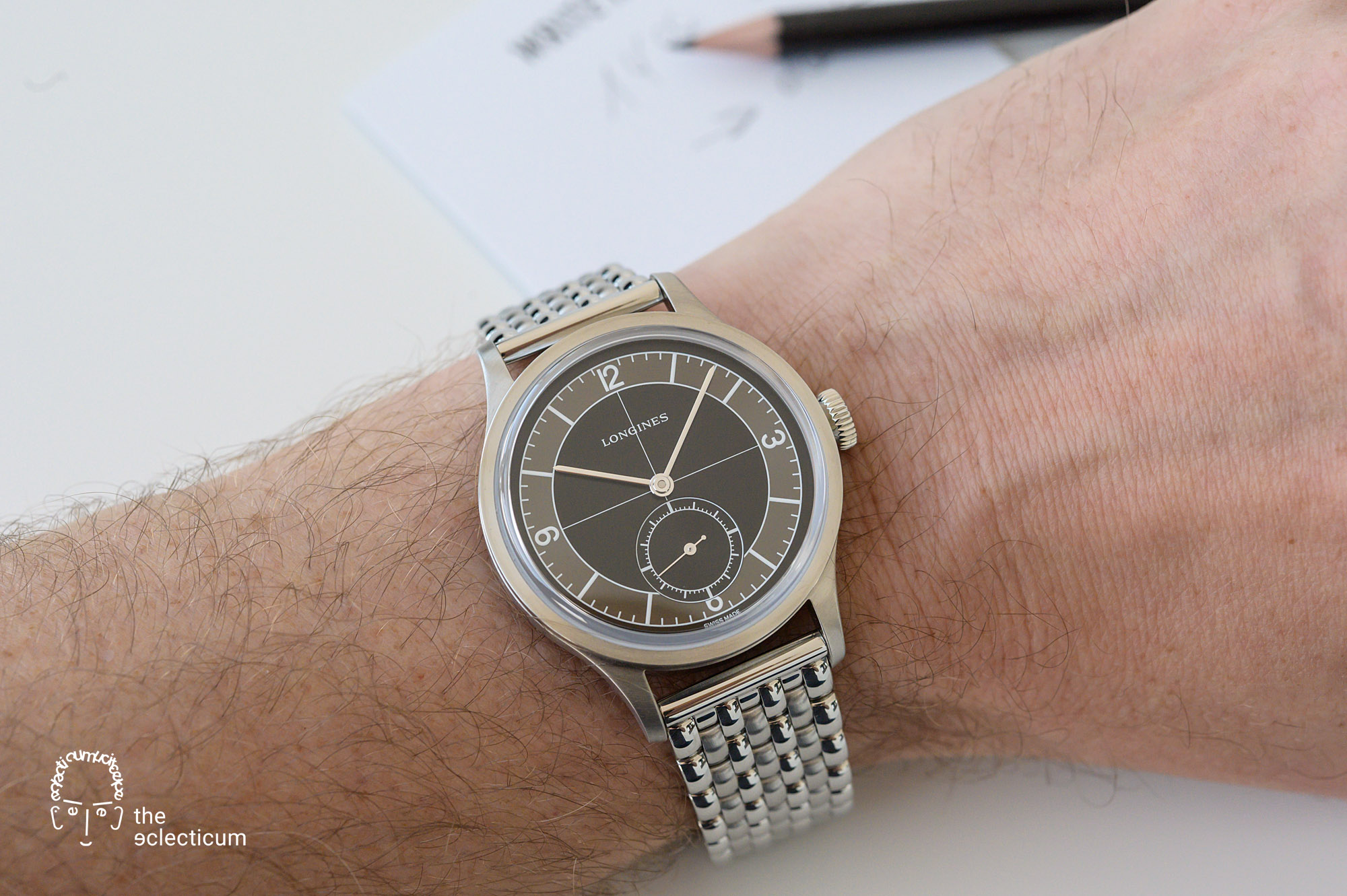 Specifications
Movement: Calibre L.893, automatic, 25.200 A/h, 3.5 Hz, 72h PR
Functions: Hours, minutes, small seconds
Case: 5mm x 11mm case in stainless-steel, stainless-steel beads-of-rice bracelet


Conclusion:
Once more Longines just delivered at what they are doing best, classical watches inspired by their rich heritage, made up to the industrial standards of today. What you can expect isn´t ´rocket science`, but solid watchmaking – even for people on a budget – with some seriously lovely details to appreciate. One could find that level of details on vintage pieces of course, but those don´t share the same reliability as a daily wearer. We have the impression it is more than just a niche in their high-volume portfolio and production recently and we believe it should be a success for them. We were hinted that Longines intends to put more emphasis on more proprietary mechanics, so we will follow them with interest!
the eclecticum