Snapshot(s): Beat Haldimann's H1 Flying Tourbillon
Context - it´s important to collectors isn´t it.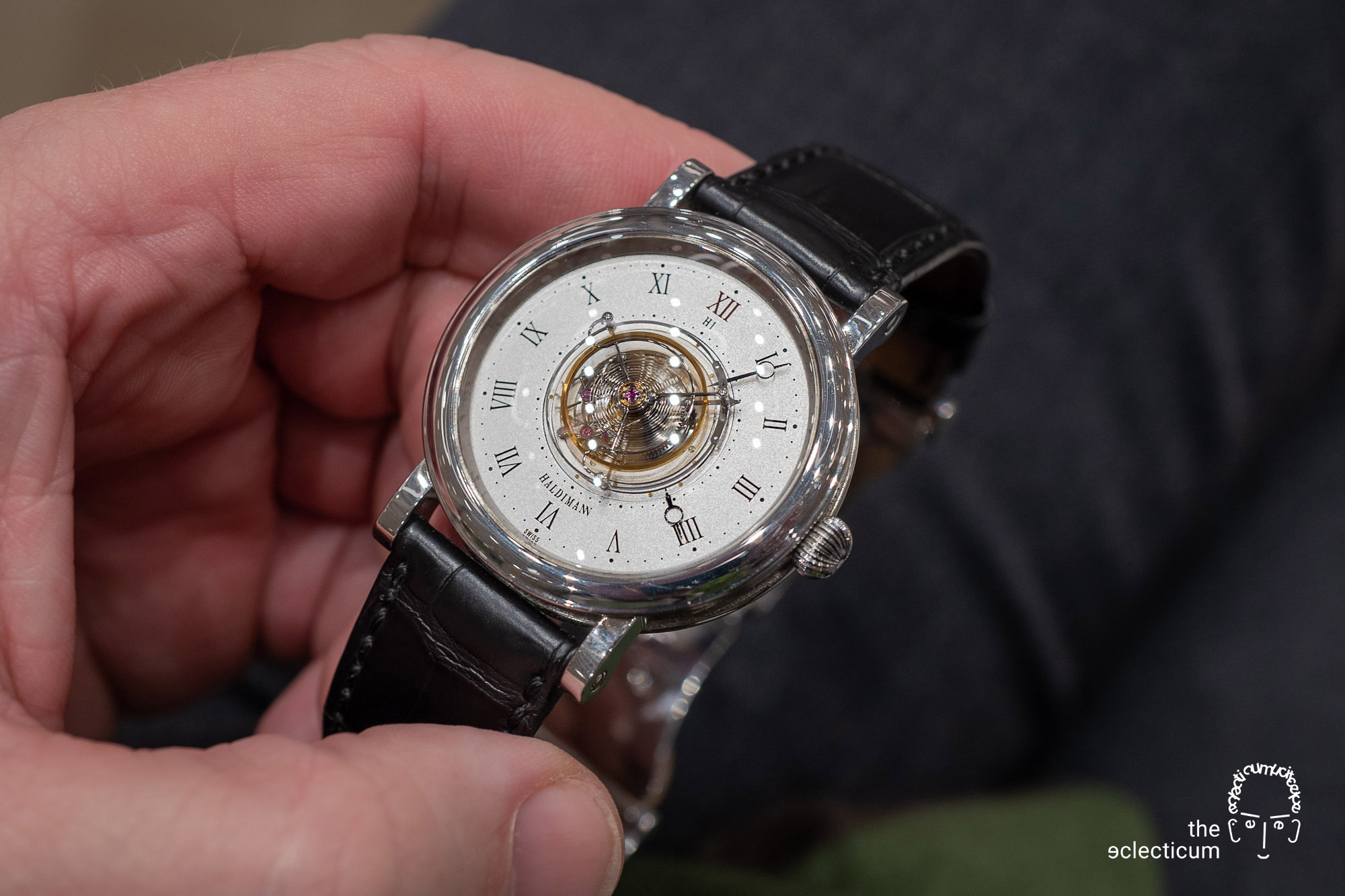 (Haldimann, H1 Flying)


Let´s have a look at the example of Beat Haldimann´s H1 "Flying". Introduced in 2002, it was his first wristwatch and quite a success from the beginning.


A large-format flying tourbillon gets all the attention on the first view, for good reasons, but there is more … so much more – understated yet sophisticated in the details.


"To give the wrist watch a voice, as produced by Breguet´s old pocket watches: this fascinating sound, telling of earlier days, which gives a watch its heart", that was Beat´s goal and he reached it with the H1. "For me this is music, for others just a ticking." (Beat Haldimann)


In any case it is a wristwatch that represents the traditional crafts in every respect. More perceptive observers will even see where it breaks with all known traditions once they look closely. A genial idea, or two, was needed to create a tourbillon with a diameter of 16.80 mm inside a 14-lignes wristwatch – tourbillon larger than half of the movement's diameter.
(Cal. H.Zen-A; diameter 14´´´ 31.58mm, height 3.7mm, with tourbillon and hands 7.4mm, 2.5 Hz 18 000 vph)


Didn´t even mention the hands, the dial, or the shape of the case. Looking (closely) at and handling the watch makes it clear for the connoisseur. Handmade is not just a marketing term, in this case. If you fall for that kind of luxury, what else is needed?


Sartorial clothes come to my mind. Me would not like to see it next to a machine stitched or even pasted jacket. A simple T-shirt and well-made jeans can also be fine, if worn together with some nice shoes. Don´t get me wrong, it´s not about being snobbish. It´s all about the attention to quality (in the details) – a mindset, nothing more nothing less.


When I had the pleasure to handle my friends watch, I felt even more happy that I was dressed appropriate. Sartorial clothes from Napoli, eclectic "French" shoes and bespoke trousers from Bratislava, together with a legendary H1 Flying on the wrist – my kind of pleasures. Not sure if my friend, the lucky owner of the watch, would agree here. Still to me it was perfect context, on top!
small-luxury-world