In conversation – the eclecticum sits down with Zenith CEO Julien Tornare
Thoughts on the future of the brand, the importance of retailers, & a jealous wife!

It is almost exactly two years since Julien Tornare started his dynamic term as CEO of Manufacture Zenith in May 2017. Mr Tornare certainly got one of the most challenging jobs in the industry, guiding a brand which not only was largely resting on the laurels of the (admittedly impressive) past, but also lacked a clear identity which could guide a coherent vision for the future. Under his leadership, Zenith saw a condensation of its collection with a most stringent focus on few, more carefully designed watches, but most prominently a self-assured return to the notion of innovation, exemplified through the new, young Defy collection with its active-lifestyle concept, and really outside-the-box new escapement concerts like the Zenith Oscillator which breaks new grounds in many ways (this shall be the topic for a separate article).



On the occasion of  Julien Tornare's recent visit to Vienna on the occasion of the Grenier Club events to celebrate the 50th anniversary of the iconic automatic chronograph movement El Primero our own Magnus Bosse had the chance to sit down with Julien for an intensive discussion on his experience so far and his plans for a future of Zenith beyond the as much venerable as the El Primero movement.

Zenith as of June 2019:
1) What is the DNA of Zenith? Technical or Design or both? What, besides the famous El Primero, makes Zenith unique?
There are two main pillars of what makes Zenith: We have a long history of over 150 years, which is our basis from where we could build upon. And then there is authenticity, exemplified by the fact that 100% of our movements are truly in-house.
2) Where does Zenith stand now compared to 2017 when you joined the brand (then the average selling price of a Zenith watch was CHF 7,000, at a production of 16,000 watches)?
I am not authorised to give you the precise numbers, but we are lucky that average selling price went significantly up, but also our sales numbers: we are now at between 20 – 25,000 watches per year, and I am particularly glad that all these have found their way to the end customer, right onto the wrists of watch lovers and collectors.
We have also reduced our retail network from 848 to about 600, and we plan to further cut down to 500, which means that this gives more incentives for our retail network to actively engage with Zenith. This benefits the retailers themselves but also the customers (through a better counsel), and at the end of the day us as well.

3) Who are your market competitors and benchmarks? 
I would say bona fide manufacturers like IWC, JLC or OMEGA.
4) What are your plans for honing and refining their brand image and rationalising your model line? Is there any focus group/market?
I think the core tour  future success lies in a brand's ability to keep the young people interested in what you are doing. For me, this is a personal lesson from my time at Vacheron Constantin Asia Pacific (Julien served as Managing Director there). There is a new, young generation of millennials with considerable disposable income which are all potential customers. But those have entirely different tastes and preferences than their parent generation, for example. They want a fine watch with credible watchmaking content, but they don't want the same design as their fathers collected. It has to be modern and reflective of their lifestyle.
This means you cannot rest on the laurels of the past and keep repeating your history. What you need is to infer a 'startup' spirit in your traditional watchmaking company. This is the challenge. But here again we at Zenith have a tradition: the spirit of innovation and dynamics which is so deeply ingrained into the essence of Zenith, and was instrumental in the birth of the El Primero.

I'd like to give you an example: I did some homework earlier this year and identified a number of those people who 50 years ago worked hard on the gestation of our famous El Primero movement. I managed to get 8 of them, including the then marketing manager, the son of Charles Vermot, Michel, and others, to join us for a lunch. All of them were born after 1933, the youngest in 1945. Being people from the mountains and watchmakers on top, all were quite shy and private, but a few drinks helped.
And they began telling the stories from the past: Michel Vermot, for example, revealed that his mother one day became suspicious about his father, as he without giving an explanation would return home late in the evenings and also would work on the weekends. But Michel supported his father and said to his mother: "Don't be suspicious – my father is a honest and hard working man." Charles Vermot did not tell even his family that he was clandestinely putting away the tools, parts and technical drawings of the El Primero movement and preserving them for the future – a task which would certainly caused him his job had he been caught.
The El Primero was a movement which was considered largely impossible when it was developed, and its history teaches us that we not only have to dare, be dynamic and face challenges, we also have to preserver and get innovations past prototype stadium right into production.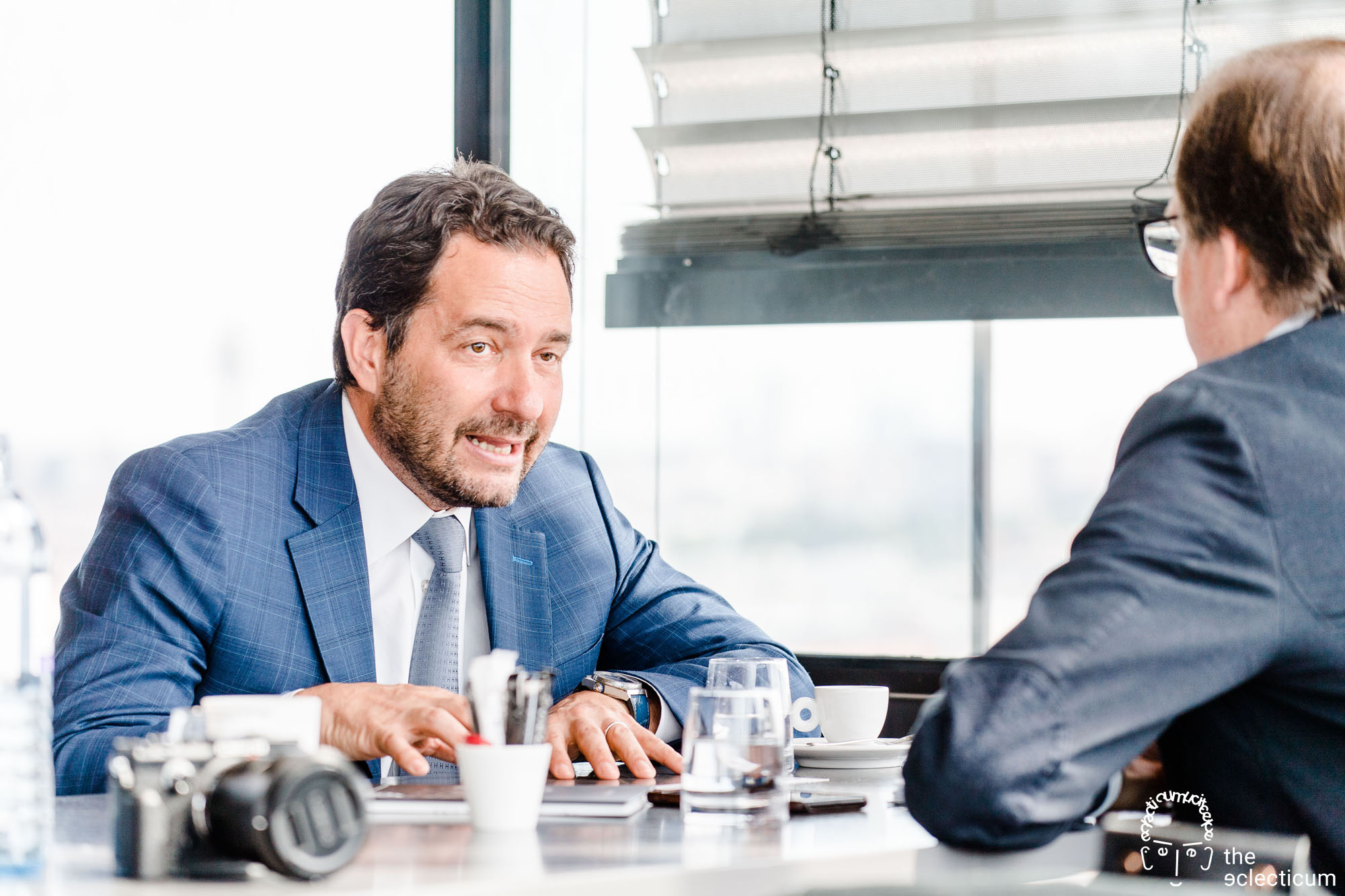 5) How are the Bamford customisation offering received? Any brand particularly successful with this? What do you learn from the commissioned designs?
It was a two-way gain: With the partnership, Bamford got legitimacy for its customisation operations and we we gained control of the process. For the customer, this is a double win as he/she can commission a unique piece with confidence. The customers first came mainly from the UK but now include mostly all of Europe and the US.

On the Importance of Technologies:
(As a reminder, Zenith is not only a pioneer for high frequency escapements, but also in the widespread used of silicon in the escapement, of carbon nanotubes in hairsprings, and also in completely rethinking the escapement system with the Zenith Oscillator. thereby condensing about 30 individual parts into a single large one, which needs no lubrication, regulation or further assembly and promises better accuracy as well. With the presentation of the Defy Inventor, the Oscillator is officially fit for large scale production in 2019. Not only that, Zenith is also working on an updated version of the traditional El Primero calibre.)

6) What is the status of shrinking the oscillator and making is widely available?
The Zenith oscillator is in a way a symbol of the innovative spirit which already made El Primero possible and which I am again aiming for today. We got this from our development laboratory onto the wrists of collectors. In September, we will ship the first production watches (of the Zenith Defy Inventor), and aim to deliver between 200 and 300 pieces already in 2019.

We are working on refining the escapement system and reducing its size, but this is for the future. We are also committed to sharing it with other LVMH brands and after that also with interested third party brands.

7) Will the new materials such as increase user satisfaction (e.g. longer service intervals, reduced costs, shorter turnaround)?
Definitely. The accuracy is vastly improved, making for a more user-maintenance free wearing experience, a set-it-and-forget-it thing. Also, of course the service time will be shorter: One owner of the 10 initial Defy Lab watches dropped the watch on concrete such that the oscillator broke: we could quickly replace the oscillator.

We are considering expanding the warranty, but first we would like to gain more experience with as many as possible watches on the customers' wrists.

8) Status of El Primero 2.0?
Note that for the upcoming El Primero 2.0 (cal. 3600), we have kept all the traditional elements that characterise the El Primero, but improved efficiency all around: timekeeping, power reserve as well as manufacture (in theses that it contains less parts and is easier to assemble). We also made changed to the horizontal clutch system, and increased the size of the column wheel for technical and aesthetic reasons.


We have produced movements for two references and will replace all existent in a step-by-step approach. The timeline for a complete switch to the El Primero 2.0 is set between 2020 and 2021.
(Two generations of the Zenith El Primero automatic chronograph movement: the original Cal. 400, left; and the newly revised Cal. 3600, right)


Talking and Selling Zenith:
9) How has watch communication changed from your perspective? What is still missing?
We appreciate the growth of Social Media, particularly, as a 'step into the real world' with an authentic experience for the users as we think, with them being in the driver's seat to obtain the information they want in real time, and the chance of getting an intimate view into the world of a brand.

As I said above, the single biggest challenge of a watch brand is to get the attention of the young generation. We have to communicate with them on their channels using the 'emotions of the 21st century'. Young people have a more holistic way to look at a given product or brand. It follows from this that we have to adopt a 360° view – its products, design, technology and management that all need to be aligned. In respect the latter, management has to be equal and consider a brand's environmental impact. There is no imperative for us to kill alligators just to obtain their skins for straps, for example.

10) How was your Baselworld 2019 (compared to 2018), and what would you still wish to change? Are smaller, dedicated events like Swatch Group's 'Time to Move' more workable for you?
Big fairs are systems of the past. We need newer solutions with less travels involved. However, we appreciated the ideas that the new management team of BaselWorld proposed this spring, and we are giving them another chance. We don't like, however, the late date of next year's BaselWorld (April/May 2020), which is why we are organising our own fair in January, in Dubai.


11) You made experiences with e-commerce, yet in this interview you mentioned retail mainly. Why?
This is because I am entirely convinced that retail is the future, despite many saying the opposite. Watches are technical products which need explanation. Customers value choice (also between several brands), diversity and guidance.


Allow me to share one personal example. I recently got a new car, a Range Rover (Zenith has a partnership with them). Range Rover has a customisation tool on their website, so I went there, selected what I liked, printed the specifications and went to the dealer in Geneva. I thought this would be a pretty quick and fast purchase based on my customisation.

Well, that's what I thought, but here comes the experience of the car dealer into play. He went with me through my specification list, advised me which option does compromise suitability of the car (for carrying kids, for example), which options are not cost effective, and which are useful and advisable. So my planned short visit at the dealer developed into a long one, and at the end I got a significantly more suitable car than I would have selected myself online.


This is in our opinion only full possible with physical authorised retailers, and not online. Experience and passion, which is particularly important for the more causal buyer, like in this example myself – I am not a car guy. This is why I put so much emphasis on developing the quality of our retail network and try to motivate our retailers.


Personal Experiences:
12) Experiences after 2 years as CEO? What did surprise you, what happened as you expected it?
The last 2 years were the richest of my professional life, in terms of the challenges they posed and also in respect to the encouragement I got from people I really trust and respect.


What surprised me was when I found the oftentimes resignative mood inside the company, and how I managed to turn that around by approaching the people, talking to them, and making them believe in Zenith again and confident that I am there for the long run, and reassure them to build up the company together with me.


I did expect the developing of our markets would not be an easy task, and is was not easy. The efforts are initially successful and we are on a good track, but it will take a lot more time and energy.

13) What achievement are you particularly proud of? Did you achieve your aim 'to awake a sleeping beauty'?
Part of the answer is already given in the previous question. I am proud that I not only increased our sales by a two-digit margin, but this in a way that the watches went through the retail channels into the hands of our collectors.


14) Final question: What are your next goals?
Personally, to improve my work/life balance. For Zenith as a brand, I wish to develop its desirability outside the core watch collectors' circles.



Note from Ornatus-Mundi: All the best, Julien, and thank you for your time and willingness to share your thoughts with us!


Special thanks to Zenith and photographer Georg Aufreiter for the fantastic images!