In conversation – the eclecticum sits down with Davide Cerrato, Managing Director of Montblanc's Watch Division
A frank exchange about the integration of Minerva, the influence of a new outdoor culture, and what he would take for a perfect, eclectic weekend...



A watch is a watch – or not? With basic physical principles applying throughout the industry, and even – generally speaking – most new materials, production processes, technologies but also designs, styles or even fashion trends available to (resp. followed by) the vast majority of watch brands, understanding a given watch (or a collection) requires to broaden the view – i.e. essentially highlighting its context – to obtain a better picture of the brand and particularly the personalities who drive watchmaking, the watchmakers themselves, the constructors, or the brand leaders.




We recently used some quality time with Davide Cerrato, Managing Director of Montblanc's Watch Division, to learn more about his personal affection with watchmaking, and how this translates into the work of Montblanc.
Davide Cerrato was born to an Italian family and early on developed interests for design and architecture, but also for business and management. After initial stints in the automotive and Fast-moving consumer goods industries Cerrato found in watchmaking a profession where he could combine is diverse interests, and joined a brand which was known to only a few specialised collectors – Panerai, which has just been acquired by Richemont. A few years past he changed gears and joined Tudor, where he was instrumental in awakening the personality of Rolex' little sister.
After more than a decade there, he accepted the position as managing director at Montblanc (watch division).


(Davide Cerrato in conversation with the eclecticum)
1) What aspect(s) is the role of a company leader different in watchmaking compared to other industries you worked in?

I believe one key difference to other industries is that in watchmaking there is a great emotional component to every aspect of the work – to the product, the processes, the people, and this includes watchmakers as well as management.
Personally, I guess I work a bit different to many company leaders in that I don't ask my teams to create a new product in the typical consecutive manner – design and technology first, then marketing, then sales – but I rather call all teams together, define product design & universe and the let the creativity of all teams working together flow – ideas flows at an instant, and then you combine the best ones.


2) How would you define Montblanc as a watchmaker?

We consider ourselves as the following:
Specialist outsider (this refers to the fact that Montblanc does not produce only watches)
Fine watchmaking with character thanks to Minerva and the strengths of design.
This is expressed in our collection made of 6 product lines with a classic and a sport offer as much as a contemporary and a more vintage expression.
Every line is built on 3 level of pricing depending on the movements we use inside:
~<5K CHF: industry standard movements for the entry part of each line
~>5K – <20K CHF: own (industrial) manufacture movements, e.g. the Nicolas Rieussec chronograph or the Geospheres
~>25k CHF: fine Minerva movements completely handmade and hand finished


(Montblanc's three tiers exemplified with the Heritage collection: Sellita movements (top left, GMT), industrial in-house or in-house modified movements (top middle, Monopusher Chronograph) and Minerva movements (top right and bottom; Manufacture Pulsograph))

3) What is Montblanc´s biggest asset in watchmaking? Which are your best parameters to create desire?


We try to leverage both the technological competences as well as the design heritage of Minerva throughout our collections – this is the source of credibility and also creates emotional connections to the brand.
Generally speaking, the integration of Minerva is particularly important to us. We increasingly try to use these watchmaking competence also in the lower tiers, to bring interesting complications at a fair price/fair value level. One example is the 1858 Monopusher chronograph based on a Sellita movement, an unusual complication at its price range, and we worked hard to get for example the pusher feeling right.
Side Note: Minerva was known as a specialist chronograph maker with in-house expertise that was recognised up to the highest tier of fine watchmaking, with venerable houses such as Heuer, Patek Philippe or Vacheron Constantin amongst their (past) clients. Later on, Minerva developed something like a cult following in the budding online watch collectors scene, and was one of the first manufacturers to open their doors to collectors.


(Minerva's legacy: top, vintage Minerva advertisement featuring chronographs for sports timing uses – and once clearly notices their influence on the current Montblanc collection; bottom, except from an order book from the late 1940 years showing Vacheron Constantin as one of Minerva's chronograph ebauche clients)


In autumn 2000 Minerva was sold to an Italian financier named Emilio Gnutti, who massively invested into the manufactory capabilities and in new movements – essentially the current exceptional quality of finish and construction dates to this time, and Minerva integrated further to even produce their own hairsprings.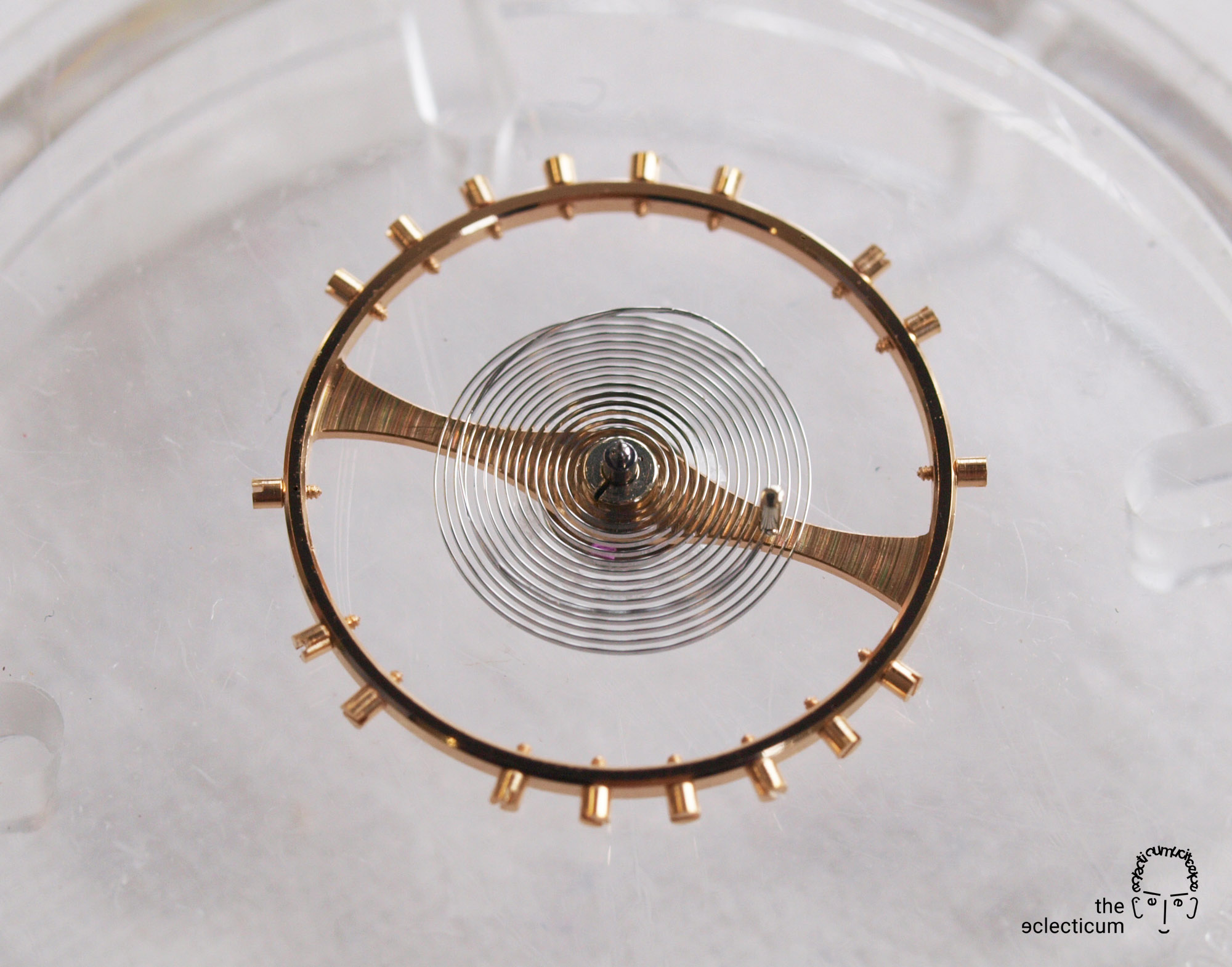 (production and adjustment of a hairspring at Minerva)


Minerva changed hands once more in October 2006, when Richemont bought the manufacture and integrated it into Montblanc who developed it into their cornerstone for finest manufacture movements.
4) What is Montblanc´s greatest watchmaking extravagance?

We feel that extravagance is indeed not good for us. The really elaborate projects we did under the Minerva name were showpieces, but we felt they were a bit disconnected to the remainder of our collections, and honestly also to the reality of prices.
Nevertheless, those pieces demonstrate our know-how for our most discerning clients in private presentations and therefore you won't see them in our boutiques, with the exception perhaps of those who are closer to our main collections, such as the 1858 Heritage watches with vintage Minerva movements which we found in a drawer in Villeret.
What Montblanc most needs is its 'Tudor Black Bay', a watch which turns around the fate of a sleeping beauty. We believe that the new Montblanc 1858 Geosphere is exactly that: it has a more adventurous, personal spirit to which many of our consumers can relate to. Its distinct enough, looks vintage but is all modern.


5) Who are your main competitors?

Our main competitors are those brands who offer both classical as well as sport-oriented pieces, particularly:
Longines (their higher end watches)
TAG Heuer (although they never really had success in the classical realm)
Bell & Ross
Zenith (who are also a chronograph specialist of high repute)

6) Montblanc – originally acclaimed as a fountain pen maker. How does watchmaking complement this, what went well and where would you see improvements?

Montblanc is a luxury good specialist with three main pillars: writing instruments, watches and leather goods, located in Germany, Switzerland and Italy, respectively. Each requires entirely different skills and competences, so there are little mutual or shared competences. However, we use our leather goods craftspeople to make a subset of our straps, for example.


7) Which art or passion outside of watchmaking has a significant influence on the Montblanc collection?

We draw from a wide selection of sources to drive our creativity, to get ideas for technical solution (e.g. for our ultralight watch), to the use of colours or surfaces. Important is to us to foster the character of our creations.

Side Note: A case in point is how Davide Cerrato got the idea of Montblanc's current focus on outdoor adventure: a few years ago, Cerrato entered a bookstore in Torino and a book entitled 'The New Outsiders – A Creative Life Outdoors' caught his attention*. The book reflected on how firms in the outdoor industry suddenly became leaders in design and technology, and at the same time manage to talk to the (oftentimes suppressed) dreams of freedom and being in nature.
(The Montblanc logo in an artistic interpretation, SIHH 2013)


Cerrato translated this into the 1858 collection, which grounds on the mountaineering spirit of Montblanc (recall the brand's logo with its 6 glaciers of the Montblanc mountain) and combined adventure, the brands history as manufacturer of military timekeepers, with today's thriving travel and outdoor activity trends – quite similar perhaps to the trend to SUV cars.
8) Which aspect in watchmaking do you think is most under- and which most overrated?

I definitely would think that technology is over-, and design underrated. You often see fantastically constructed ambitious watches and ask yourself how little effort was spent on their presentation.

9) What developments in watchmaking do you foresee in the next 5 years/next decade?

In these challenging times the future is difficult to predict. That aside, I would propose the following will certainly play important roles:
'Value' will become increasingly relevant, particularly at the entry level of the market.
The means of watch enjoyment will likely change – the whole mix of borrowing vs. owning vs. sharing is constantly being questioned, new 'watch enjoyment models' are being proposed, and we need answers for this.
To maintain levels of engagement and to keep emotion and affection alive will be crucial for the industry in the long term.

10) Being eclectic – if you could choose three pieces from the Montblanc collection (past & current, Minerva being 'allowed'). Which one would you choose and why?

I enjoy travelling a lot and just returned from a fly-fishing trip to Iceland. For such a vacation I would take the following with me:
1858 Geosphere
Heritage Pulsograph Manufacture Chronograph
1858 Split Second Chronograph with Blue Dial in Titanium


(Davide Cerrato's choices for an eclectic weekend; from top: Montblanc 1858 Geosphere, Heritage Pulsograph Manufacture Chronograph and 1858 Split Second Chronograph with Blue Dial in Titanium)

Thank you very much for your time and the generosity to share your thoughts.
the eclecticum
*) Reference:
The New Outsiders – A Creative Life Outdoors.
By: Jeffrey Bowman (Editor)
Gestalten Publishers Berlin
ISBN: 9783899559644