written by:
small-luxury-world
published:
2021-03-22
categories:
[sc_post_category]


Collector´s view: MING 27.02 – two different versions, at least!


Hands-on with the MING 27.02 - a novelty for 2021 but sold out already. Yet it´s just amazing what it has to offer at its prices, given its (unique) design and execution


"This watch will not be produced again." Good news for lucky fellows who successfully placed their orders and only must be patient to get them delivered in autumn 2021 (from what I heard). Bad news for those who got addicted afterwards, like yours truly. Still there are good news if you think about it differently. More on this later.






For now, let´s have a look at the watch. The case and the movement (yes, even the elaborate finishing of the latter) we have already seen last year – with the MING 27.01 and the ETA Peseux 7001 in a heavily reworked variant called MING 7001.M1.
A new dial, only? No, it´s not like that what we got used with many of the (big) brands these days that you just get another colour. Nothing in ´green` if you know what I mean.



 


There is a new face, but a challenging one in the details. Minimalistic only on the first view. The new composite dial which is thicker than the brass dial of the 27.01 and consists of a gradient sapphire disk and beneath it a Clous-de-Paris guilloche ring around the periphery of the movement – this asks for more space. Still the case retains the height of only 6.9mm including crystals on both sides and yes also the diameter is still 38mm.






In theory it sounds not that tricky, but it´s more challenging to assemble in the tiny available space – especially if you want to avoid component damages. No rocket science, but extra efforts asking for skills and adding production costs.






Closer! You would like to see it closer to understand what is going on? OK, let´s give it a try …






"Two different versions, at least" was mentioned by me in the headline. Well, that's not exactly the truth to be honest. What I had in mind was to show it also with Ming´s universal bracelet and in different settings. It´s just one reference, but like a ´chameleon` that works simply perfect in different settings, with different straps or bracelet and loves to play with light.
A couple of snapshots to share:






It´s not one of those (recently) popular integrated bracelets, but that´s fine in my book. What you get, like always with MING, is a quick-release system to change from strap to strap or to bracelet. That´s convenient and not self-evident in that price range to say the least.






The all-matt finished bracelet fits well with the face of the watch even when we consider its different metals (steel for the watch and titanium for the bracelet) …






… especially because of the matt details on the case – side view.






A con is the quick-release that stands out, as you can see in the picture above. This is because of the ´ultra-slim` case of the 27.xx series and the universal bracelet that can work on all MING watches released until today. On some occasions you can feel them on the wrist, but it won´t keep me away from wearing the bracelet with pleasure – especially given the price for the full package. It´s not perfect, but acceptable.






Two pushers to open the bracelet, this does the job appropriately.






On the wrist it sits smooth. It feels light, but still (relatively) solid.






Back to leather and a couple of more snapshots if you don´t mind:



Buckle – once more it shows consistent design and works simply fine.





Even when it was (most probably) just on pictures that you have seen the watch. What do you think about it? Who is the target group? Is it you? If yes, for which occasion would you like to wear it? What are we looking at and what can you/we expect?
All 200 watches are spoken to and it was not possible for MING to do more, because of limited movement supply. With leather strap made by Jean Rousseau Paris the price was CHF 4,950 and if you are keen on one of those universal bracelets it will set you back another CHF 500.
General interest – are you still in or even more than before?




(Comparison: 17.01 grey dial next to 27.02)

To be honest as a happy owner of 17.01 the price felt initially quite steep for a simple two hands watch. It was about 5 times less, the former one. General design approach is similar, but the 27.02 is more sophisticated and refined on any level. Hands-on it gets immediately obvious and so I changed my mind. Both are kind of bargains (without being cheap) in their price range and given the prices of today. If you look what you can get from competitors, especially the big ones, one could ask questions.





The 27.02 can be worn for almost any occasion, except extreme sports and that kind. No matter if you are young or young at heart it´s a nice watch to wear.






First time to try the ´independent water` or just to add spice to the collection it can be a lovely choice of yours. Of course, it´s all about your personal context.



 


If you have a soft spot for good design and fine things that don´t break the bank you could be tempted. Even if you are more into collecting art/design and not a collector for watches in general, it could be for you.



"Still good news …", I mentioned it in the beginning. What came to my mind, you can be sure that the team behind ´MING` won´t run out of ideas sometime soon and their business partners take their challenges with pride. A promising future … even for prospects and customers like you and me.


Conclusion:
Yes, I had my doubts to be honest when it was introduced. Still, I think 38mm are fine and 40mm could be even better (or more addictive?) on my wrist. After spending a couple of days with the watch, I feel sorry to let it go. It speaks to me on several levels and makes me smile.
Once more a winner from team MING!
As a ´spoiled` connoisseur for quite some time, something else came to my mind: What could you say to an offer with a price tag of about CHF 10k to 15k for an even more sophisticated (also ultra-slim!?) two-hands watch. Similar design approach and their MING attention to details. I dare to ask, but I am not a competitor 😊
small-luxury-world


PS: Two more pictures to give you a hint about one of our next articles about ´passionate spending` …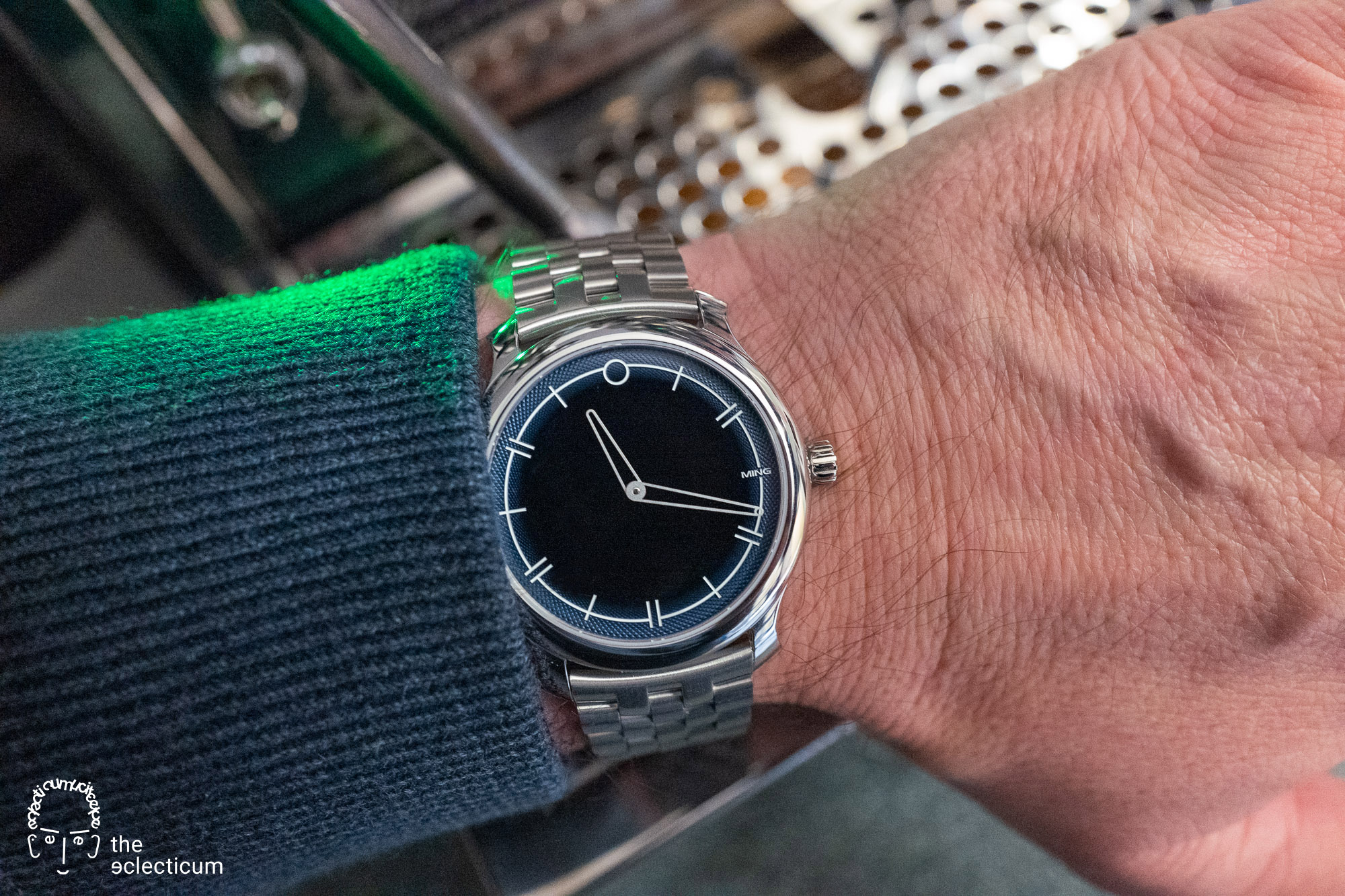 Specifications:
Functions: hours and minutes
Case, dial & hands:

38mm diameter, 6.9mm thickness, stainless steel 316L
Mix of polished, brushed and blasted surfaces with 'flying blade' lugs
Sapphire crystal front and rear with double-sided antireflective coating
Gradient sapphire dial with laser etched and white-filled indices
Blue Clous-de-Paris ring with stamped guilloché
Rigid case without spacer rings
50m water resistance
20mm lug width

Movement:

MING 7001.M1: heavily-modified (by Schwarz-Etienne) ETA 7001 with new bridges and baseplate
Black chrome plated bridges and plates
~42h power reserve at full wind

Straps:

Smooth calf blue-grey leather strap by Jean Rousseau Paris
20mm width, curved bars with quick release
70/120mm length
Fitted with 2nd generation 'flying blade' stainless steel buckle

Leather travel pouch handmade in Kuala Lumpur by Studio Koji Sato
2-year limited mechanical warranty
Made in Switzerland