Breguet – Hands-On with the Classique Tourbillon Extra-Plat Blue Ref. 5367PT
From Cerulean over Yves Klein to Ultra Marine– the many shades of blue might well be the penultimate instance of a Grand Feu enamel dial
Is there something like the 'ultimate' version of a timepiece? Well, perhaps: I really could not look more forward to appreciate the new blue version of Breguet's ultra-flat tourbillon, but I did not expect what I discovered – it is the colours, the way they – in combination with the sanguine surface texture of enamel – model the light in and around the elements.
So, I apologise for the lengthy text (but I fully understand if you stick with the images only, for now…) – but this is a masterpiece:
In many ways, the Breguet Classique Tourbillon Extra-Plat, first presented in 2013, exemplifies what rightfully could be summarised as a modern-day interpretation of what Breguet stands for: a technical tour-de-force with an extremely flat tourbillon with peripheral winding, fine finishing and engraving, wrapped into a clearly recognisable package.
(Members of the Breguet Tourbillon Extra-Plat family, from left: Ref. 5377BR (2014, guilloché dial), Ref. 5367PT (2020, blue enamel dial) and Ref. 5367PT (2018, white enamel dial)

This year, Breguet adds the Ref. 5367PT with a splendid Grand Feu blue enamel dial – not only a beautiful and very apropos addition to the collection, indeed, this watch is much more than meets the eye at first sight: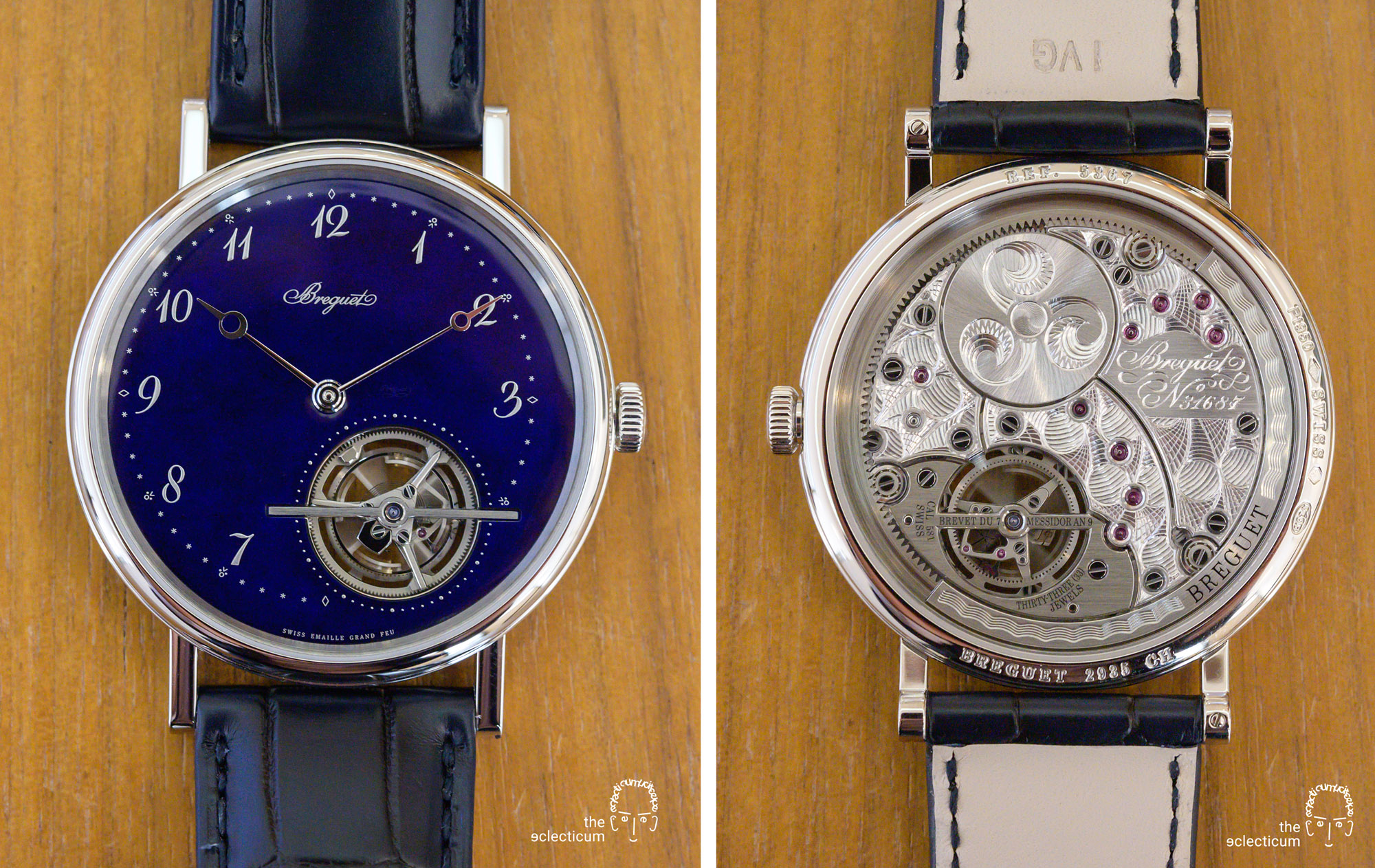 (Breguet Ref. 5367PT Blue and its ultra-flat Cal. 581, with 80-hour power reserve, Inverted lateral lever escapement with silicon horns and silicon balance spring)

Already here, there is much to like: the blue dial is a favourite colour of recent, and if executed in Grand Feu enamel, a technique which results in lush and vivid surface almost as much as it churns out rejected specimens. No wonder the Breguet Tourbillon Extra-Plat Blue was extremely positively received.
A few images to start:
(Impressions from the Breguet Classique Tourbillon Extra-Plat Blue, incl. secret signature and movement)

One might stop here, yet this would mean to miss out substantially. The Breguet Classique Tourbillon Extra-Plat Blue is a timepiece which demands time to fully reveal its secrets…
The magic of colour!
(The Grand Feu enamel dial)

Blue enamel certainly looks good on the watch… but there is a lot more to discover!
Side note: Enamelling is a handcraft which uses firing, usually between 750 and 850 °C, to fuse powdered glasses (of one or of different colours) to a substrate (whereby each enameller uses his or her preferred material, e.g. copper plates). The powder melts, flows, and then hardens to a smooth, durable vitreous coating.
With Grand Feu enamel, several layers of enamel are applied in a sequence of firings – each of which brings with it the risk of irreparably breaking the surface. It takes a lot of practice to gain surety not only to prevent breaks but moreover also to be able to predict the outcome in terms of colour and surface structure.
The Ref. 5367PT Blue is not the first Breguet with a blue enamel dial – there were the two automatic watches Classique 5175 "Ginza Anniversary" (2017) and last year the Classique 5177 Grand Feu Blue Enamel – both essentially the same watch without and with date, respectively – there is the latter together with the new Classique Tourbillon:
(Pretty in Blue: The Breguet Classique Tourbillon Extra-Plat Blue Ref. 5367PT (left) and the Ref. 5177 Grand Feu Blue Enamel (right))

Note the difference in the dial? While the Ref. 5177 sports a rather opaque, darker blue, the new Ref. 5367PT has a much richer, deeper and more vivid blue: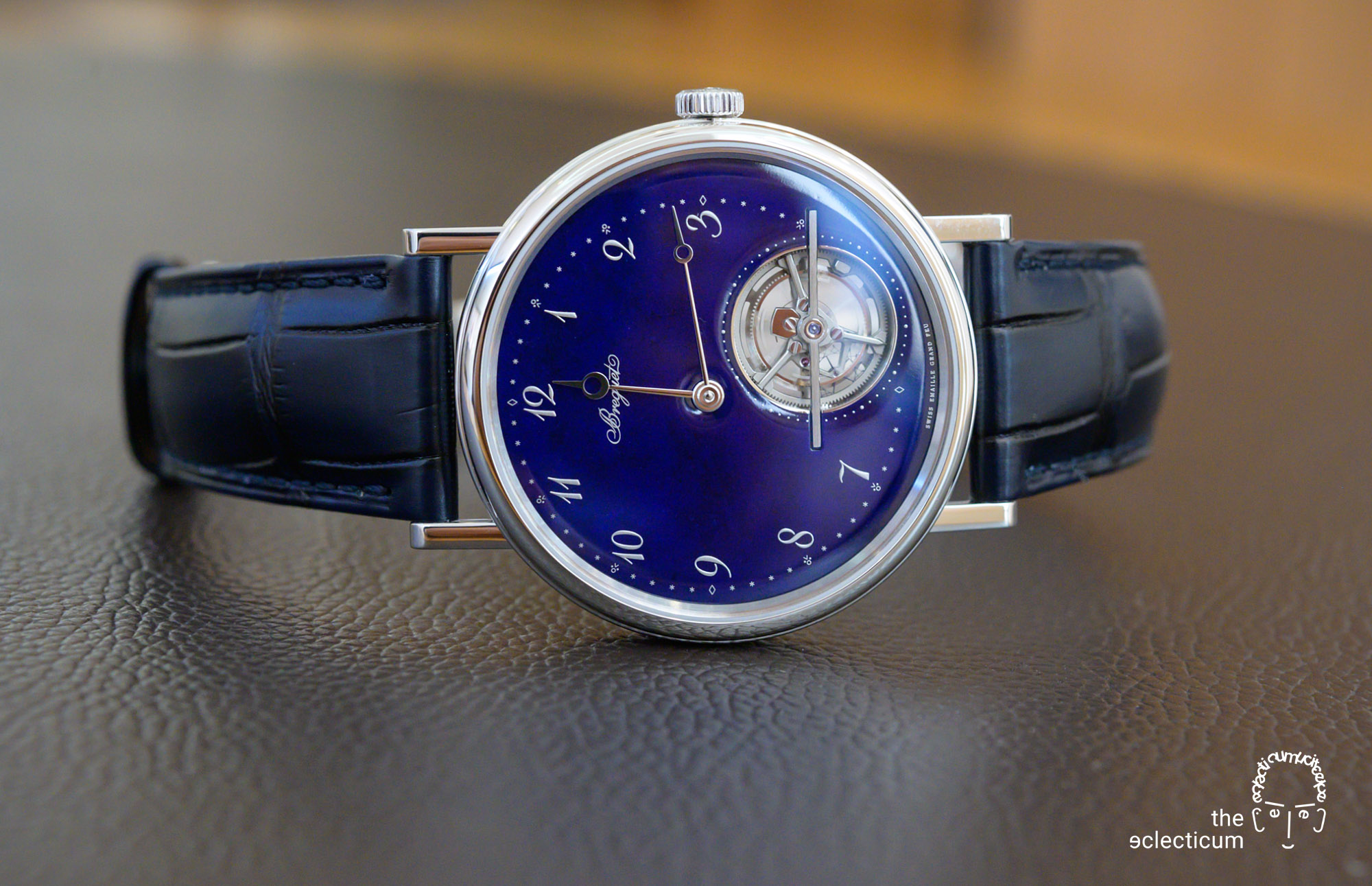 If you recall the image above you might have noticed that this is not easily to spot, it require the 'right' light and angle of view, and is unfortunately also something that is not really communicated in Breguet's press material – a pity (yet to typical for the brand…), since it is easy to miss something (to us) essential.
I guess, the following two images speak volume of many personae hidden in the dial:


That's like day and night in my book!
Let's get even closer…

You may spot many shades – from Cerulean over Yves Klein' International Klein Blue to Ultra Marin:
(The Shades of Blue: from Cerulean ("Summer's Day" by Berthe Morisot, 1879; top) over International Klein Blue ("L'accord bleu (RE 10)" by Yves Klein, 1960; bottom right) to Ultra Marin ("Girl with a Pearl Earring" by Johannes Vermeer, circa 1665; bottom left))

For more on the colour blue, read Emma Taggart's essay on the history of blue colour in art at My Modern Met.
This is not simply blue; this is more equivalent to the whole spectrum of blue concentrated into a single watch… it defies a precise association of the watch. Or express it in the words of the artist Yves Klein:
"Blue has no dimensions, it's beyond dimensions, whereas other colors are not. All colors arouse specific associative ideas while blue suggests at most the sea and sky, and they, after all, are in actual, visible nature what is most abstract."
The last notion of being 'abstract' is most important for me here: it allows to discern structures without framing through association. Which brings me to…

Textural Landscaping


Breguet has in recent years apparently worked to deepen its understanding of the Grand Feu enamel technique, with the three-dimensionality being the most prominent advancement made – debuting with the first Ref. 7147 with a white dial in 2017, enamel dials at Breguet were no longer necessarily only flat:
(The 'amphitheatre'-like presentation of the subseconds on the Breguet Classique Ref. 7147)

Already the white-dialled Ref. 5367PT had such characteristics are well, but it is only the blue colour which really exposes how the combination of the smooth, yet subtly textured surface of the material conducts light: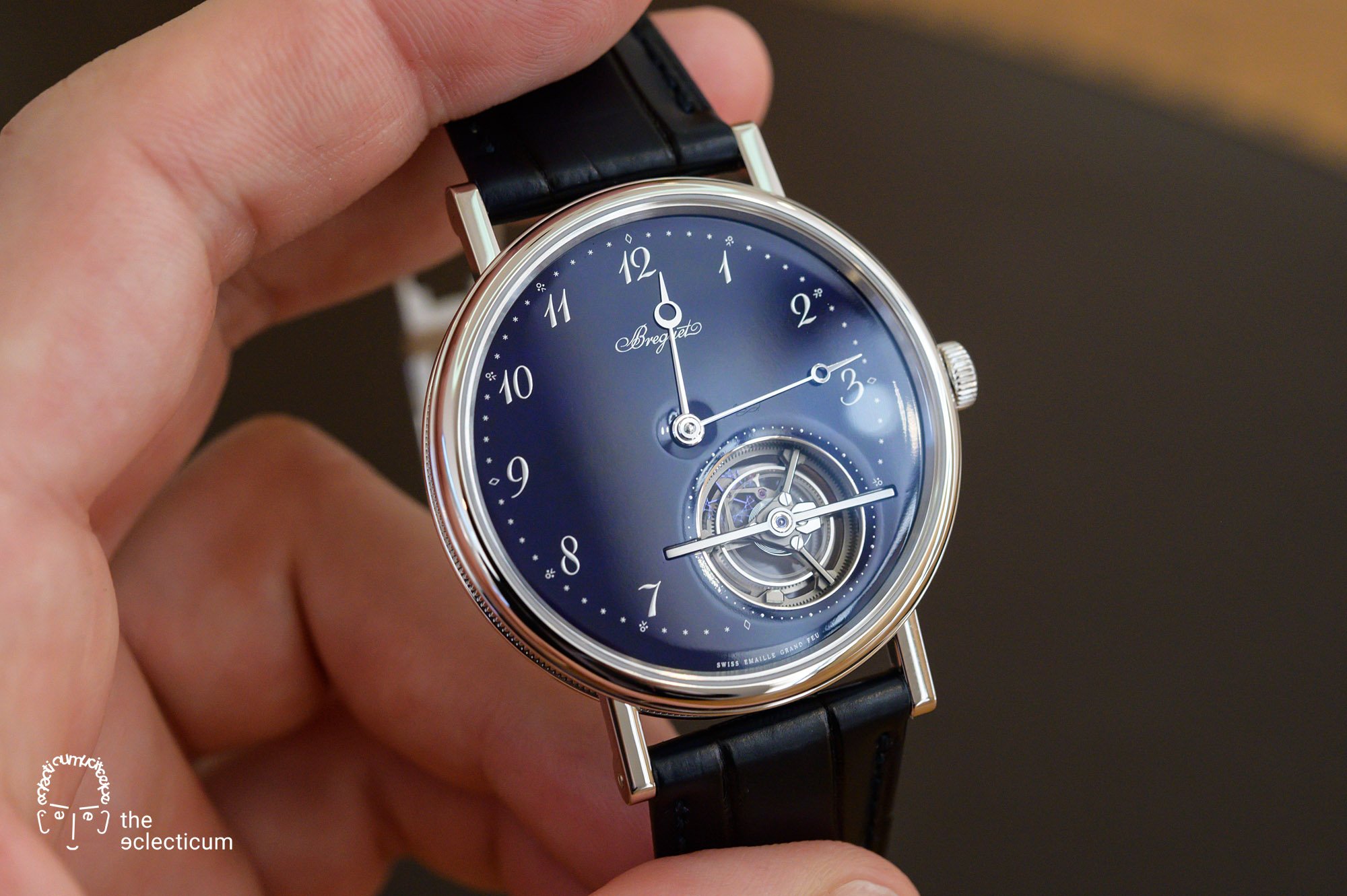 Notice how aptly colour and surface characteristics are chosen to create something ethereal? Something e.g. water can do as well, in nature?
(Water surface, by Ming Thein, from his series on natural patterns)

A hidden gem!
So, I am left with a watch which seems so simple in its conception ('just' a new blue enamel dial on a tourbillon watch, after all), yet has an abundance of hidden secrets and qualities which deserve – not only a second look, but time – time to play, to admire, to digest the many impressions this watch could give.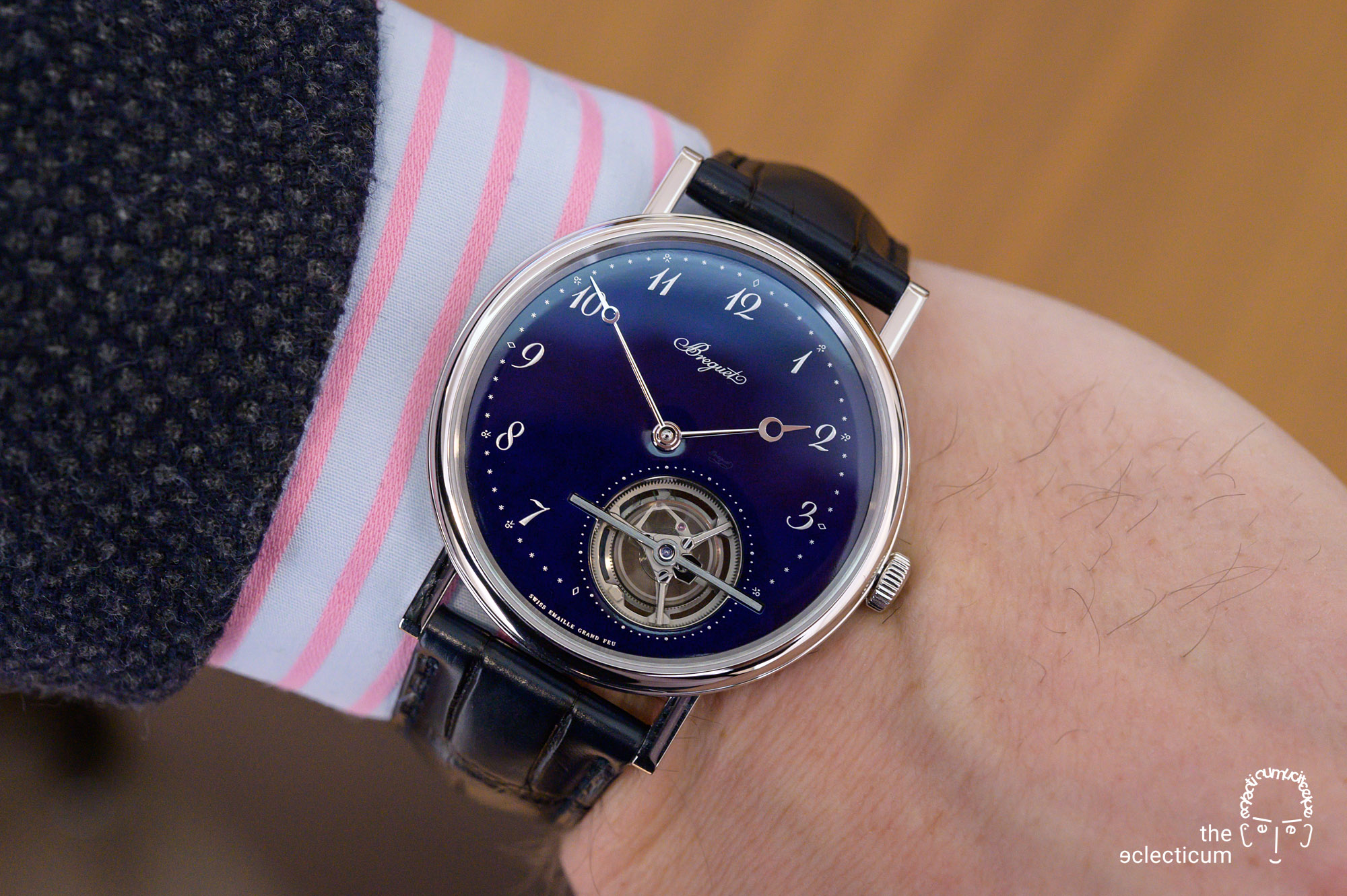 In a way, however, the Breguet Classique Tourbillon Extra-Plat Blue also exemplifies one of the ongoing shortcomings of the manufacture: Breguet has all the ingredients to belong to the pinnacle of watch brands – also in the minds of the collectors. But somehow, this message reaches only a fraction of this group, the technical prowess, the tactile qualities, the fine finishings and the consistent identity of the pieces remain sadly undiscovered by most (or at least do not trickle the emotions in a sufficient way).

Too many stop already with the beautiful blue dial of this watch – enamel, blue, tourbillon – and a few boxes are ticked. That this just scratches the surface somehow is a mixed blessing: it does not do justice to the artisans who create such pieces, but it leaves gems to be discovered by those seasoned collectors who invest time and effort before they make up their minds.

This is such a veritable gem!
Ornatus Mundi